We love our pets, often more than our human family members and friends, but we don't always love how their fur and "pet-ways" can destroy our best furniture and decorative interiors. Whether you struggle with pets that shed fur everywhere, or ones that tend to leave their mark on your favorite chair, there are pet friendly furniture materials and types of furniture that can help solve your pet challenges.
So before you threaten to toss out your couch, or your pet, whichever comes first, take a look at these ideas for your furniture that will help you and your pet stay on each others "best friend" list.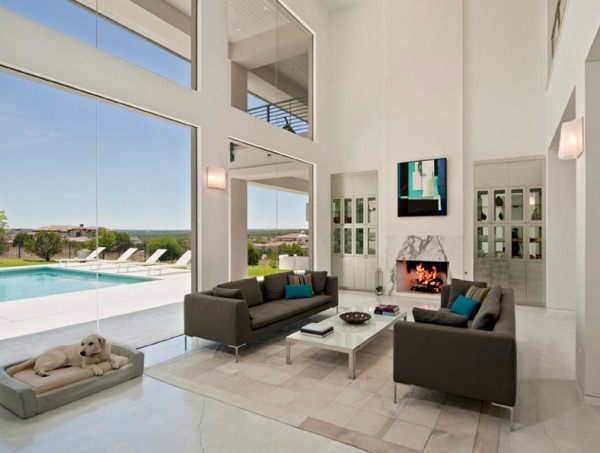 Beautiful lab relaxing in this Spanish Oaks Residence Living / by Cornerstone Architects
Choose materials that resist stains:
 While there isn't one material that will resist every stain there are materials that can withstand wear and tear better than others. Determine what are the stains that your pet leaves behind and which ones tend to damage your furniture. Porous materials such as velvet, velour, and linen are the worst materials, while micro-fiber, tightly woven tweed, and even slipcovers made from durable cotton or khaki materials are some of the best.  Many professional upholstery cleaners suggest getting furniture protected with spray-on chemicals to repel dirt, fur and stains. These may help temporarily, but won't necessarily work for the long term of having pets. Also be careful with any chemicals and look for green alternatives.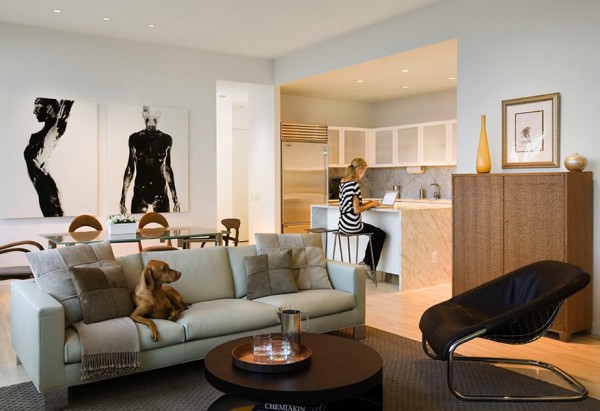 A living room x kitchen combo / by Robert Granoff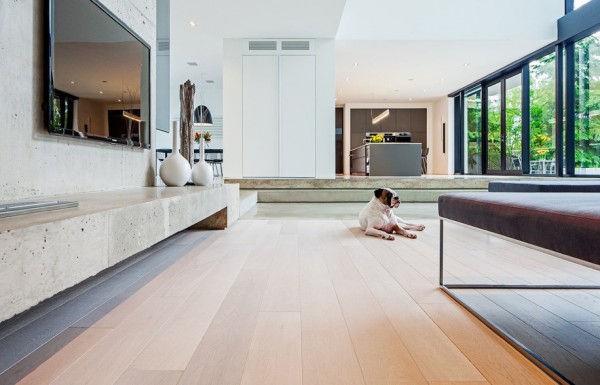 Ultra modern family home in Oakville Ontario / photography by Peter A. Sellar
Opt for furniture that keeps its shape: 
While you may love that soft loveseat that you enjoy sinking down into after a long day at work, most likely your pets will love the same piece of furniture.  Instead of opting for furniture that will lose shape consider straight lined and rectilinear sofas and loveseats. These pieces will help keep their original shape longer, and may not be as comfortable to your pet!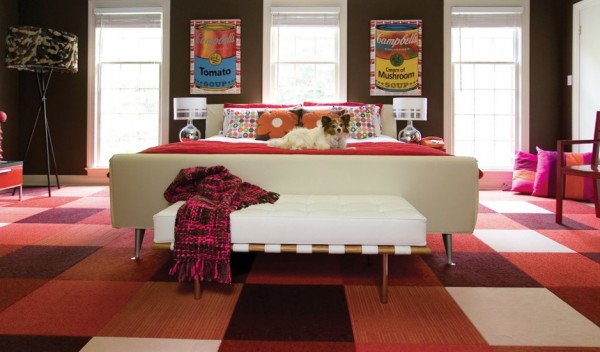 by Supon Phornirunlit / Naked Decor
Dedicate a piece of furniture only to your pet:
Consider finding a pet bed that they love and is made especially for them! Furniture companies are starting to create pet furniture to coordinate with popular styles to give an overall coordinated look in your room. Pet stores also have great varieties that look like miniature versions of your human-sized furniture.  When choosing pet furniture ensure the size will fit your room and your pet. An oversized pet bed may look great in the store and may engulf your living room when you get home.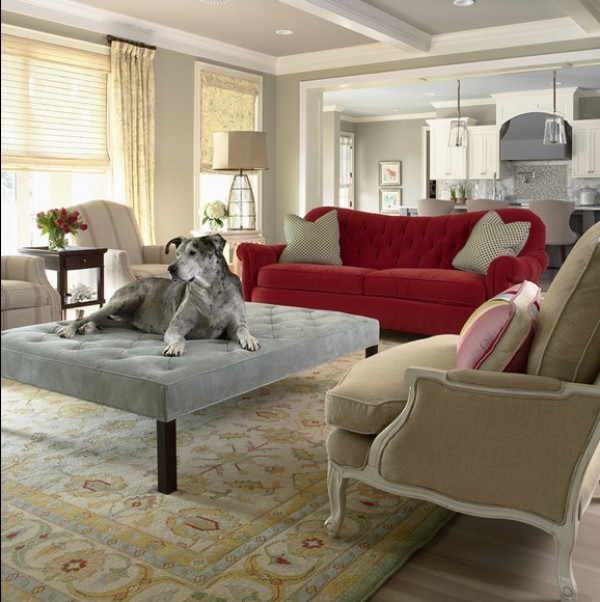 Interior Design by Martha O'Hara Interiors / Photography by Susan Gilmore
Creating the ideal home for you and your pet can often be a challenge and choosing the right furniture with pet-friendly fabrics is essential. If you have the option of choosing furniture before you get your pet, ask furniture retailers for their opinion of pet and child-friendly fabrics.
Most have special furniture lines, or fabric swatches for you to see before ordering your favorite sofa. Opt for darker fabrics than lighter ones and the smoother the feel, rather than plush and soft the better, to be able to wipe off stains easier.
While you may think keeping Fido or Fluffy off your furniture is too much of a chore, rest assured that pet- friendly pieces will keep peace for everyone.