Are you keeping the door open to the many possibilities available for the interior and exterior of your home? Yes, we're talking about doors! Today we spotlight modern door designs that showcase the perfect blend of form and function. Glass, metal, wood and lacquer are the materials of choice in the selections below.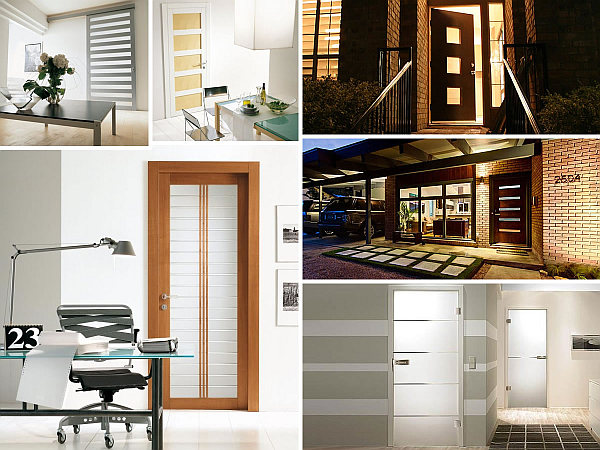 Don't know where to start when making a decision? The door's surroundings will provide important clues about the construction and design that are ideal for your home. Another important reminder as you shop for ideas: don't overlook the "wow factor" provided by a fresh coat of paint! There's nothing like a bright turquoise door on a '50s modern house. Or a bright orange door on a contemporary bungalow. We think you'll agree…
Wooden Doors
Wooden doors are solid and sturdy, yet there's always room for interesting detail. A consistently popular choice for both interior and exterior doors, wooden construction provides versatility, as well as an array of color and design options.
Exterior Wooden Doors
Your home's exterior door welcomes guests as they arrive at your house. Make a big statement with the Custom Contemporary Front Entry Double Door from Doors by Decora. Mahogany wood and 8 stainless steel panels on each side create a wonderful contrast. Not to mention, these doors can be custom built to meet the needs of your exterior!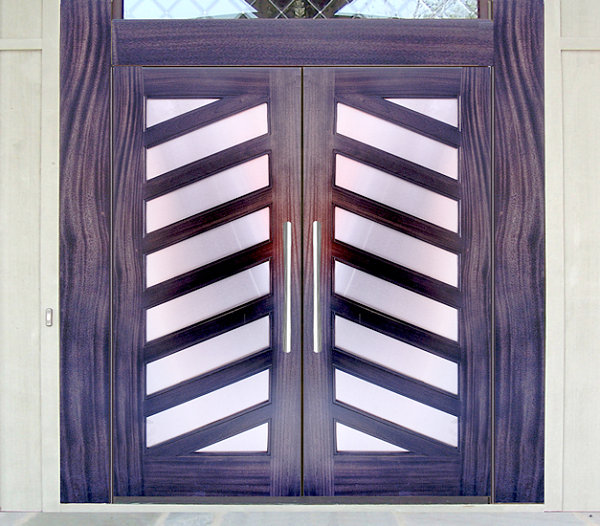 A company that's making a big splash in Austin, Texas is Crestview Doors, known for their modern pieces that also evoke decades past. Shown below, The Pasadena (A) is a solid wooden door that features three square reeded glass windows for extra style. Do you like what you see? You don't have to live in Austin to enjoy the offerings of Crestview Doors!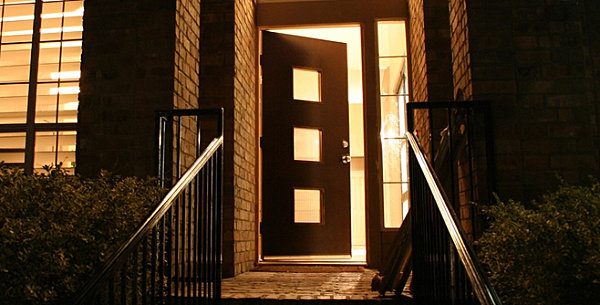 The Allandale from Crestview Doors consists of birch veneer and five horizontal reeded glass windows: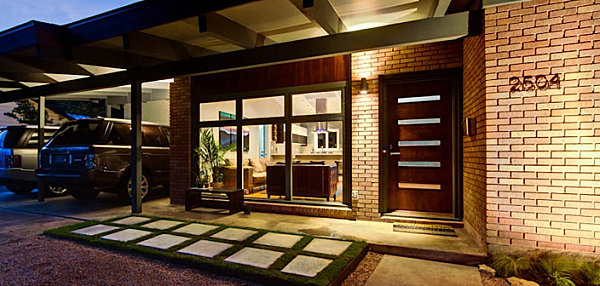 What a difference a coat of paint can make! Below we once again see the Allandale, this time painted fire orange to contrast the exterior's neutral tones and enhance the home's orange interior (which can be seen through the glass windows).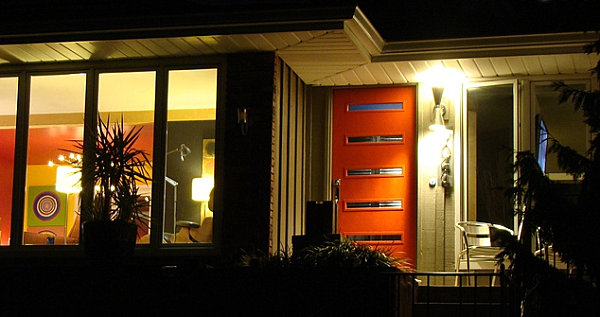 Was your home built in the '50s or '60s? Don't hide its Mid-Century modern roots! Proudly declare its history with The Hobson, constructed of birch veneer. Three rectangular reeded glass windows add character, as does a coat of seafoam green paint. [from Crestview Doors]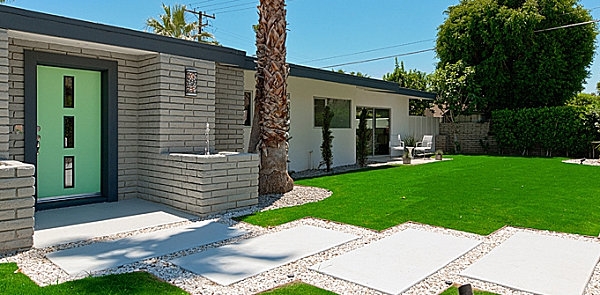 Isn't a turquoise door the perfect complement to this white and gray modern home? The Parkway is made of solid wood and includes one long glass window for a distinct look that mirrors the vertical windows on either side of the door. [from Crestview Doors]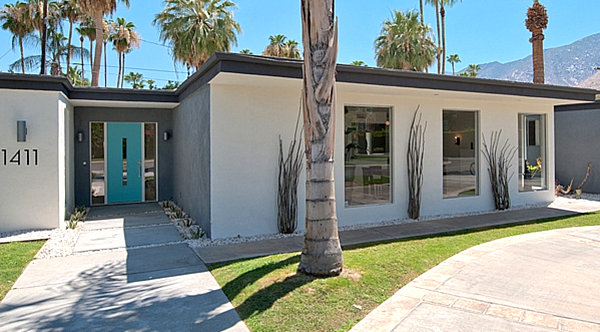 Interior Wooden Doors
Bring the wonderful wooden style inside by giving your home's interior doors the same attention as your outside showpiece! The Light Universal Swing Door from Modernus features a wood slab panel with horizontal detailing. Oh so contemporary!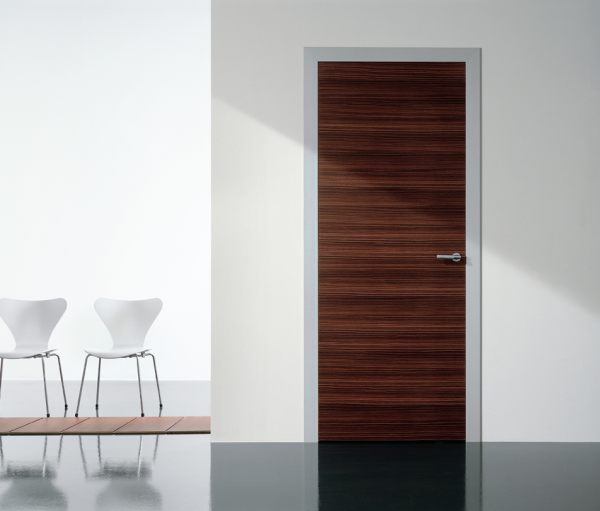 The Light Minimal Swing Door, also from Modernus, consists of an aluminum frame and a bleached oak wood hinged panel. Simple and modern, its golden tone warms up the most cool and contemporary of rooms.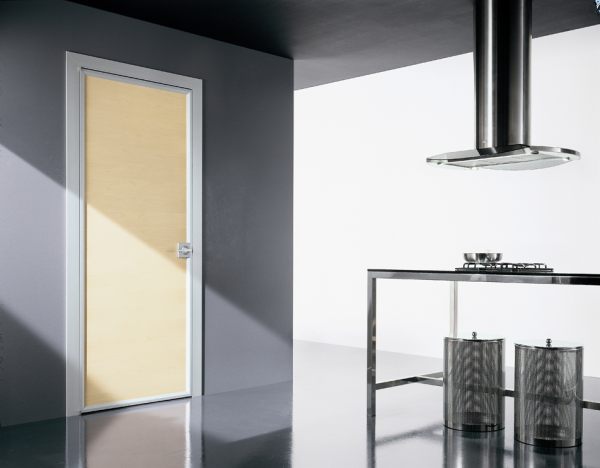 It's time to celebrate the power of the horizontal line! The Exit 05 Sliding Door is crafted of wood and lacquered aluminum. Not to mention, the piece is top hung with no floor tracks, so it can easily glide to the side to create an entry. [from Modernus]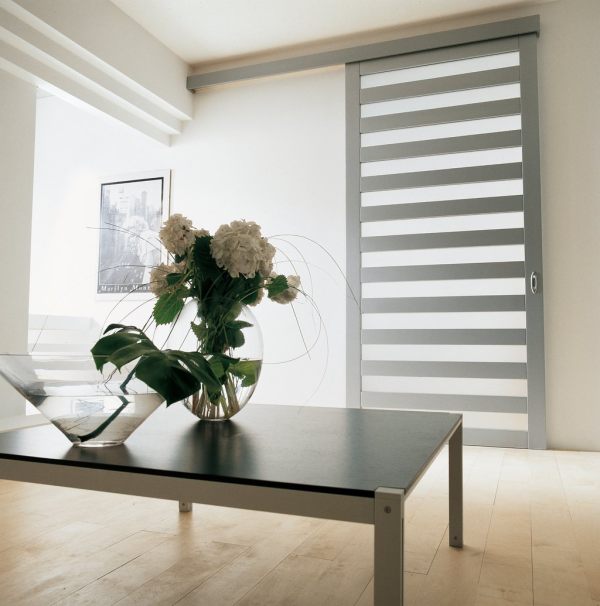 For another statement that calls attention to horizontal detail, try the Exit 02 Swing Door. Providing an important room divider function, this piece features a maple wood fixed panel. [from Modernus]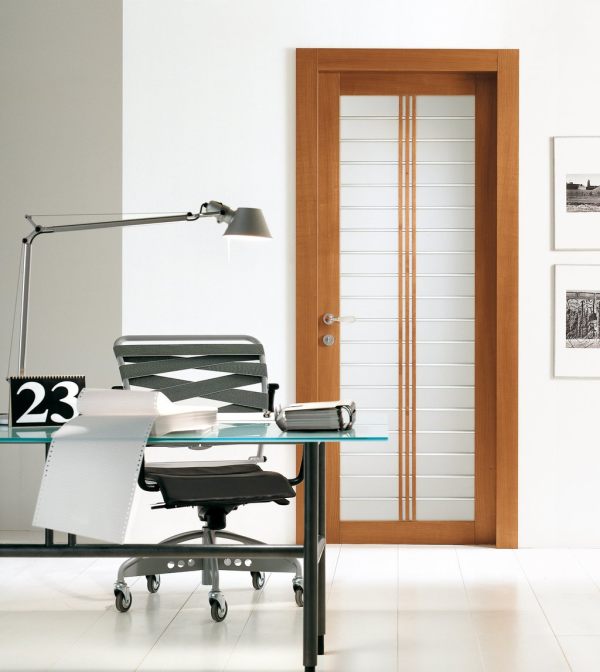 Glass Doors
Glass doors are a sure sign of modern style, and their translucency gives them the ability to let the light in. Now that's enlightening! From exterior selections to interior pieces that are subtle yet striking, an array of options awaits you.
Exterior Glass Doors
Contemporary homes are the perfect setting for simple glass doors. Below we see a pair of glass doors with satin stainless steel pulls, available through Forms + Surfaces.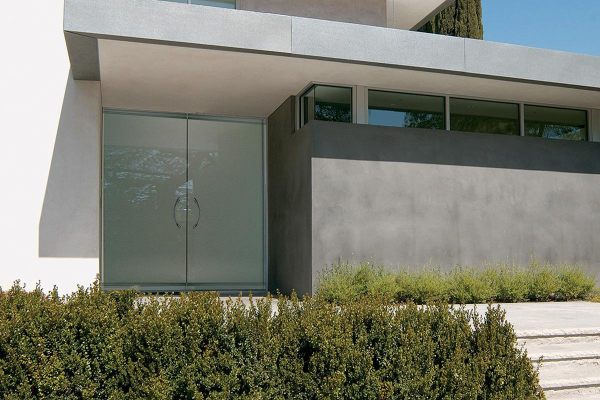 One powerful door can be just as stunning as a pair of them. The Stile & Rail Door in the next image is crafted of stainless steel and glass. Note how it mirrors the home's modern windows. [from Forms + Surfaces]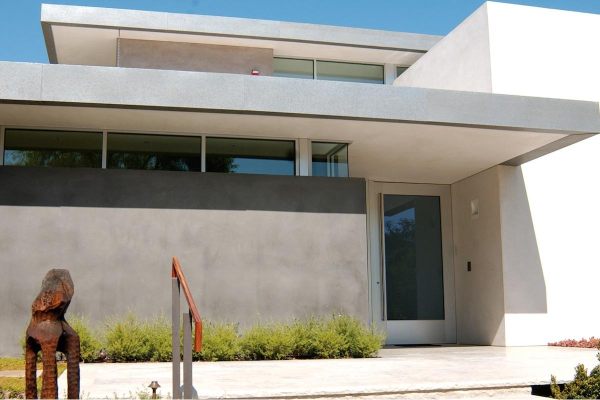 Interior Glass Doors
There's nothing like a beautiful glass door to separate room from room in a contemporary home. The Light Minimal Swing Door from Modernus features an aluminum frame, as well as a frosted glass hinged panel.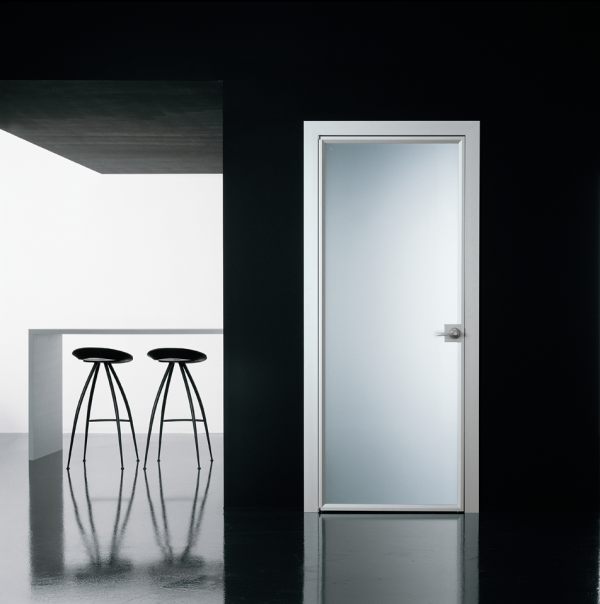 Don't be afraid to use more than one glass door inside! Below we see a pair of modern glass doors, each one in a different style. Note how the wall's painted horizontal lines are perfectly complemented by the horizontal lines on the frosted glass doors.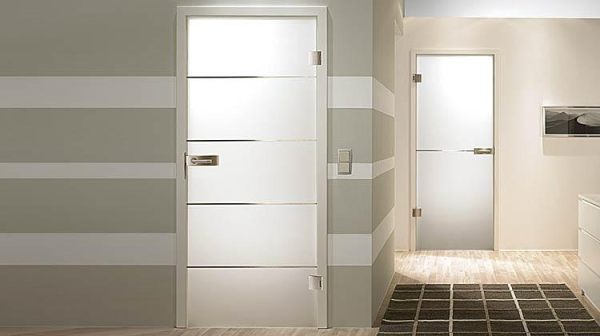 Metal Doors
You may think that metal doors are too heavy to use on the exterior of a residence, but think again. It's no doubt that they are sturdy, and their shine can actually lighten the exterior of a home and add an unexpected twist. Check out the selection of metal doors from Forms + Surfaces, such as the fused metal doors in fused bronze with a circle impression pattern shown below: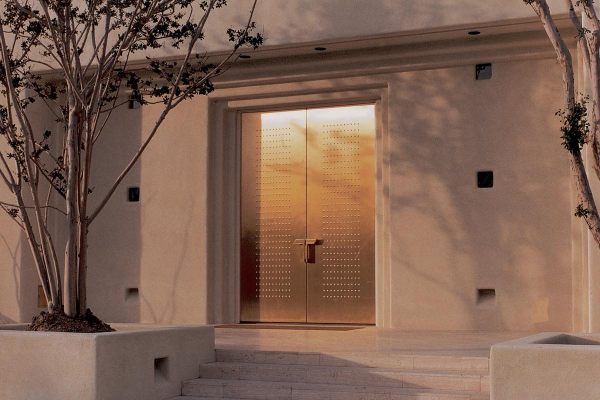 A single fused metal door is stunning on the exterior of this brick building, especially when outlined in a dark shade and embellished with an equally dark pull. [From Forms + Surfaces]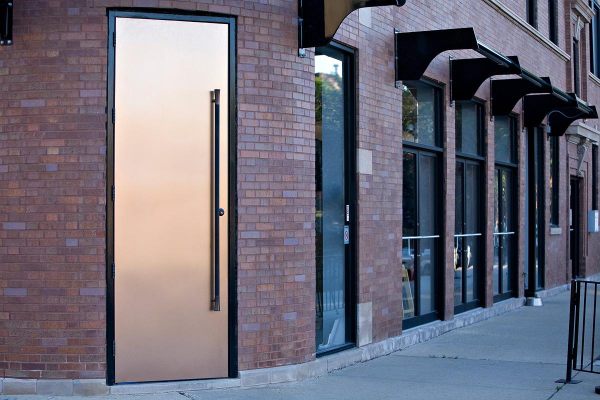 Vertical lines are the design of choice in the next featured set of doors, the stainless steel doors in a satin finish. Note how they shine under recessed lights, giving a metallic glow to the entry of this contemporary dwelling. [From Forms + Surfaces]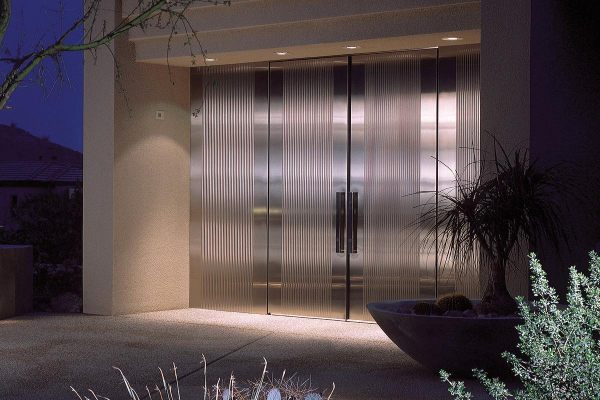 The next stainless steel door boasts a satin finish and a square impression pattern that mirrors the squares in the glass block above the planter: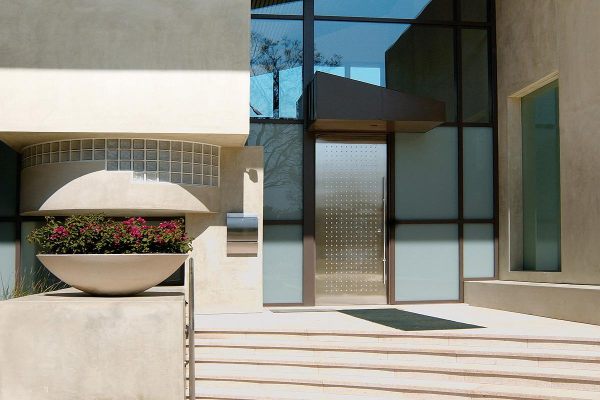 Lacquer Doors
We end by showcasing a couple of lacquer doors that add shine and gloss to the interiors they inhabit. The Light Universal Swing Door from Modernus features a white lacquer hinged panel that is perfectly at home in a room with other lacquer pieces. Slick modern furniture, perhaps?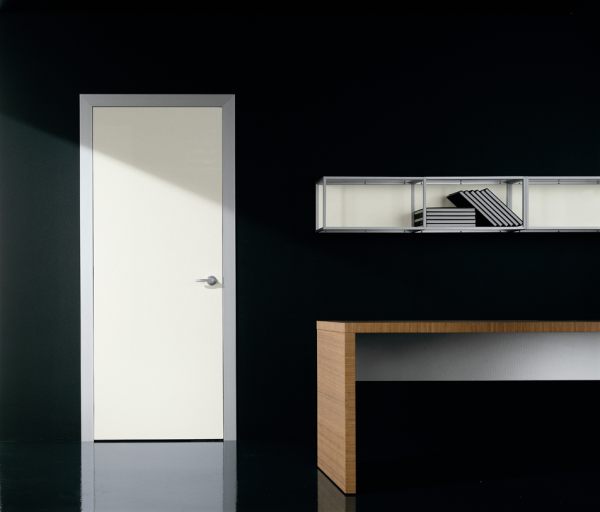 Lacquer and wood prove to be an unbeatable combination in the room below. The Exit 04 Swing Door from Modernus features a white lacquer frame and maple inset panels–quite the contrast!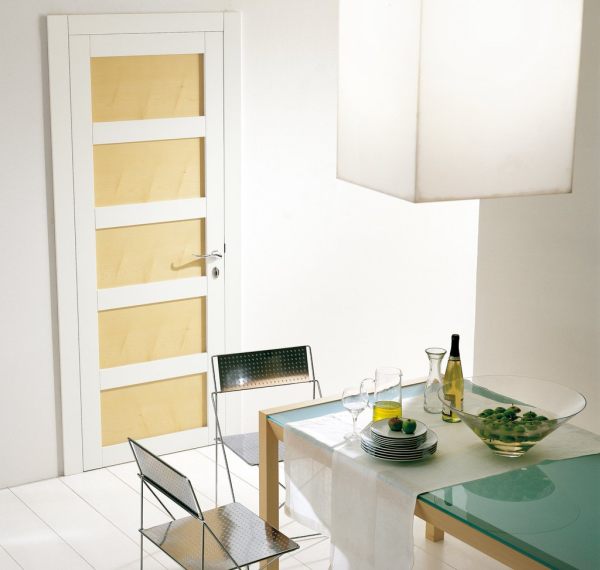 It's amazing how many of the selections above incorporate glass into the design, don't you think? From translucent slats to reeded glass windows, there's nothing like a little architectural interest, especially when it equals more light inside~ Look at each door as a symbol of your home's style. Are you a minimalist modern aficionado? Is your home retro-fabulous? Consider your home's personality as you shop for doors, and you're sure to make the right choice!