Whether it's a turret, an entire space or just the shape of your room, a round room requires some special attention as you fit in customary furniture. But take a closer look as we discuss the intricacies of designing your interior sphere.
Louis Armstrong's La Vie en Rose is playing in the background as you dance with your imaginary partner around the room. You toss your head back. You twirl, you prance. You come alive under the tutored ministrations of your loving dance partner.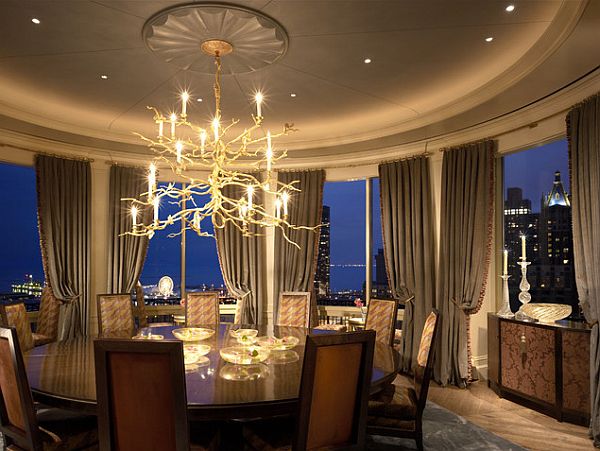 'Round and 'round you go, getting caught up in the lyrics, tempo and rhythm that make you want to dance all night under the flickering glow of candles whose scent invigorates you to fluidity. Who cares you didn't have any formal training or haven't a graceful bone in our body. It's just you and your fictitious dance-mate and the loud tempestuous music in your head. But that music slowly fades into silence and you are back in your open, spacious round room that for one moment had been transformed into a ballroom.
Wouldn't it be great if you have that luxury every evening? To have permission to kick off your heels and unwind with some beat and hopefully- one day in the foreseeable future- a real partner? What if you could have enough space, enough motivation to dance your cares and stress away?
Well in your round room you can. And when you follow three rules to maximizing space, while not compromising the integrity of the rooms shape and dimension you can achieve almost all of the above. (There are just too many personal issues mentioned for me to promise perfection.)
Rule Number One: Don't Outline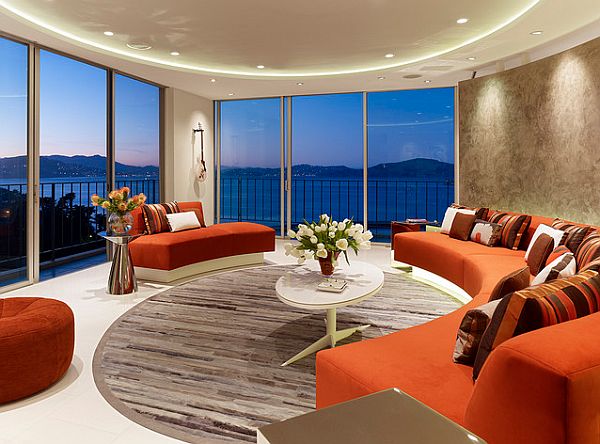 Rarely is the furniture you already own or see on showroom floors designed to hug a circular wall. Solving that problem by using smaller furniture to wrap and outline around won't remedy the issue. It just creates a big gaping hole in the center of the room and tends to create the waiting room experience. Big furniture can fit in your turret or round space, but less is more. Speak volumes by having an opportunity to place your furniture in ways your square room can't imagine. Like additional elbowroom, the three-seater can get its foot in areas while hanging out with the rest of the room when you stick half in the turret, half out. This is the one area in life, sitting on the fence works.
Rule Number Two: Do The Expected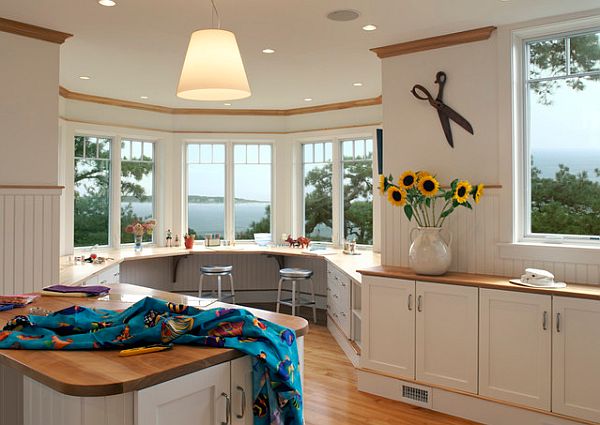 A turret turned into a breakfast nook with a round table. Dead center. Brilliant. It's simple, fills the space without overwhelming and keeps the shape alive and pays due respect. Illuminate this interior success with a chandelier overhead. If you're not in the mood for dining, than a reading nook is just begging to insinuate itself here. A bench with floor cushions and a relaxing Papasan chair surrounded with stacks of books, magazines and the Paper. You are right, Misters Bert and John Jacobs: Life is Good! (Insert Jake's smiling face here.) Even when you aren't that different and do what is expected.
Rule Number Three: Heighten Your Experience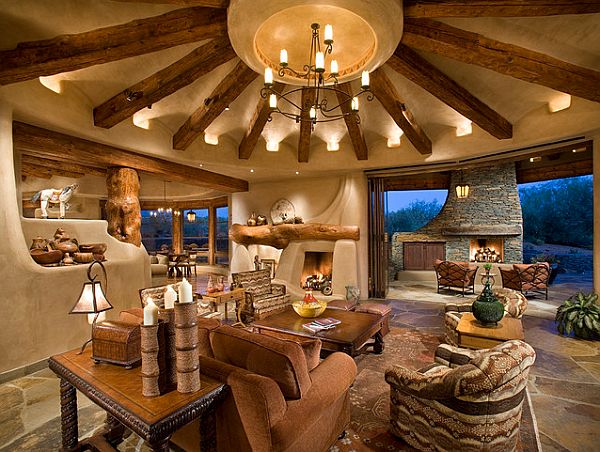 So let's assume you have a studio like room with and open floor concept but the walls? Well they're round. No problem. I've seen many of these areas become beautiful effective arrangements. Just create invisible walls. And then box in your furniture for the living room. Using the backs of your sofa you can encapsulate your desk in an office cubicle. Just like our imaginary partner during our Louis Armstrong back up dancer auditions, you need an imaginary wall with very real objects. Ladder bookshelves, standing lamps, large indoor plants, hanging décor, all these will mimic the height of a wall, while still maintaining the open, bright airy space of a round room.
From the center to the left to the right, and back again, you have plenty of space to maneuver around the room which now hosts all your living spaces in one convenient area, that urges your feet and thus your body around to dance a little jig around the three rules of less is more, fill up spaces the way they were meant to, and add height in fun ways. Enjoy!