The modern bedroom is more versatile than you might think. When you imagine modern spaces, do you see minimalist decor, blank walls and clean lines? Sure, these are some aspects of modern design, but today's modern bedroom can incorporate a variety of materials and styles. For example, earthy, organic decor can easily be incorporated into a modern space, as can elegant Hollywood Regency pieces.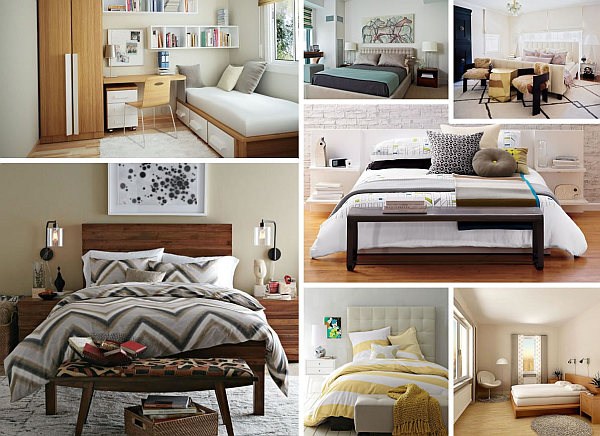 Which style should you go for? Simple: the one that makes sense for you! For some, a modern eclectic look is ideal, as it offers the freedom to mix a variety of styles. For others, a hotel-style getaway is preferred. And if you have a small space, don't hesitate to turn each size-related challenge into an advantage. Today we show you how, thanks to a gallery of beautiful images that speak volumes with their visual style tips. Enjoy!:
Proudly Modern
Our first set of images features bedrooms that are undeniably modern. New pieces and styles blend with their chic simplicity. Geometry is often involved, as exemplified by the space below, which features the Dot Trellis Bed Linens from CB2: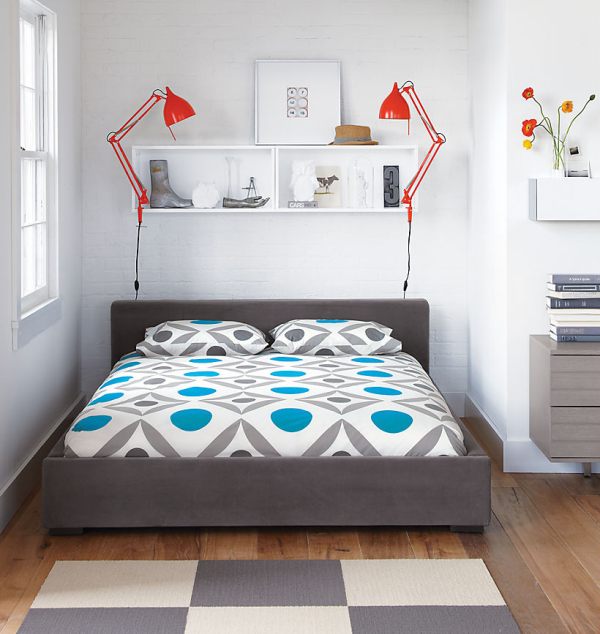 The next room reminds us that a modern space can be softened with an array of pillows. The diverse mix below sits atop skyline bed linens from CB2: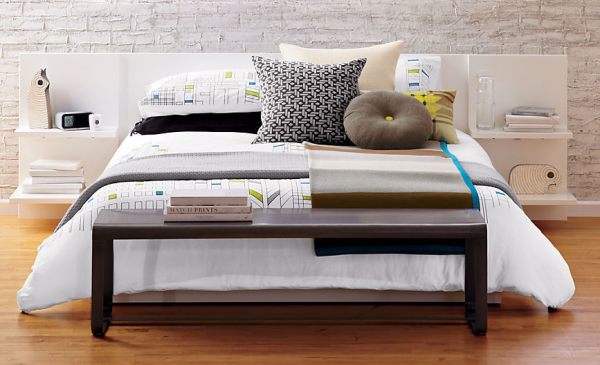 Olive green oasis bed linens from CB2 set the tone of the next space, the perfect example of the strategic use of modern art to make a statement.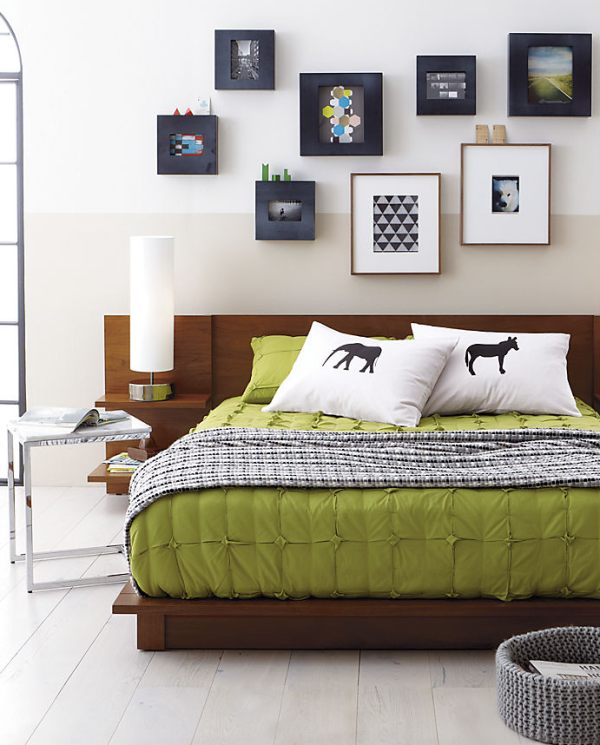 Who says modern can't also be charming? Clean-lined furnishings have a soft edge in the room below, thanks to an assortment of avian-themed art, as well as textiles like the Organic Diamond Texture Duvet Cover + Shams from West Elm.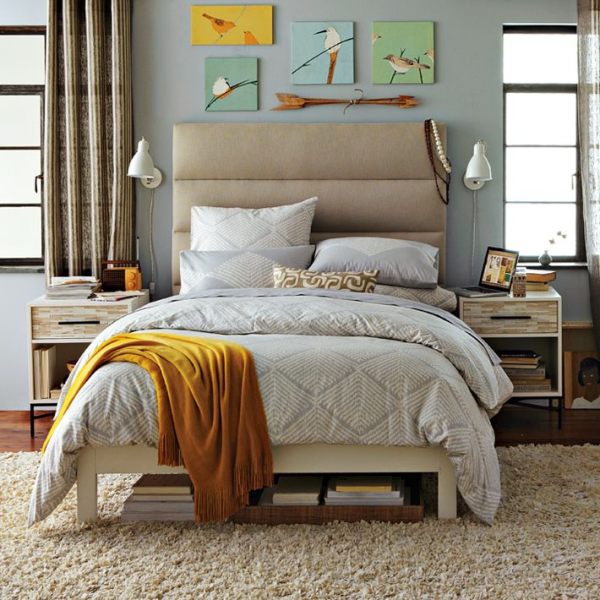 Modern spaces can also be softened with warm wooden accents, like the sturdy bed covered with CB2's deconstructed bed linens in the image below: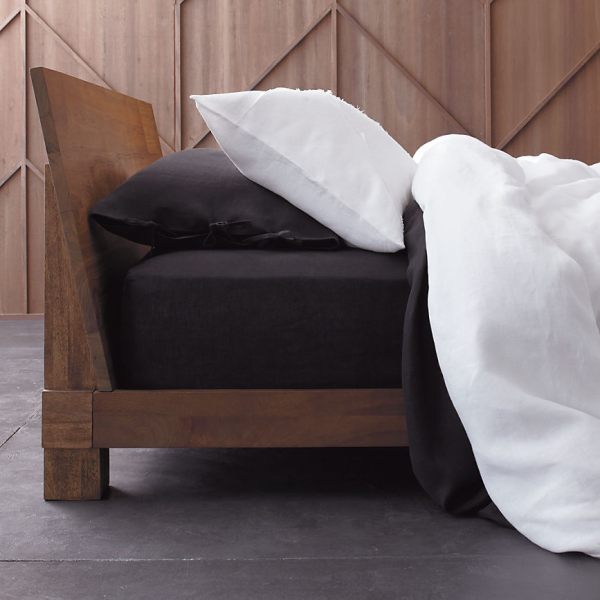 Modern Eclectic
Do you want a modern look that can blend well with your diverse decor? No need to throw out items that don't scream "contemporary." Put it all together and see the power of an eclectic blend. The room below is clearly modern, but there's an exotic earthy quality to the space, which is anchored by the Textured Atlas Duvet Cover + Shams from West Elm: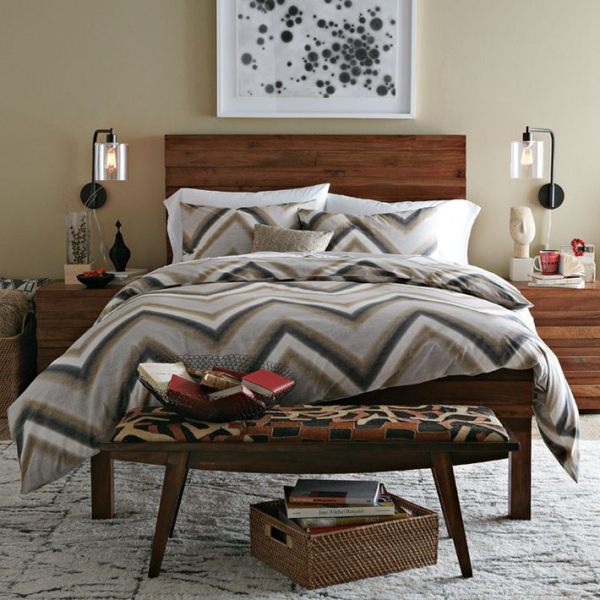 With so much focus on the glamorous Hollywood Regency style that's re-emerged in recent years, it's refreshing to see the next bedroom, which incorporates Hollywood Regency patterns without completely surrendering to them. Industrial touches like the metal bedside lamp are unexpectedly divine. [from Busybee Design via Houzz]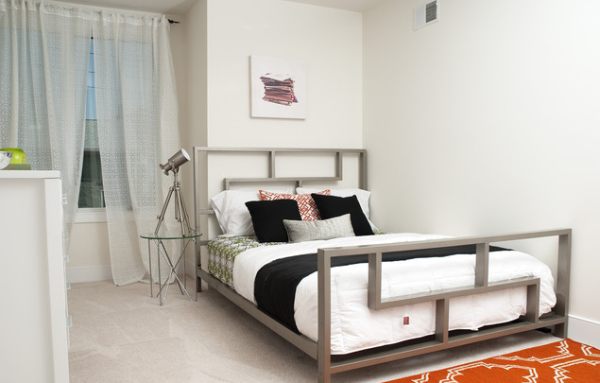 For another Hollywood Regency space that's kept in check with modern features, take a look at the next room. Organic bedding from West Elm and an abundance of natural tones bring the space down to earth without sacrificing elegance.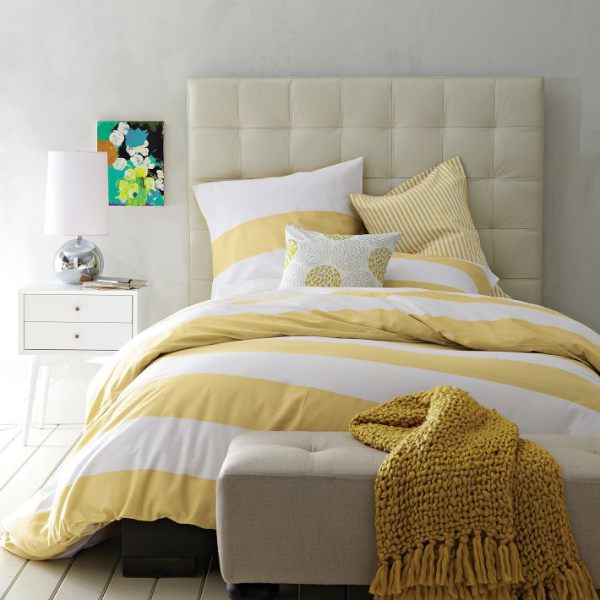 A tufted headboard meets interesting colors and unforgettable artwork in the room below. Note that special touches like a bedside vase of flowers will keep your modern space from looking sterile. [from Duffy Design Group via Houzz]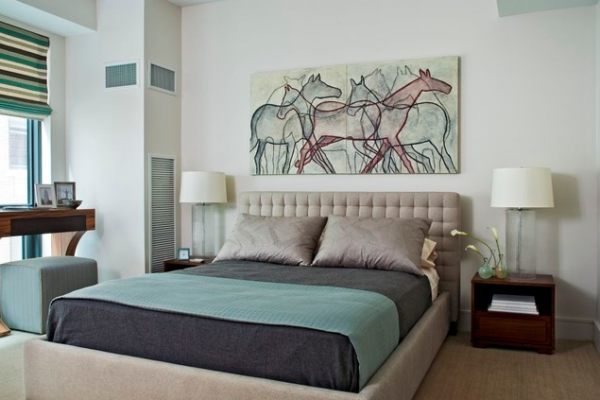 The next room clearly has aspects of minimal style. But curves in the artwork, rug and chandelier keep the space from looking ultra modern. [from Cornerstone Group Architects via Houzz]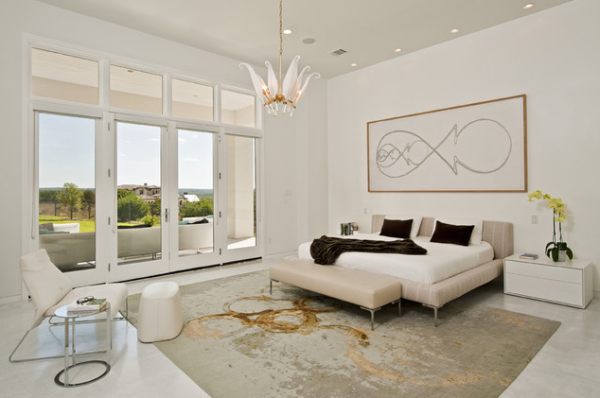 Another modern eclectic choice? Bring on the retro! The room below has touches of '70s and '80s decor. A geometric rug, shiny furniture selections and pastel bed pillows are unusual choices that somehow complement one another rather than overpower the room. Awesome! [from Lonny]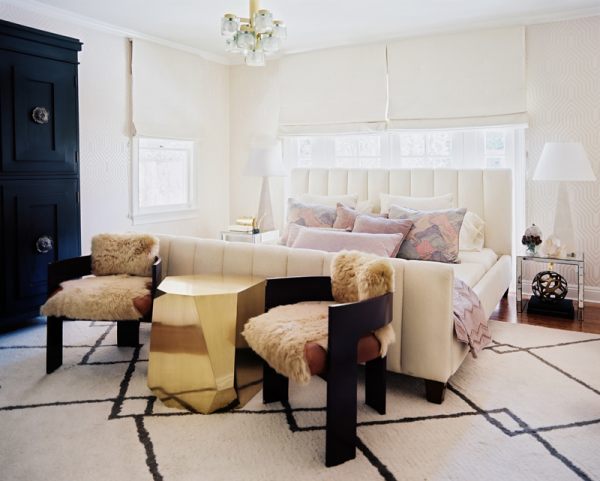 Can you pinpoint the style of the next space? We can't either, which is why we love it! With elements both antique and modern, there's a delightful contrast between the old and the new. Circular artwork above the bed keeps the space harmonious. And who wouldn't love that geometric headboard?! [from Lonny]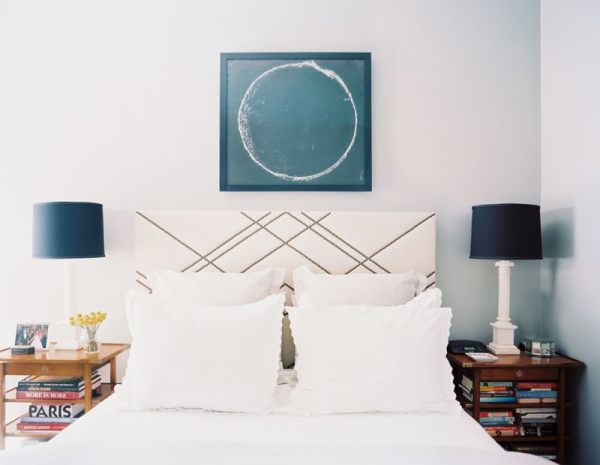 Speaking of headboards, the tufted piece below is a true highlight of the room. Modern lamps, elegant drapes and earthy furnishings prove to be a great combination of contemporary, glam and rustic. [from Lonny]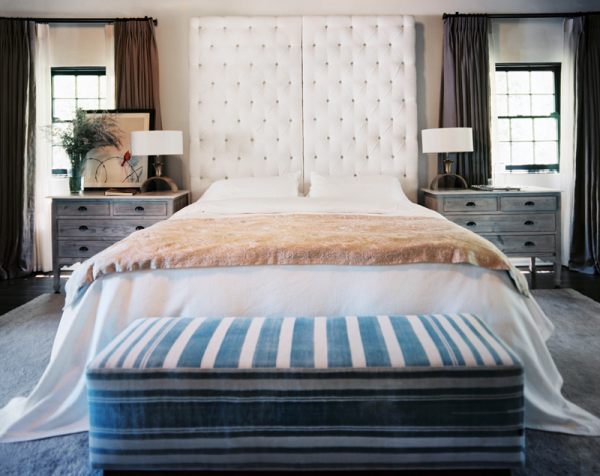 Hotel Heaven
Another approach to modern design draws inspiration from hotels. And why wouldn't you want your room to remind you of a vacation? Hotel-style features include dramatic drapes, comfy bedding, memorable headboards, and decadent details like the room service-style tray below! [from interiormagz.com]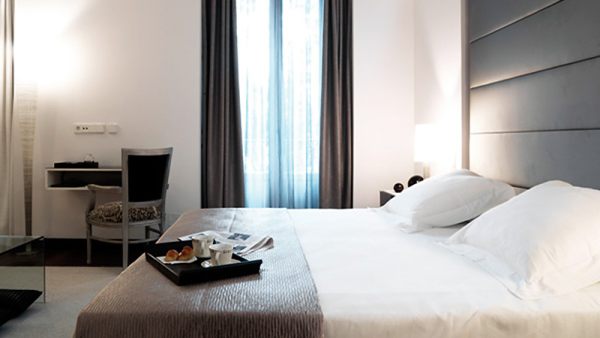 Don't forget the power of a large floral arrangement! Combine it with hotel-style bedding, and you have an irresistible vignette: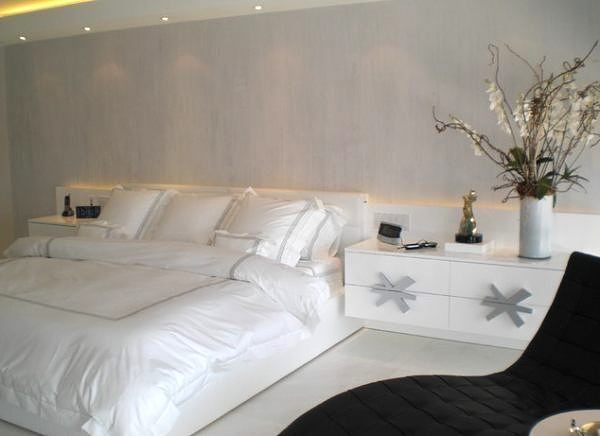 In fact, sometimes bedding alone is enough to add a touch of hotel chic to your modern space. In the room below, we see a signature hotel-style frame design on the shams. A soothing white palette is a calming force in the room, as well as a nice backdrop to both modern and traditional artwork. [from Lonny]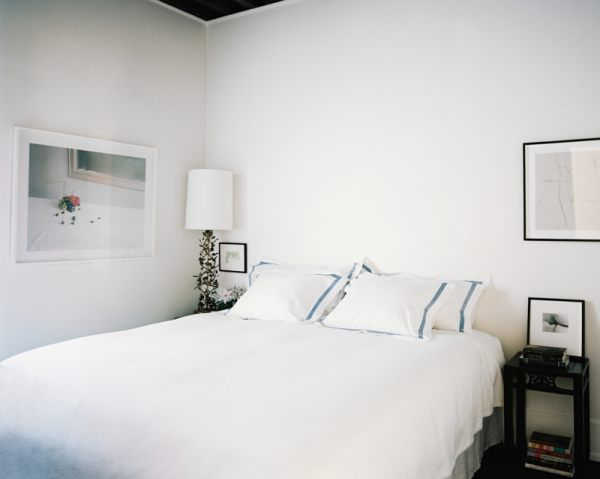 For a dainty take on hotel bedding, check out the Embroidered Frame Duvet Cover + Shams from West Elm. Soft yet strong, they blend nicely with a modern headboard, as shown in the next featured room: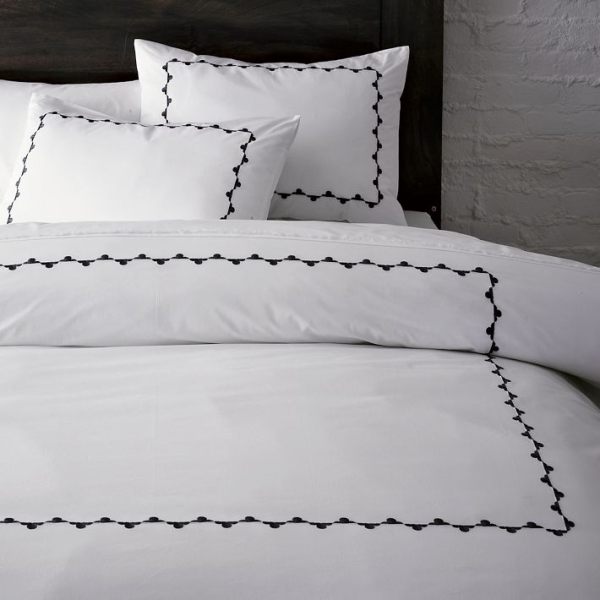 The next hotel-style space is shamelessly Hollywood Regency. We love how the glamor of the space conjures images of the world's finest boutique hotels. Once again, bedding with a frame motif adds elegance. [from Decorpad]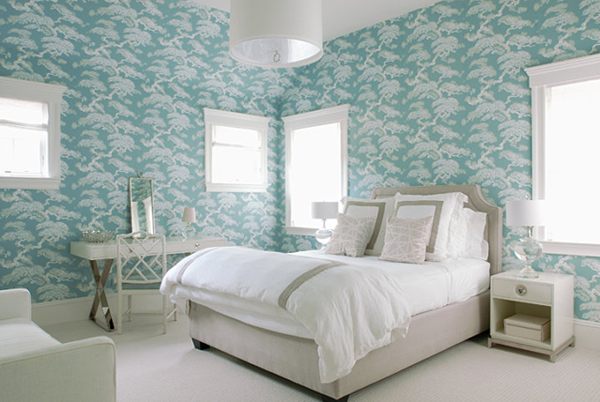 Throw some textured bedding into the mix for a dash of luxuriousness. For example, the Long Links Collection from the Hotel Collection Bedding is available at Macy's, and it includes an array of pillows that will add a plush vibe to your space.
Need one more reminder of modern "hotel chic" style? Why not turn to an actual hotel room for inspiration? In the space below, we see several hotel staples: lighting on each side of the bed, tall drapes, crisp bedding, and of course, a desk and chair! [from Hotel Tulip House]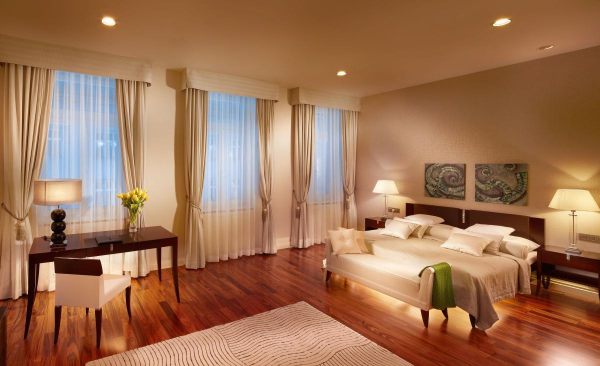 Small Space Tricks
If you feel limited by your small bedroom, think again! Sometimes a challenge can be turned into a true benefit. For example, people with compact spaces are often forced to regularly pare down and make each piece count. What happens when each piece counts? Pure design magic, as shown below! [from azmyarch.com]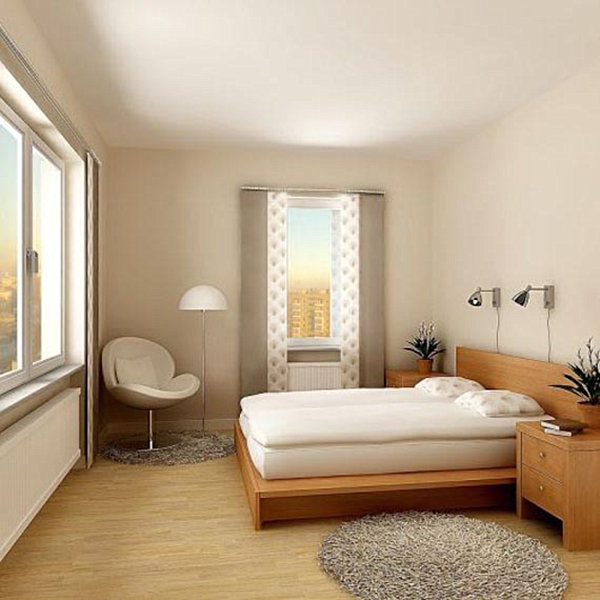 Keep it simple but interesting with details like floor-to-ceiling draperies, which give the illusion of added height. Notice how the drapes and shades in the room below add interest and depth to the space. [from Nicholas Moriarty Interiors via Houzz]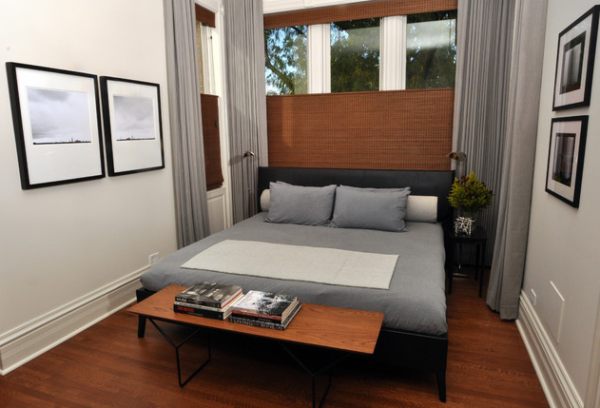 If your room sleeps one, consider going with a daybed that can double as a couch. Opt for tall or narrow furnishings rather than wide ones, and choose natural materials for an air of sophistication. Note how the wooden pieces below unify the space and prevent it from looking adolescent. [from OneArchitectureSite.com]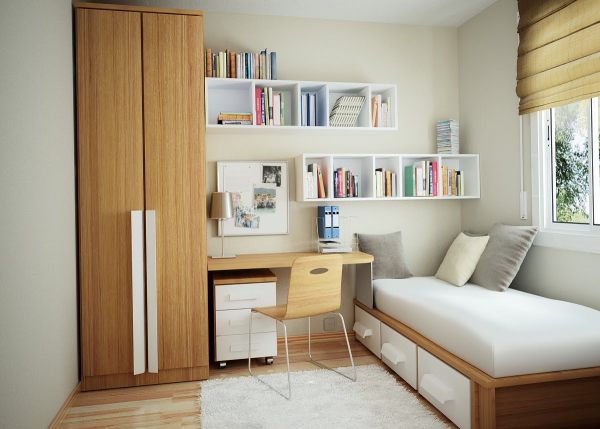 Did you find some inspiration in the pics above? So did we! Remember that modern design can involve a blend of styles and time periods. If you don't want give away that antique side table, go modern eclectic! And don't hesitate to create the space you've always wanted. If minimal and clean-lined is your style, revel in it! If you like the decadence of lacquered pieces and tufted headboards, bring on the glam! Your bedroom is your haven, and it's worth the time and effort to create an unforgettable space that truly reflects your style.