What if you could turn a room of your house into the kingdom of Zezolla? To design the interior of your space into an area where the only responsibility is upkeep and maintenance of the wooden floor? Sounds almost too good to be true, almost like something out a fairytale, wouldn't you say?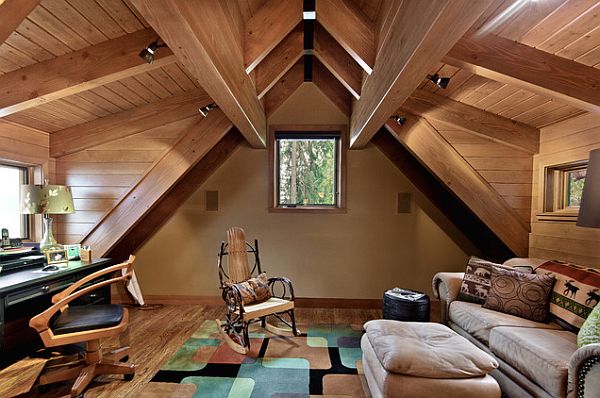 Once upon a time the Brothers Grimm wrote a book full of tales of fire breathing dragons, evil witches and pretty damsels in distress. The red herring of these tales that has once again been solved is that even though the book was written for children it was adults who fell in love with the drama. And yet still children request the modified stories come bedtime. With vivid imagery and graphic content, the stories of battle and the war between good vs. evil is evident with the recent motion pictures derived from the original penned work. We as adults are coming to reacquaint, understand and appreciate fairytales once more.
And as my German mother-no relative of Wilhelm or Jacob according to our partially filled out family tree-tucked me in at night these classic fairytales were introduced to me in a modern style of mix and match. This craft of storytelling had been passed on down from her mother and now I can pass it down to the next generation. The antagonist Rumpelstiltskin may have been the one to lure in Hanzel and Gretel as they wondered through the woods with the seven dwarfs: A true example of a classic-contemporary fairytale.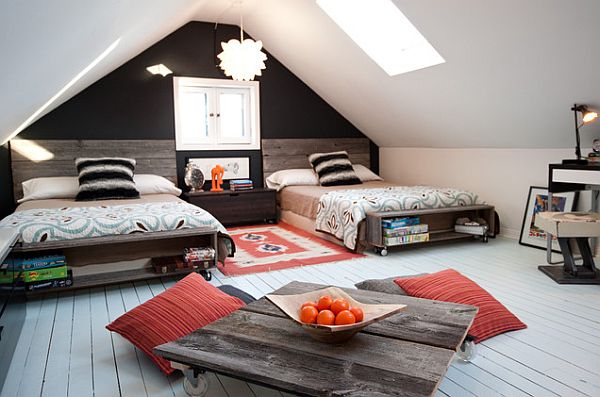 Another example of a classic contemporary fairytale is Penelope, whose lofty dwelling is another inspiration for our mystical attics. She was not bestowed with the healing power of long flowing hair; no she was cursed with a Miss. Piggy Nose that had ostracized her from society until true love set her free.
Meanwhile, for years Penelope entertains herself in an indoor forest of music, entertainment and reading solitude. And while this castle became tragic imprisonment, wouldn't you like to be able to swing away your worries in your very own home?
Well with five fun steps you can learn what takes a haunted attic and transforms it into a thing of beauty and a destination of relaxation.
Aerated Seating Arrangements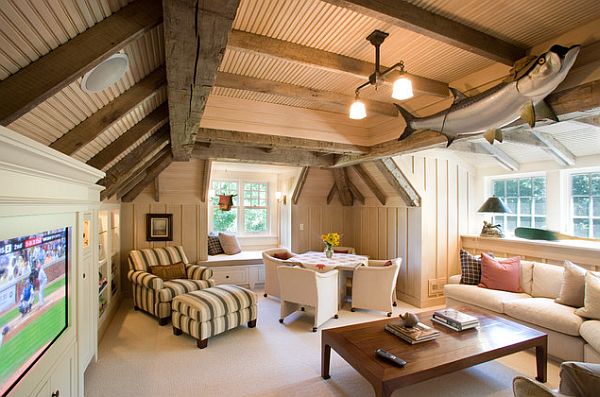 Of all playground interactive features, it is the swing you must never allow yourself to outgrow. The feeling of liberty as you point your toes due north and lean back as far as your arms reach, that's therapy that no psychiatrist's office can perform for you.
It is recommended in life to stay grounded with a good head on your shoulders and to keep your feet planted firmly in reality, but seriously after a 72 hour work week, don't you think you deserve to let you wings out and fly through the still air? By safely and structurally hanging a hammock or swing from your attic, rain or shine you can experience the joy of swinging, laughing and letting your shoulders have a weight free moment.
Furniture in Funky, Unexpected Shapes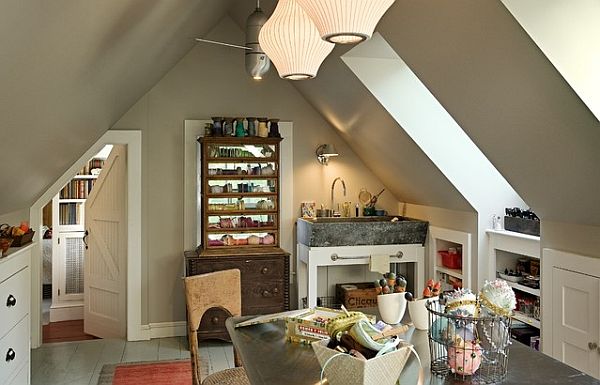 I think it's safe to presume that one of you, many of you maybe, are fans of Apple, Inc. and the late Steve Jobs implementation of the "Think Different" philosophy. If so than you too believe it's time we stand up against the Queen, um Queen size rectangular bed that is. (How can I dispute against the upcoming Diamond Jubilee? Long live the Queen!)
A thick circle mattress flat on the floor surrounded by swaths of fabric, blankets and pillows and with a ceiling canopy crown bed to enclose you in your nighttime dreams. Ah!
A Cacophony of Blended Color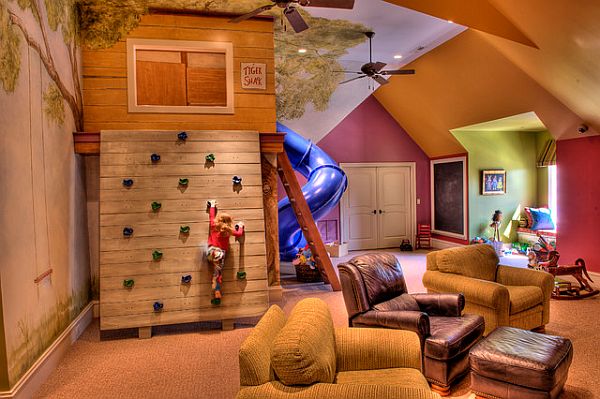 Rich colors like purple, magenta, tangerine and sage green will lift any sour mood. From the color of the walls to the floor to the ceiling, splash your fairy tale space with a fictitious setting of love, happiness, joy and light. The triumphant feeling of outsmarting the fox as the geese pray the story to conclusion, that requires bright airy colors of celebratory means.
A Magical Place of Lights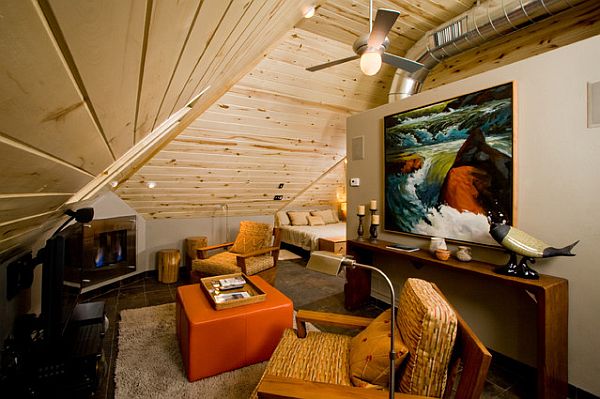 What finally urged the Disney version of Rapunzel to leave the confines of her tower was the desire to discover the purpose of the thousands of sky lanterns released on one night of the year, her birthday. Finally seeing them from a much closer vantage point ignites renewed passion to find who she is and where she came from.
Like Edison, we need that light bulb moment so why not pay homage to this beloved inventor with strings of mini lights and lanterns. This is your moment to let down you hair. Like a rock star head banging in the prime of the show, enjoy the glory under your spotlight, as you become whoever you wish to be, as you let the lights illuminate your hopes and dreams and highlight the joy of just being.
Go With the Flow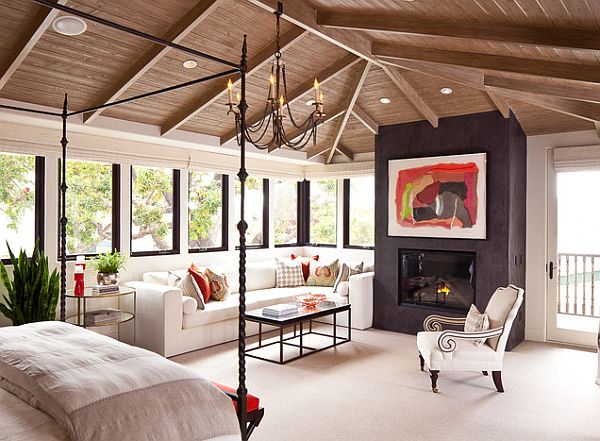 Sloped A-frame ceiling with exposed beams, nooks and crannies where the slanted ceiling meets uneven floor, this is the only reason a fairytale theme can work. The flaws and tight spaces should not be closed off with a false wall. No, build into them. Bookshelves, reading nooks, tents, just don't destroy the appealing integrity of the fairytale attic. Like the old lady and all her children who lived in a shoe, they learned that accommodations might be tight but all the more reason to be merry.
So the next time you are whipped soundly by a treacherous day, you can rest in a circular bed a little closer to the stars in your fairytale attic!
Images by (in order): Gelotte Hommas Architecture (Taylor Grant Photography), Ottawa Citizen Style mag (Dyanne Wilson Photography), Murphy & Co. Design (Phillip Mueller), Smith & Vansant Architects, Gabriel Builders, HighCraft Builders, D for Design.