Whether it is modern interiors soaked in lavishness or unending great views that change all through the year, this amazing 7,500 square foot home in Los Angeles, California — right on Sunset Strip — offers you pretty much everything that you need and a lot more. In fact, if you were one of those picky types that wants everything and anything that is possible to be incorporated stylishly into the interiors of your house, then you would find this pretty much as close to perfect as possible. If the sheer magnitude of the house does not please you, then one look at what it has to offer will surely change your mind.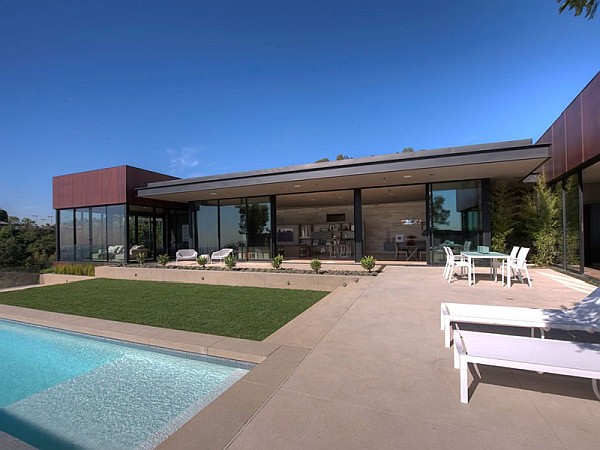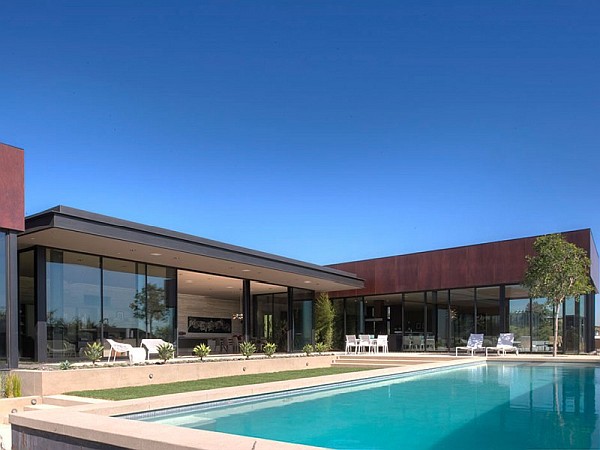 One of the most distinctive and impressive aspects about the home is the excessive use of both glass and wood, while concrete and stone seem to make their presence felt. The flooring on the interior and even the walls are clad in a coating of wood and all of it looks classy and elegant. The exterior uses a smooth and simple box-shaped design, which seems to be the silhouette of choice in case of most present-day structures.
The ergonomic and effective use of floor-to-ceiling glass windows means there are plenty of wonderful views that are on offer and all of them are completely unobstructed, along with some great natural ventilation that enhances the interior. The shades of the wooden flooring and the décor are kept in close sync so that visual appeal is never lost.
And if all of this is not enough then a refreshing infinity pool, an indoor waterfall and even a home theater with stadium seating should be wonderful added incentives. Beautiful chandeliers and pendant lamps help accentuate this California home and for those interested, it will set you back some $13 million; not much for all that is on offer, really.