Not only are benches a space-efficient seating alternative, they are versatile! For example, scoot a bench up to the wall, and you have a place to sit with the benefit of back support. Place a bench in the middle of the living room, and you have a makeshift coffee table. At the foot of the bed, a bench makes an elegant statement.
You'll find equal variety in the area of bench design. From clean-lined metal selections to ornamental lacquered options, there's a style to suit every taste. But instead of talking about the range of possibilities, today we show you! Below are 20 amazing benches, with links to the very sites where you can purchase them. Browse, shop and enjoy!
Wooden Benches
We begin with the unique Offset Bench from West Elm. Its modern form in enhanced by drawer space, as well as a comfy cushion in red: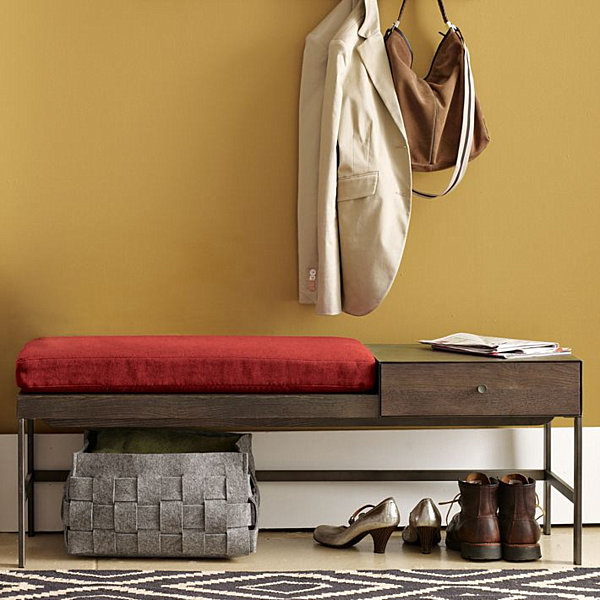 Speaking of red, the Baja Red Bench from CB2 can be used as a bench or a table. Slanted legs help the piece to blend nicely with 50s/60s modern furnishings, while a classic shape makes it ideal for both traditional and contemporary spaces.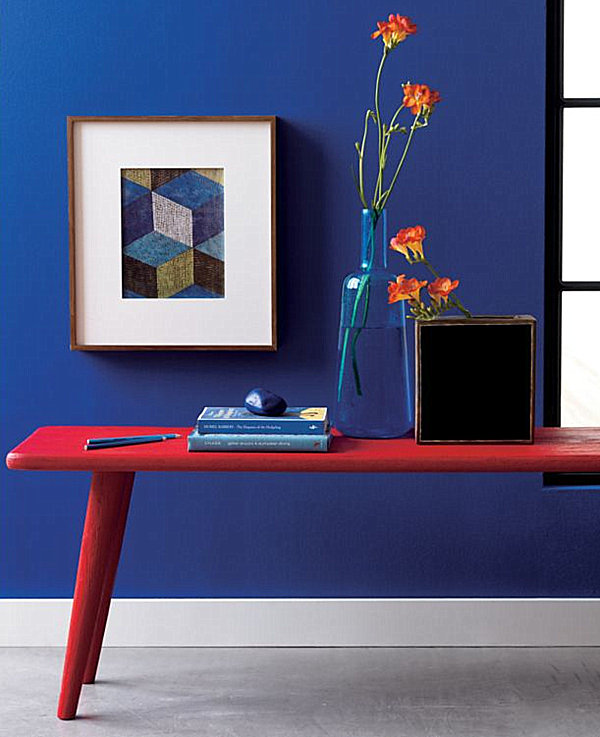 For another Mid-Century Modern look, check out the Crescent Bench from West Elm. A whitewashed ash frame and a crisp linen blend cushion make this item wonderfully light and airy.
Next we tap into an early 20th century work table aesthetic with the Benchwright Bench from Pottery Barn. Its weathered birch body is stabilized by a metal support bracket, which gives the piece an industrial feel.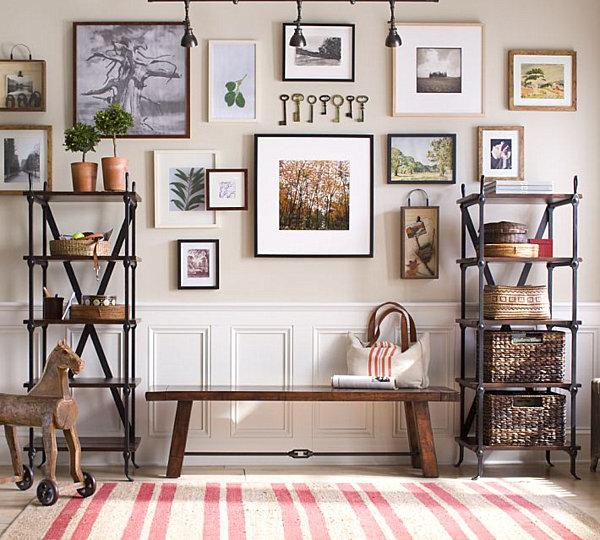 A curvilinear form and wood grain surface make the Botanist Minimal Walnut Bench by Dario Antonioni truly unforgettable. The simple, striking design speaks volumes.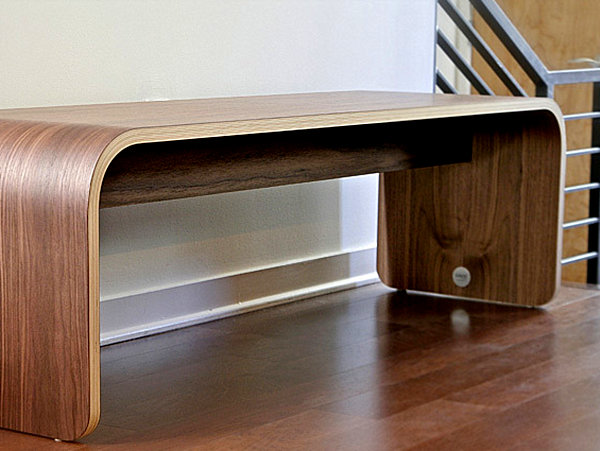 Lacquer Benches
Lacquer benches add gloss to a room, creating a sleek shine. Modern selections like the Sandbar Coffee Table-Bench from CB2 can be used to meet seating or table needs: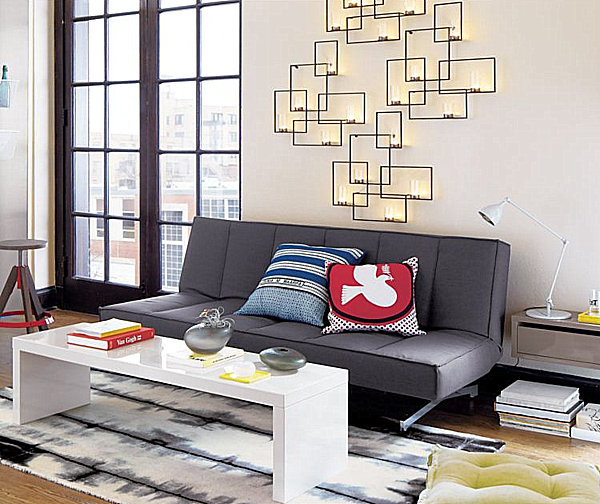 Glam is the word for the next piece, a yellow leather and white lacquer bench from Raymond Goins. Curves and a double-decker design give this bench a dose of frivolous fun!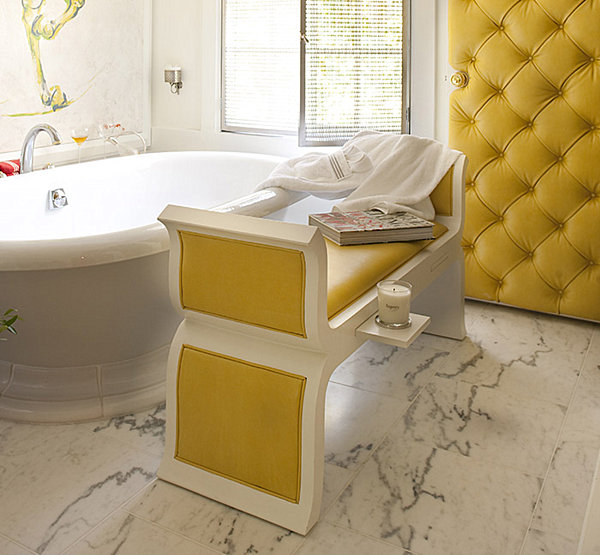 For a fancy lacquered effect, try the 4′ Lutyen Bench from Woodland Direct. Not only is the piece visually interesting, a high back and rounded arms make it truly comfortable. As the picture below shows, the bench can be used outdoors as well as inside:
Metal Benches
Metal benches can lend an industrial look to a space. Not to mention, the more weathered they get, the better they become! Below we see the Shattuck Bistro Bench from Pottery Barn. Its slatted frame is highlighted with red paint, which makes the white cushion pop. (Note: the cushion is sold separately.)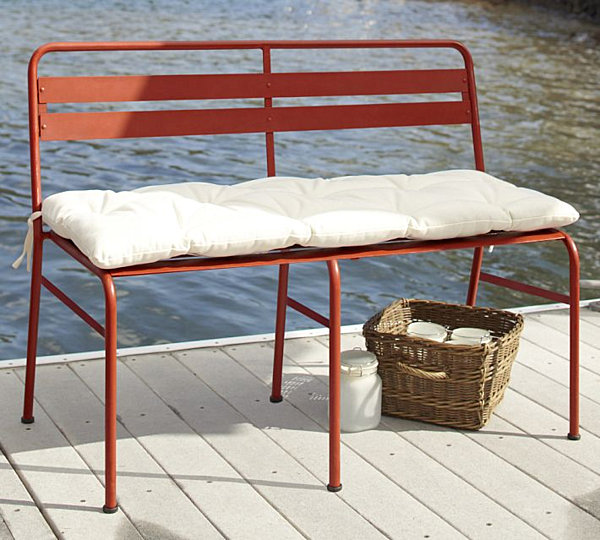 Combining both modern and traditional elements, the Porto Metal Bench With Cushion from Crate and Barrel is crafted of hand-wrought steel: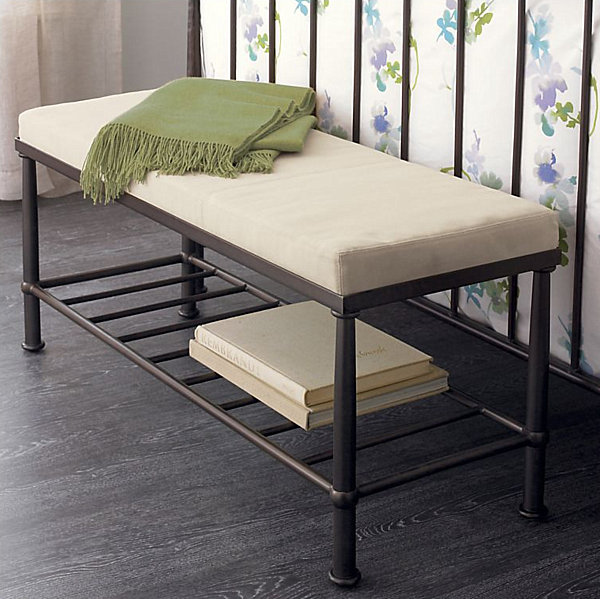 We now venture into clean-lined territory with the Fin Coffee Table-Bench from CB2. Perfect for seating, coffee table duty or holding books at the foot of the bed, this piece is neutral yet powerful.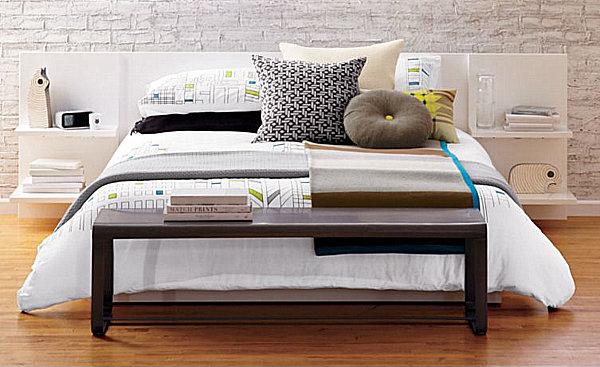 Speaking of powerful, the Flora Bench from Botanist, designed by Brandon Lynne, steals the show with its powder-coated aluminum frame and floral cutout design.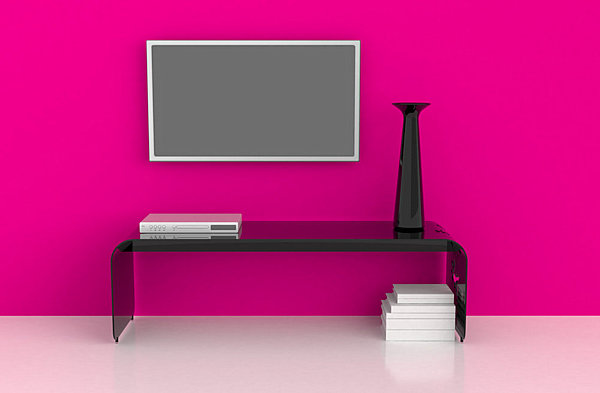 Also from Botanist, the Pixel Burst Bench is designed by Yves Behar. Playful in its digital motif, this bench has a curved frame crafted from powder-coated aluminum.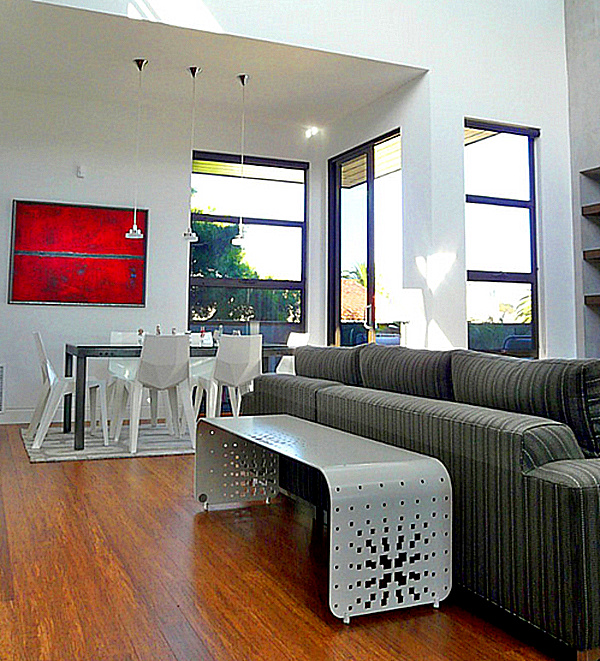 We complete our metal bench category with a final selection from Botanist–the Flow Bench by Dario Antonioni. Its curvilinear form is accented by a bold red finish.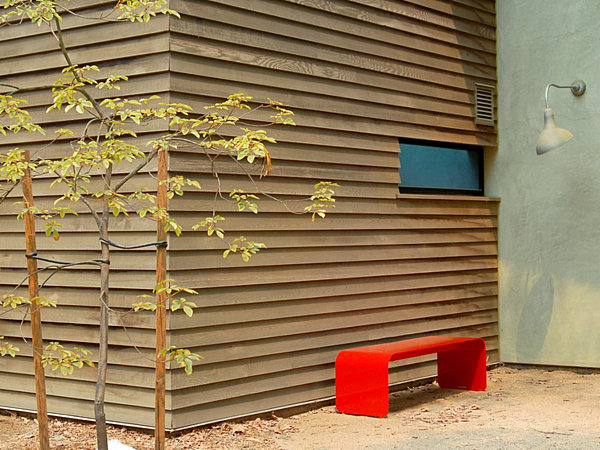 Upholstered Benches
Elegance reigns in the world of upholstered benches. Take the Lola Bench in pewter gold from Z Gallerie. This hand-tufted gem is covered in silky velvet upholstery: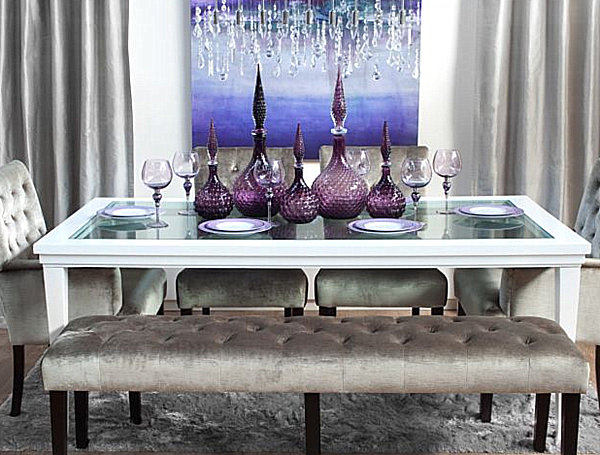 The Nailhead Upholstered Storage Bench from West Elm can hide clutter, while the metallic trim makes this piece a true standout.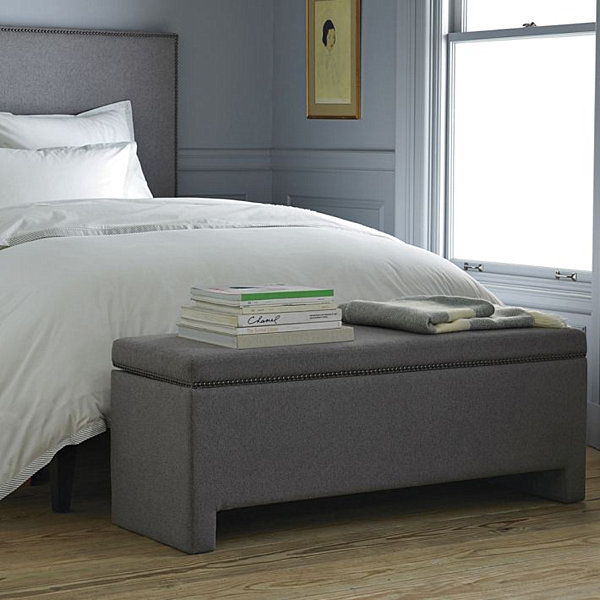 What do you get when you combine an upholstered seat with charming turned legs? The Essex Upholstered Bench from West Elm!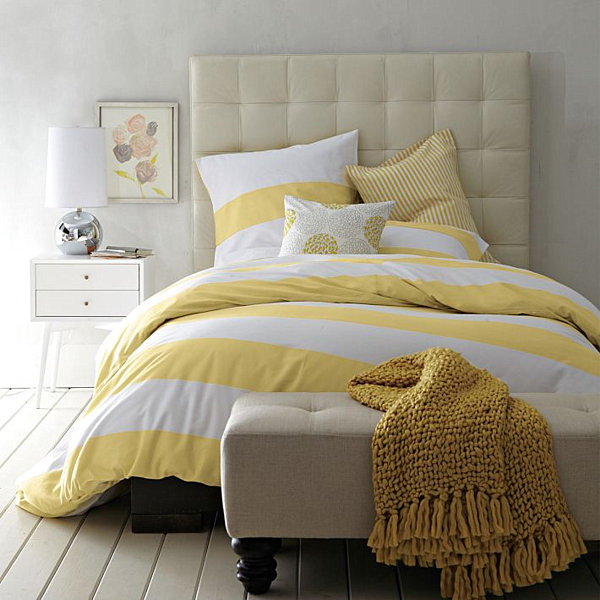 For a chic boxy effect, check out the Paxton Slipcovered Bench from Pottery Barn. A hardwood frame and soy-based foam seat are two reasons to love this piece: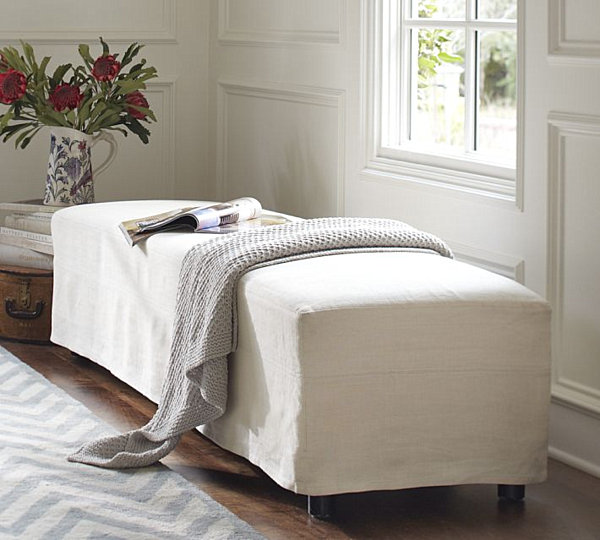 When skin-tight leather is involved, the style possibilities are endless. See for yourself when you view the Folio 52″ Oyster Leather Bench from Crate & Barrel, shown below. The bench's chic look is achieved with a welded steel frame wrapped in leather.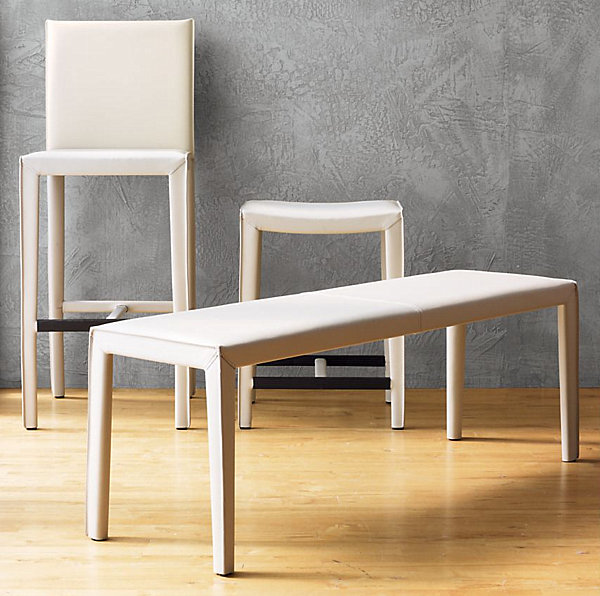 When leather meets casters and retro style, you get the Townsend Leather Ottoman from Crate & Barrel. This piece can soften a modern room while remaining contemporary in its own right.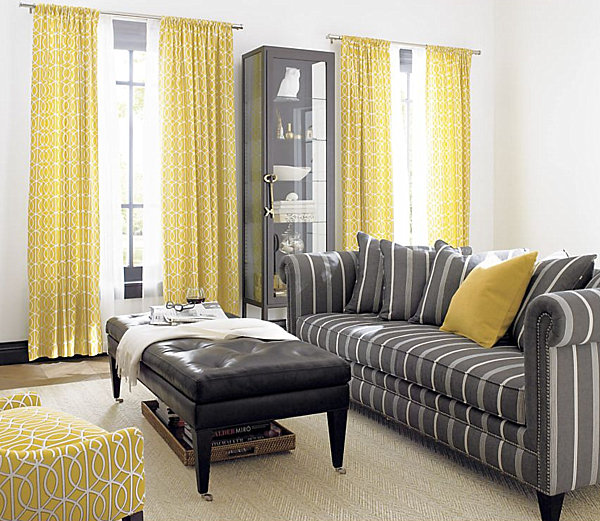 When selecting a bench for your space, consider the size of the room it will fill, as well as the function of the piece. Is comfort of the utmost importance? If so, consider going with an upholstered bench. If the bench will be more decorative than functional, have fun choosing an item that maintains the overall look of the space. Don't forget that benches can pull double duty. Who says your coffee table can't be extra seating when entertaining a group?!
Liked the story? Share it with friends.