Why cultivate a rock garden? They're low-maintenance. They're in season all year round. They add variety to the landscape. Need another reason? Check out the inspirational pictures below.
In fact, rock gardens are gaining popularity, as they can bring a modern element to landscaping and be used in a variety of contexts. Whether you're waving goodbye to the lawn in favor of pebbles or you'd like to create a mini rock garden in a contemporary large planter, today's ideas will spark the imagination. Enjoy!
Planning Your Rock Garden
To start your rock garden adventure, envision the finished product. Will the garden take up a large portion of your yard, or will it be confined to a flower bed? In the planning stages, it also helps to consult with your local nursery, or check out online tutorials such as this piece from MyNorth.com.
Perhaps you have the flexibility to choose the exact placement and shape of your garden. In the yard below, an absence of grass defines the space, as do stones of various types and textures. Note how the garden includes a couple of plants and the strategic use of empty space. [from AguaFina]
Or maybe the rock garden location is obvious due to landscaping limitations or a pre-defined area, as in the driveway-side sloping space in this next image. [from Fun Design Ideas]
In fact, perhaps there's an area that is in dire need of landscaping. Is there a stretch of land by the street just begging for your attention? Consider placing your rock garden here, creating a layered effect with cleverly-placed rocks and plants of various heights. [from Motionspace Architecture and Design via Houzz]
If you have some wiggle room, don't hesitate to consider your other landscaping needs. For example, will your yard include stepping stones? You may decide to integrate a pathway into your rock garden. It's a natural fit, as small pebbles stylishly fill in the space between larger sections of rock. [from Big Red Sun]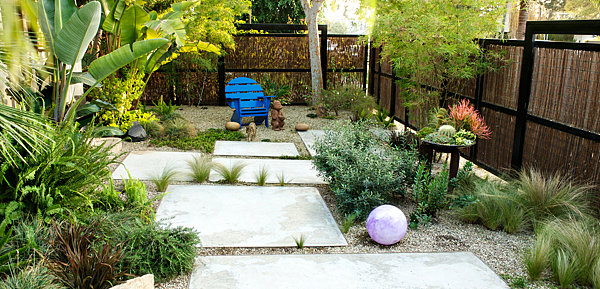 Speaking of pathways, note how path and garden cleverly merge in the image below. Don't be afraid to have fun with your rock garden layout, letting elements of your creativity shine through. [from Banyon Tree Design Studio via Houzz]
Levels of Pebbles!
While a one-layered rock garden is perfect in itself, why not add diversity by creating a multi-level garden? A terraced effect can be achieved with the help of pebbles and metal edging, as shown in the image below. [from Big Red Sun]
In fact, why not incorporate stairs? A graveled pathway can move you up or down the garden terrain. Not to mention, beds of rock make an interesting border to the path, as shown in an image from a previous Decoist piece on modern landscaping design ideas. [from Big Red Sun]
In the beautiful garden below, the work of GardenWeb user judysgardens, an informal terraced slope is created with large stones:
This next image reinforces the power of natural-style landscaping featuring large rocks. In fact, when strategically placed, these stones can terrace a slope while maintaining a sense of spontaneity. In the Rock Garden at Rice Creek, a "wild" look is created with substantial rocks and a variety of mountain plants from the Alps, Rockies and Himalayas. [from Gardens of Rice Creek]
Rocky Details
Now about those rocks… Which type of pebble will you choose? Is there a size you prefer? Will the garden have a uniform look, or is rock diversity important to you? Take the rock garden from the Zen Temple of Ryoanji. Zen is the word! In fact, there is peace in the simple arrangement of 15 stones encircled by moss. [from West Coast Odysseus]
Yet a closer look reveals that things aren't so simple after all! For one thing, the pebbles have been raked in linear and circular patterns, as shown below. [from FreeImages.co.uk]
Then there's the garden's rocky border, filled with smooth, dark pebbles. [from Lets Japan]
There's something to be said for varying the size and color of the garden's rocks. Consider your rocks the building blocks of your garden design project, and take care in their selection. Note how the garden below includes both light and dark pebbles, not to mention a clear, glassy art rock that truly makes this mini garden a complex landscape. [from Big Red Sun]
In fact, large rocks can truly define a space and add sculptural interest, as seen in the next image. The rocks in this Asian garden were carefully selected and arranged to reflect a sense of balance and artistry. [from Aguafina]
Don't forget that rocks can also add a sculptural element to your garden. In the eco-friendly yard of Eleanor Milardo, shown below, numerous rocks are stacked to create stony works of art. [from The Jonah Center for Earth and Art]
When it comes to rock gardens, little details can make a big difference. In this next mini garden, which rests in a contemporary planter, glassy blue stones are carefully placed to create a vibrant focal point. [from Big Red Sun]
Rock Garden Plants
It's important to remember that the plants are every bit as important as the stones! For example, what would the Zen garden below be without the verdant border? [from Bon Expose]
Ideal rock garden plants include evergreens, succulents and herbs, such as oregano. Many rock garden plants are those that grow abundantly in mountain regions. Don't forget that variety in color keeps things interesting. [from MyNorth.com]
In fact, with a little creativity, a wide range of colors, textures and heights is possible. [from Home Design Gallery]
Many rock garden plants require excellent drainage in order to flourish, so make sure you research the ideal soil conditions for your plants of choice. [from Wild Ginger Farm]
You'd be surprised at how natural elements from around your yard can make amazing rock garden showpieces. Did a storm blow a branch down from the tree? No problem! Clip off some interesting limbs and incorporate them into your rock garden terrain. Are there stray pebbles or chunks of stone along the perimeter of your property? Scoop them up and intersperse them throughout the garden. For the icing on the cake, a trip to a rock and mineral shop or craft store can provide those colorful finishing touches to elevate your rock garden to the level of art!