Bits of ribbon, scraps of fabric, errant beads and piled up dress patterns. If this description fits your home crafting area, then it might be time for a transformation. Thanks to the rise of DIY home and fashion user sharing sites, and a renewed interest in homemade gift ideas, it seems that every home has its own makeshift craft area in living rooms, on dining room tables and across kitchen counters.
When you're deeply involved in a project, you might be inclined to discard unused materials about your workspace – only to face a serious clean-up later in the day. In order to allow yourself the necessary space to work, and not worry about how it affects other parts of your living area, you may want to consider creating your own crafting room.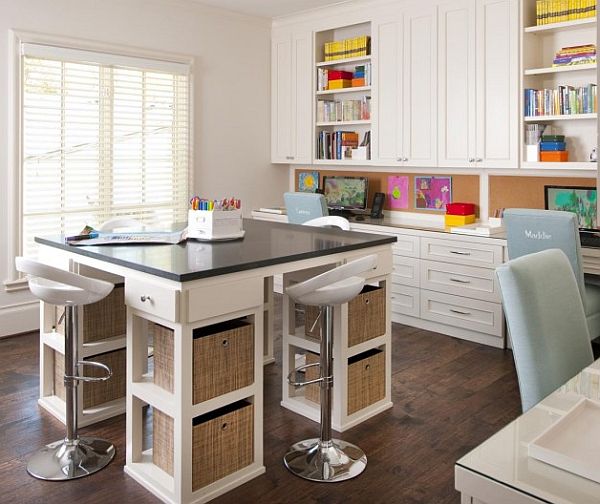 by Ellen Grasso
Here are a few steps for designing the best possible crafting area:
Choose a Designated Space – While a whole room is idea, those who live in smaller homes may not have a room to use just for crafting. Instead, choose one small corner of your home and section it off with double-sided book shelves or ornate screens. This way, you don't necessarily have to clean your workspace after every session.
Invest in Organization – Bins, baskets and drawers can be a godsend to artists and craft lovers. Organize your items by use and make uses of labels and color-coding systems. This way, you won't have any trouble finding the things you need.
Create Plenty of Surface Area – The best workspaces are the ones with plenty of table area for spreading out. Instead of a tiny desk, give yourself plenty of work area. If your designated crafting room is particularly small, utilize the space underneath your table top for storage.
Decorate for Inspiration – Although most artists would argue that the best inspiration happens outside the work room, it's best to design your crafting area for maximum inspiration potential. Choose bright, bold colors and hang a pin board to place clippings and photos for your newest projects. When you're inside your craft room, don't keep anything around that might inhibit the natural flow of your own creative juices.