Ever thought of how the cities of future would shape up? Going by the current trend, over-populated and highly polluted would be a pretty good answer. Maybe that is exactly what artist/architect Tomás Saraceno feels and that is why he has decided to take us all away from the current set up with his 'city of the future' that will be floating high up in the atmosphere.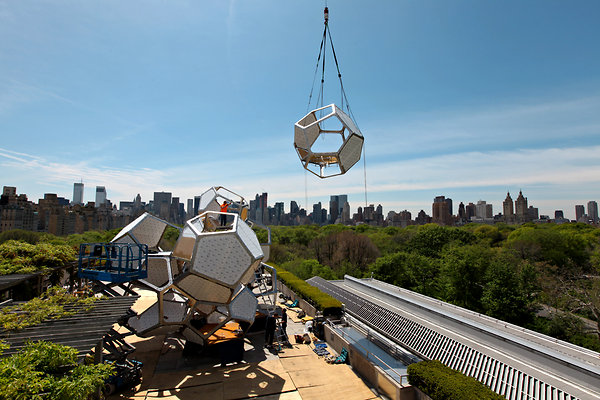 Dubbed as the Cloud City, these future cities will apparently have an orbit of their own, and while it might take awhile for any such design to be even remotely practical, they were ready to accept visitors since May 15th.
The geometric pod-like structures that will constitute the Cloud City are currently being installed 20 feet above the roof of the Metropolitan Museum of Art in NYC. And if you want to experience the life inside then you will have to take a 20 feet staircase that will lead you into the pods. Worry not, as these giant polygon-shaped pods are not currently suspended mid-air with any propulsion technology and are still firmly fixed to terra firma.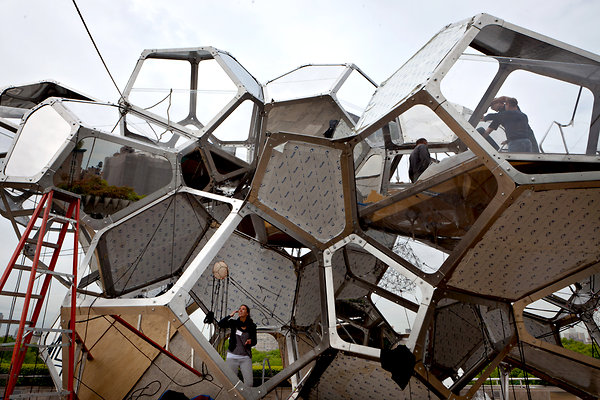 The design is innovative and the idea of a floating future city is indeed cool. If you love art and wacky space-age concepts, then do pay a visit to New York. It will be well worth the trip. (found on Curbed)
Note: The exhibition is made possible by Bloomberg. Additional support is provided by Cynthia Hazen Polsky and Leon B. Polsky, The Daniel and Estrellita Brodsky Foundation, William S. Lieberman Fund, and Eugenio Lopez.