They hold books and help keep us organized. They are bookshelves, and without them, our homes would be filled with piles of reading materials! But what if bookshelves could be as fun as they are functional? Today we explore ways to use bookshelves to heighten our design possibilities.
What if decorating your bookshelf were as important as decorating the living room? Below you will find our decorating tips, complete with visuals to illustrate the techniques we suggest. From shelves packed with books to shelves that make strategic use of empty space, you're bound to find an idea that meets your design needs. Who knew that books could be viewed as decor?!
Bookshelf Display Strategies
We begin with some bookshelf basics. When you're planning your display, consider the function of the shelf. Do you need your shelving to hold a large number of books, or is there room to spotlight home decor treasures?
Idea #1: Balance books with decorative items.
If you have space to spare, throw some decorative items into the mix. Vases, statues and framed art are a few decor suggestions, as shown below. Note how a repetition of bright blue and white items helps unify the display. [from Elle Decor via Knotting Hill]
Idea #2: Create symmetry.
A sense of balance is powerful, and symmetry can truly anchor the room. In the display below, notice how books, vases and figurines are incorporated into the shelf arrangements. You don't see one side packed with books and one side featuring an abundance of empty space. This same unifying strategy can work for one bookcase with multiple shelves. Keep it simple by making sure that large items are balanced by other large items and no one area is strangely empty. [from Metropolitan Home via Knotting Hill]
Idea #3: Leave some empty space.
About that empty space… If you are able to leave a portion of the shelf unoccupied, a clean-lined effect is achieved. Smaller rooms can benefit from this minimalist look, as clutter can make interiors appear smaller than they are. On the contrary, a bit of emptiness creates the illusion of a roomy space! [from Home Decor Arcade]
Arranging the Books
We now zone in on the books themselves. Since the purpose of a bookshelf is to store reading materials, let's take a look at ways to showcase them in style.
Idea #4: Add interest with leaning books.
Sure, you can arrange the books vertically, one after the other, but wouldn't it be interesting to change it up? Try leaning books to vary the design. In the room below, the books are leaning away from the center of each shelf compartment, which leaves room for decorative items in the middle. [from Sonata]
Idea #5: Stack books for variety.
You can lean and you can stack. Stacking books horizontally creates a modern look and adds diversity to an arrangement, a nice alternative for shelves with room for little else than books. [from Architecture at Large]
Colorful Bookshelf Design Choices
We now turn to color and the way it can bring a bookshelf display to life. Whether you're looking to inject some much-needed vibrancy into a space or you're hoping to keep it simple, here are some suggestions for the hues of your shelf and its contents:
Idea #6: Use a limited color palette.
If the room needs focus and simplicity, try a selective color palette. In the space below, the Domino bookshelf by Tema Home is elegantly modern with its white and metallic brown accents. [from 2b Mod]
Idea #7: Cover books in uniform paper.
If monochromatic design is your preference, try covering your books in paper. Note how white is the color of choice in this next shelving vignette, yet dimension is achieved by varying the shades. [from Maison Decor]
Idea #8: Arrange books by color.
If you prefer to be able to see the titles of your books, leave your reading materials exposed! But try arranging them by color… Rainbow hues can really spice up a room, and color coding your books adds order to a shelf that is jam-packed with hardbacks and paperbacks. [from HGTV.com]
Idea #9: Create a gradient effect.
Another color-coding option: achieve a gradient effect by strategically arranging the books so their color fades and intensifies. Repeat the same color groupings from row to row, as shown in the space below. A little surprise: this "bookshelf" is actually wallpaper! [from Mr. Perswall via Sisalla]
Idea #10: Use books as decorative pops of color.
With all this talk of helping the books tastefully blend into the space, why not use the reading materials for strategic pops of color? In the shelving vignette below, yellow, green, red and turquoise books are a welcome addition to an otherwise neutral space. [from Architecture at Large]
Make Room for More Than Books
It's time to revisit our non-book items. With the reading materials carefully arranged, let's take a look at other ways to make your bookshelf stand out.
Idea #11: Hide clutter with boxes.
We begin with some practical advice. If your shelves need to store paperwork or other small items that shouldn't see the light of day, hide them in a series of stylish boxes, as shown below. For a clean look, stick with one color. [from Hypervilla]
Idea #12: Use uniform binders.
We extend this idea of uniformity to the realm of binders. Is your shelf holding loose paper rather than books? In this next space–an office–paperwork appears to be neatly contained in a series of white binders or folders that lay flat. [from Architecture at Large]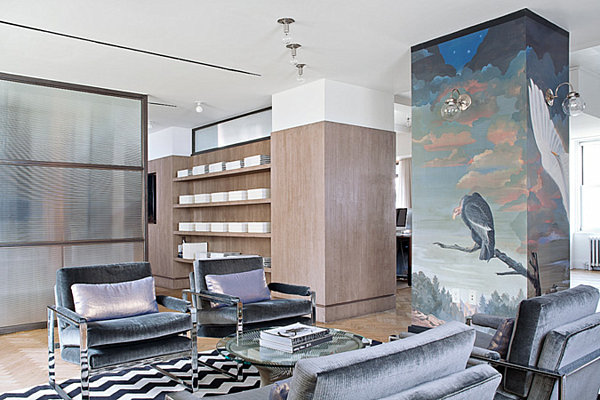 Idea #13: Display a collection of decorative items.
Do you have a collection that needs showcasing? Perhaps your bookshelf is the perfect stage! Ceramics and shells are popular collectibles that enliven shelving, or bird-themed decor, as shown in the space below. Remember, there is power in grouping! [from HGTV.com]
Idea #14: Create a sense of depth with art.
Use artwork to achieve a sense of depth on your shelves. In this next room, note how framed pictures are a backdrop for collectibles and books, which are arranged in layers to create a clear foreground, middle and background. [from HGTV.com]
Bookshelf Embellishments
What if good bookshelf design involved turning your attention to the bookshelf itself?! Below we explore ways to jazz up your bookcases…
Idea #15: Paint the back wall of your bookshelf.
Paint the inside of your shelf. It's that simple! This design tip has soared in recent years, as design lovers unwilling to commit to a bright paint color for an entire room are getting a touch of bold color by introducing it via the bookshelf. Plus, the paint really makes the contents of the shelf stand out!
Idea #16: Paint the top, bottom and side interior of the shelves.
If open shelving is your furniture of choice, there's no back wall to paint. But there is an interior top and bottom, as well as side walls. In the bookshelf below, notice how painting the interior of just two compartments transforms the piece into a modern work of art! [from Bookshelf]
Idea #17: Wallpaper the shelf's interior with a bold geometric print.
On a similar note, wallpaper breathes new life into bookshelves, especially when a bold geometric pattern is used along the back interior wall. To get the chevron print look below, check out the full tutorial from Feathers Flights.
Idea #18: Use wallpaper to add metallic detail.
Metallic accents add shine to your shelf and the space it inhabits. Choosing metallic wallpaper as a backdrop for glossy decor items transforms a shelf into a glimmering showpiece. [from Censational Style]
Unforgettable Bookshelves
Sometimes a well-designed bookshelf is so unforgettable, it becomes the centerpiece of a room. The shelf itself is the star, making your decorating job all the more interesting…
Idea #19: Choose an architecturally interesting bookshelf.
The arched bookshelves below add movement to the space. Stunning conversation starters, their form is enhanced by carefully selected books, such as reading materials in shades of white and cream. On the other hand, with bookshelves this extraordinary, almost any arrangement of books and decor would be artful. [from Saba Italia via iDesignArch]
Idea #20: Select a bookshelf that is a work of art.
Speaking of art, it's hard to go wrong when you choose a museum-worthy bookshelf. The Zelli Moroccan-style shelf below is the ultimate showpiece! [from Younes Duret Design]
As you've probably figured out, combining all of the ideas above is impossible! You can't pack a shelf with books and leave loads of empty space at the same time. Nor can you display a collection of decor items while stocking a bookshelf with nothing but binders. Your shelving should meet your specific design needs.
If you don't own many books, use the shelf as a display area for your favorite collectibles. If you desperately need shelving to hold your large book collection, fill it up, but try color coding the books to make a design statement. With a little effort, even the most practical of bookcases can add personality to your space.