Attic apartments can often go in one of two directions – nightmarishly dark and claustrophobia-inducting or sleek, open and beautiful. Luckily, this little gem in Stockholm succeeds in being the latter. In fact, upon entering this beautifully decorated space, it's easy to feel as though you're in a penthouse suite rather than the attic of a building.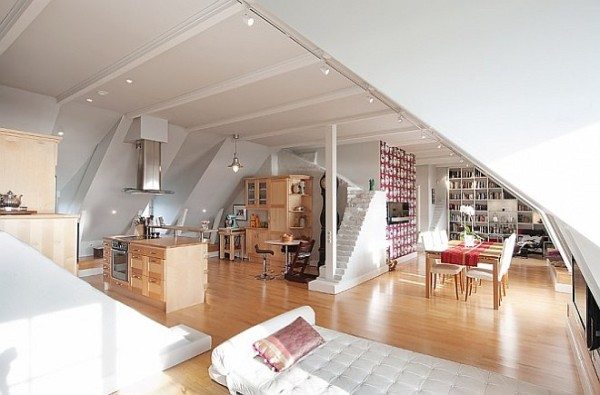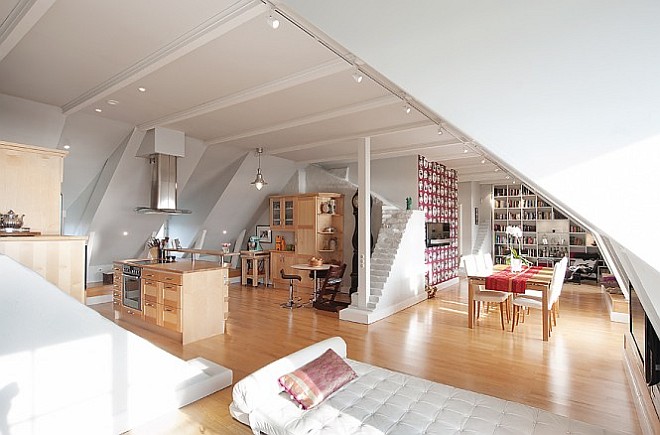 The stark white walls, recessed lighting and light wood flooring accentuates the space, reflecting natural light and filling in darker spaces with a warm glow. The beautiful touches or fuchsia, red and plum give the living and dining room spaces a touch of elegance and sophistication while the more whimsical Teme e Variazioni wallpaper decorating one of the taller walls gives the room a fun and friendly touch. This fanciful concept is echoed in the tiny decorative staircases and farm decals of the children's play area.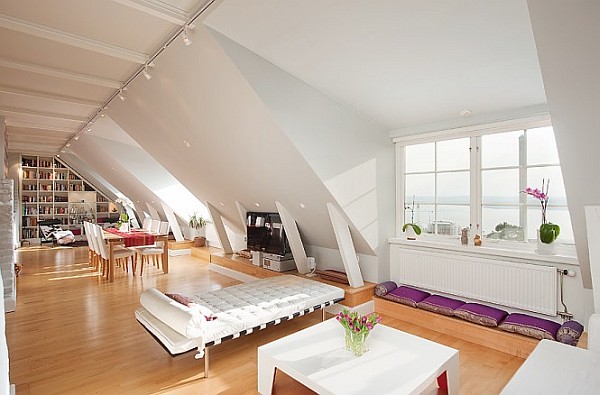 The bathroom is filled with yet another effortless palette – marked by blue-green mosaic tiling behind a glass shower door, black countertops and espresso-colored floors. The homeowners have done an excellent job of using the space wisely and not over-decorating.
From the high ceilings to the beautiful touches and warm feeling, this Stockholm space could easily win the award for best use of an attic – if there were such a thing. (found on Skeppholmen)