Fresh. Natural. Tropical. Elegant. Vivid. These are just a few of the words that describe the color featured in today's article. To celebrate spring, we bring you a full range of design ideas in shades of green. When you think of green, what hue comes to mind? Lime green? Mint green? Kelly green?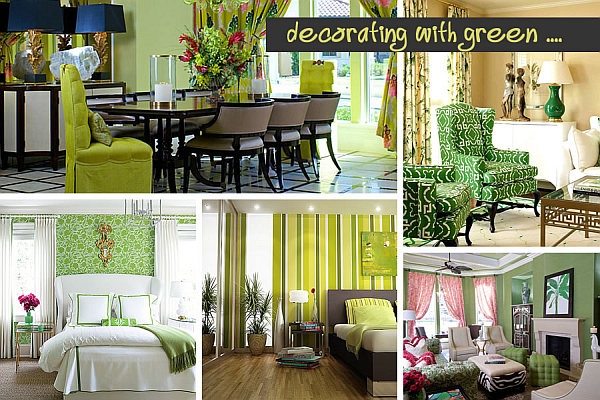 As a four-year-old, I was asked by my parents to pick a new color for my room. Without flinching, I pointed to an intense yellow-green patch on my patterned bedspread. "Are you sure?" they asked. I nodded with gumption. Green has always been my favorite color–it's interesting how as children we sometimes "just know" what we like. Perhaps if we trusted those instincts more as adults, our homes would have a fearless edge!
In addition to my childhood bedroom choice, green would be the inspiration for my wedding palette years later. This time I was searching for a color that was elegant, vibrant, yet natural. The florist and I agreed that verdant shades of plant life were the answer. And herein lies the magic of green: its ability to evoke so many different moods. The beauty of a mint green dining room with white trim seems worlds away from the boldness of armchairs upholstered in geometric Kelly green fabric. But they both stem from the same color! Check out the many faces of green and pick your favorite…
Decorating With Kelly Green
Kelly green has experienced a revival in recent years, thanks to an abundance of crisp Hollywood Regency-style patterns, such as the lattice print. In the image below, green evokes pure elegance, from a Chinoiserie-style curtain pattern to boldly upholstered chairs. [from Tobi Fairley]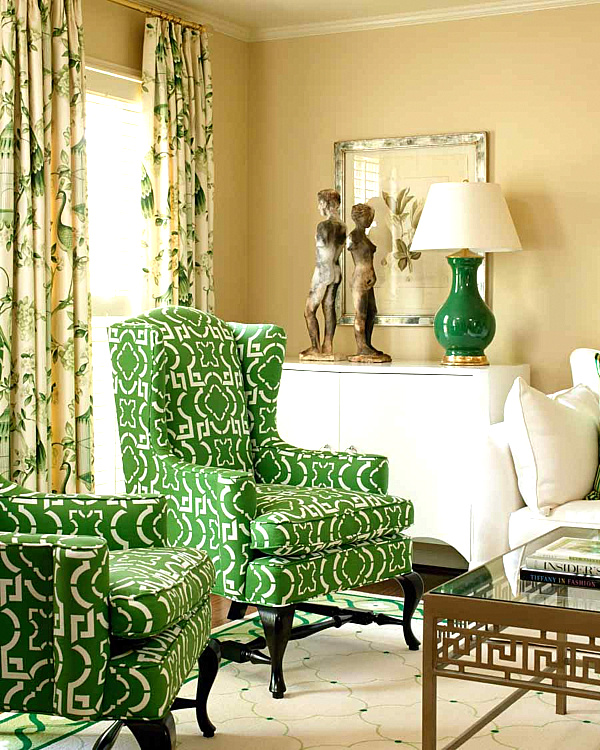 Kelly green can easily go tropical, as in this next Palm Beach-style interior. Rattan furniture and a leafy potted plant add to the upscale breezy vibe. The wall paint is Hanging Vine by Mythic Paint, and additional decor details can be found at Sanity Fair.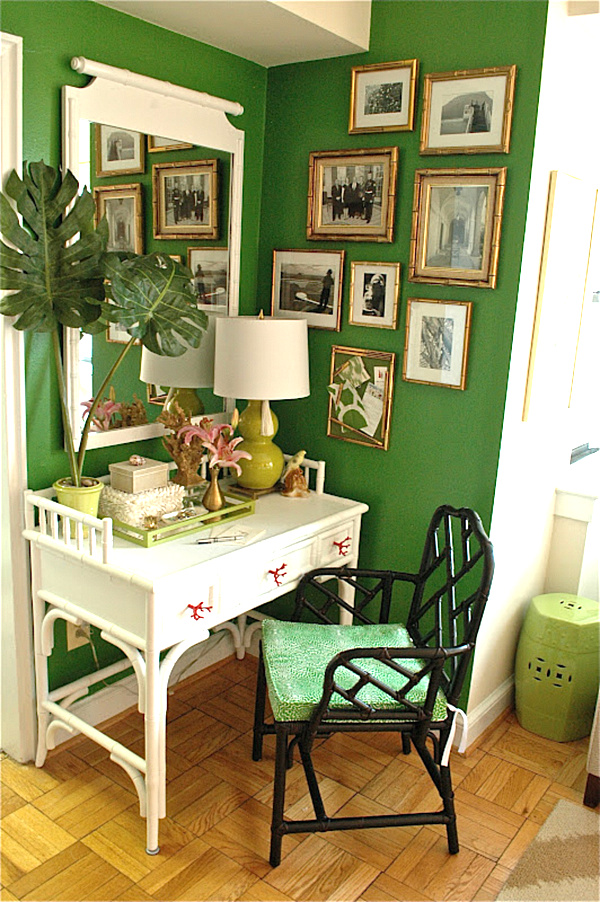 The intensity of Kelly green makes it an excellent color contrast for vibrant white. The result: a clean, fresh look that can easily be embellished with other vivid shades, such as turquoise. [photo by Adrian Briscoe, from House to Home]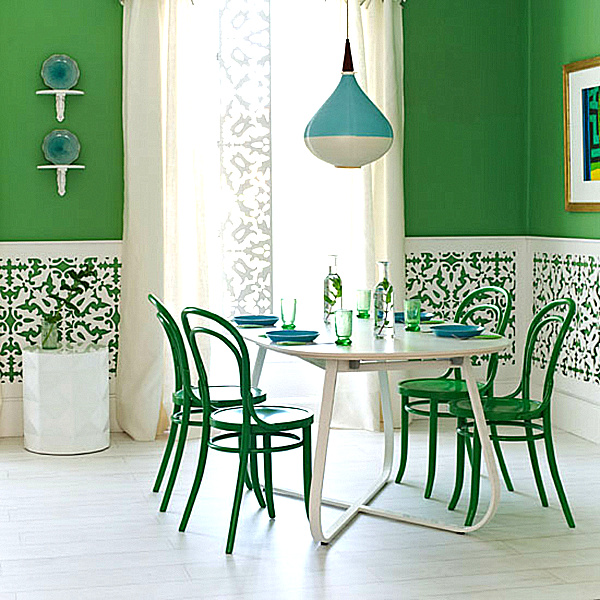 A signature old Hollywood shade, Kelly green has emerged in many a room boasting Hollywood Regency motifs. The upholstered headboard below is a perfect example of verdant '30s-inspired glamor. [from Kelly Wearstler Designs via Repurposed Life Designs]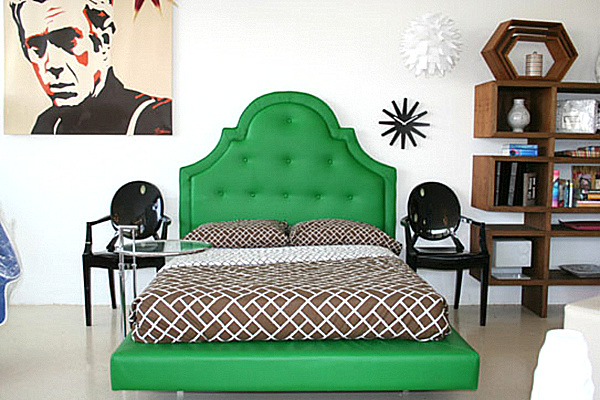 Decorating With Jade Green
A more unusual shade, jade green is causing quite a stir. Cool with a hint of blue, this unexpected hue is powerful yet soothing. In the room below, turquoise, jade green and yellow green combine to create a striking palette. [from HGTV.com]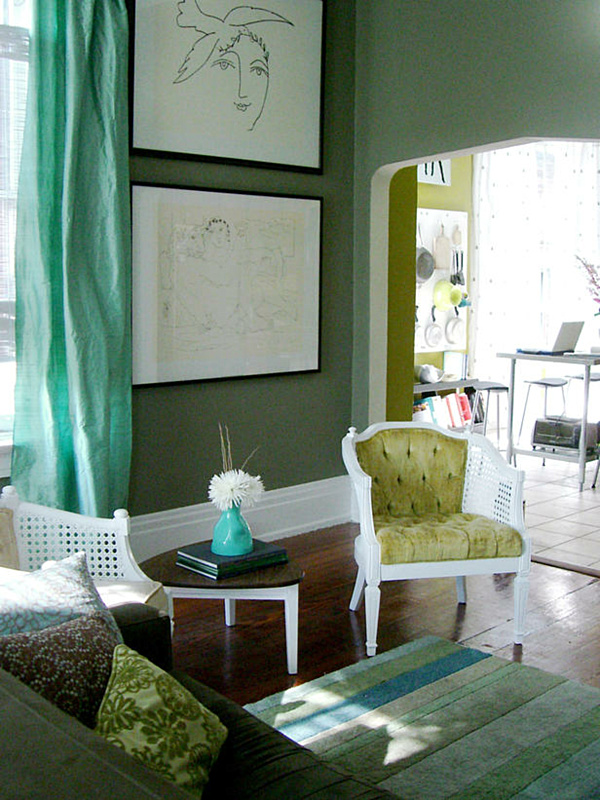 Sometimes a touch of green is all you need. In this neutral dining room, an Astier de Villatte table is paired with jade green Herman Miller chairs. The result: a modern space with jewel-toned flourishes. [from The Telegraph]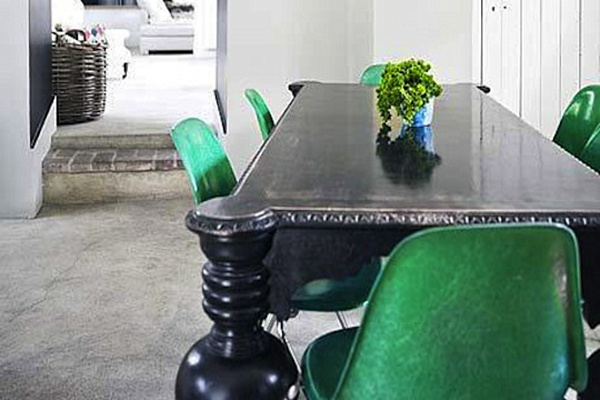 Jade has an artful appearance, especially when presented in patterned wallpaper form. In the image below, note how bright orange chairs intensify the green walls. [from Decor magazine via As for me and my House]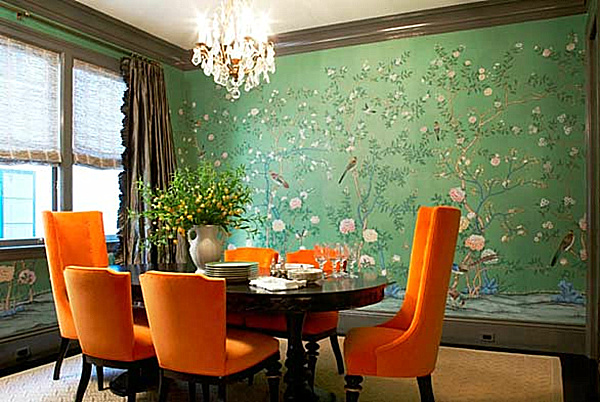 When an upscale look is desired for the boudoir, there are certain furnishings you can count on, such as upholstered headboards and elegant lighting fixtures. Top off the space with a not-so-typical paint color, such as jade. [from HGTV.com]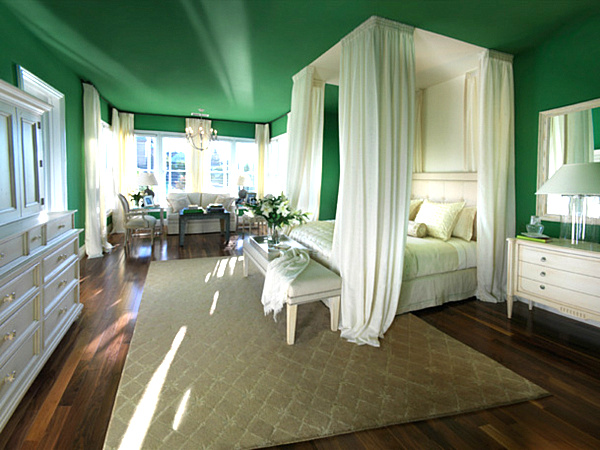 Decorating With Mint Green
Ah, the refreshing tone of mint green! This shade can serve as a peaceful neutral to set the stage for bold accent colors, such as vivid corals and pinks. Not to mention, it is a favorite for rooms with detailed crown molding. [from Cheap Livingroom Curtains]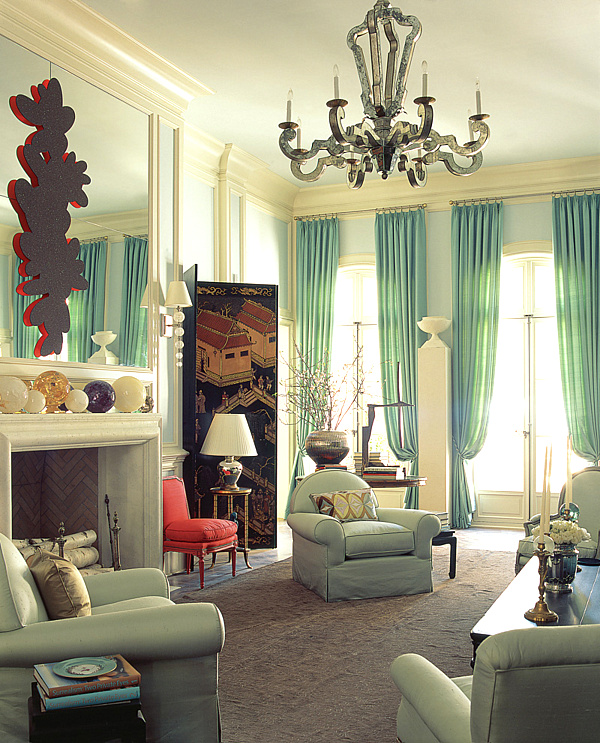 Mint green can also set the stage for an opulent display of antiques, as in the interior of Atlanta, Georgia's historic Swan House. [from Summer Thornton Design]

The lightest shades of mint can seem more grey than blue, and when combined with crystal lighting and thick white trim, the result is pure elegance. [from The Lennoxx]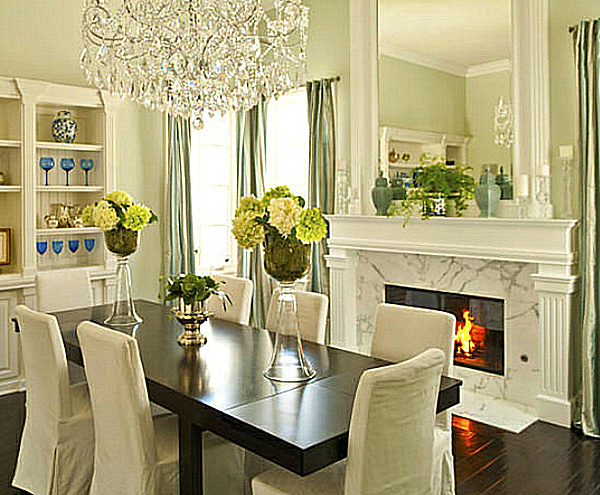 Like jade green, mint green is soothing, only softer. No wonder its calming presence is utilized in the bedroom. Note how this pastel is the perfect backdrop for botanical artwork, as shown in the room below. [from The City Sage]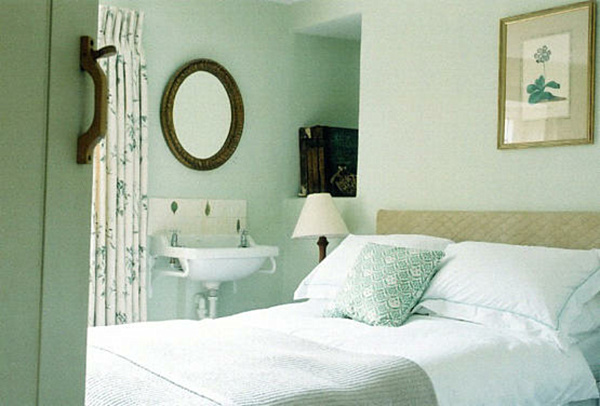 Decorating With Lime Green
Lime green is the perfect counterpart to rich colors like violet and cobalt blue. Fuchsia and lime combine for a posh effect in the room below, designed by Shelly Riehl David. [from HGTV.com]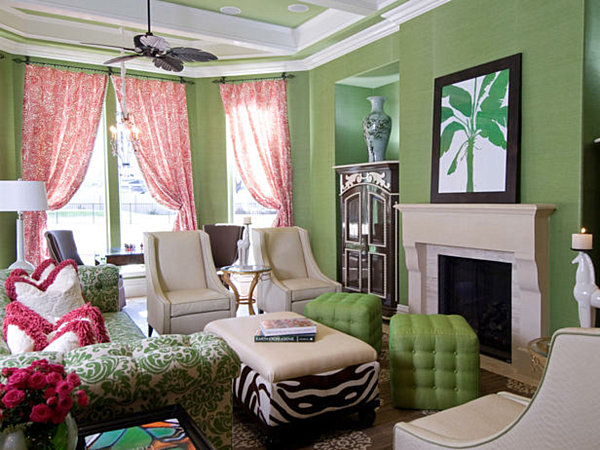 Lime can also combine with an intense yellow green to compound the power of the color family. Once again, designer Shelly Riehl David has worked her magic, this time throwing some blue and magenta into the mix. [from HGTV.com]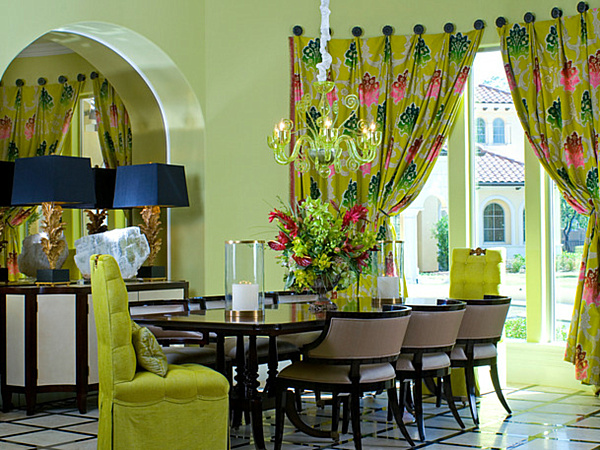 Like a fresh lawn on a summer day, lime green can evoke the delight of the outdoors. Bringing that essence inside and accenting it with plush white bedding is a sure recipe for a good night's sleep, as shown in the bedroom designed by Margaret Bosbyshell [from AtlantaHomesMag.com via Knight Moves]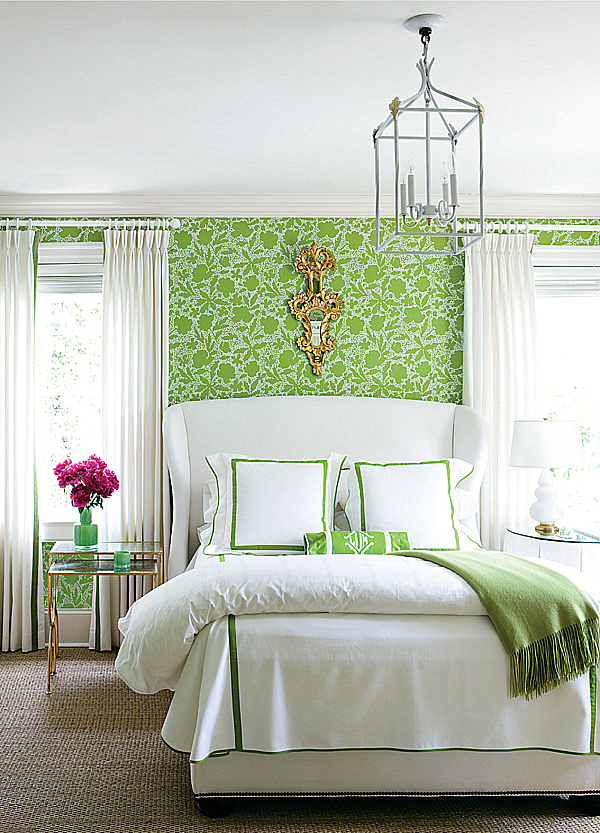 Lime and yellow-green stripes are both modern and powerful, especially when complemented with contemporary artwork and a potted plant. The lime green stripes are a deep contrast to the lighter yellow-green lines. [from Best Bedroom Designs]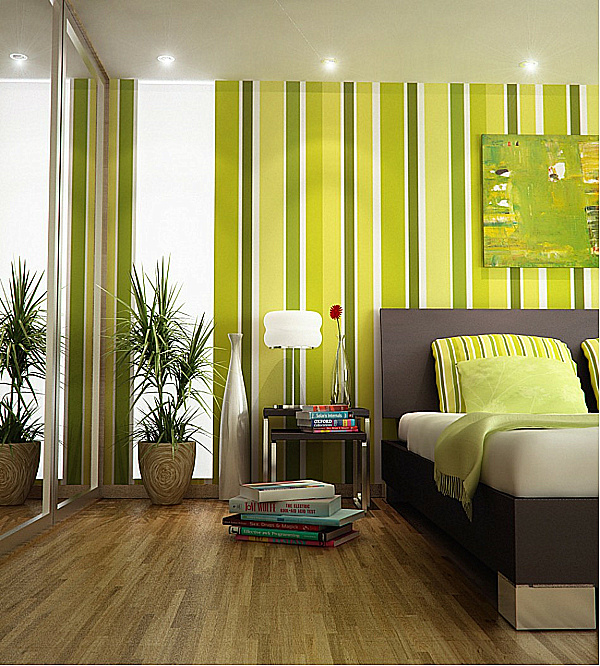 Decorating With Yellow-Green
Yellow-green is similar to lime green, but the difference lies in the name. the more yellow you add, the more yellow-green you get! Also called chartreuse, this shade is a favorite for modern spaces, especially when paired with gray and white, as shown below. [from House of Anais]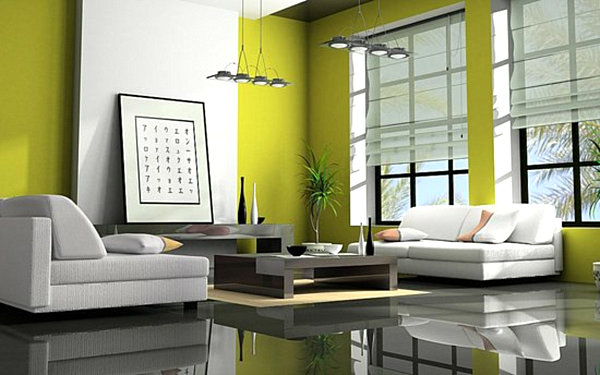 A similar color combination can be seen in the glossy contemporary kitchen below. [from Fancy Cribs]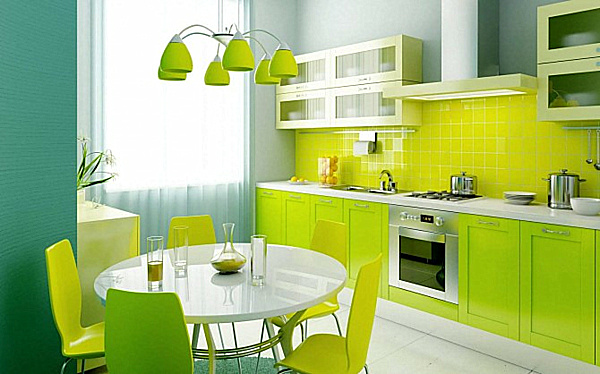 To get the look, check out IKEA's the "abstrakt" cabinet doors, available in green and white: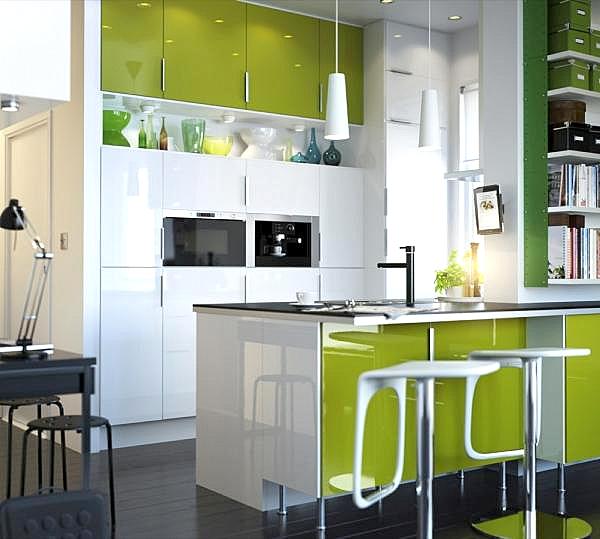 Finally, if you thought lime green and fuchsia perfectly combined, see how jewel tones pop against yellow-green! When used in the dining room, this mix of colors broadens the possibilities for radiant dinnerware. [from Osborne & Little via Alkemie]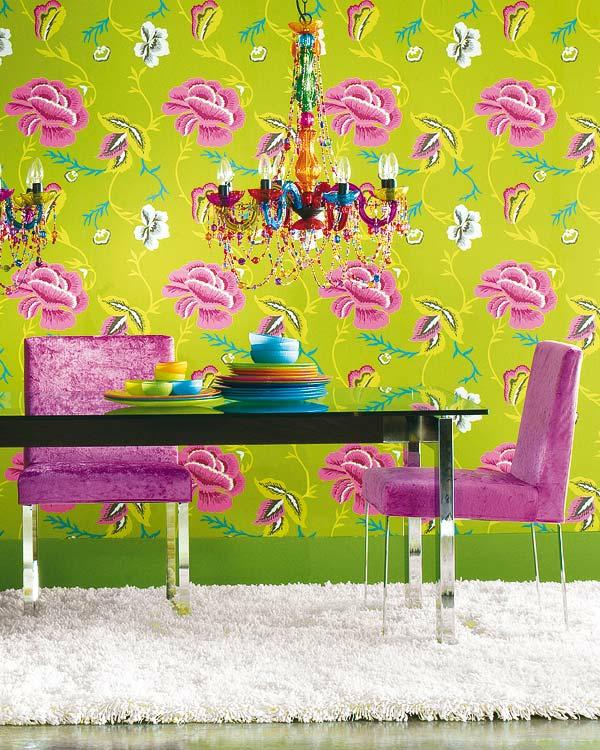 Looking to add some color to your home? Consider the vibrancy of green. Not only does green evoke the budding spring plants outside your window, it's a versatile color offering many shades. From the cool of mint to the sass of lime, you're sure to find the right tone. Not to mention, it contrasts rich colors like no other! Happy spring decorating!