The Mason jar is an integral part of our history. Our mothers, their mothers and their mothers exerting over the hot stove after long hours of peeling and chopping to preserve their raw organic garden veggies for a long cold winter. The water temperature rises and the boiling water seals the lids on the Mason jars ensuring that the food will stay preserved for months if not years. I myself have participated in this autumn ritual and while the natural unadulterated taste of canned produce can never be beaten by store bought kidney beans, it didn't take long for me to realize this backbreaking endeavor of canning was just not for me. Bring on the SpagettiOs, my mind and stomach unanimously chorused!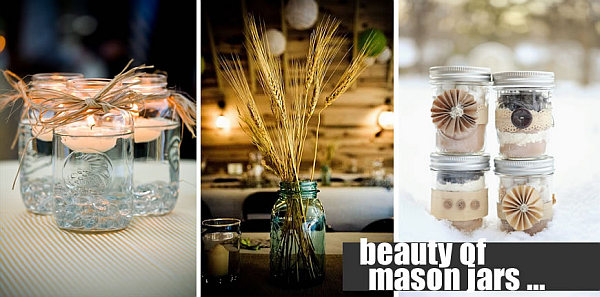 So I took the stockpile of canning jars and gave them a fun 21st century spin to preserving other articles found around our homes.
Silverware: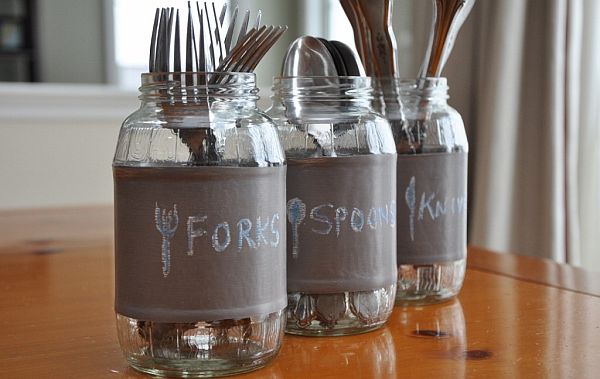 I remember one kitchen of mine there were only four drawers. Four measly drawers that with just one piece at a wrong angle would jam everything and make it nearly impossible to disentangle. Taking an old vintage stand alone wine rack fill the slots with empty lidless jars. Fill with the essentials. Knifes in one, spoons in one, forks in another. From serving spoons, to spatulas you will soon find this visibly clear and space efficient method to capitalize on objects that mesh surprisingly well together. Come spring-cleaning next year you can even pull an entire jar out full of dusty never been used cooking utensils and fit on the bottom rack of your dishwater. Brilliant! (this image and image below, courtesy of happyclippings)
Romantic Gestures Encapsulated: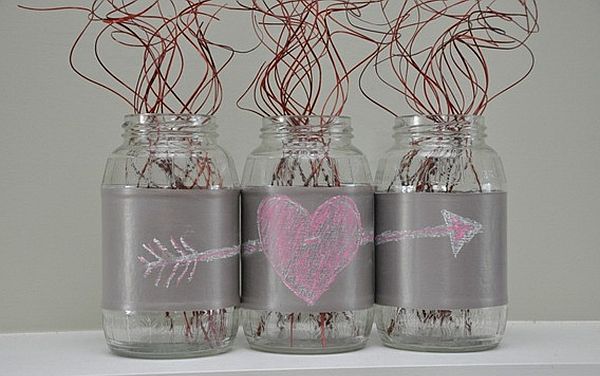 Your husband surprised you with a beautiful fresh handpicked bouquet of wildflowers? Make a proud entrance spectacle in your foyer with a uniquely painted Mason jar vase. Wrap several rubber bands of different widths around the circumference of your jar. You can overlap them and even slant them at an angle. Spray paint the entire outside of the jar and let sit for the duration of time the can recommends until it is entirely dry and can be handled. (Mostly two hours.) Carefully remove the rubber bands and enjoy a hand made modern edged decorative vase that can be employed for various purposes.
Beauty and the Brains: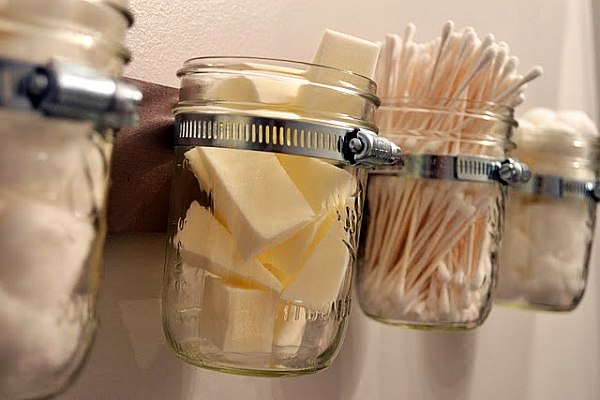 Tired of the open lidless toothpaste tubes oozing their minty goodness on your nearly non-existent bathroom countertop? Create a pretty storage solution with some decorative wood, hose clamps and Mason jars. Secure the hose clamps to your choice of wood, and fasten above your sink. Slip in a mason jar and tighten. Fill up with toothbrushes, paste, combs, whatever you want within your reach but haven't adequate enough room for on or in your vanity. (project via lovelittledetails)
Uniform(ed) Food: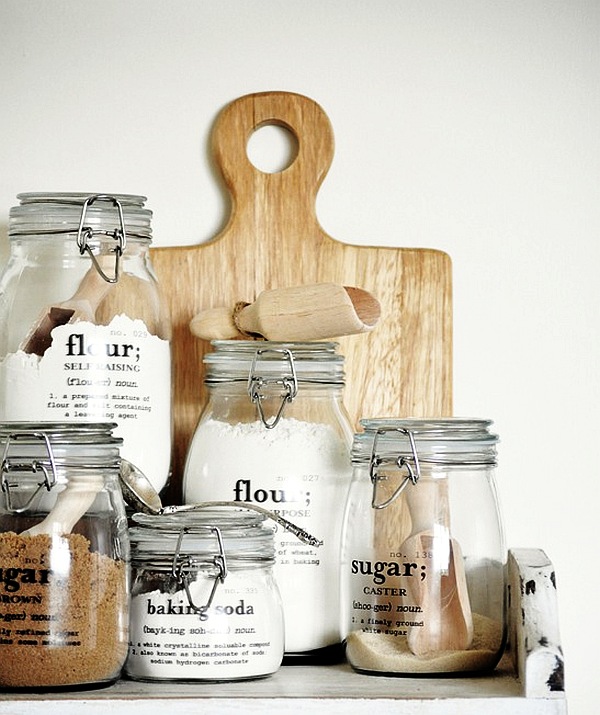 For those of us who have an open kitchen-cabinet concept but Monday through Friday finds us frantically packing lunches, cramming dishes away and scrounging for a missing lid a little Mason uniformity will go a long ways towards improving the aesthetics of our food room. Fill as many jars as you need with your main staples. Elbow macaroni, sugar, flour, salt, and beans. This looks especially smashing when stored and exhibited in antique blue hued mason jars. Whatever you want you can easily create a compact pantry that is easy on the eyes too.
The Drinks are on Me: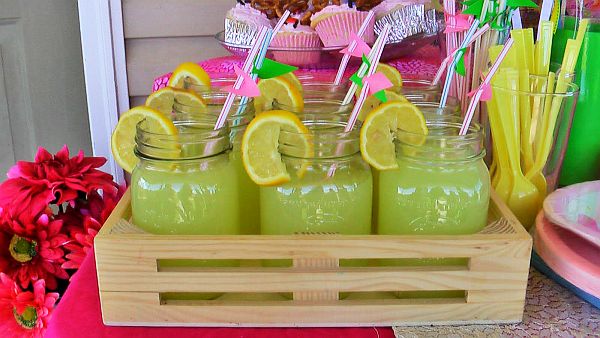 While we are in the kitchen you might notice that your glass cabinet looks a bit lonely and is missing its mate. Growing up I can't even count how many drinking glasses my family and I "accidentally" dropped or threw only to encounter broken glass. An entertaining way to spice up your beverage serving is to use pint sized Mason jars and fill them with lemonade or limeade. Plop in a funky striped straw and top with a fresh slice of lemon and you have instant charm and success that will help soothe any parched throat!
Mason Gifting: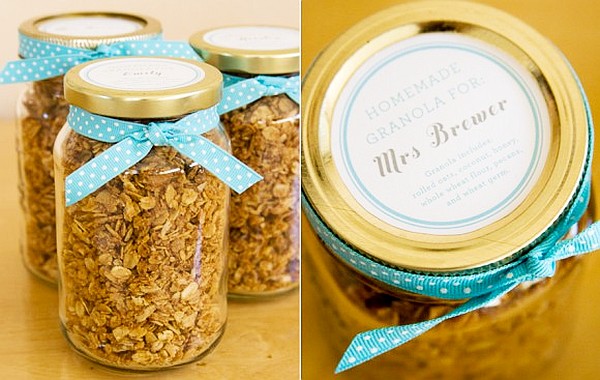 And lastly … I have to think to myself surely I can't be the only belated birthday card kind of person. A month in advance I'll remember your birthday but I will somehow forget during the momentous time to wish you a happy day. To cover this social faux pas, homemade gifts are sometimes literal lifesavers in a sticky situation. Layer dry ingredients for a fun visually pleasing recipe, topping with a recipe card with the rest of the instructions and you have a gift in a jar! (project found on thesweetestocassions)
In this way the Mason jar is a gift that keeps on giving. From fond memories of our childhood or not so long ago past to thoughtful and artistic gifts Mason makes less mayhem and instead is a glass jar that can magically hold invisible joy.