It's time to shine with chrome! Chrome refers to the element chromium, which can be applied over another metal as a thin layer to create a gleaming finish. In fact, most of the furniture and decor items that are "chrome" actually consist of chromium-covered metal such as steel or iron. The polished, reflective quality of chrome makes it an eye-catching design material, especially when it comes to clean-lined, modern furnishings.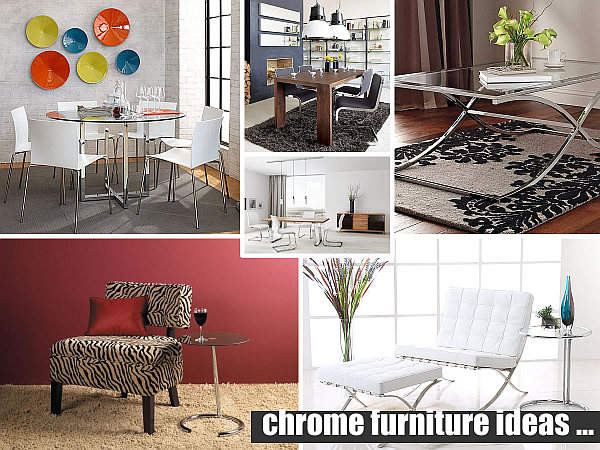 Is chrome reserved solely for contemporary pieces and rooms? Absolutely not! Check out our chrome furniture finds and see why this glossy metal is as versatile as it is chic.
Chrome Chairs
Our exploration of chrome takes us back to several iconic design pieces that continue to make an impact. The Barcelona Chair and Ottoman, shown below with the Eileen Gray Table (another famous 1920s piece), was designed by the Bauhaus Architect Ludwig Mies van der Rohe and his collaborator Lilly Reich in 1929. Note the X-frame base on both chair and ottoman. [from Squidoo.com]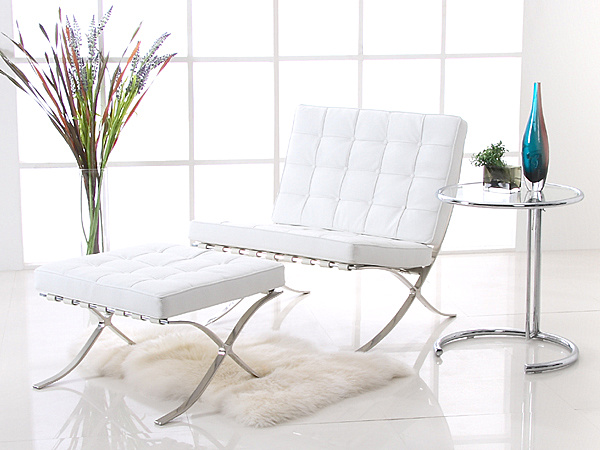 For a chrome-meets-modular effect, try the Lotus Natural Corner Chair and Lotus Natural Armless Chair from CB2. Thin, chrome-plated steel legs are a nice contrast to the furniture's boxy presence.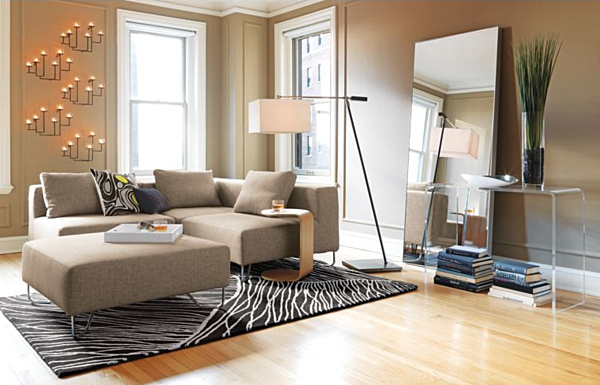 It's back to the basics again as we celebrate a design that revolutionized the structure of chairs as we know it. Often called Breuer chairs after their designer Marcel Breuer, the Cesca chairs below are admired for their cane frame and bent tubular base. Created in 1928, the chair experienced a major revival in the 1980s and has continued to be appreciated for its form and function, as shown by its availability through sources like classicdesign.it. The pieces below have been given a makeover with the help of neon pink paint. [from Solo Thais]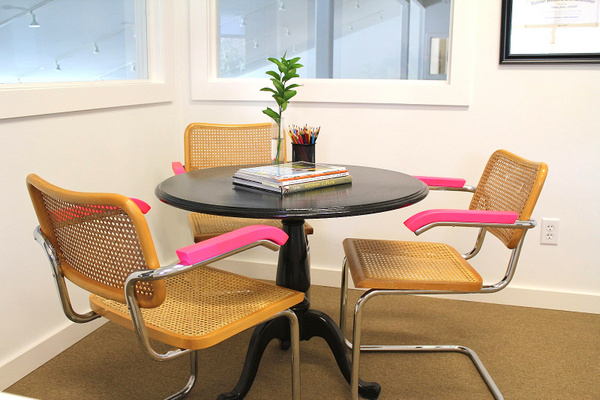 We see Breuer's influence in many of today's designs, such as the Pony Sprout Chair, with its chrome-plated iron legs that allow for a light bounce. [from CB2]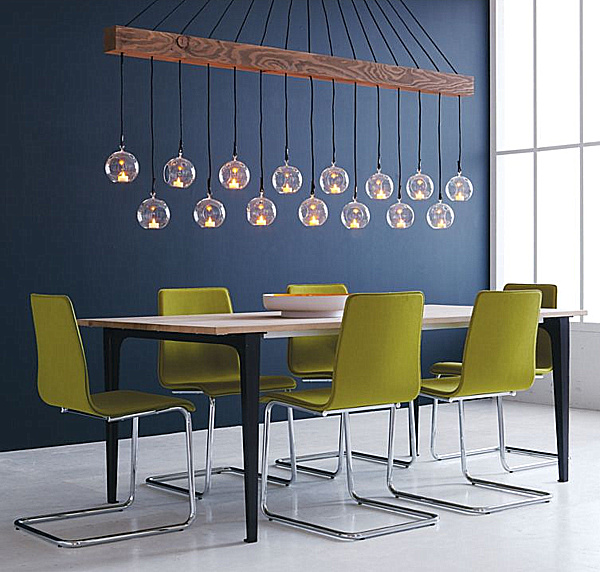 Another Breuer-inspired base can be seen in the Alta Chair, designed by Manuel Saez and partner. A tubular steel frame with a chrome-plated finish is a dazzling contrast to the gray seat. [from CB2]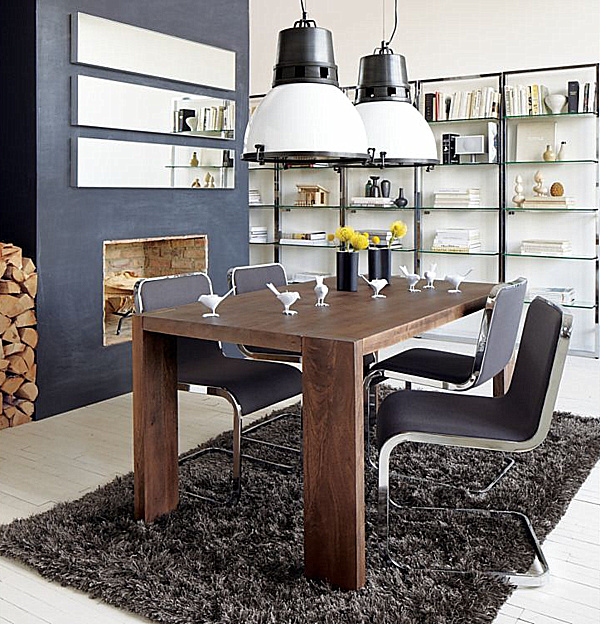 Next we see the sheen of chrome spice up an office, thanks to the Bubble White Leather Office Chair and Tesso Desk from CB2.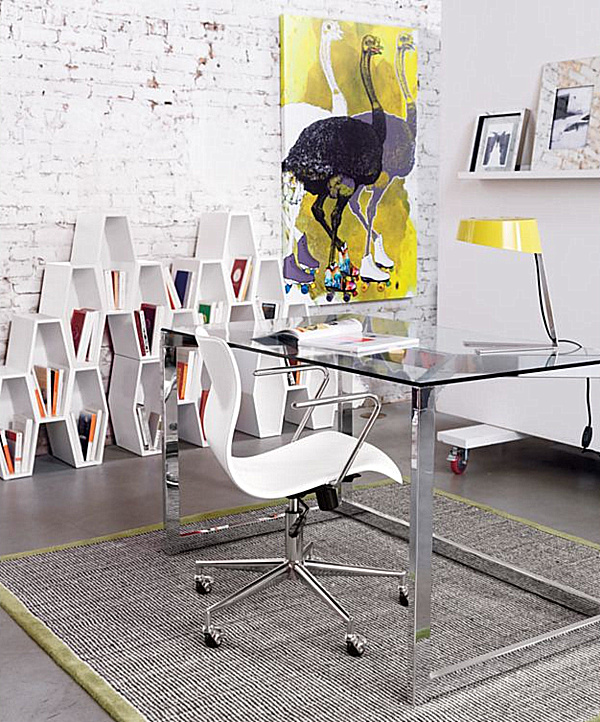 Chrome Dining Tables
Just as chrome can bring a glimmering shine to seating, it can enliven the base of a table. Better yet, try combining a chrome table with chrome chairs, as shown below by the Silverado Round Dining Table and its complementary seating. [from CB2]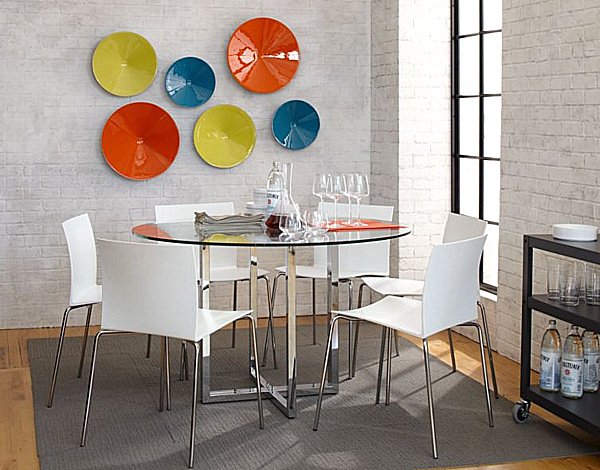 The Calligaris Magic J-Folding Coffee/Dining Table, available at AllModern, is as glossy as it is sleek: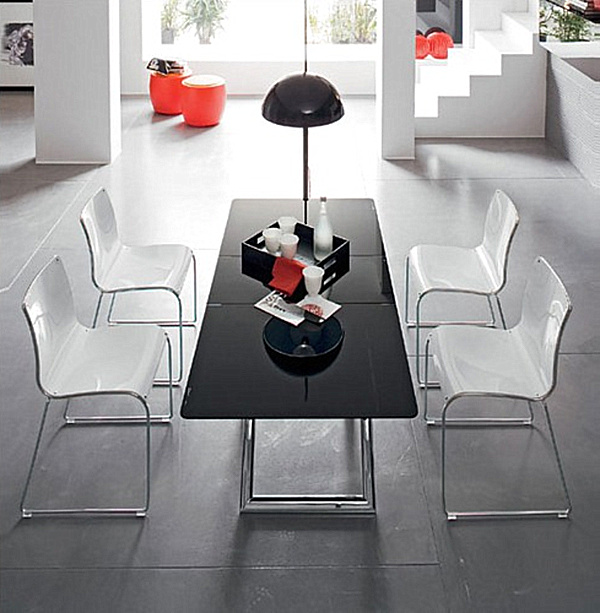 The chrome dining table and chairs below feature thick bases that allow the metal to really shine. [from ihomee]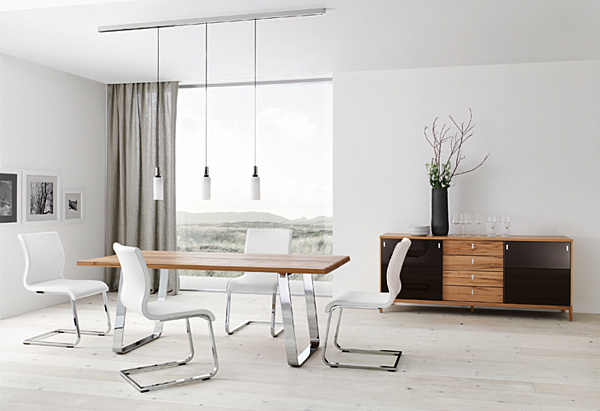 Just as chrome can hint at the future, it has the power to evoke the past. It's time for a "'50s diner" take on dining room furnishings, thanks to the retro-style White Oval Top & Chrome Base Modern 5Pc Dining Set with Red Chairs from FurnitureDepot.com.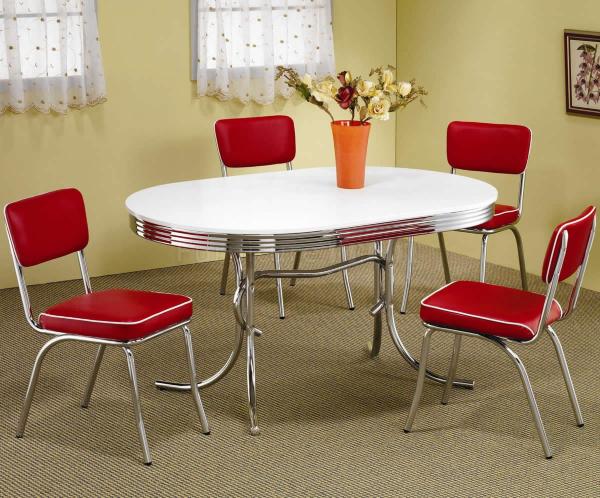 Chrome Coffee Tables
There's nothing like the polish of a chrome coffee table at the center of a living room. Especially when a glass top is involved! The Houston Glass & Chrome Coffee Table below features an X-frame base that blends nicely with traditional patterns, such as damask. [from Kaleidoscope]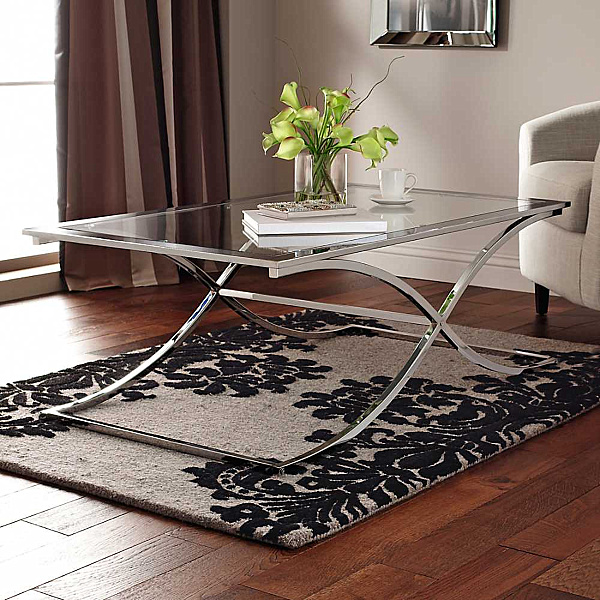 If you prefer to keep it simple and straight, check out the Brooklyn Espresso and Chrome Cocktail Table. Its boxy legs are classic yet modern. [from Living Room Warehouse]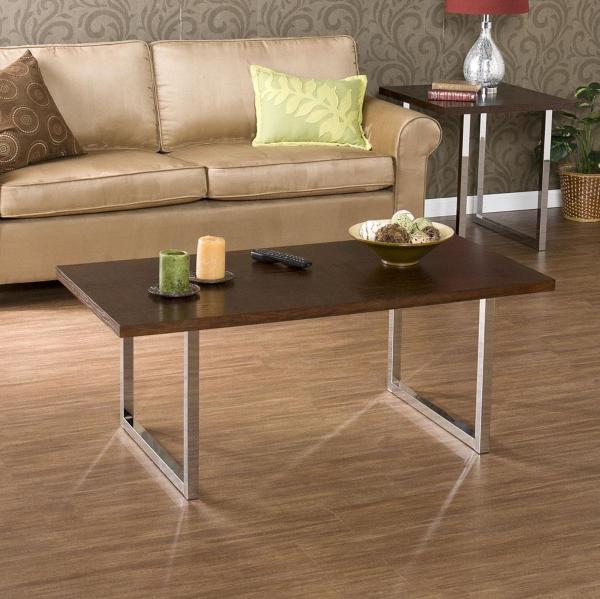 Chrome can also reinforce a coffee table in a way that lets other materials take center stage. For example, the AH258 Square White Coffee Table features chrome legs that connect a white lacquer base with a clear glass top. [from Comfyco Furniture]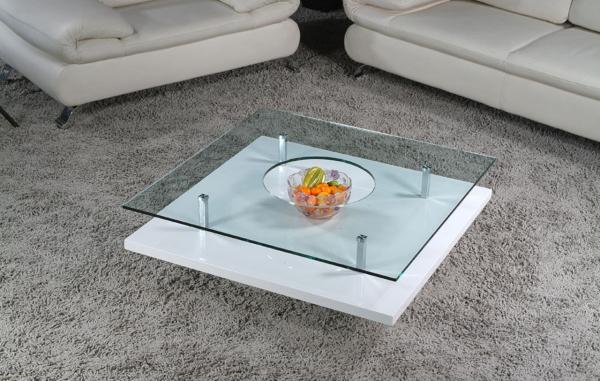 The wooden top of the Oasis Cocktail Table from Calligaris is every bit as stunning as its chrome base. [from m.furnitalia.com]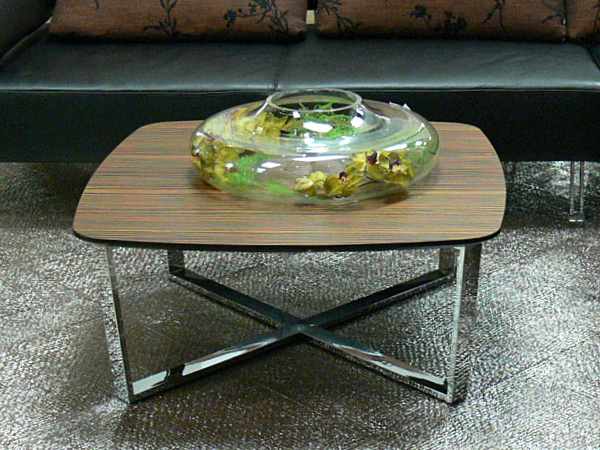 Finally, the Avenue Six Yield Coffee Table showcases a tempered glass top and chrome legs. The best part: this piece has a Yield End Table counterpart! [from Totally Furniture]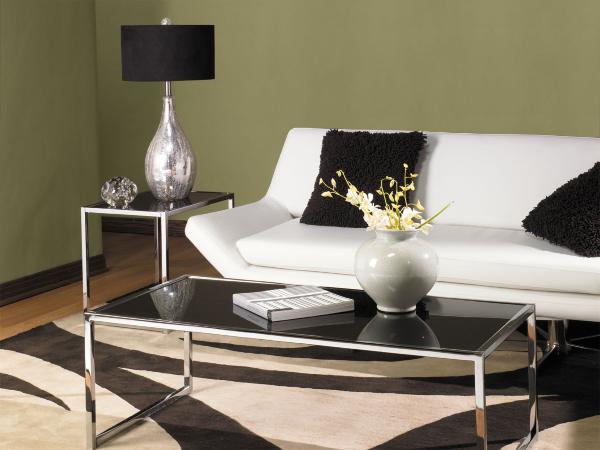 Chrome Side Tables
Speaking of side tables, the Smart Glass Top Side Table has the form of the Yield End Table above, yet a clear glass top contributes to the reflective quality of the piece. For another possibility, order 2-4 of these beauties and group them together create a coffee table! The piece is shown with the Smart Glass Top Console Table. [from CB2]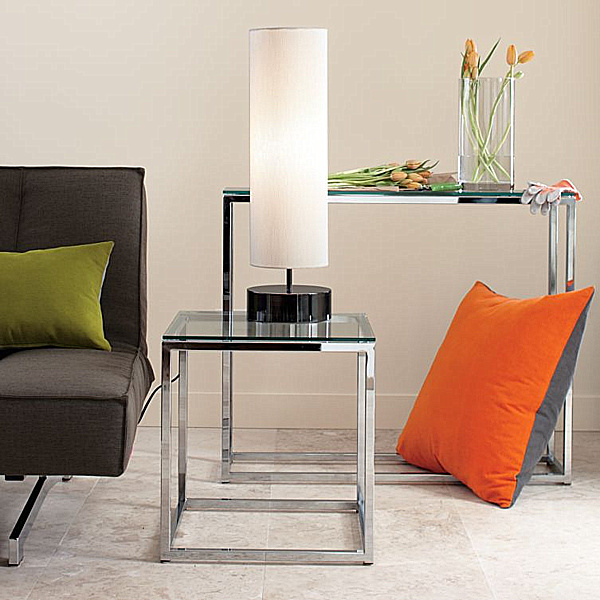 The Houston Glass & Chrome End Table below features an X-frame base that brings a touch of glam to a room. [from Kaleidoscope]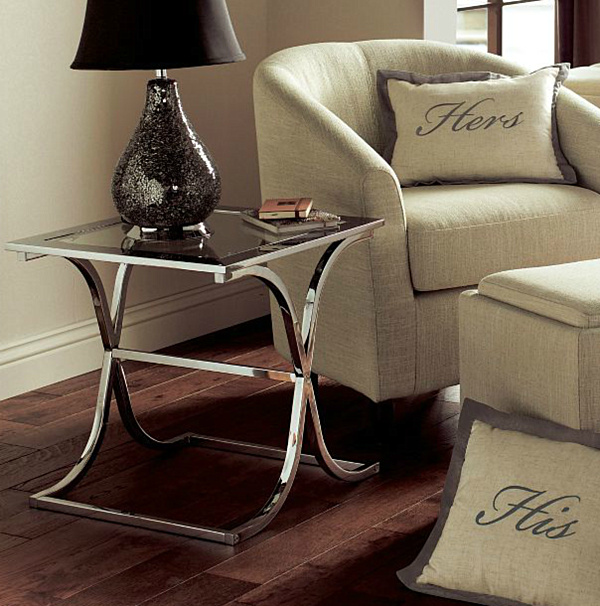 For a circular effect with a modern slant, try the Yield Glass Telephone Table. Its tempered glass top has a polished edge, and the chrome base is nothing short of fantastic. [from Totally Furniture]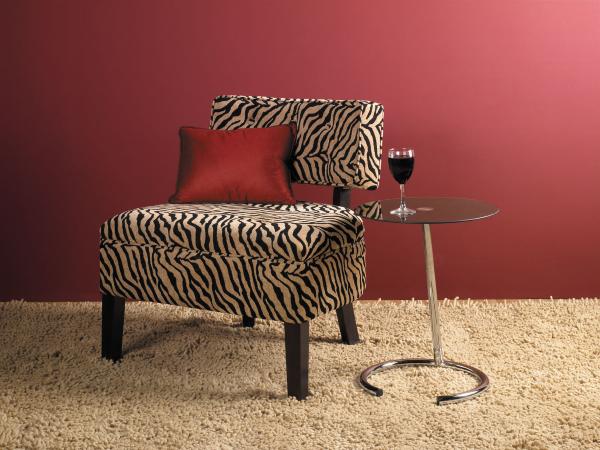 A reproduction of the Eileen Gray table (shown at the top of this post) looks stunning in a space that also showcases the chrome Arco Lamp. [from Megasun]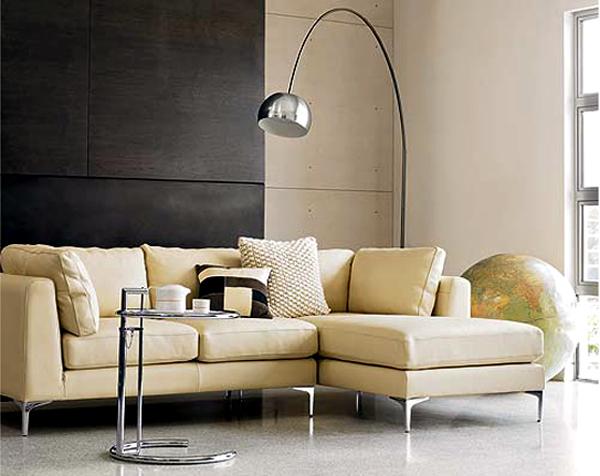 We end with a piece from UltraModern, the Joliet side table by Tonelli. With a base of steel that can be finished in white, black or chrome, it also features a glass top that can be transparent, smoked or extra clear. [from Interior Design Ideas]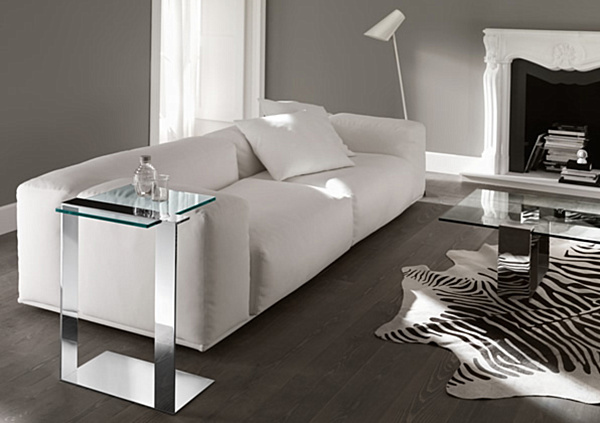 As you can see, chrome is often used as a base for furnishings such as tables and chairs. However, the thickness and form of the base gives each item its own unique look. The gloss of chrome pieces makes them compatible with glamorous design styles such as Hollywood Regency, while the tendency of chrome furnishings to feature simple geometric shapes make these items ideal for modern spaces. However, don't be afraid to mix some contemporary chrome with traditional antique furniture. In today's design world, eclectic is the word!