Designer Oleg Trofimov seems to have a thing (or maybe more things) for concealed furniture. It could be because they are cool, but also because he aims at creating added space and extra storage at the same time. So here's an apartment that has the Trofimov touch, where most of the accessories and furniture used are either folded away or hidden.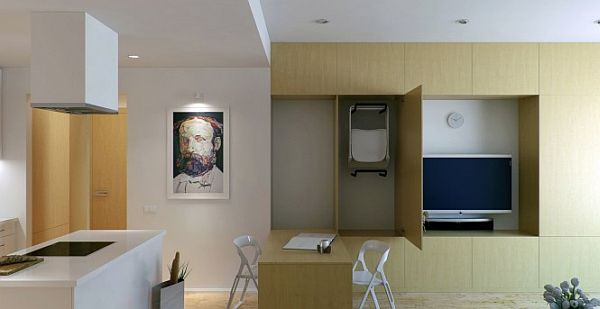 The entire apartment is divided into two different parts – the living and the private areas. The former comprises the living room and the kitchen and there is hardly any separation between the both of them. Minimal accessories and furniture find a place here. The choice of the color and the jumbo-sized windows in the living area make it appear even bigger.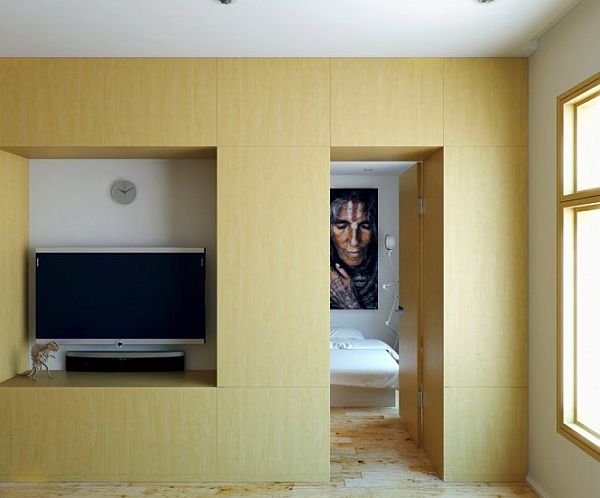 The kitchen is also a perfect example of the minimalist approach. The best part here is that the kitchen does not look crowded. So is with the case of the rest of the living area, bringing in an extra breathing space into the room. The dining room is almost concealed, with pull down tables and fold-up chairs. While in use, they appear as a separation between the living room and kitchen. The bedroom is accessed through the living room only. Wall paintings are another significant aspect of the interior design followed. It strikes a contrast with the serene tone of the indoors. Look closer, and you will find even the laptop table in the corner of the bedroom sporting fold-away properties.