Re-designing Nike's corporate canteen must have been a challenging task. Nike EMEA chose Amsterdam-based studio UXUS to join their design team and compose a welcoming space, in which people can find it easy to exchange ideas. Inspired by sports, Nike's new canteen is actually an inviting social space in which people can also eat, as I see it.
The diversity of seating arrangements seems boundless. Bright white stylized picnic tables emblazoned with CORTEZ, AIR MAX and other Nike shoes provide employees with a festive feeling just like a picnic atmosphere.  Long tables are the perfect setting for department awards celebrations or attitude adjustment gatherings that include everyone.
Groupings of square tables with large checkerboard wood patterns are tastefully arranged for more intimate groups of four to six people.  There are booths that comfortably seat four to six have tall slatted dividers.  Needless to say, the Nike Swoosh and various logos adorn the dividers.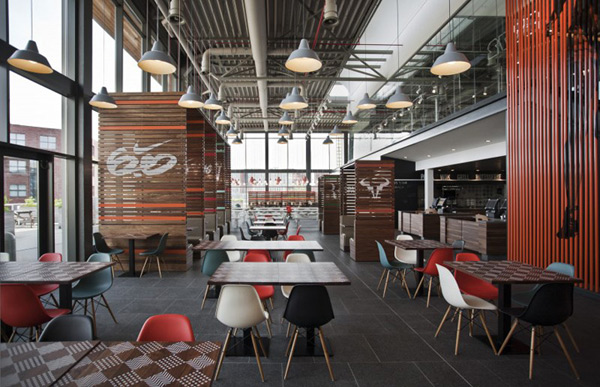 For the person seeking some solitude, there is individual seating along ledges that could also be inviting to a couple sitting side by side.  There is even a workspace eating area with individual crane-type lighting and shelving where people can continue to work while they eat in a surrounding that is a break from the office area.  You can even find restaurant counter style eating areas.  The entire high ceiling area is given a more intimate feel by the addition of long pendant lights.
A mezzanine level visually opens to the space below through a glass wall. A wall unites the two stories – a wall made out of orange tubes and subtly displaying yet another sports-related design. Found in Hilversum, the Netherlands, this location was to become a fantastic design inspiration – if you carefully look at the details, you will see how complex this interior is.