"Bold" is the best word to describe this penthouse apartment located in Kensington, a central London district. Combining contemporary furniture with sexy solutions for the beautiful space arrangement, London-based studio Staffan Tollgard Design Group created a dream apartment. Spreading over 3,000 square feet, the styled interiors of this duplex penthouse are separated into two floors. The lower level is occupied by the lobby and open floor living zone, the dining area where owners gather to enjoy meals, the kitchen prepared to offer home cooked meals, a guest cloakroom and another room that can be used either as a guest space or as a media room.
The kitchen area had an intimate dinette seating area for informal eating and keeping the cook company.  A formal dining area has some beautiful pendant lighting.  A living area has a very long gas fireplace just about one-third the height of a traditional fireplace to showcase the gas flames.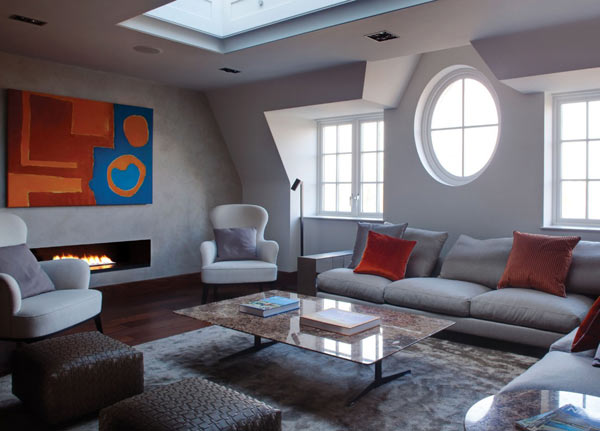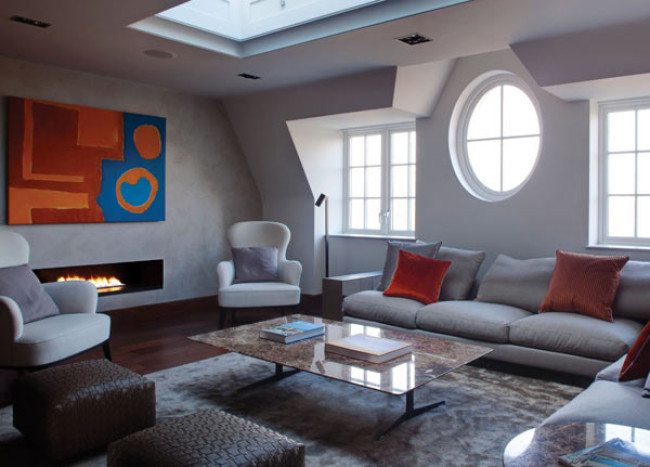 The upper floor, reached via a floating staircase, shelters three bedrooms, each with their own bathroom, and two dressing rooms. The master bedroom opens to a balcony overlooking nearby Hyde Park. Reached via a private elevator, the apartment is flooded with natural light coming from windows and the skylight hovering above the main social space
The master bathroom has an easy to maintain marble floor that is unified with a specious shower.  A luxurious tub is included for relaxing baths.
Colors were carefully selected to create a warm and inviting atmosphere – blue and orange details set against a white background define the living and kitchen, while the private rooms were dressed in natural colors. (Found on CreativeHomeIdea)