Clear acrylic furniture is prized for its style, as well as its ability to be a strong presence in a room while maintaining a light and airy quality. In fact, acrylic furnishings have become ideal pieces for small interiors. An acrylic coffee table craze has emerged in recent years, as these see-through finds are perfect for the center of a room where space is tight. Not only do they appear to take up little to no space, they allow patterns on colorful rugs to show through.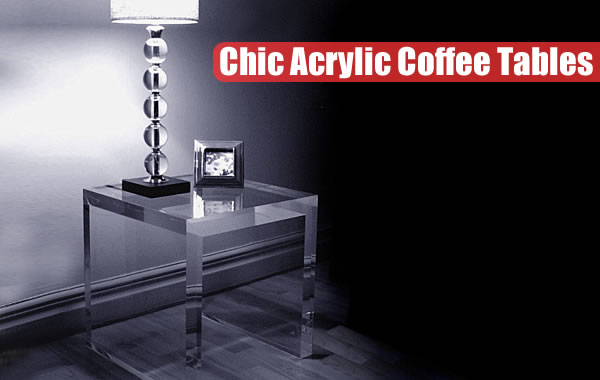 Today we highlight acrylic coffee table finds, from narrow, barely-there pieces to unique selections that can't help but dazzle. When choosing an acrylic coffee table, consider the space you have. If the room is tiny, go for a smaller piece, or try combining two end tables to create a modular item that can be disassembled at a moment's notice. If your space is larger, there is freedom to select a more substantial coffee table to suit your needs. Enjoy perusing the clear acrylic options below!
Bent Acrylic Coffee Tables
One of today's most popular acrylic coffee table designs features a "u" shape, with soft bent edges rather than sharp angles. As mentioned in a previous Decoist post, the Peekaboo Clear Coffee Table is perfect for compact rooms and can be moved with ease to create more space if necessary. [from CB2]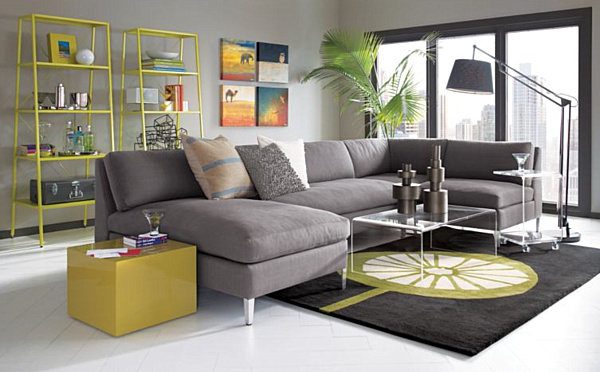 The "u"-shaped style has many variations, including the version seen below. Note the table's edges, which are even more rounded than the Peekaboo selection above. [from decorpad.com user Suzie]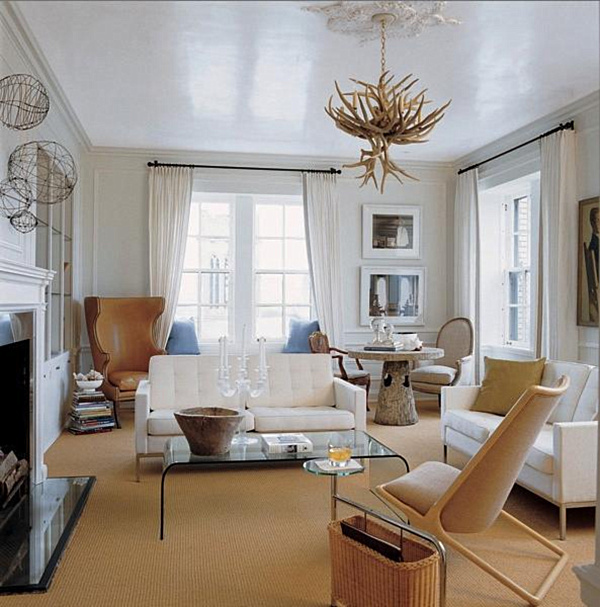 For a thicker take on the bent acrylic table, check out the Waterfall Cocktail Table. This solid piece manages to be both hefty and light at the same time! [from Acrylic Decor, Inc.]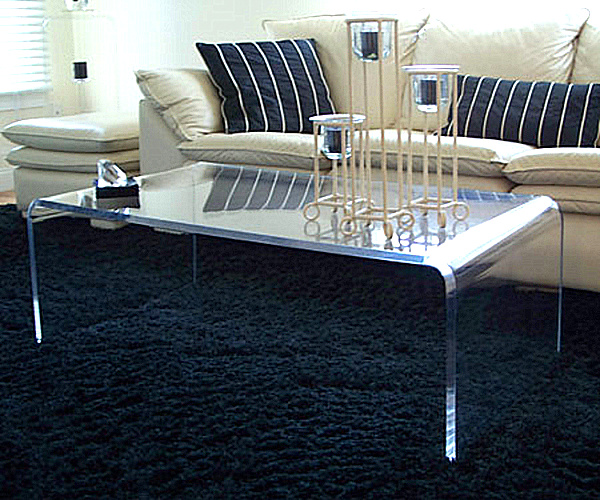 If you admire rounded edges but long for a table that is anything but narrow, check out the Curve Acrylic Coffee Table, handmade and constructed of clear cast acrylic. [from Ralphmarks]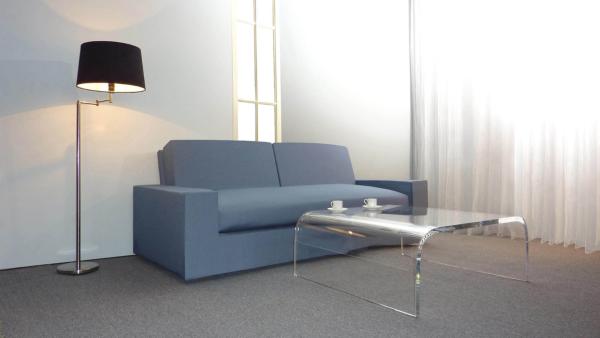 Square Acrylic Coffee Tables
If your space has an open layout or a larger floor plan, a square-shaped coffee table may be the perfect modern statement. The straight lines on the Avino Cocktail Table below give this piece a sharp, icy quality. Add solid legs, and the effect is crystalline. A glass top (sold separately) contributes to the shine. The piece is available in clear (shown below), as well as a variety of colorful options. [from HStudio]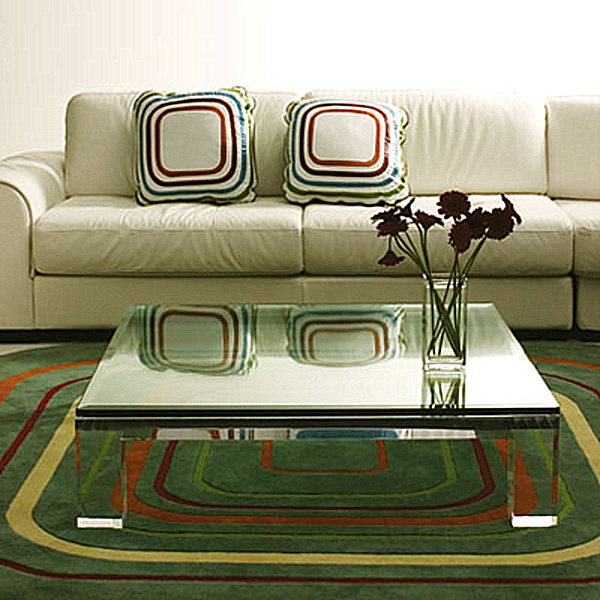 For a similar look, try the Acrylic Table with Glass, available for purchase at Wisteria. L-shaped legs are secured to the piece on the outside of the corners, calling attention to the contemporary square top. Yet this table is rooted in the past, as it was inspired by a piece from the 1930s. [image from Houzz]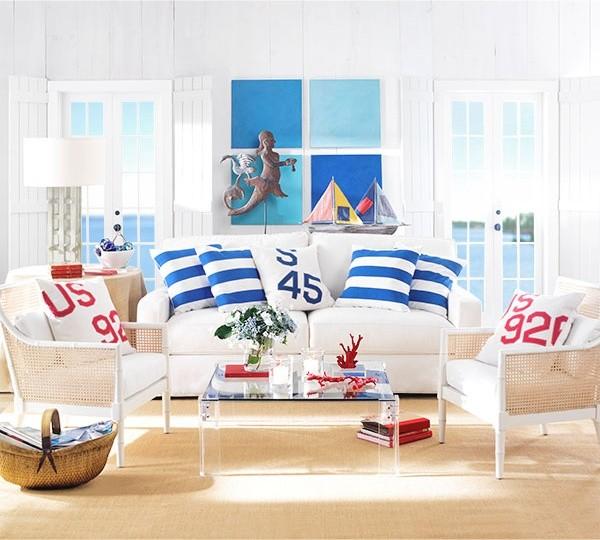 This next table from Acrylic Innovations has both angular gloss and a tailored look, thanks to neatly-tapered legs that evoke the form of antique furnishings: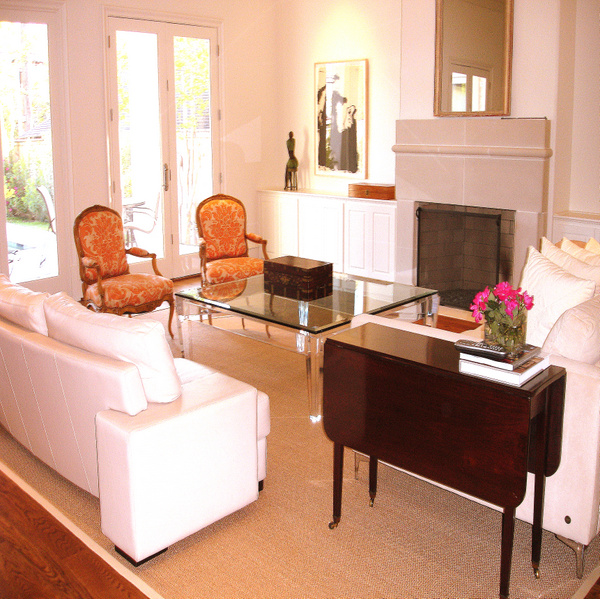 For a contemporary look, choose a table with metal legs, as shown in the image below. An acrylic top is a transparent contrast to the silver x-shaped base: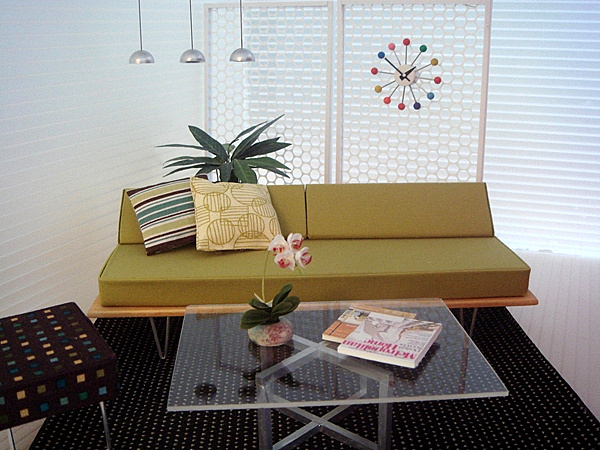 Long Acrylic Coffee Tables
Longer coffee tables have the advantage of a narrow physique and the substance of an eye-catching centerpiece. The Milano Fine Leg Coffee Table is acrylic with a glass top and can be customized to fit the needs of your space. Defined legs and a prominent border add surprising dimension to this clear piece. [from innerspace]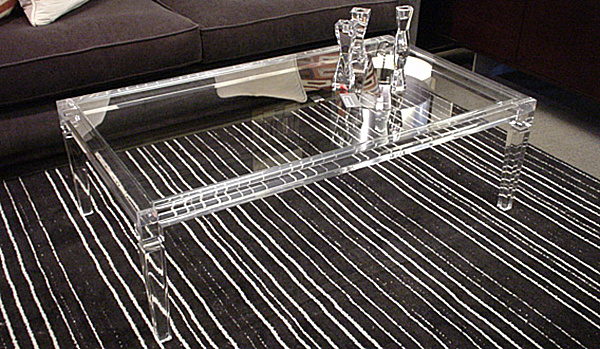 Featured in a previous Decoist post, the Bullet Acrylic Coffee Table is equal parts functional furnishing and work of art! Designed by Alexandra Von Furstenberg, the table is inspired by her interest in emerald-cut diamonds. [from Alexandra Von Furstenberg]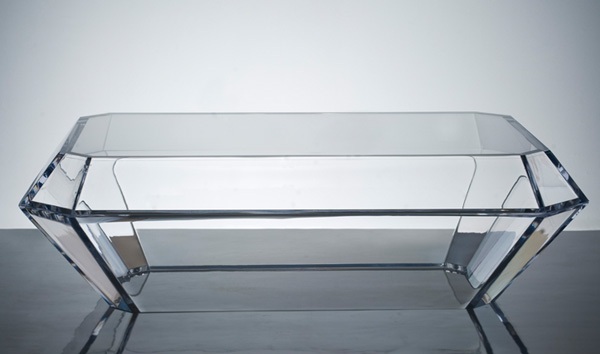 The next piece from Acrylic Innovations is as solid as they come. A wonderful mix of traditional and modern, it combines the sturdiness of your favorite antique with the precision of cut crystal: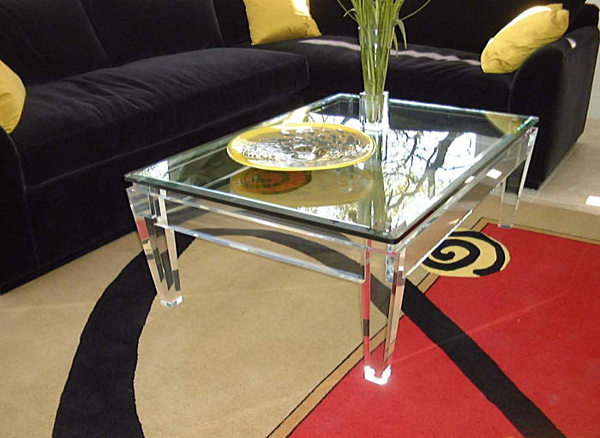 A similar model from Acrylic Innovation adds elegance without detracting from the amazing view outside: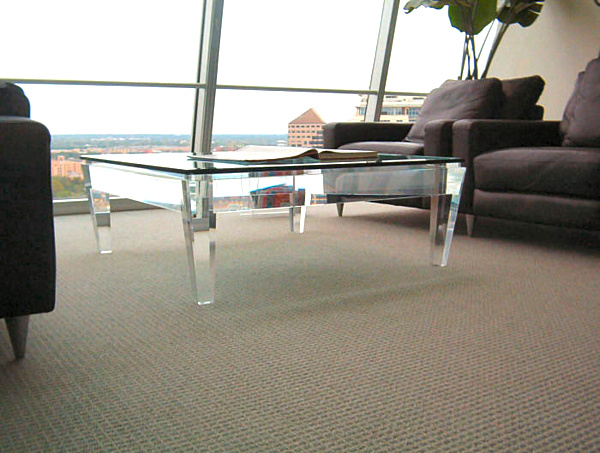 Acrylic Side Tables as Coffee Tables
If modular style is your preference, try grouping 2-4 end tables together for a coffee table that can change shape at a moment's notice. As featured in a previous Decoist post, the Gus Modern Acrylic I-Beam Table goes from couch-side statement to center stage gem when grouped with a handful of duplicates. The piece is stylishly constructed of three bonded acrylic panels. [from AllModern]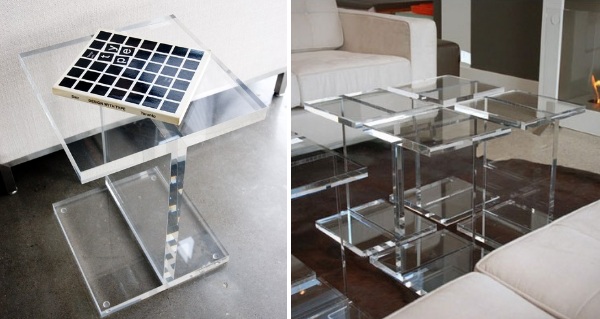 For further options, look to Alexandra Von Furstenberg and her unique collection of acrylic side tables. The M-16 Cube Acrylic End Table looks twice as nice with a partner. Purchase four and you have a cocktail table worth talking about! These pieces also come in shades of smoke, black and white.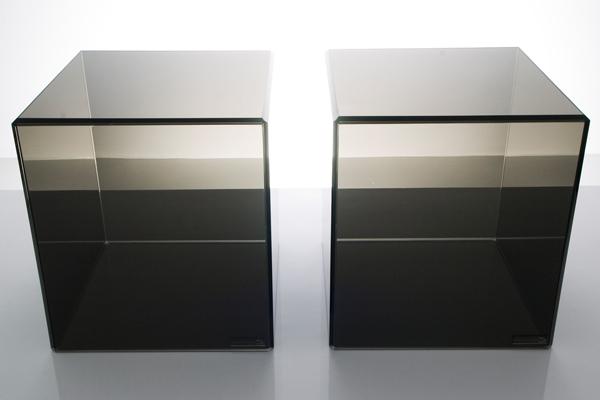 For a geometric effect, set your sights on the Trillion Acrylic Side Table, also from Alexandra Von Furstenberg. Imagine the possibilities when these jewel-topped tables are ordered in multiples!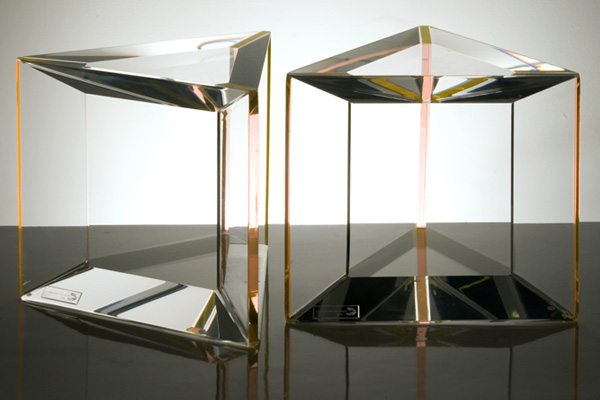 Ultra-thick 4 cm slabs give this next piece a powerful look, yet its small stature keeps the overall form svelte. Try ordering two of these Mitred Acrylic Side Tables and placing them side by side. [from Ralphmarks]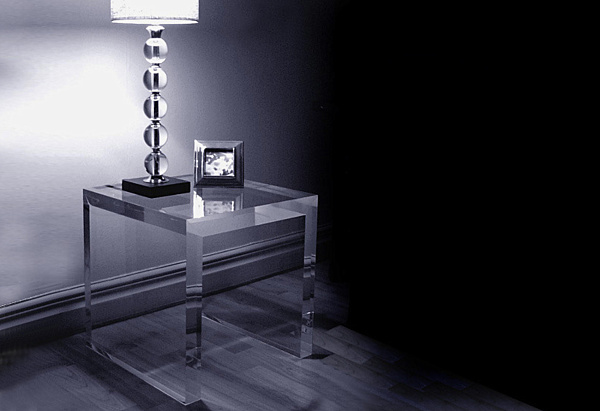 Dual-Purpose Acrylic Coffee Tables
There's nothing like a table that can pull double duty! The Lucite trunk by Serge de Troyer is a coffee table and a trunk in one. Fill it with neatly-stacked books, turn it into a life-size display box that highlights large collectibles, or leave it empty for a pristine effect. For a table with a similar look, check out selections from Plexi-Craft. [image from Apartment Therapy]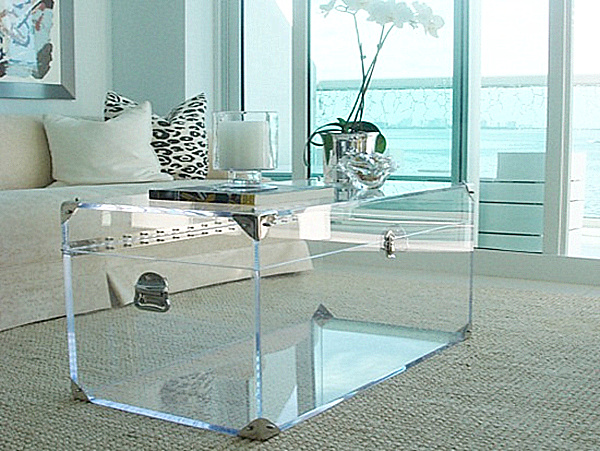 For a table-meets-magazine rack effect, hunt for a design similar to the Magino Coffee Table, formerly at Design Within Reach. To get your hands on a more affordable version, try Overstock.com. [image from Apartment Therapy]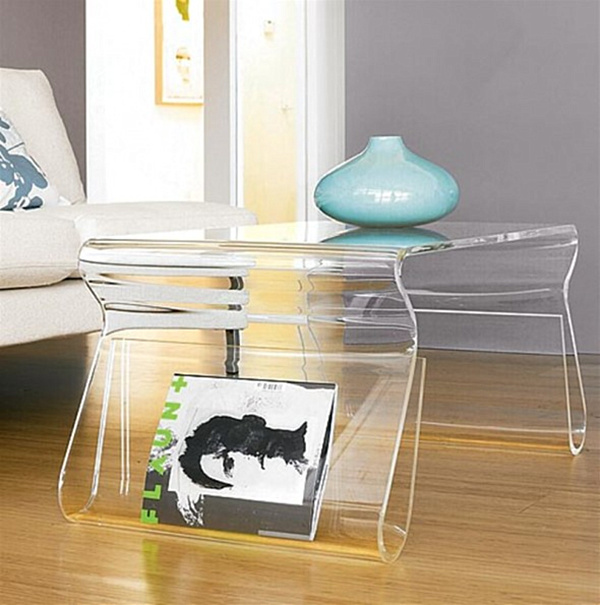 If space is still an issue, choose an end table version of the piece and purchase two items. Place them together in the center of the room, and separate or move them as needed. [from Bella Modern]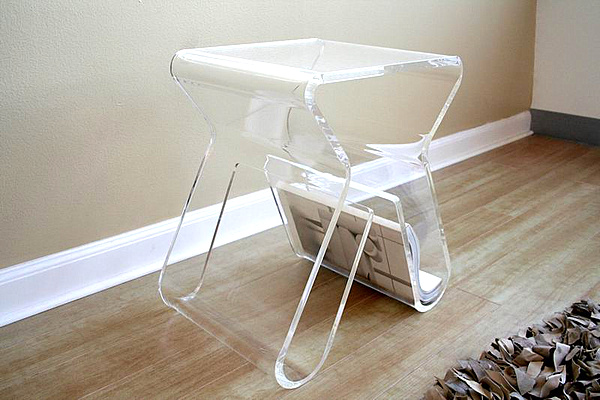 For the grand finale, we feature one tank of a table with an acrylic base and a glass top. It's a fish tank, to be exact! The Midwest Tropical Fountain Aqua Coffee Table arrives complete with lighting, decorative plants and blue glass gravel…everything but the fish! If the gravel and plants aren't to your liking, fill the piece with the aquatic items of your choice. [from Wayfair.com]