The Bainbridge Island Residence has acquired much acclaim for being a magnificent architectural masterpiece. Located in the brim of lushly green landscape and a beautiful beach facing south, the building stands isolated from the busy streets and crowded townships close by. This, in fact, can be seen as a classic example of how a contemporary residence should be — and all kudos goes to the creative folks from Scott Allen Architecture.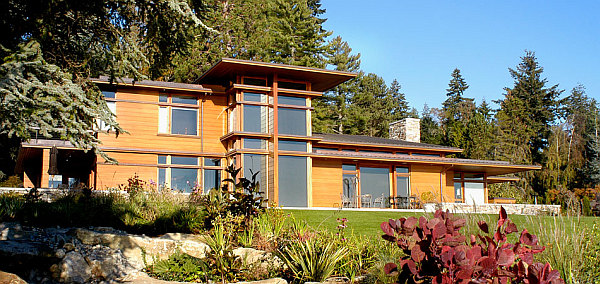 An approach from the main entrance reveals fantastic natural terrain and beautiful flora. The residence gets a natural canopy from the nearby trees and angular impact of sunrays. Located near a mesmerizing beach, you get its fantastic view silhouetted against tall coniferous trees from there. Meanwhile, the courtyard displays a blend of green shrubs and granite slabs, and can be described simply as awesome.
A patio with small rectangular granite pieces, shadowed by a canopy of wooden patterned sunshade is an exemplary example of craftsmanship. The spectacular garden, displays a mixture of vibrant colors just outside the inner courtyard. The rock and water feature completes the house as a place of absolute mental peace and tranquility. Gifted with fabulous living area with a narrow entrance, the residence sports large living spaces that offer luxurious interior furnishing. The bar, dining room and staircase alone would give you an idea of how beautiful this house is.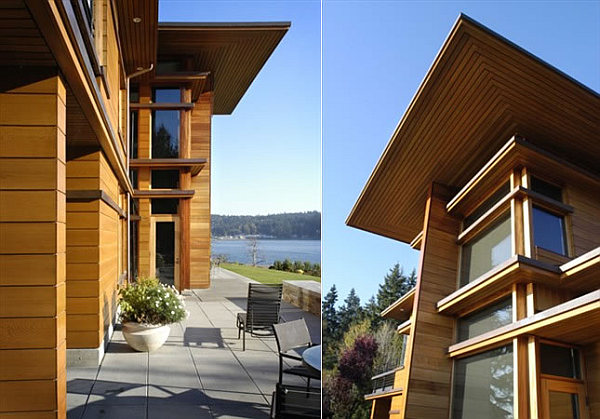 Besides all contemporary amenities, the house hosts additional facilities like motorized windows, natural cross-ventilation, and solar controls. Overall, the Bainbridge Island Residence is more like a space for public gathering.