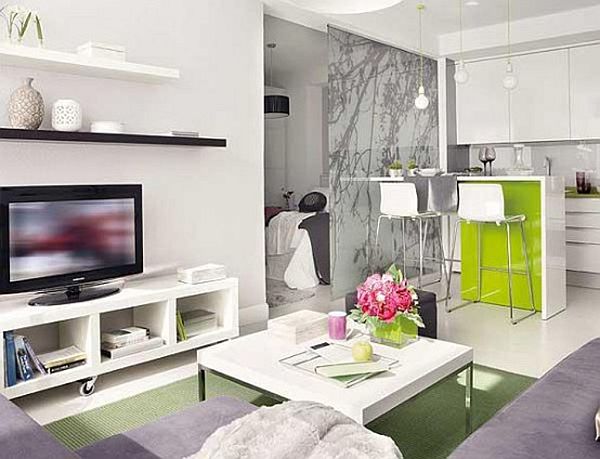 Are you living in a small apartment? Things are cramped and you'd love to have more space? Then you need to expand your room size or at least make it look larger. You just found the right place to do that, as we, on Decoist, have quite a few tricks that will help out.
Using multi-functional or removable furniture is a great way to streamline the looks of your room.
Bring in a built-in storage that would help you to store your books or blankets. That would help keeping clutter away.
With lighter colors your room will appear larger. So always stick with pale blues, creams, gray, greens and yellows. Placing large mirrors in your room would add more space and reflect the light.
Don't push your furniture against the walls. Sometimes a piece looks better at an angle or surrounded by space. Therefore, try to place the furniture with a skinny console behind it or place them at an angle
Rather than putting tiny furniture everywhere, it would always be good to place a statement sofa or a curved armchair
You can expand your rooms by painting the walls in different shades of same color such as white, off-white, and beige. But if you use bright colors and fun textures in your ceiling, it will create an illusion of height in the room
And, don't forget to leave your windows uncovered because it will trick people's eyes to the beauty of the landscape outside.
If you arrange knickknacks, books and vases in your room as per color, it will also make everything appear streamlined.
Anything else we should add to the list? Have you ever redecorated your small space making it look a lot larger and less cluttered?