Folks at Pulltab Design have come up with a great idea that stands out as an example for a plan where elegance meets purpose — 7th Street Residence. Based in Manhattan, Pulltab design specializes in architecture, interior design and custom furniture. The materials they used for this contemporary interior are stained concrete, American black walnut, bronze and steel along with modernist finishes, including hand applied active patinas, true pigment paints and high gloss lacquer surfaces.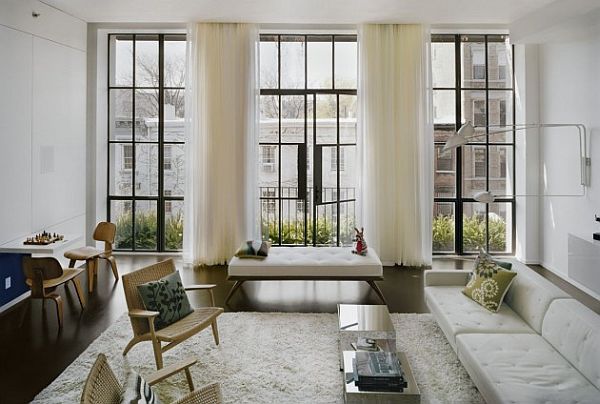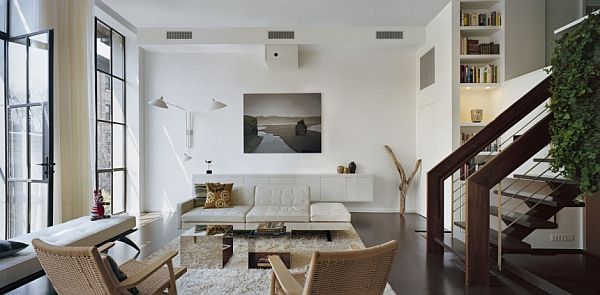 The living and dining areas are the main attractions of this magnificent apartment. A new cantilevered dining 'pod' was added to increase the size of the kitchen that extends from the 5th floor slab. A custom planted garden wall has been installed with the intent of creating a focal point for the living room on the exterior surface of this pod.
In the living room, a shallow reflecting pool which has been custom fabricated from folded steel sheets are placed in combination with the vertically planted wall above. This satisfies multiple functions such as capture the water droplets from the vertical garden wall's concealed irrigation system, and also allows for the indoor water garden to be calm which is completely stocked with colorful goldfish.
The latest double panel system is installed on the east wall. This has been assembled from painted furniture grade plywood. A series of reveals separate the panels fulfilling the purpose along with adding them with beauty. (from Contemporist)