Are you ready to put a new picture in your "dream home" folder? This Spectacular Modern Villa in Spain will leave you breathless and excited about the future of residential customization at the same time. This also must be your lucky day because this superb villa is available for a 'mere' $10,333,781. A simple description like: "7 bedroom chalet for sale in Madrid's La Moraleja area" does not help if not accompanied by one of the photos below.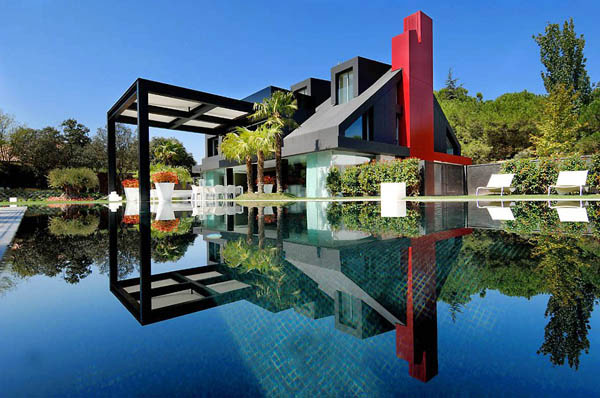 Spreading over 875 square meters, the interior spaces of this gorgeous contemporary home are arranged to suit a modern lifestyle. An entrance hall welcomes those who enter the house and a spacious reception room invites guests by the fireplace. Outside, seen through large windows, the swimming pool and landscaped garden offer exceptional relaxation spaces.
The kitchen and dining room, as well as the rest of the interior ground floor spaces – guest suite, staff apartment, home cinema projection room, gym and garage – are all prepared to offer comfort and variety of interactions. Upstairs, a 130 square meter master suite and an additional bedroom make up the private quarters of the first floor and the two more 50 square meter bedrooms on the top floor complete the carefully designed collection of spaces.