Lifestyle changes as the world changes. So does your kitchen. But that in no way means we completely disregard tradition. Only, a variety of color and texture add that modern tinge to the anything traditional. And believe it or not, a country style kitchen is still being preferred by those who need the comfort and warmth of family moments.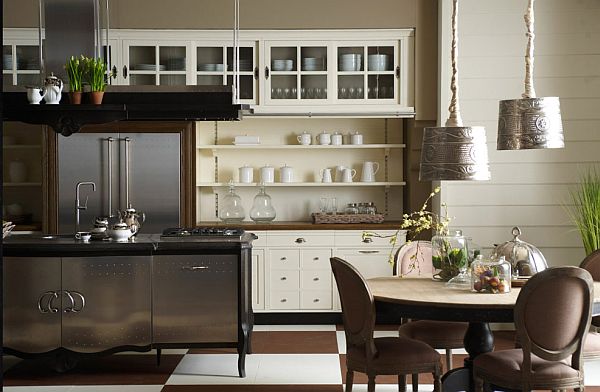 Painted and glazed cabinets with strong color from nature, farmhouse sinks, beadboard panels and open shelving are trademarks of country kitchen designs, along with wide-planked wood floors, antique brass hardware, knotty pine furniture, and antique knick-knacks.
A country kitchen is full of containers of all kinds. Vintage crocks hold old cookie cutters; while old mason jars and pantry jars hold flour, coffee or sugar. Vintage canister sets add authenticity to your country look.
If you want your kitchen to be loud and filled with things, country style is the way right choice. White or visual earth tones, it looks traditional either way with lots of sunlight rushing in.
Wood is the right option for the floor; you can also go in for laminate flooring. But if you cannot afford to change your floor, country style area rugs or old fashioned braided rugs is a good option. Antique looking furniture, an old fashioned bench and rocking chair would add to the feel.
Despite the large number of accessories that fill the kitchen, there should be overall harmony and coherence.
Are you planning to build your own country style kitchen? We say go ahead.