Two urban projects – Red Stair and Vent Sculpture – have been designed by Marcus O'Reilly Architects in the heart of the Australian city of Melbourne. It is designed as a major public meeting space and as a recreation area for the public. Both the projects are located along the Southbank Promenade near the Yarra River.
The Queensbridge Square, which is a major public meeting place, connects the Southgate with Southbank Boulevard, Queensbridge Street, the casino, the Freshwater Place apartment tower and the Sandridge Bridge. This place leads to the Flinders Street Station along with its underpass. The new Red Stair acts as a guide-spot that leads to the above mentioned places. It is very easily accessible for the public for their casual or formal meetings, sitting in the sun, demonstrations and other recreational activities.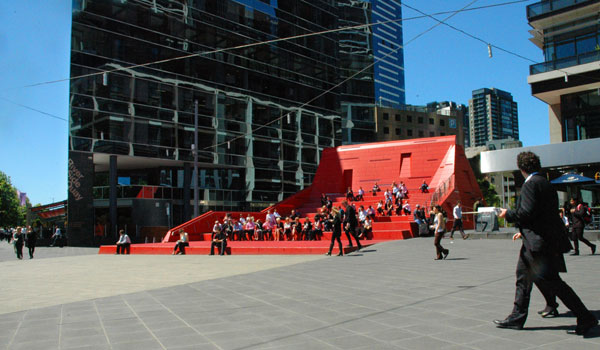 The material used for Red Stair is plywood. It is red painted and given cool LED backlights. The glowing Red Stair at night is really a stunning view! The high back-wall of the Red Stair blocks the roadway giving way to the underpass and it functions as an end-mark to the Queens bridge Square enclosing the urban space. The second structure, the vent, was built across the square.
The vent has a perfect design that transforms public life into an active form creating a cool space to relax. The design work of the project was led by Prof. Rob Adams for the City of Melbourne.  The project was credible enough that it won the precious Melbourne Prize and AIA Urban Design Award. The project itself is an ideal tool that interconnects the busy public along with relaxation and recreation.