The Westlake Drive House in Austin, Texas, could leave you wonder struck, for sure. This stunning residence was put up by the Austin-based studio James D. LaRue Architecture Design. Located on the 12th fairway of a west Austin golf course, the sleek house is comfortably placed on a steep hillside. It has been built in such a way that travelers above and golfers below can have a smart vision of the impressive natural beauty of the house. Its one-story street profile hides its size and complexity while the low-pitched roofs and clean horizontal lines give an environment-friendly look.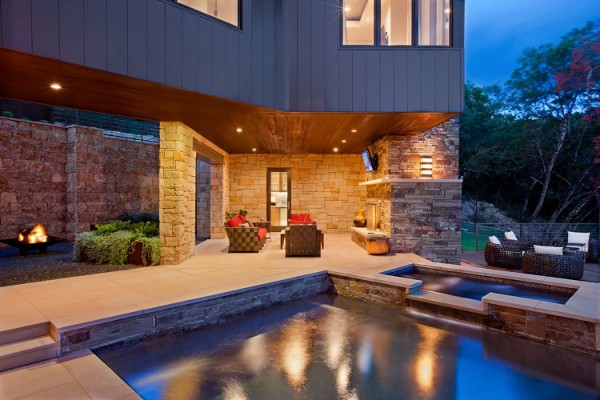 The 4722 square foot house has been born out of the merger of three separate building structures, each having different functions and connected flawlessly by bridges, breezeways and 'streets'.
A cantilevered steel entry bridge drifts over an impressive, cave stone covered wall constituting a sunken garden below. An abundance of windows, a glass enclosed bridge to the Master Suite and a glass lined stairwell permit a clean view of the golf course from nearly every room.
Stone walls add to the natural beauty of the building. The eco-friendly house comes complete with a pool, outdoor kitchen, fireplaces, several seating areas and lots more. This sophisticated house will allow you to enjoy the boundless natural beauty of the hillside terrain.