The Scholl 2 House in Aspen, Colorado was built after the challenging topography and building restriction problems were resolved. Studio B Architects designed a house that meets every need of the inhabitants. The couple living here are collectors of videography and photography, so a space that would allow them to display their precious collections was necessary.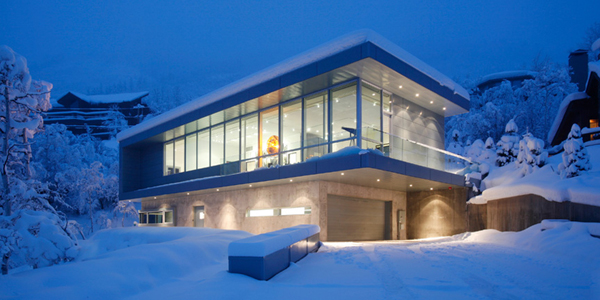 A gallery space on the lower level exhibits the inhabitant's love for art under a high ceiling. On the same floor, two guest suites with an attached massage room welcomes friends and family, while a large wine cellar provides them with entertainment material. Next, the entry/ground floor is occupied by the double height entry, the bedroom, home office and service area like the laundry room and garage.
The upper level is a bright social and entertaining space, connected by art walls that further accentuate the artistic nature of the inhabitants. The gourmet kitchen is part of the extended living space and large windows visually connect the cooking and dining space to the outdoors via a viewing balcony. Here, a private garden opens to the view and a cantilevered steel staircase leads up to the rooftop terrace.