A very different look from the standard wood bookshelves you typically see in the book stores. These very attractive bookshelves were designed by Cube Architects for a Paagman book store in Hague, Netherlands. The bright colors as well as the unexpected design, lure you inside. You might go in just out of curiosity, but, as soon as you find yourself inside, you'll want to spend a little more time in there.
There are basically 2 long-drawn-out bookshelves, curved along the shape of the façade, with an isle in between. The bookcase seems transparent because of the large space between the shelves. Even if it gives you a sense of intimacy, from within the store there is a good view on the outside square and both costumers and books are visible for passengers outside.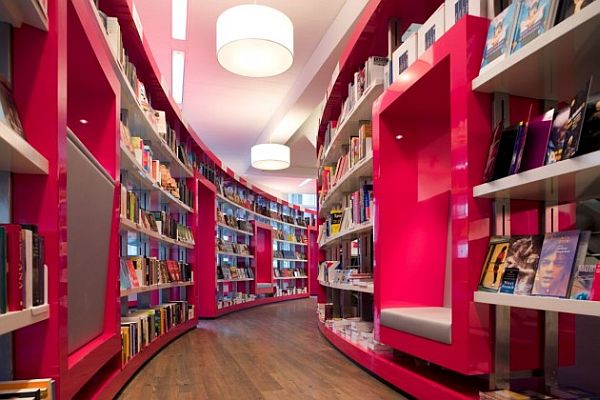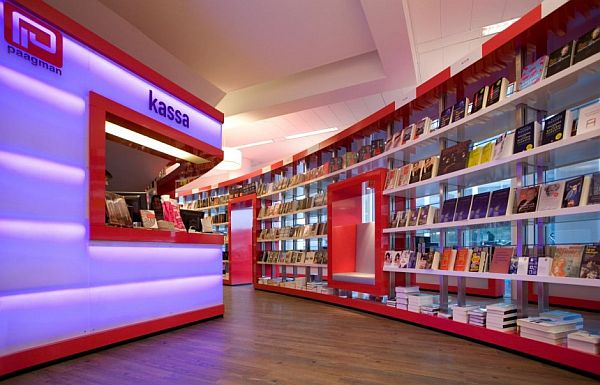 Inside there are several open spaces between the shelves that can be used as comfortable seats to read. It's like an invitation to spend more time in there. You can walk through the books and sit down to take a look inside. Another major difference that distinguishes this book store from all the other ones is that this design allows the books to be displayed with the front towards the costumer instead of side by side. This makes them more attractive for the costumers.
If you're the type of person that enjoys reading a good book, this place will seem like heaven to you. Even if you don't enjoy reading, you might change your opinion after visiting this place.