This unbelievable 1,400 sqm residence, located on a sloped terrain in Bryanston, Johannesburg, South Africa, was designed by Nico Van Der Meulen Architects.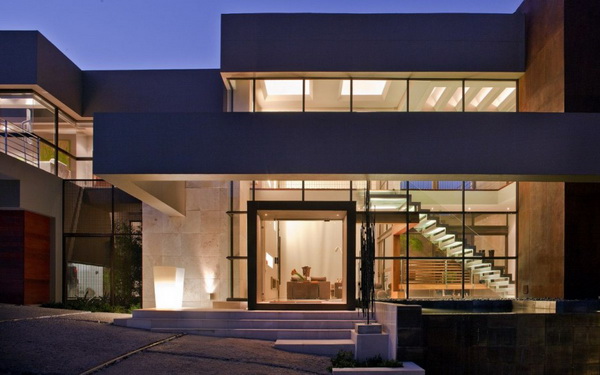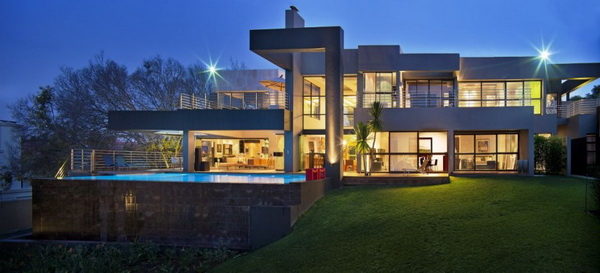 The slope issue was resolved through the construction of a large basement, with the living spaces visually appealing and modernly cantilevered over the base. The rectangular volumes the concrete, the rust-like copper cladding of the lift shaft, and gray travertine cladding give this residence a brutalist look. This rough appearance is countered by the presence of a koi pond and by careful and intriguing detailing of the interior finishes.
The key word to the Bryanston residence is frame. The masculine frame element is found throughout the house, as a monumental beam protruding from the upper slab or giving rhythm to the glazed facade, trimming the fabulous illuminated glass staircase, in the coffered ceiling, or acting as a surprising decorative detail in wood veneer.
The living room is a real 2 story lounge area characterized by a single massive wall with a 4 m long fireplace, fashionable upholstered furniture and suspended round metal light installations. The interior spaces feature travertine and rich dark brown wood finishes.
The fantastic luxurious property is complemented by tennis court, swimming pool, gym and spa, as well as a wine cellar.