Have you ever seen leopards, dragonflies and parrots looking at you from a Christmas Tree? Apparently that's what John Galliano, Christian Dior's creative director, had in mind for his festive tree to replace the traditional tinsel and twinkling lights with frosty wood with twisted branches. The venue is the grand Claridge's Hotel in London where both Claridge's and Dior will seek to blend 'impeccable heritage, inherent glamour and contemporary thinking'. And by the looks of it, they've done a great job. Standing proud in the hallway, it's a sort of surprise for the bystanders like you and me. We'd term it as an absolute novelty, Christmas decoration with a difference, to say the least!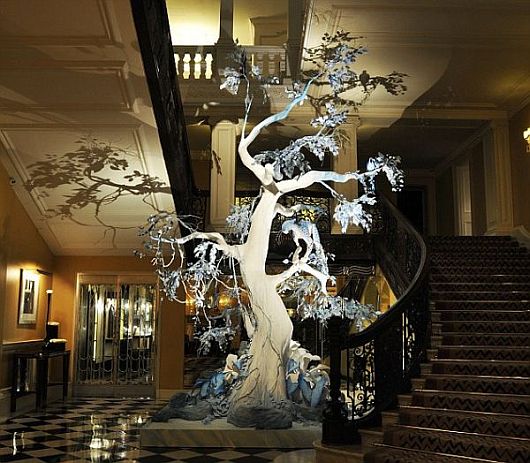 Opting for an art-deco style that is inspired by an Asian backdrop, the exceptional Christmas tree definitely goes a long way in redefining the way we look at holiday season decoration. With a baby blue silhouette and sprawling wildlife keeping an eye on you from its white branches, the stylish tree can indeed be a great inspiration to bring a wildlife theme to your own Christmas celebrations. While you might still opt for a traditional Christmas tree in green, you can decorate it with inimitable ornaments that pay tribute to the fauna in your own neck of the woods.
If you looking for a Christmas decorating theme this is both inspired and unusual, then the John Galliano creation offers the perfect template. Just accentuate it with some good old tinsel, if you think the all white and blue look is a touch too Scandinavian and you are set for good… Are you inspired?