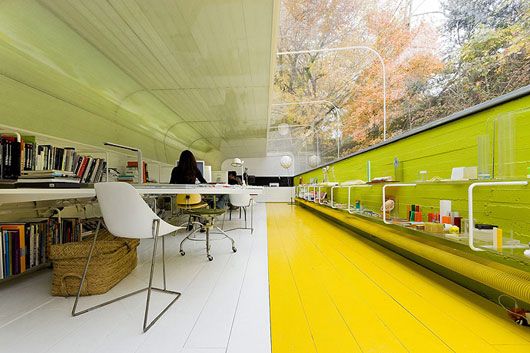 This new concept of a modern cave-like office is admirable and awe inspiring. Designed by Iwan Baan with minimal furniture, glass walls and natural colors for a fairly fresh and delightful look, the building blends perfectly with the landscape and makes for an ideal workplace.
One of the most striking features is the sharp demarcation running the length of the office. It has beautiful white flooring that seems to blend into the wall and ceiling which are also white to distribute the light from both artificial and natural sources. This gives it a very clean look and is perfect for the office work areas.
The other side is markedly different starting with the bright yellow floor. It looks like Iwan tries to tie the yellow floor with the sun, as this half of the office has a clear glass ceiling that curves partway down the wall.
This wall is green and manages to draw the green of the trees visible from the glass areas right into the room. A continuous shelf along the wall provides storage for the work desks with hot water heating below which will add to the warmth in the winter.
Another section of the office space brings the glass rof completely down to the floor. The desks in this section have the feeling of being put in the middle of the woods for a very pleasant work experience.
With simple, yet modern furniture for the sleek factor, Selgas Cano is a sure shot relief from the usual offices cluttered with steel desks and wooden chairs. It's a place anyone would love to work at. You beg to differ? [via Momoy]