Planning a Valentine's Day party? Today we challenge the notion that all Valentine's Day gatherings must feature a perfectly arranged combination of pink and red decor. While some people stress about filling a party table with embellished treats in matching hues, take note that there are other ways to pull off a great event. Two strategies to consider: Go for the unexpected and go for the classic. In other words, catch your guests off guard with unique flourishes, but don't hesitate to use timeless basics like the Sweethearts candy you ate as a kid.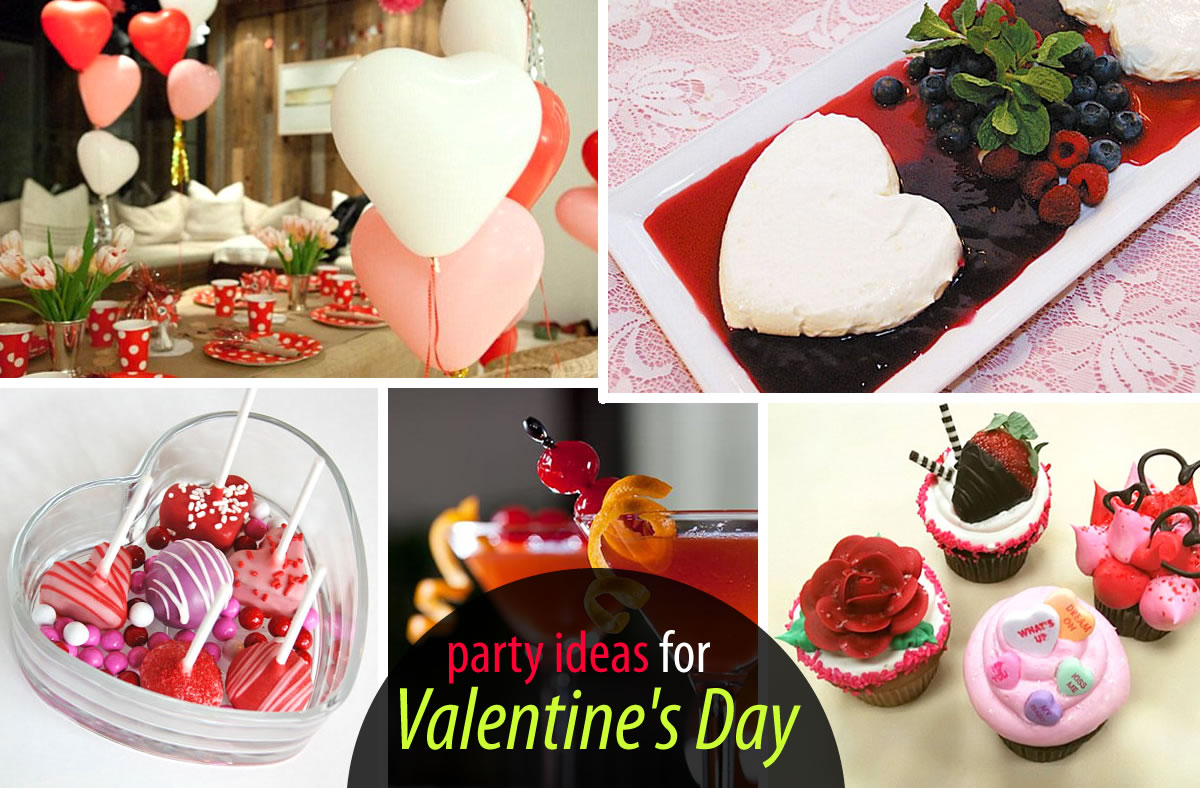 There are no rules that say your Valentine's Day decor has to be filled with red and pink hearts. Or that every item you serve has to be sweet. Think about what decorations best reflect your personality. Consider the food you truly want to eat. Then blend your ideas into a festive display. Let the images below inspire you…
Valentine's Day Party Decor
Your party decor is the backdrop for the event. It welcomes guests. It sets the stage for a memorable gathering. And there are different ways to approach it…
Go for the Unexpected
While this first decoration may not be the easiest to pull off on your own, we reference it as a reminder to think outside of the box when it comes to Valentine's Day decor! A balloon creation that makes a bigger statement than most pendant lights? What's not to love! Perhaps a smaller version of this hanging centerpiece could be crafted with the right balloons and a little bit of patience… Balloonatics created the dangling decorations in the image below for a Valentine's Day party at the Performing Arts Center in Denver: What's so unexpected about the heart garland in the next image? It's made from paint chip samples, which can be yours for free at your local home improvement store! All you need is a heart paper punch and some thread. Check out the full photo tutorial at Grace and Light. We're loving the fresh, green blossoms in the image below, grouped in a container surrounded by the Hot Pink Vase Corset from Social Couture. This vase embellishment is crafted of hot pink stretch velvet so it can fit a variety of container sizes. Playful and fun, it sets a clear Valentine's Day tone while leaving the door open for flowers in non-typical colors. Yellow and orange, anyone?
Go for the Classic
What could be more festive than heart-shaped balloons? A simple, non-metallic finish in shades of pink, red and white screams "Valentine's Day," yet the balloons  create an old-fashioned feel that keeps things simple and chic. [from Rip + Tan]