Stone Fireplaces Add Warmth and Style to the Modern Home
Ah, the warmth of a fireplace! When we imagine resting near the comforting heat, we often picture charming, rustic fireplaces with overflowing mantels. Today's post focuses on the clean-lined version of these glowing additions to the home. But don't think that just because a fireplace is not traditional, it's not enticing. That's right–today's modern stone fireplaces are a touch of classic with a big dose of contemporary!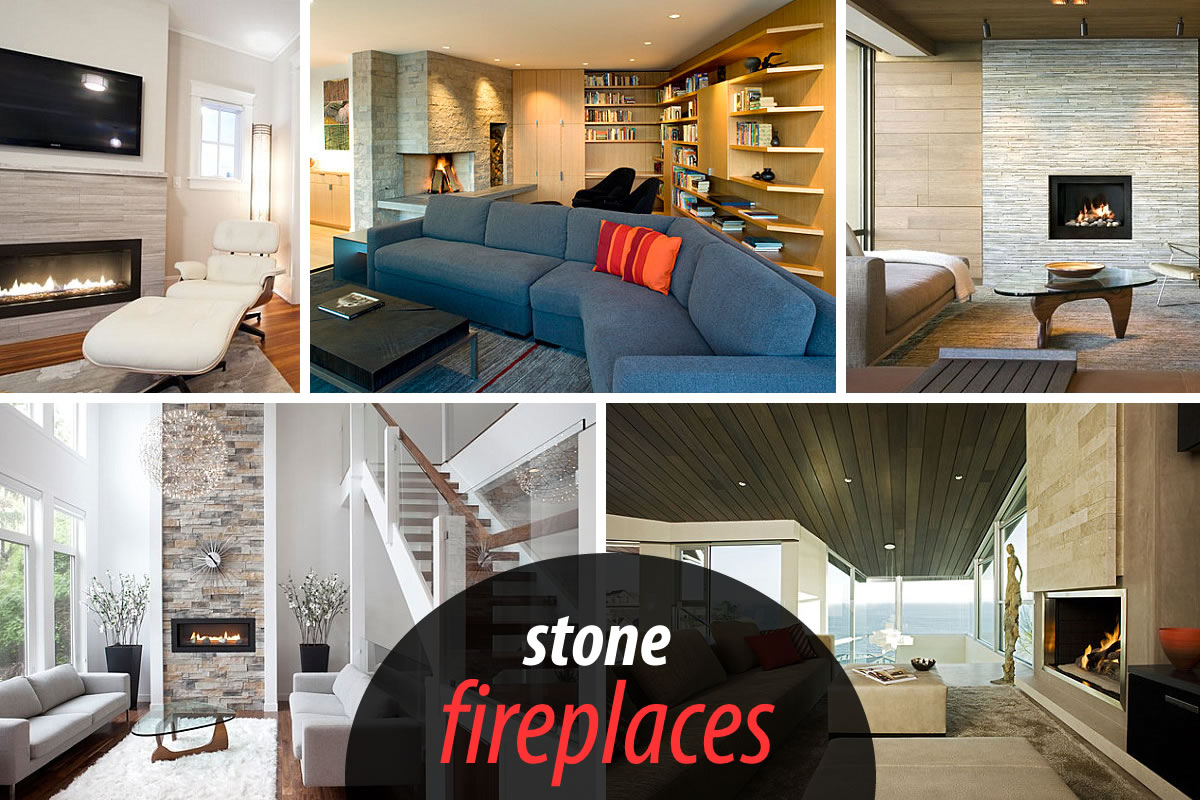 We begin with a collection of elegant stone fireplaces–many of them stacked stone–to acquaint readers with the wide range of building materials available. The second portion of today's post focuses on fireplace decor. After all, if you have a grand wall of stone at your disposal, it's tempting to decorate it! Enjoy!
Modern Stone Fireplaces
The stone fireplace below is filled with horizontally oriented stones that stack to form a clean-lined interior focal point. Also featured in this stunning modern room: Barcelona Chairs by Mies van de Rohe! [from Mark English Architects via Houzz]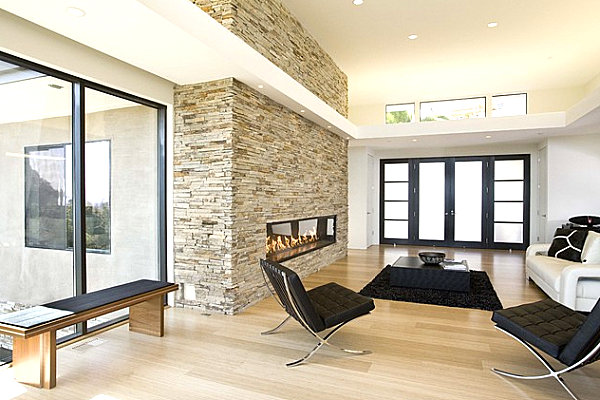 In fact, iconic modern furniture pops against the backdrop of modern stacked stone. Did you recognize the Noguchi Table by Isamu Noguchi for Herman Miller in the image below? [from Garret Cord Werner]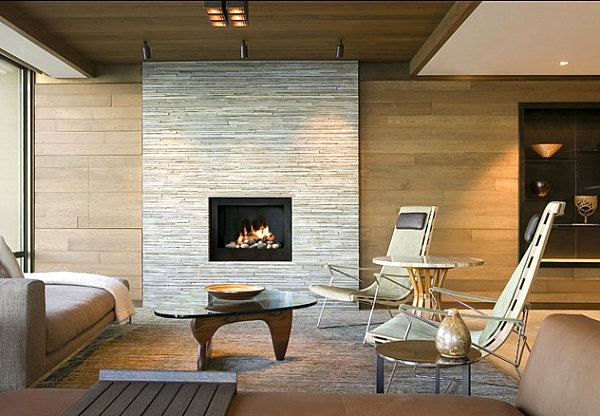 In the next featured living space, a gray stone fireplace mirrors the stone columns on the exterior of the home. Not to mention, the gray rug reinforces the cool tones of the stone, which nicely contrast the warmer hues in the room. A fireplace this grand can make a statement on its own. Which is why many homeowners choose not to embellish their fireplaces with clutter. [from Jessop Architects]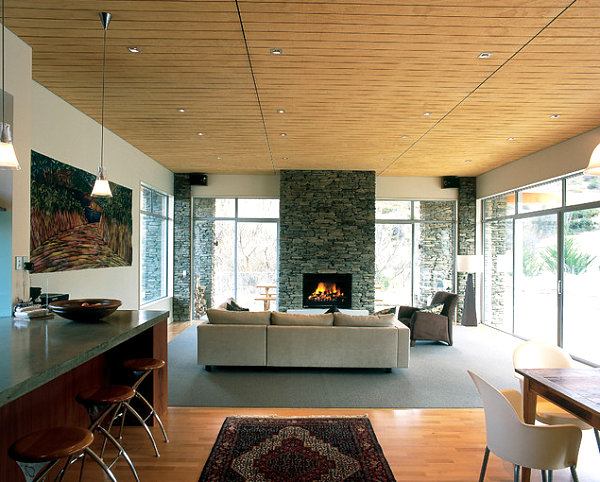 Stacked stone in taupe contrasts the white ceiling and natural wooden details in the space below by Paxton Lockwood Interior Design. Round chandelier-style lighting adds a grand touch to this large-scale room: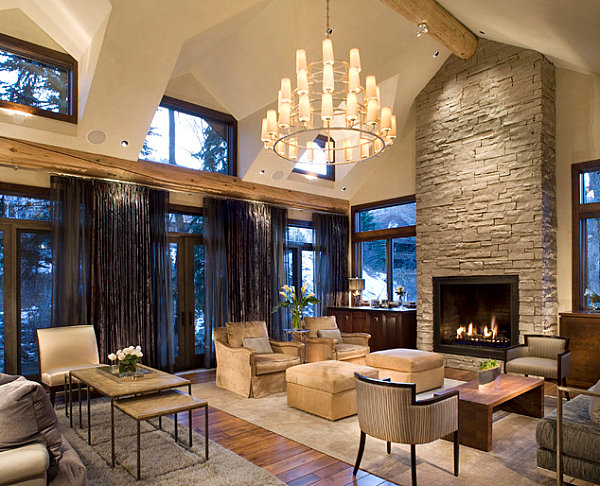 One way to add variety to a stacked stone fireplace without hanging artwork? Vary the color and shape of the stones! In the room below, darker stone with golden tones echoes the tan accent wall in the living room. And once again we are in the presence of Barcelona Chairs by Mies van de Rohe, this time in white leather! [from Studio GC]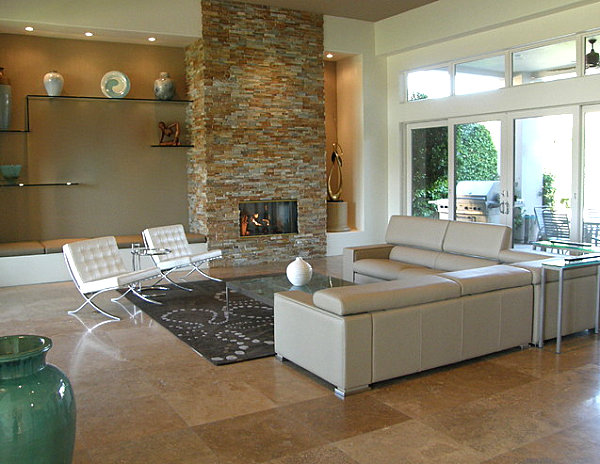 A metallic border frames the burning wood in the next featured stone fireplace. A modern sculpture rests in front, while a view of the ocean draws the eye to the windows. Large-scale rooms such as this often demand tall fireplaces, especially those with a clean, modern touch. [from Horst Architects]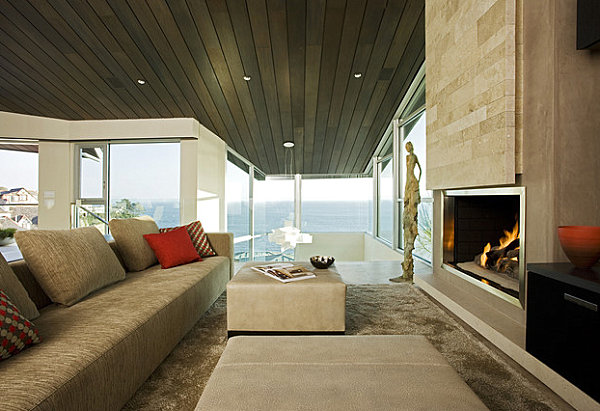 It's hard to take your eyes off the smooth, sleek stone in the next living space. Also note how the width and design of the middle stones truly stand out. A fading, gradient-style progression from light to dark is another highlight of the tiles on this artistic fireplace. [from Raven Inside Interior Design]
A corner fireplace? You bet! Equally enticing is the built-in storage for firewood. The coldest of winter nights are made warm by this accessible fireplace, which is rich in both style and function. [from Warmington & North]
Stone Fireplace Decor
Fireplace decor often mirrors the style of the fireplace itself. Therefore, it makes sense that many a clean-lined modern fireplace would shine on its own rather than be overrun with frilly embellishments. In fact, in modern rooms, the simplicity of the fireplace often lets other interior details shine. For example, the light stone of the fireplace below is offset by another iconic piece of furniture in a shade of hot red. It's Eero Saarinen's Womb Chair! Note how the mantel is more of a sculptural statement than a receptacle for candles, picture frames and other typical fireplace decor. [from Mosaic Architects via Houzz]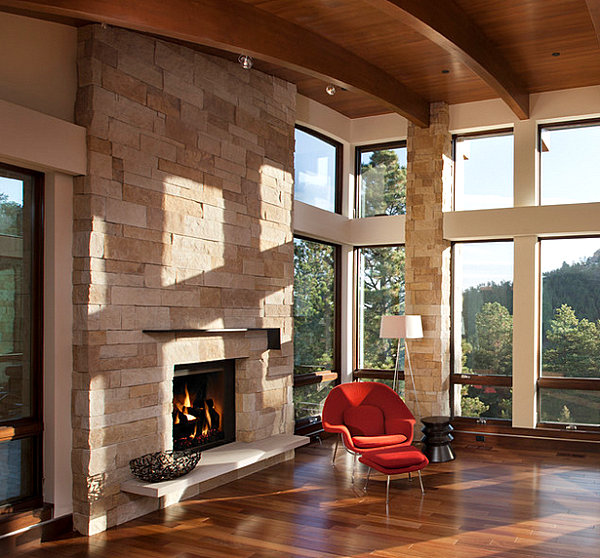 Let's talk about another fireplace decor favorite: the overhead mirror. In the space below, the rectangular mirror is approximately the same width as the fireplace itself, providing a sense of symmetry to this warm-toned room. [from Forum Phi]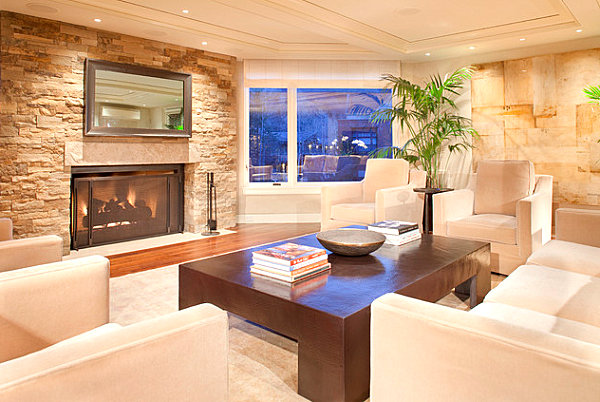 Below, a modern linear gas fireplace is surrounded by stone, then framed by shiny metal. A mantle is included, yet no decor graces the surface. Instead, a flat screen TV hangs overhead, perfect for a cozy evening at home. [from Domain Design]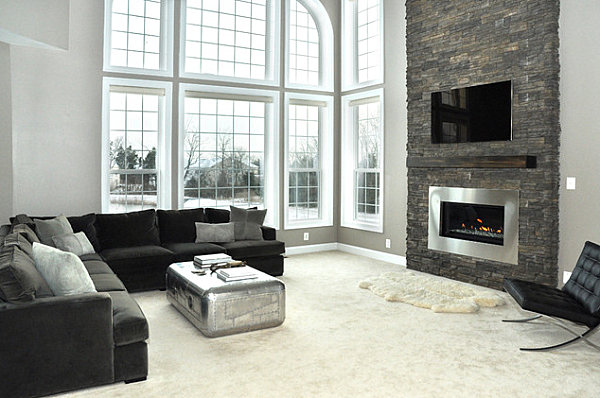 The fireplace in the next image is open to both sides of the room, ensuring that its warmth has double the effect. A flat screen TV brings entertainment to the kitchen area, which features pendant lighting and stainless steel appliances. [photo by Jordan Lotoski, from Eldorado Stone via Houzz]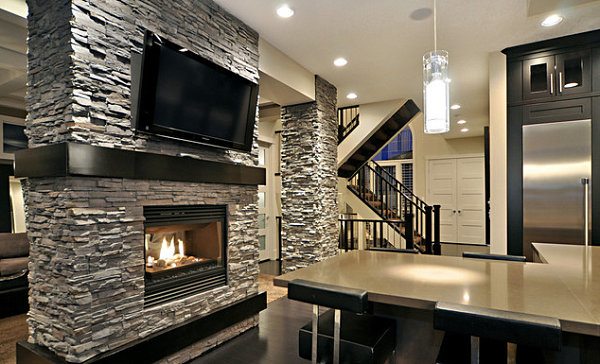 As you can see by the plethora of pics featuring flat screens, televisions are one of today's most popular fireplace accessories, especially when backed by a wall of modern stone. The stone of this contemporary fireplace is cream quartzite from Erthcoverings. [from Custom Fireplace Design]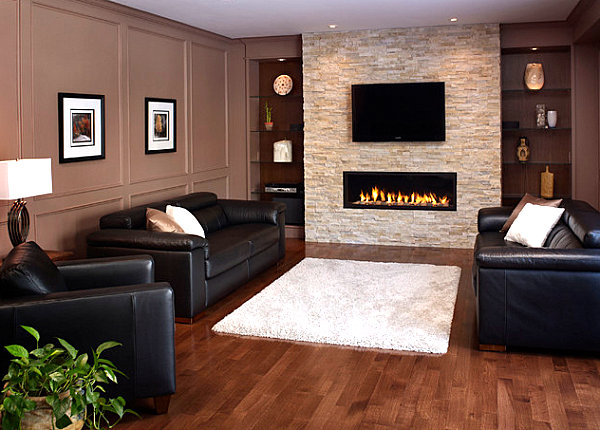 What's that gorgeous building material below? It's travertine! Sleek and smooth, this stone is the perfect way to add a modern look to your fireplace. The travertine in this room does not take up the entire length of the wall, making it easy to mount a flat screen TV above the fireplace.  [from Houzz]
Don't want a flat screen as the focal point of your living room? No problem! Try hanging something artistic, such as a sunburst clock. Retro yet modern, this piece is extra stunning when it takes center stage on a tall stone wall, as shown below. [from rectangle.ca]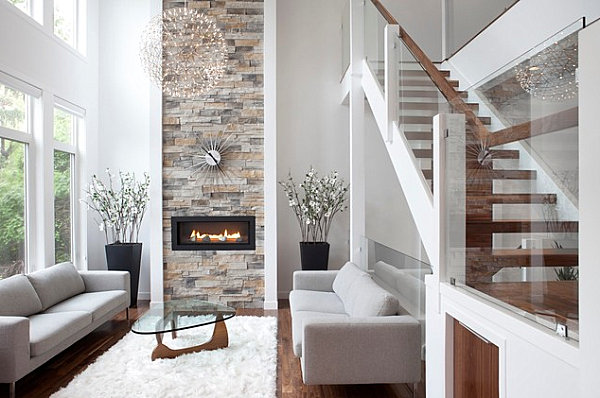 In the next featured space, we see a wooden mantel enhanced by a few carefully chosen items, such as a ceramic vase. Sometimes less is more, especially when the architecture and view of a home are so bold and stunning. [from Eldorado Stone via Houzz]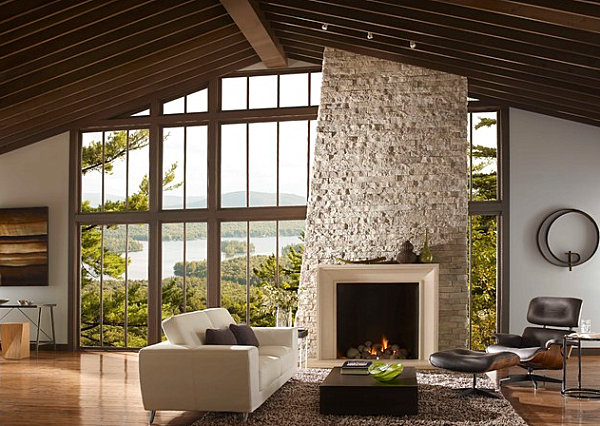 A sculpture, a painting, and there you have it! Don't be tempted to fill your mantel just because there is empty space. Use the space to your advantage and let the lack of clutter speak for itself, especially if a vivid painting is showcased. [featured by Laura Burton Interiors, from Eldorado Stone via Houzz]
We end with a reminder that there's always a place for artwork. Below we see symmetrical mantel decor, from a tree-themed painting to the sconces that illuminate either side of the vignette. [from Weaver Custom Homes]
Do you have a modern stone fireplace in your interior? Does it have a mantel? Tell us about your hearth and its featured decor by leaving a comment below…