In a few weeks, Thanksgiving will arrive, and family and friends will gather around the table to celebrate the joys of the season. While a few place settings and a vase of flowers can get the job done, now more than ever people are reveling in the beauty of DIY projects that add color and style to the holiday table. Getting crafty is easier than you might think…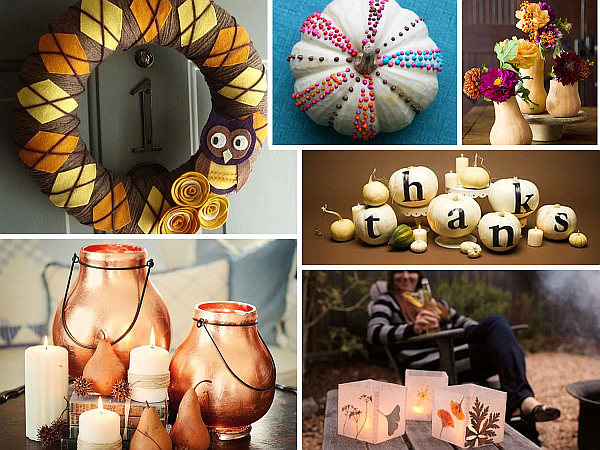 Are you looking for that perfect centerpiece? Hoping to add fall motifs to your decor so you can set the stage for the big day? Searching for a handmade favor idea to hand out to guests? We've rounded up a slew of Thanksgiving crafts for you to enjoy. Put on your DIY hat, gather supplies, and let your imagination take hold. From the super easy to the more involved, the ideas below will bring an element of creativity to your Thanksgiving holiday!
Thanksgiving Centerpiece DIY Projects
A striking Thanksgiving centerpiece is the decorative focal point of your holiday table. Why not make it special? Or unusual, as shown in our first featured image. A halved globe holds an assortment of pine cones, bittersweet, acorns and branches. The combination of earth tones and aqua blue is stunning and fresh. [from Better Homes and Gardens]
The vases below are made from hollowed out gourds filled with blooms and berries. Don't forget to choose interesting hues for the flowers, such as purple and eggplant. [from Better Homes and Gardens]
If you'd rather paint your produce than cut into it, try the DIY painted pumpkin project in the next image, which uses fabric paint to create a series of dots in vibrant shades. For a full tutorial, check out A Beautiful Mess.