Just like your overgrown, shedding, drooling dog is part of the family, so is the cardboard stacked, fishing pile mess of a garage part of your home. Whether it's directly attached or located further from the home the purpose of this building is to store your vehicle(s). A cement-floored rafter-ceiling unit meant to protect your vehicle from would be thieves and the harsher elements of nature like fowl manure or mounds of snow.
But as time sneaks up on and by us our car slowly gets evicted inch by inch for the greater cause of Christmas and Easter decorations, boxes of elementary school trophies and all sports related paraphernalia. And of course how many times have you heard of a small business starting up in their very own garage … or that of their mother's?
But it's time that we repossess the opportunity to park our luxury hybrid sedan back in its rightful place. If not that at least systematically go through our belongings in pursuit of a homier more livable, maneuverable garage.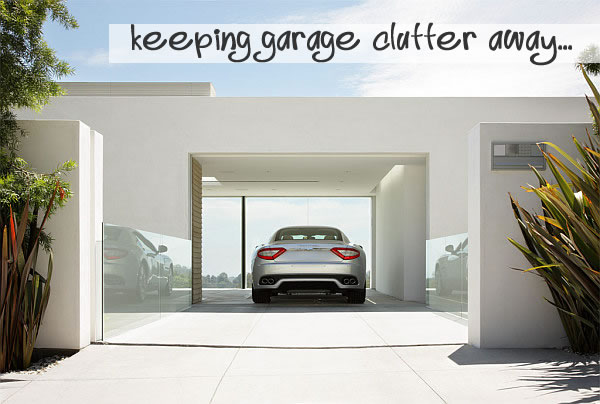 Step One: Process of Elimination
Starting projects like these are always most intimidating at initial glance. From there you have a mental conversation trying to persuade yourself to get going while the other lobe urges you to flee before you succumb to the dangers within. I can't really help you with that, but I can give you the first piece of advice.
Get. Rid. Of. Stuff.
Try to eliminate at least 15 pieces of unused, never been used, or totally forgotten possessions during the whole process of reclaiming your garage. If there is no value or chance of reusability, to the dumpster they go. If anyone can benefit, drop it off at your local collection site for donations. Hopefully knowing that you are giving back to the community in a small way will make releasing your grip on the items a bit easier.