Ultimate Pallet Furniture Collection: 58 Unique Ideas
Pallet sofas, benches & chairs
Cozy pallet sofa
Some DIY projects require special materials. Like this cozy sofa made from a pallet. It's a plastic pallet cut in half, with stainless steel plates and legs (for stability). The cushion is amazing, and the powerful blue is exactly what it needs to stand out. [from recyclart]
Recycled country sofa
The word here is awesome. I'm not really fond of the colors, could've used brighter, warmer ones, but the design for this sofa is brilliant. And the fact that the pallets follow the mattress' style, makes it even more appealing.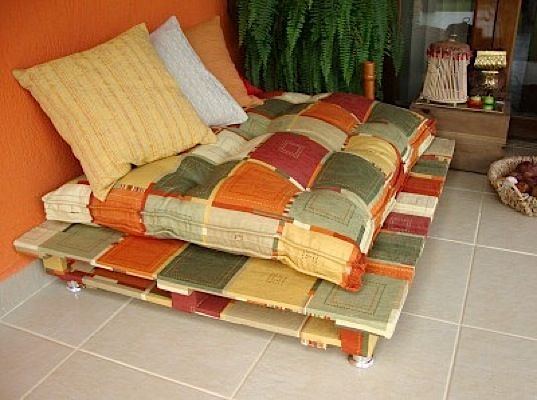 Bright pallet sofa
Outdoor pallet couch
Although I think it was designed for outdoors, this couch has what it takes to make it into any interior. I totally adore the pipes on the sides. Certainly adds to its uniqueness. [from shelterness]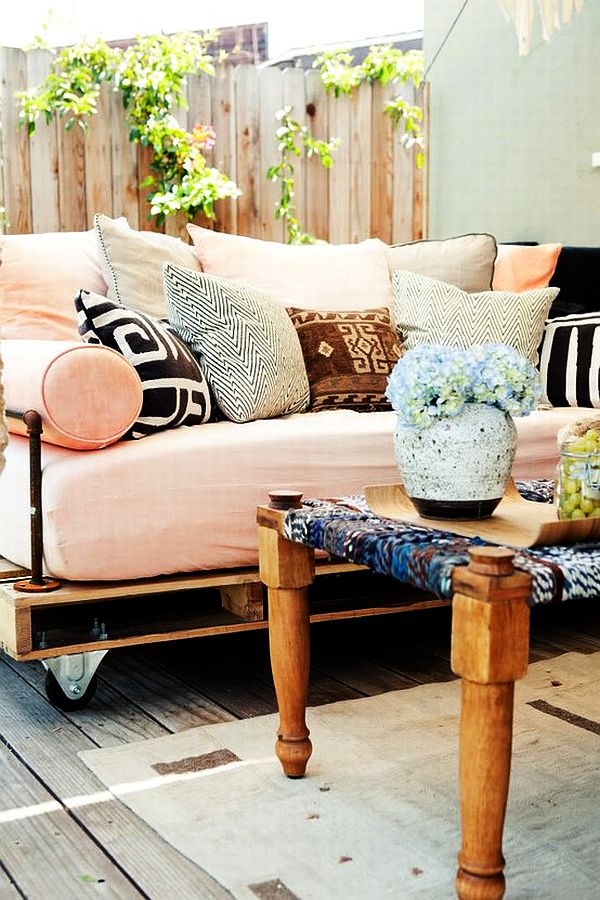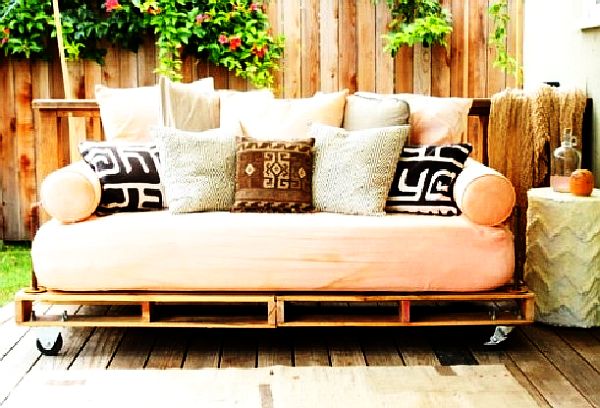 Stylish couch?
Although it's as simple as it can be, there is something about this couch, or you may want to call it a daybed, that gets the eye. [casasugar have them]
Comfortable sofa
Comfortable and cozy is what defines this couch. Makes for the perfect setup to play Wii/Nintendo/Xbox with the guys, enjoying a few cervezas as well.
Simplest pallet couch ever
An L-shaped sofa made from pallets? It's probably the simplest thing we've seen — with a striking outcome. This uses 6 pallets and lots of foam (which is not cheap if you were wondering). [from cuartoderecha]
Sofa with matching coffee table
If you're not sure how to decorate your living room or your patio, here's some inspiration. It's all about the cushions, because the pallet base is similar with all our ideas in here. [found on calinteriors]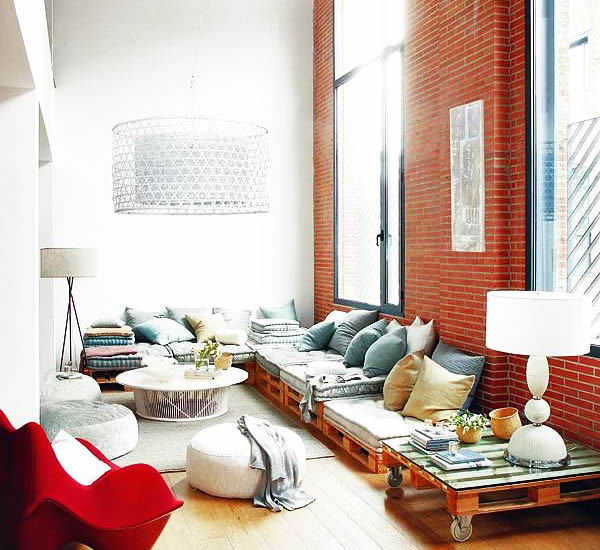 Colorful teen pallet sofa
You thought that a pallet DIY project to create a sofa is just for you? No dear readers, it's also for the kids' room. Here's an example from meetmeatmikes. We absolutely love the colors. It has a Scandinavian feel, right?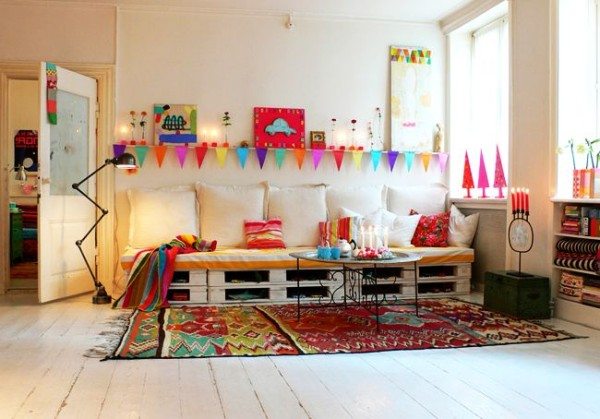 Surprisingly chic
Contemporary pallet sofa
How is that you may ask, a contemporary pallet sofa? We'll tell you. No, better, we'll show you. [via stylizimo]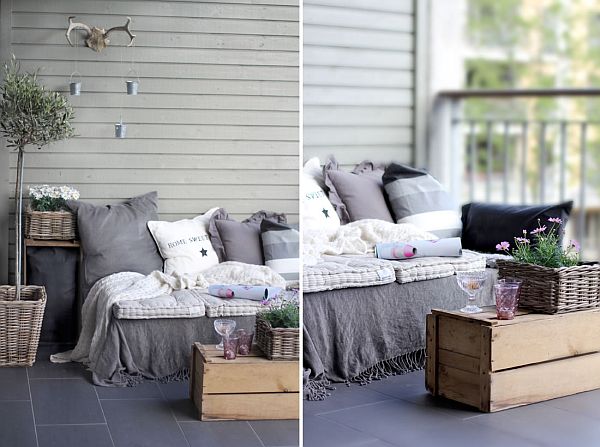 Sturdy little couch
Cheap sofa
Outdoor stylish little sofa
Looks comfortable (and probably feels comfortable as well) but the most interesting thing about this little outdoor couch is the modern aspect. Shouldn't be too expensive to built, but keep in mind it needs to be sanded very well so that you don't have any problems with it. [via homedezine]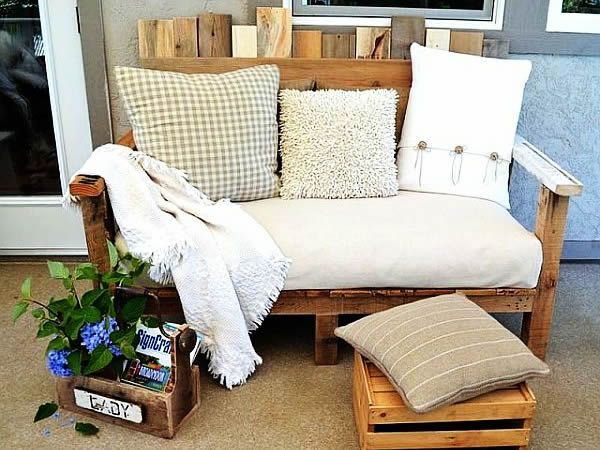 £3 handmade pallet couch
Would you imagine that creating such a product could only cost £3. Yes, you're reading correctly, that's only 3 British Pounds. How? Rachel is telling us how Aaron did it. Check it out here.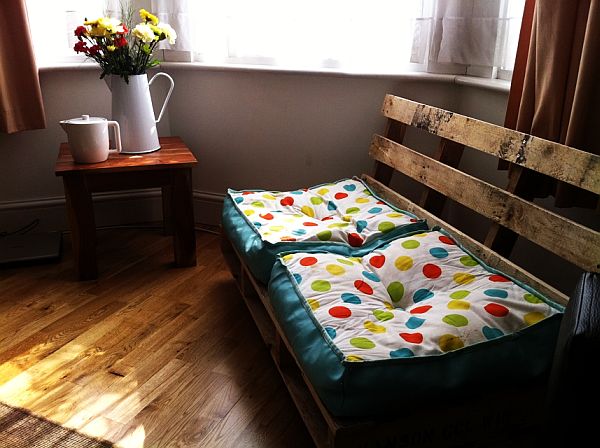 Sofa bed doesn't reveal pallet base
Now this is a nice mix: recycled shipping pallets accessorized with a bunch of IKEA products, furnishings. You can follow this tutorial at scraphacker and you can have yours as well. We're completely sold.
NEXT →
Page 1: Pallet (coffee) tables
Page 2: Pallet beds & bedrooms
Page 3: Pallet offices & desks
Page 5: Pallet shelving & storage
Page 6: Pallet decorations
WHAT DO YOU THINK?