Here at Decoist, we're all about making design easy! Often we even suggest substituting real plants with the faux variety if upkeep becomes tedious. This is not one of those times! That's because NASA's 1989 Clean Air Study has been receiving a lot of attention lately, especially since it highlights specific air-purifying plants that are known to filter out toxins such as benzene and formaldehyde. With a houseplant revival in full effect, it makes sense that we'd turn our attention to a study that celebrates their ability to clean the very air we breathe. And that's nothing a faux plant will do for you!
Below we've highlighted 20 of the plants featured in NASA's study, as well as some basic upkeep instructions for these selections. To really achieve an air purifying effect at home, it is recommended that at least one plant be placed every 100 square feet. Read the entire NASA study here, and check out Lifehacker's amazing infographic detailing household chemicals and top plant selections here. Most importantly, NOTE THAT SOME PLANTS FEATURED IN TODAY'S POST ARE TOXIC TO ANIMALS. Do your research before you purchase a new houseplant (this table may be helpful), and take care to keep toxic selections away from pets and children. Ready to take a closer look at the best air-purifying plants?…
Blooming Beauties
Let's start with houseplants that grab out attention with their striking blooms! Orchids may not be low-maintenance, but they sure are beautiful! Dendrobium orchids made NASA's list of air-purifying plants, as they filter xylene and toluene. Remember to keep them in bright light, and they do best when planted in small pots with well-drained soil. [from gartenkultur.org]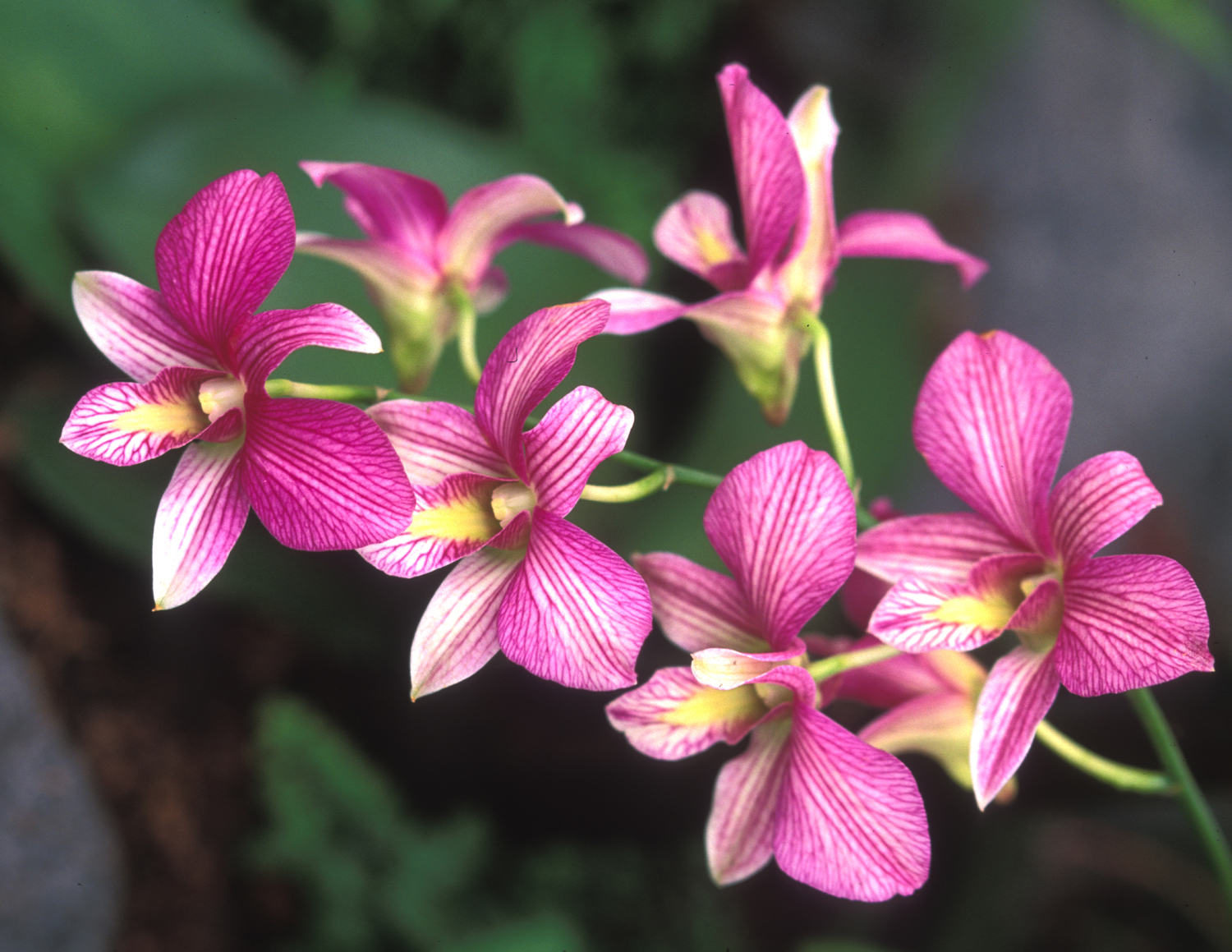 The peace lily lifts the spirits with its cheerful appearance, as well as its striking contrast of bright blooms (in reality, white leaf bracts that grow over the flowers) and dark green leaves. More good news: peace lilies filter out benzene, formaldehyde, trichloroethylene, xylene, toluene and ammonia. Yes, they're big-time filterers! Keep them happy by NOT overwatering them. Water when the soil is dry, and water until the soil is damp but not super-saturated. [from Chester's Flower Shop & Greenhouses]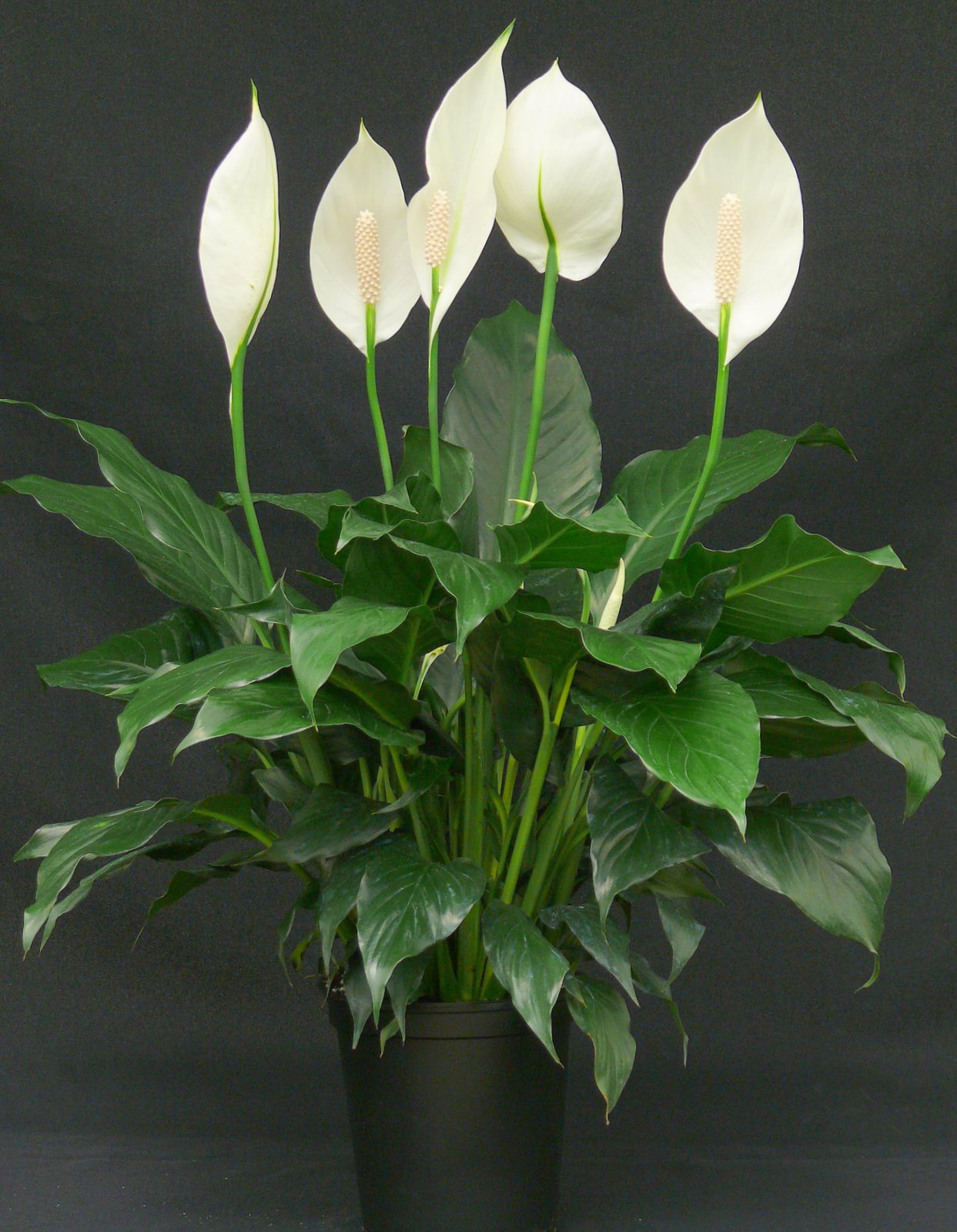 With its bold color, the flamingo lily (also known as anthurium) adds vibrancy to your interior while performing the helpful task of filtering formaldehyde, toluene, xylene and ammonia. Bright light and moist soil help this plant to thrive. [from Fairview Greenhouses and Garden Center]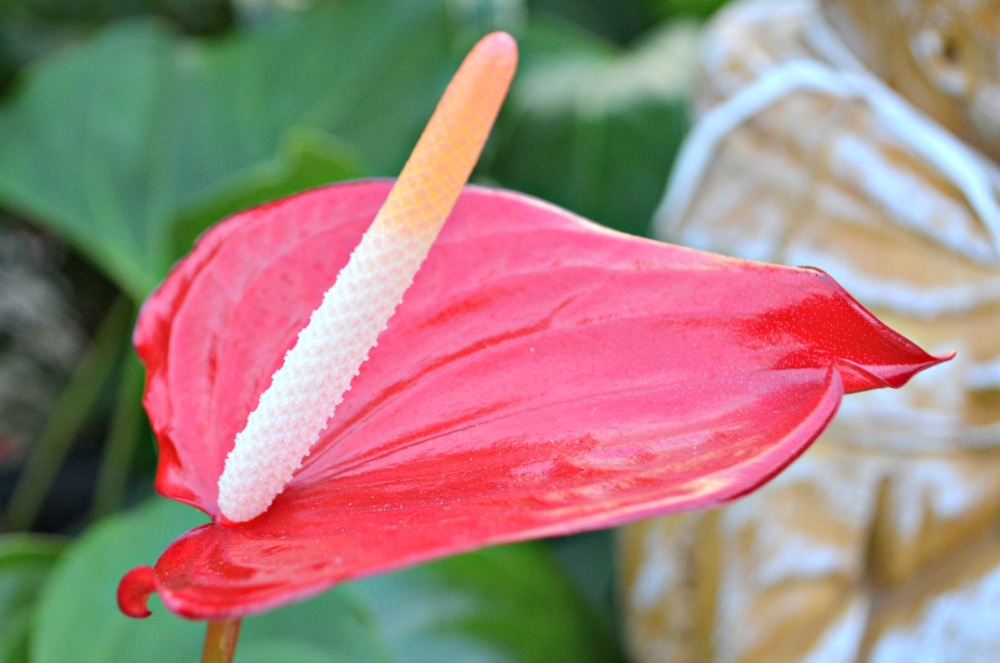 Ferns
What's not to love about a fern?! Ferns are charming, they're full of history, and they make perfect houseplants (especially in moisture-rich areas like the powder room). The Boston fern is on NASA's list of air-purifying plants. Below we see an example of this verdant selection. Indirect lighting is best, and soil should remain damp. [from Be Mozza]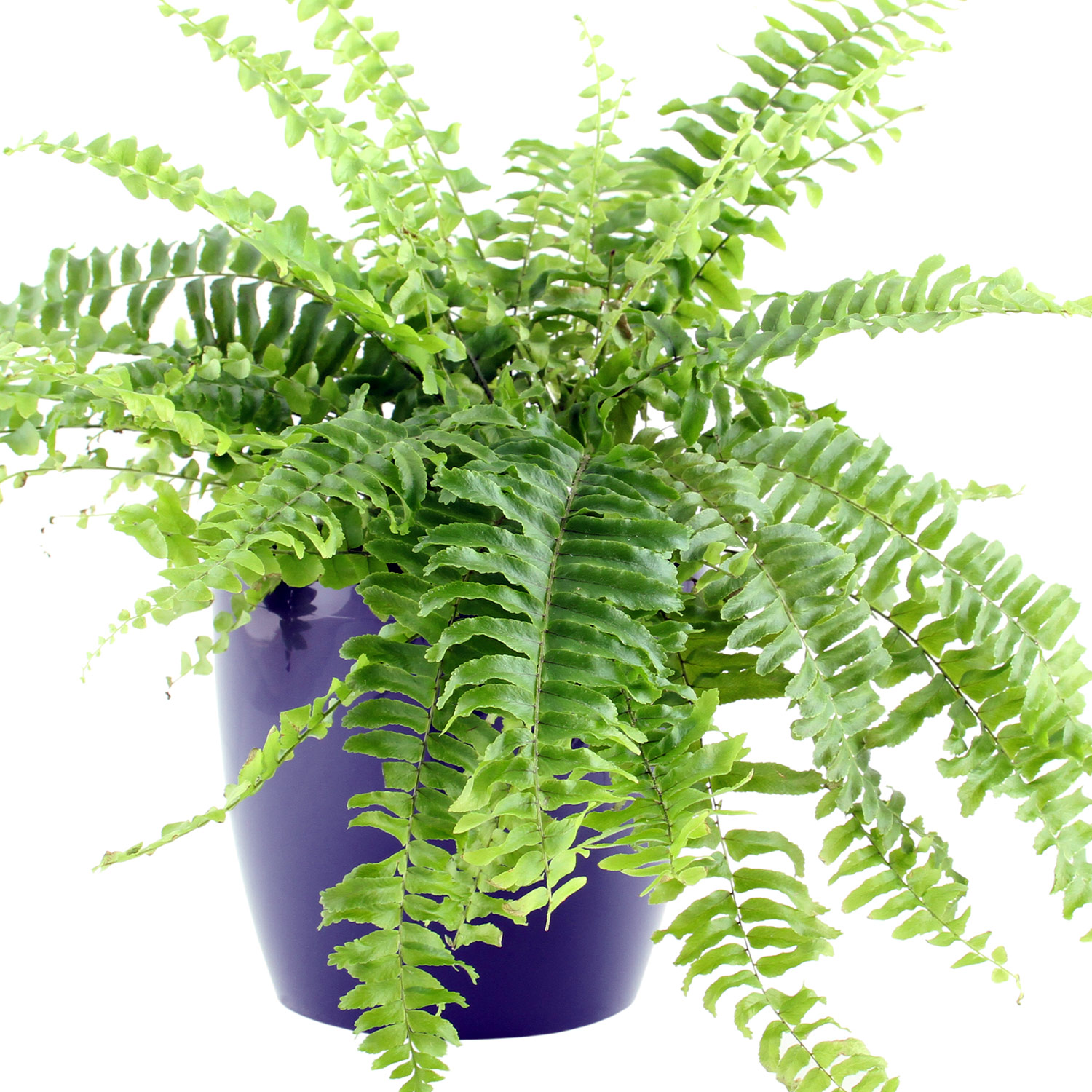 Yes, the Kimberly queen fern is actually a real plant! With a pretty fabulous name. This hardy fern features leaves that grow in a more upright position than the Bost fern. Moist, well-drained soil is key. Like the Boston fern, the Kimberly queen fern filters out formaldehyde and xylene. [from Foliage Design Systems]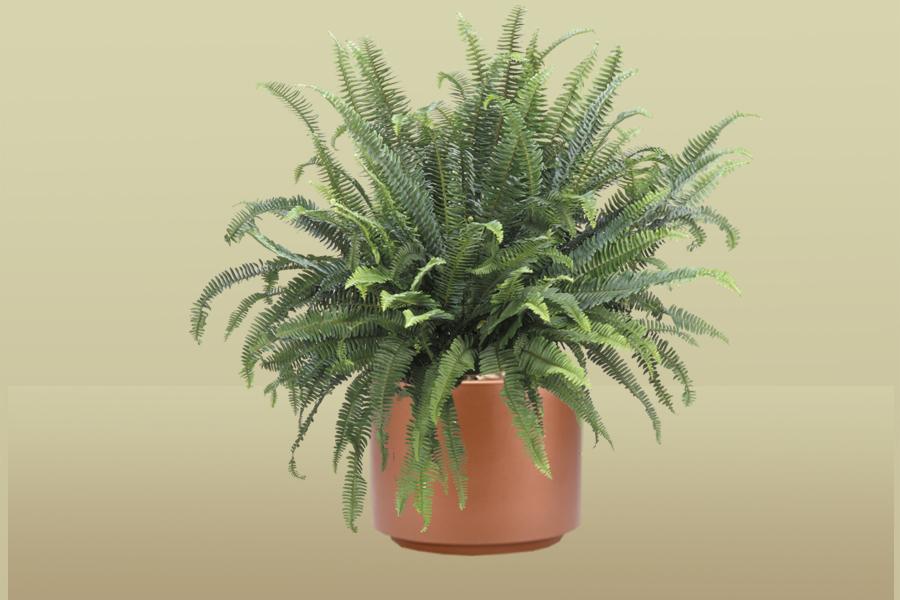 Palms
Potted palms instantly evoke tropical style. The dwarf date palm is a great choice for an indoor palm, and the plant will thrive in moist soil. Bright, indirect sunlight is the dwarf date palm's friend! [from Fast Growing Trees]
The Bamboo palm thrives in moist soil, as well as indirect or filtered sunlight. Like the dwarf date palm, this plant filters formaldehyde and xylene, purifying the air while making a dramatic style statement. [from My City Plants]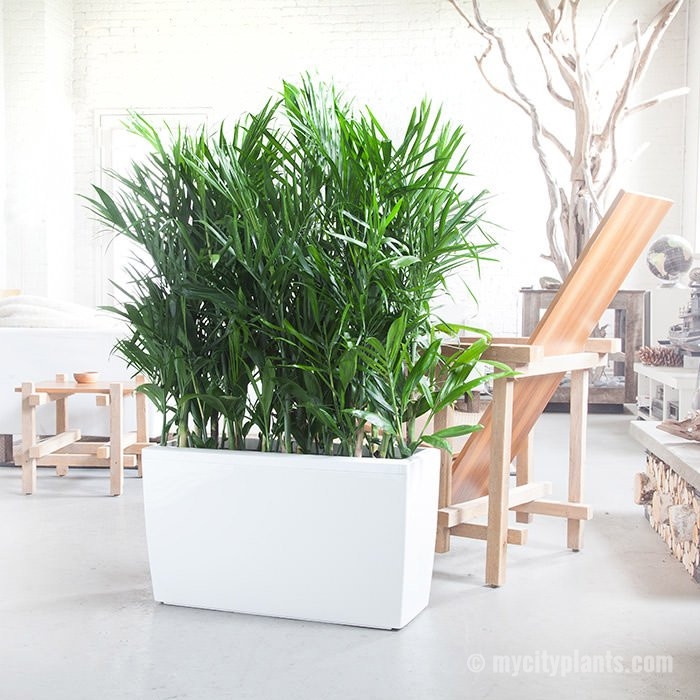 The broadleaf lady palm loves thorough waterings, moist soil and bright, indirect light. However, this plant will tolerate low light, making it easy to grow as a houseplant. Not to mention, it filters toxins such as xylene, ammonia and formaldehyde. [from Doctor Scott Health]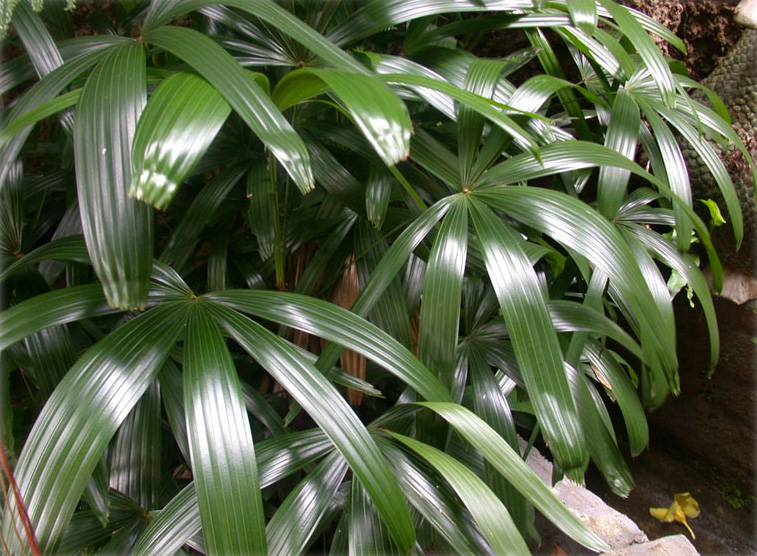 Hardy Houseplants
The plants that follow are excellent for indoor display, as they are fairly low-maintenance, and they do well in low-lighting surroundings. The rubber plant removes formaldehyde from indoor air, so reward it with moist but well-drained soil, as well as indirect light. [photo by Eve Wilson for Sisalla Interior Design]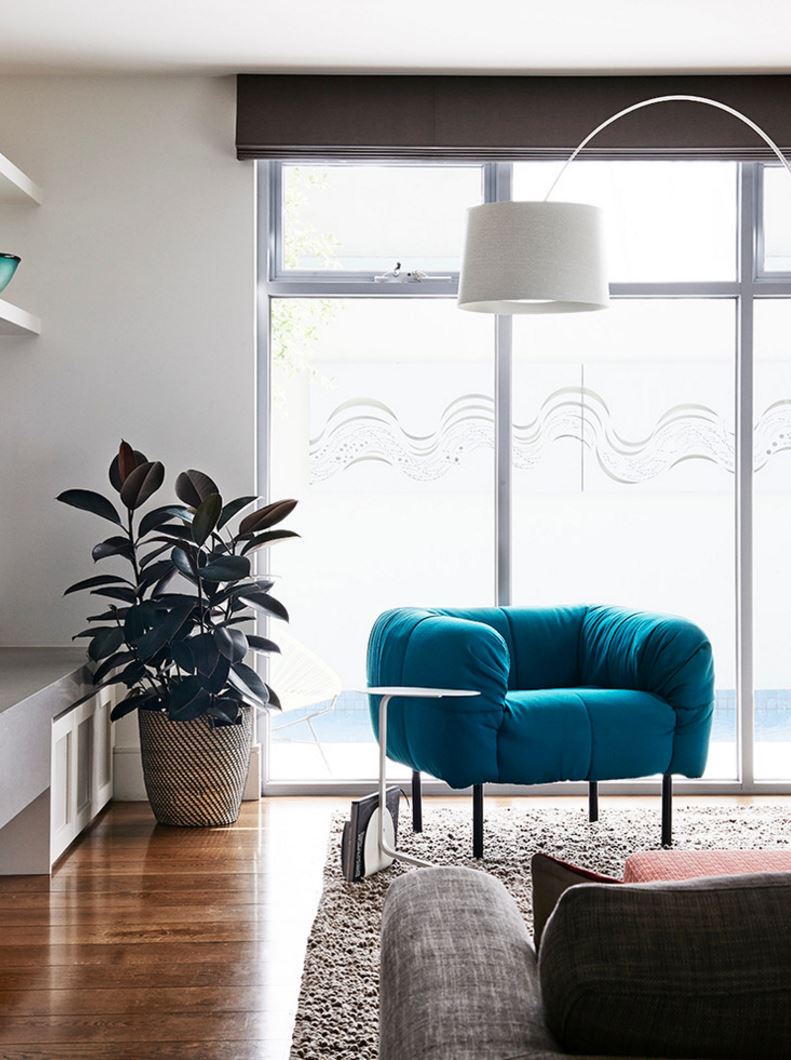 Super-easy to grow, Chinese evergreen filters benzene and formaldehyde from the air. A low-maintenance houseplant, Chinese evergreen can handle low lighting, but you should let the soil dry out a bit between waterings. [photo from Gardener's Watch]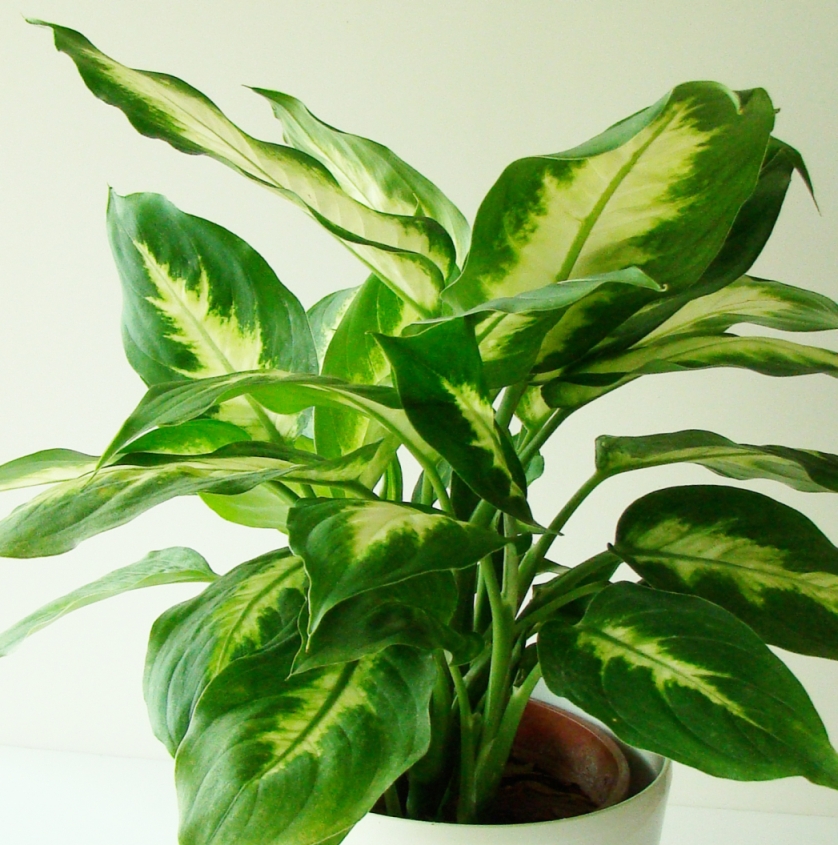 Ah, the sculptural snake plant! Always stylish, this plant is a top choice for indoor gardening, as it can thrive in a range of lighting conditions and handle dry soil. Letting snake plants dry out in between waterings is a helpful tactic, and the plant will thank you by filtering formaldehyde, trichloroethylene, benzene and xylene from the air. [from Womenosophy]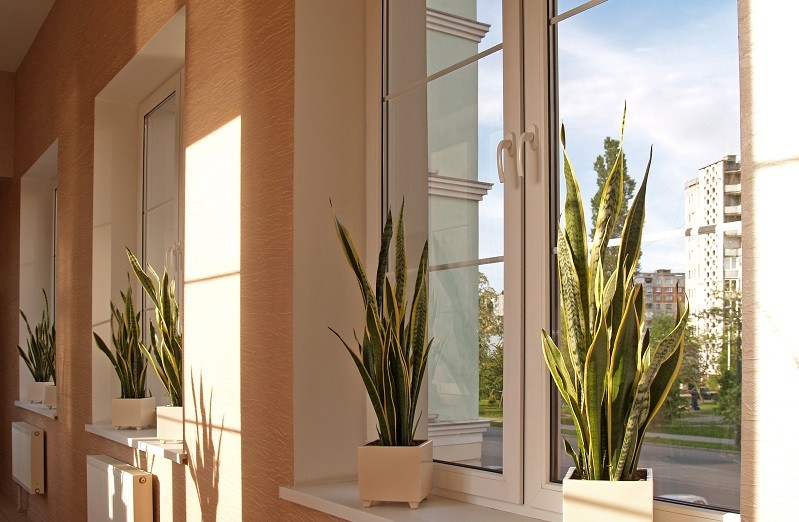 Plants with Long Leaves
Plants with thin, spiky leaves add drama to your interior, thanks to their bold silhouettes. A strong filterer, the red edge dracaena removes benzene, formaldehyde, trichloroethylene, xylene and toulene from the air. Bright light (yet out of direct sunlight) and moderately moist soil make this plant happy. In the winter, let the first layer of soil dry out in between waterings. [from The Any Magazine]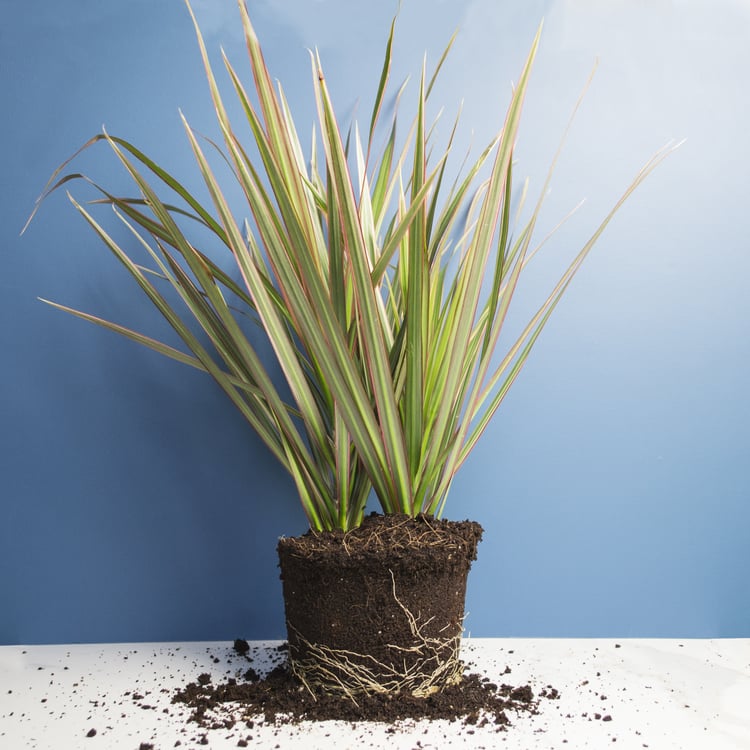 For another member of the dracaena family, check out the cornstalk dracaena, which enjoys bright (indirect) light but can also tolerate lower-light conditions. It's also fairly low-maintenance in terms of watering, as letting the soil dry out a bit in between waterings serves it well. Avoid over-watering, and also note that this plant filters trychloroethylene, formaldehyde and benzene from the air. [from allwomenstalk]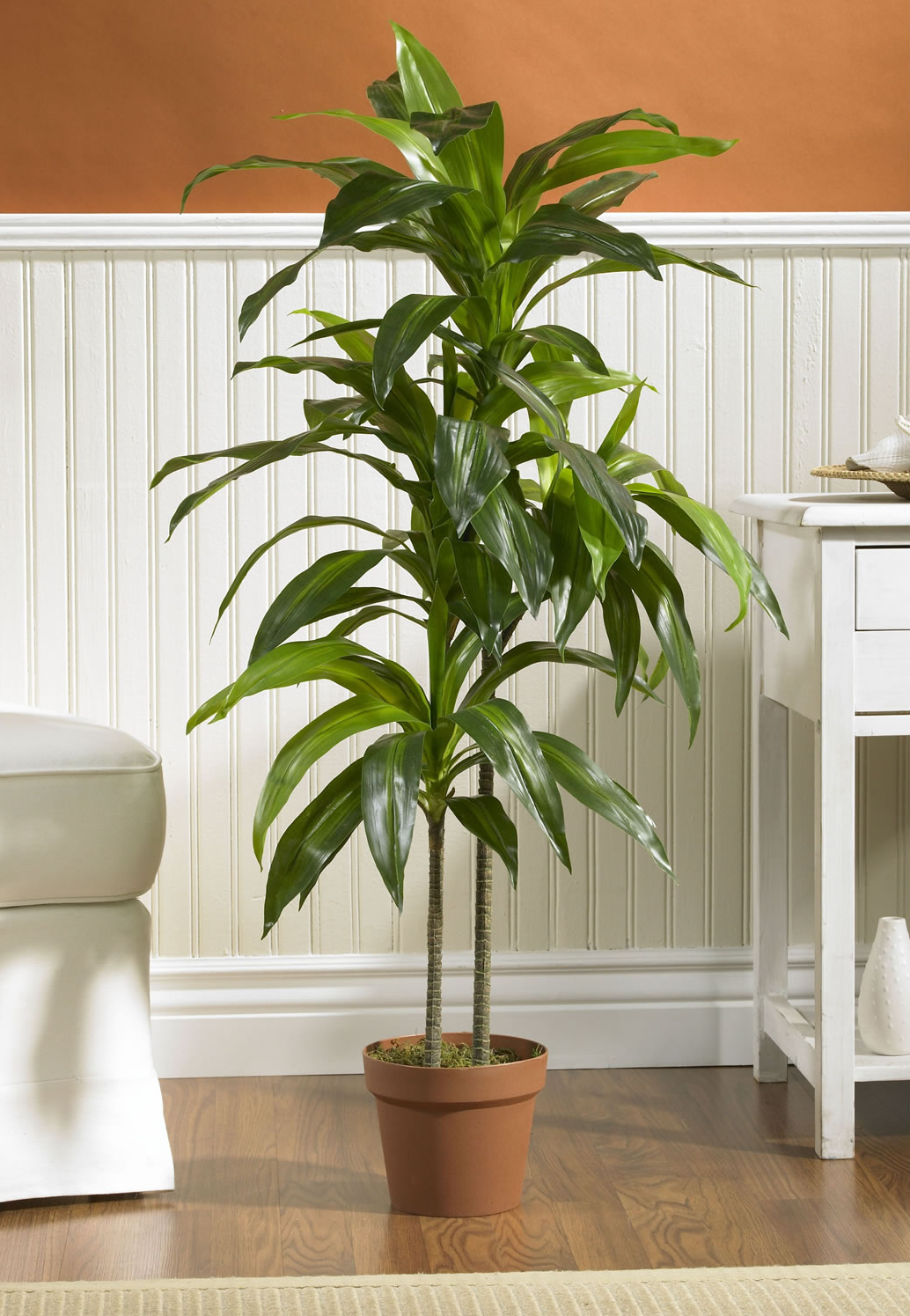 The spider plant is an indoor climbing plant that sprouts spider-shaped plantlets as it grows. In fact, these plantlets can even grow into new plants since they develop roots! The spider will filter formaldehyde and xylene, so repay it with excellent care. Like many of the plants featured today, spider plants love well-drained soil and bright, indirect light. [from Home Garden Green]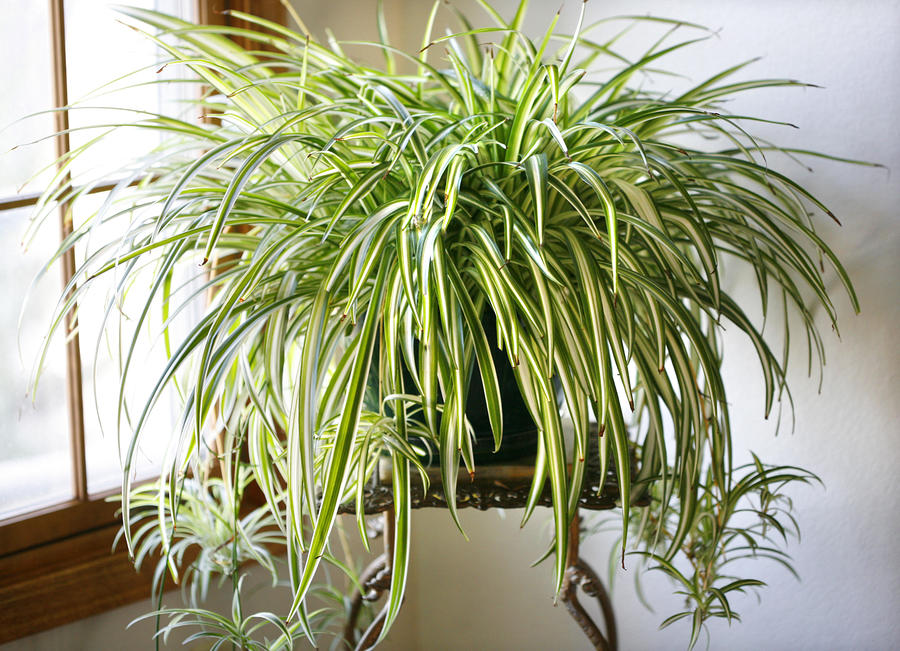 Indoor Favorites
Let's now celebrate a few houseplant favorites that show up in well-designed interiors time and time again! The weeping fig loves bright light, and it's important to let the top few inches of soil dry out between waterings. This beloved houseplant does not like to be moved from location to location, so try to find an ideal spot and let it be. Weeping figs filter formaldehyde and xylene from the air, making your home a cleaner, fresher place! [from House Plants Expert]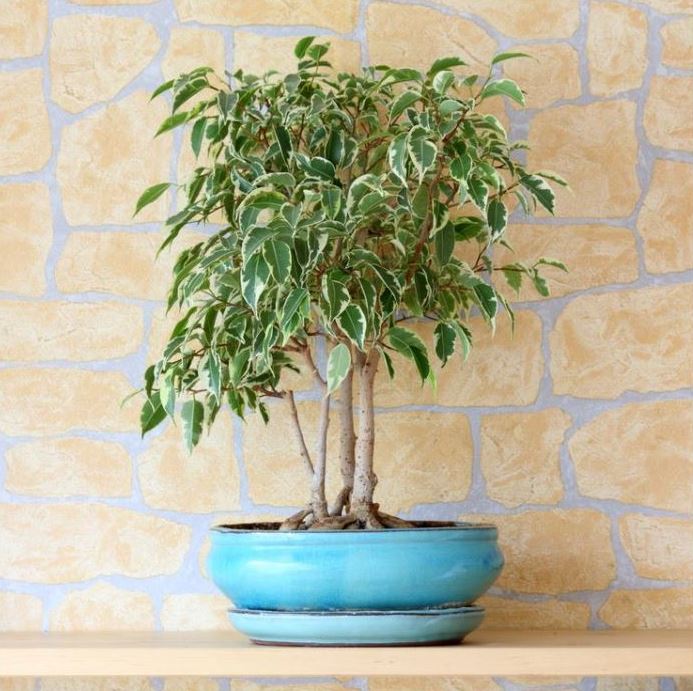 The elephant ear philodendron, heartleaf philodendron and selloum philodendron made NASA's list of air purifying plants, and houseplant lovers are thrilled. After all, there's been a renewed interest in philodendron over the last few years. [Elephant ear philodendron photo by Cynthia McKenney for Aggie Horticulture]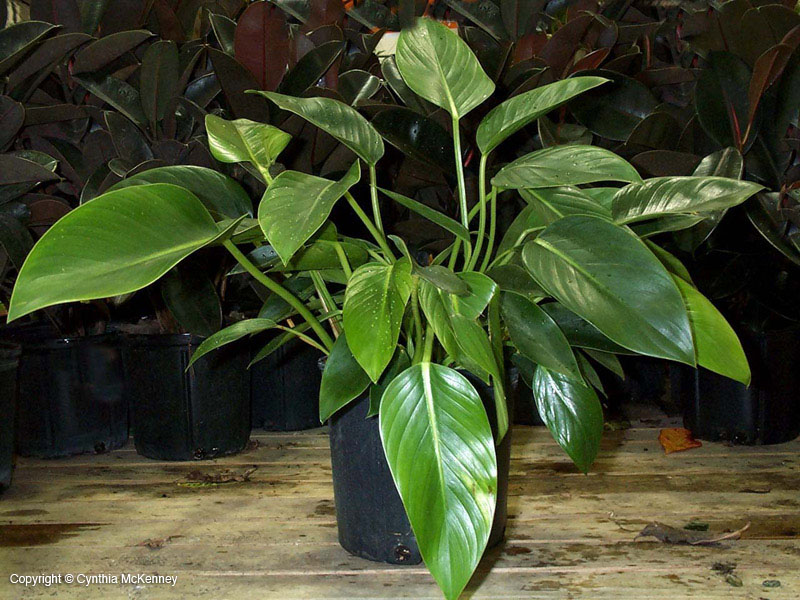 Philodendron are hardy houseplants that can tolerate lower light but thrive with brighter indirect light. Moist soil works well, but make sure to let the soil dry out between waterings.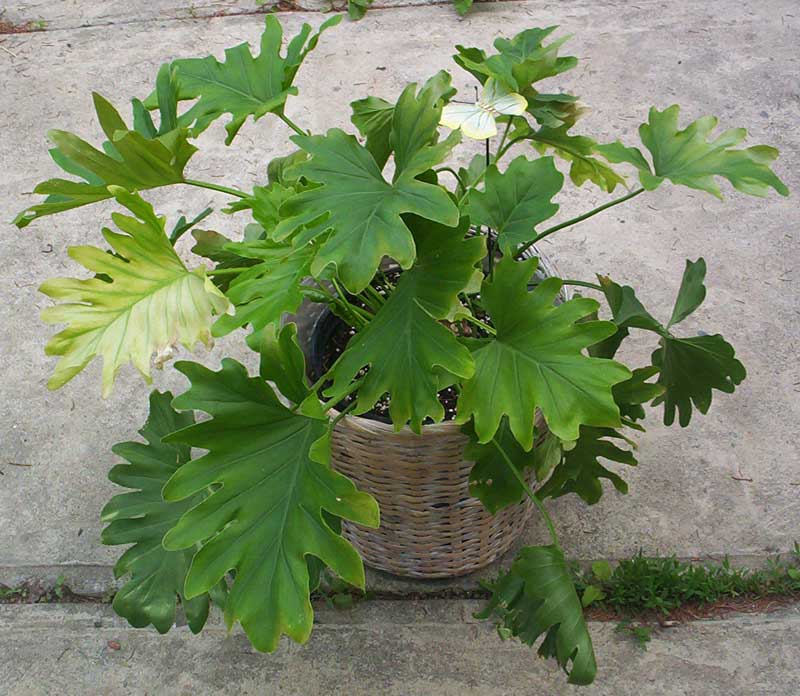 Below we see a heartleaf philodendron. All philodendrons featured today are known for their ability to filter formaldehyde from the air. [from Fairview Greenhouses and Garden Center]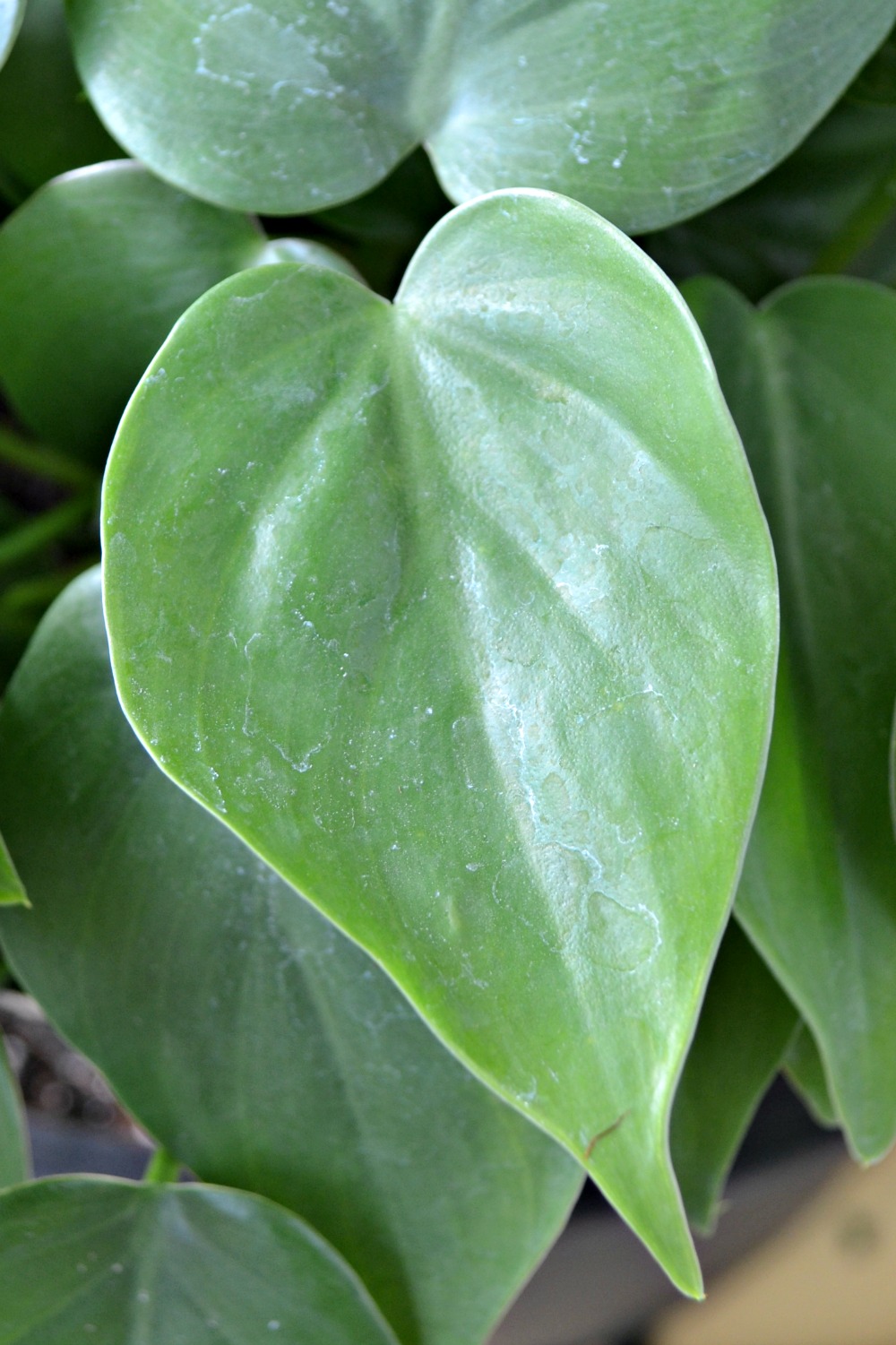 Trailing Plants
Trailing plants are perfect for hanging baskets and high surfaces, as the leaves trail down to provide visual interest. Moist soil, and indirect to bright filtered light work well for English ivy, which will thank you by filtering a range of toxins from the air, including benzene, formaldehyde, xylene and trichloroethylene. [from Today]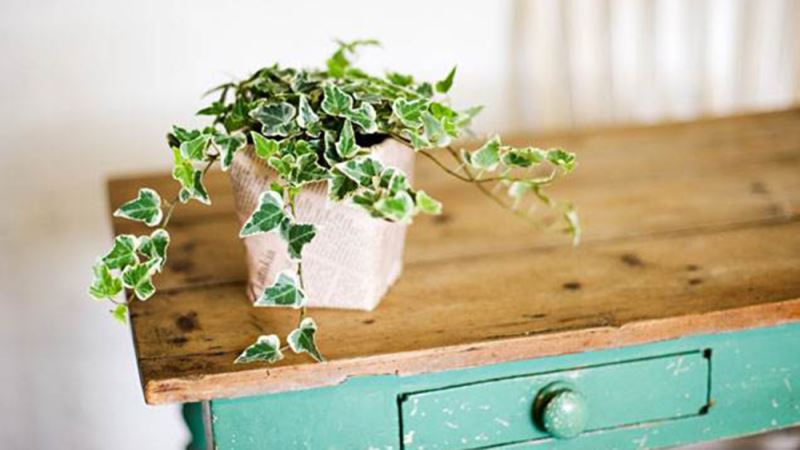 Also known as golden pothos, devil's ivy is easy to care for but does require regular watering. A general rule: keep the plant moist but not wet. Devil's ivy filters benzene, formaldehyde and xylene from the air, and it will trail down from the pot once it begins to thrive. [from We Plants]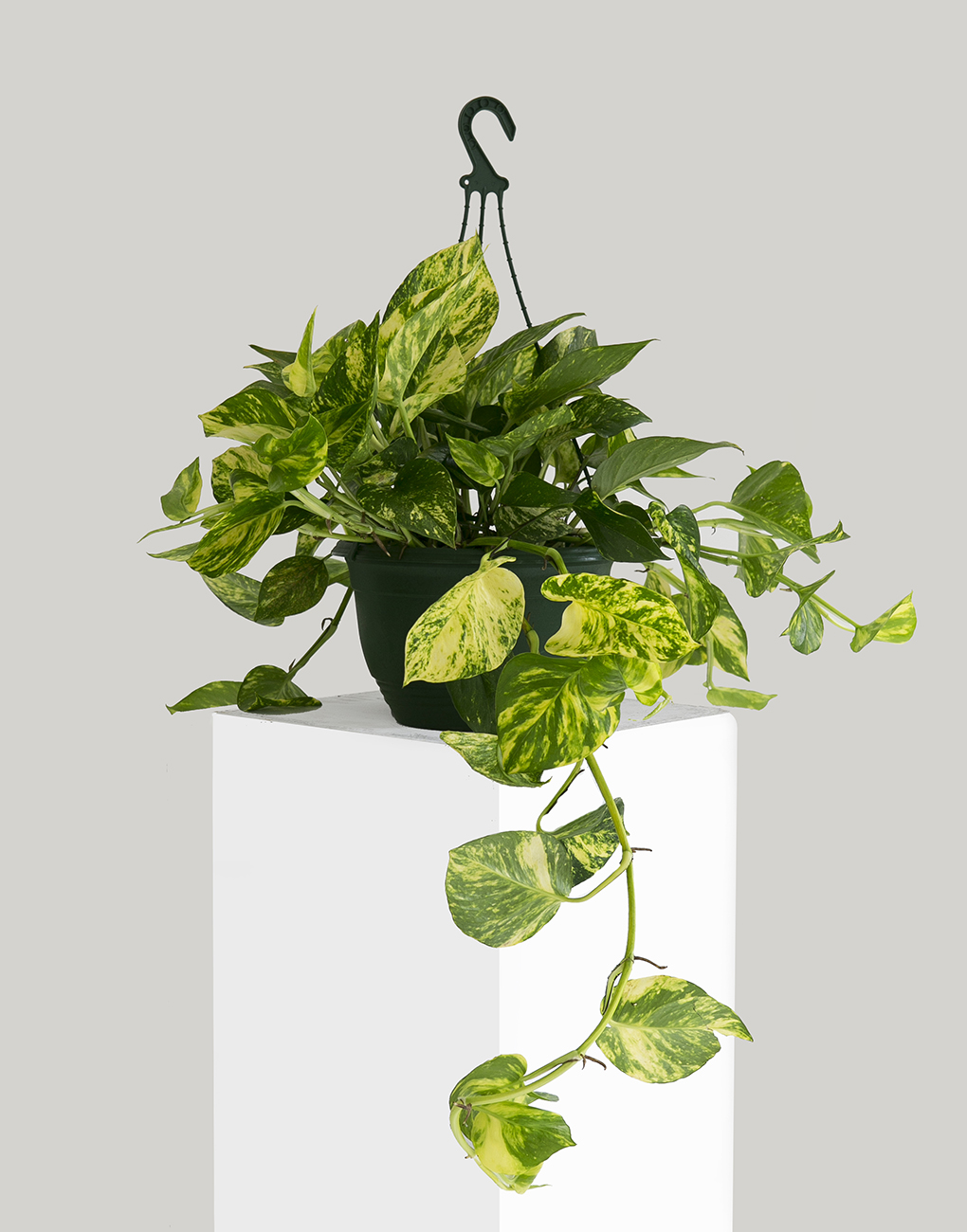 We hope today's post has inspired you to take the houseplant plunge. Clean air is worth the time and effort!