Dining chairs fit for a modern home are always surprising – the best display of contemporary dining chairs is in the right environment. They make up a story about your hospitality that is interpreted by guests in their own way. What do you want your dining room to accommodate? A formal dinner basked in elegance or maybe an eclectic mixture of colors, textures and aromas?
Bold colored patterns
A trio of classy chairs upholstered in a bold, colorful pattern around a rounded table can be considered perfect for Sunday brunches. With a glamorous hanging chandelier above and light-flooded through large windows, this dining room with high ceilings given as example is simply striking.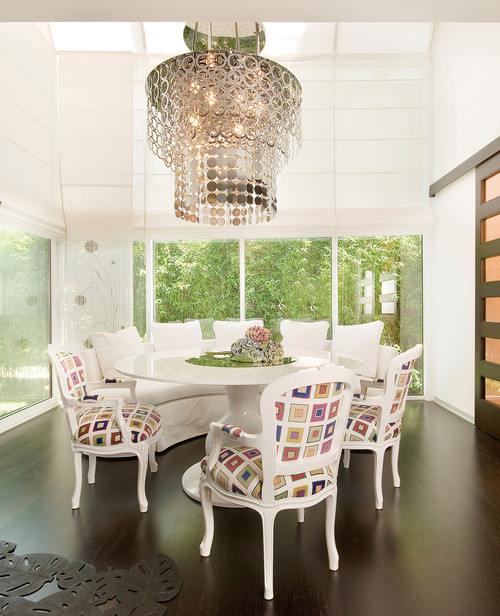 A pop of color
The dining space is the perfect room to play with the power of a colorful surprise. Choosing bright yellow for the dining chairs powers up the atmosphere – this attention-catching color invites to dynamism, but too much of it can become overwhelming. Carefully choose the nuance to match a wooden table, for example.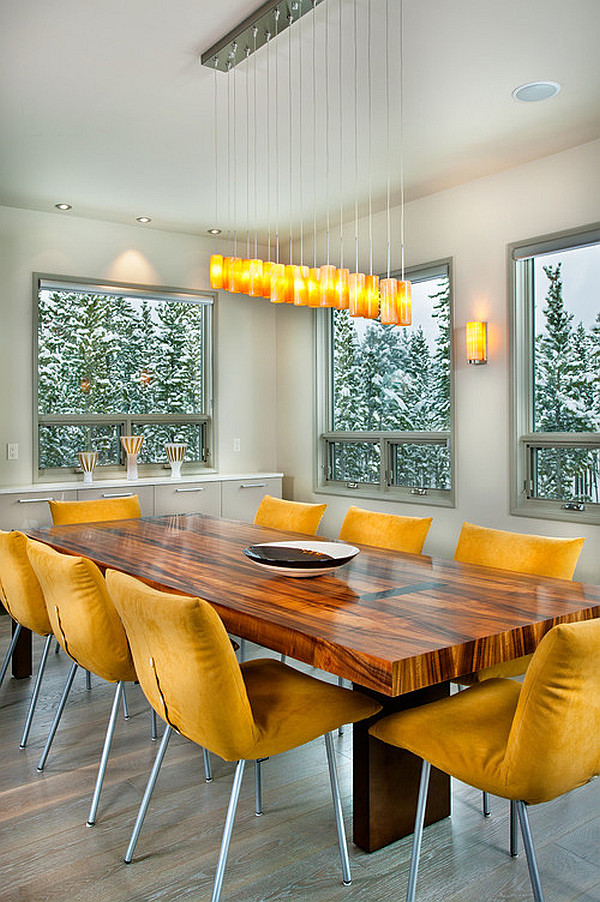 Wire chairs for cozy dining tables
What is more pleasant to see than a beautiful combination of plastic and wire chairs surrounding a classy table – that way, family heirlooms like grandma's old dining table are embedded into a comfortable, modern and up-to-date atmosphere without losing their charm.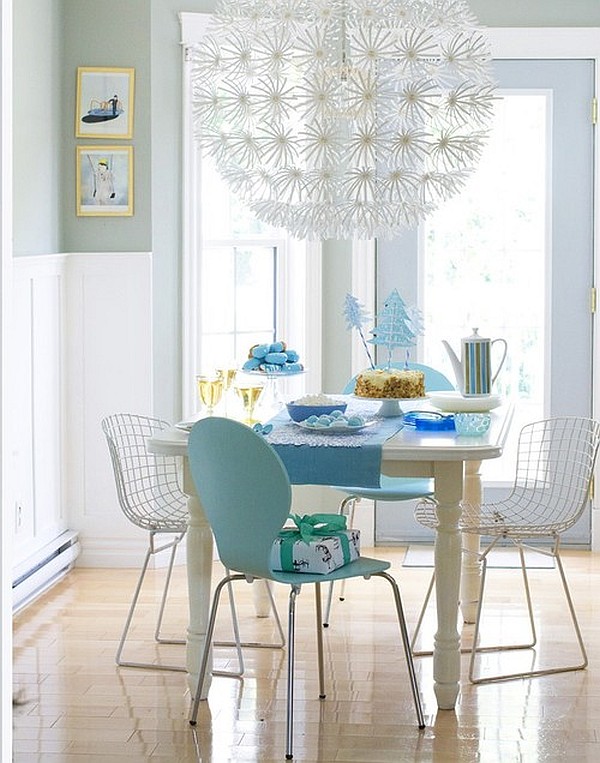 Wooden walls and plastic chairs
A collection of colorful plastic dining room chairs gathered under a high ceiling are the perfect statement of harmonious living. In a room displaying wooden walls, this bold combination of colors is adorned with three round hanging lights diffusing a warm glow over the table.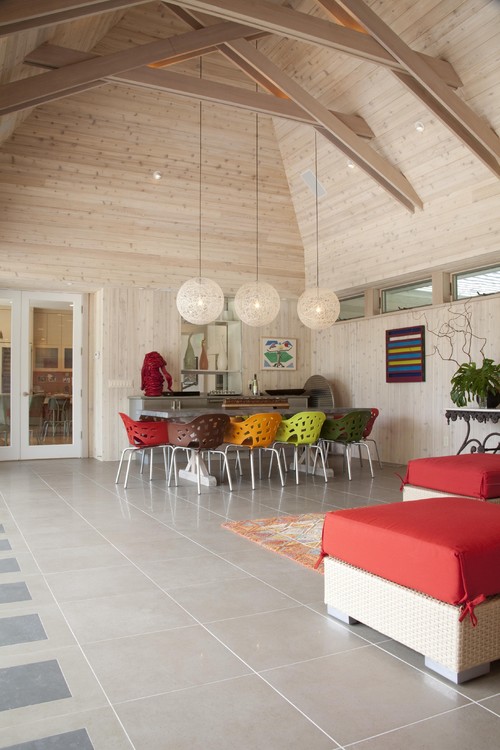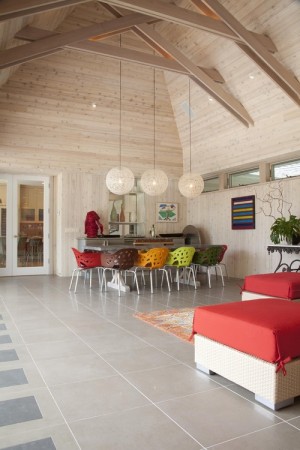 Elegant wicker chairs
An elegant wicker chair with a wooden frame can claim the dining space as its own, on its own. If you have four of them, then the table ends would look nice displaying two different armchairs, upgrading the elegance of this space arrangement. Keep the colors neutral and allow the chosen furniture to make its impression on family and guests. A couple of elegant candle holders are obviously needed to balance the atmosphere and add a charming glow to the surroundings. Dining spaces that seem too cold would beautifully welcome wicker chairs, creating a cozy atmosphere.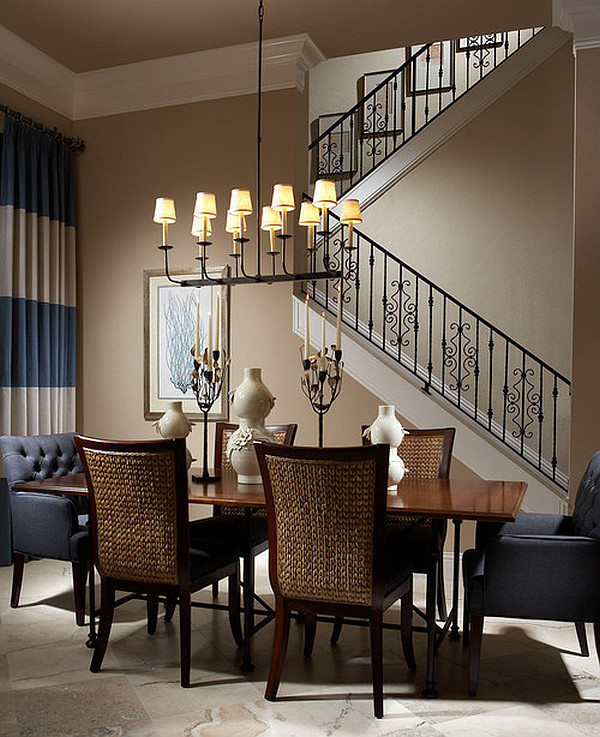 Keep it modern with geometry
Geometric shapes and patterns can often intensify the modern look of a space. Carefully chosen to represent your preferences and adapted to the existing space, geometric design elements never fail to impress. Red lampshades create the beginning of a beautiful collection of red details surrounding the table, but white is the predominant color. Any other bold color combined with white would do wonders for a cleverly designed space if white remains the focus. Geometry and color often go hand in hand, creating spectacular interiors looking into the future.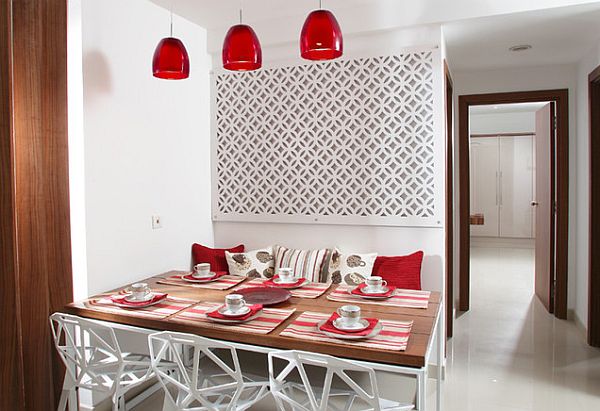 Velvet-like upholstery and glass tables
Pretentious  home owners might want to showcase a collection of velvet-like upholstery for their elegant dining room. This formality can be modernized with the perfect glass table, allowing the chairs to be visible throughout while maintaining a wooden centerpiece. Think about an exposition, where the chairs take center stage – a glass table would allow them to be fully seen. Beautiful wallpaper can fit right in this sumptuous space design, adding a new dimension to elegant dinners.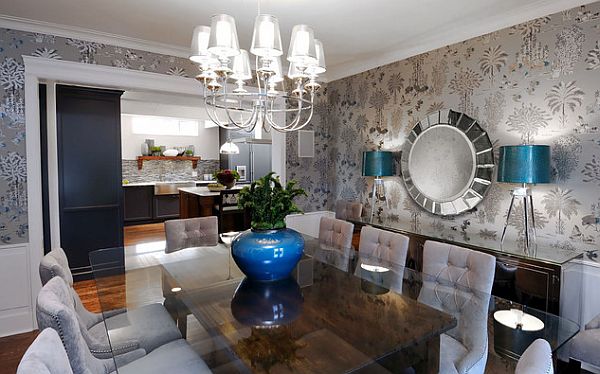 Repetition and past inspiration
Surrounding a long table with dining chairs can be too repeating if you don't carefully find a way to make this repetition fun. Simple dining chairs, with more quality features than flamboyance can be just the thing you're looking for. I think the contemporary star burst mirror on the wall is too much, although it breaks the monotony. The party-sized table from a single slice of a walnut tree is surrounded by beautiful repeating dining chairs in perfect harmony with the groovy surroundings.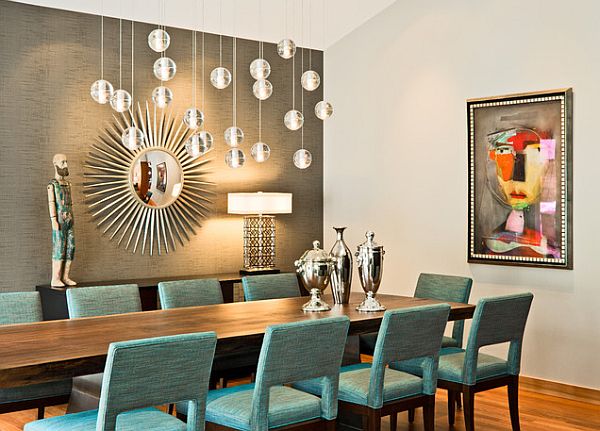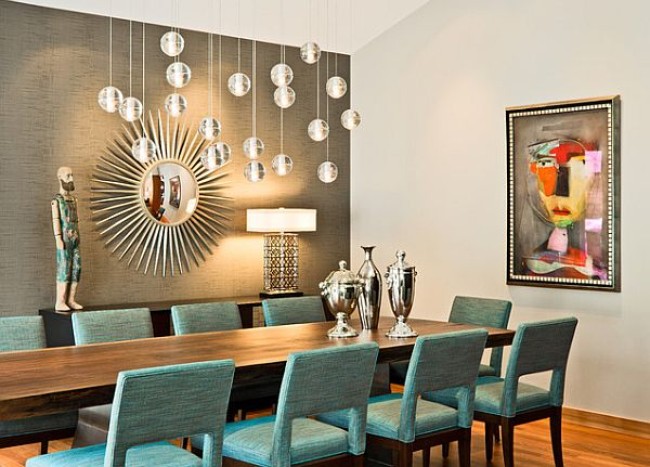 Bold patterns
The family dining room can be accentuated by a feminine feel by use of color and details like flowers, but it can still display a masculine feel in the shapes, elegance and sobriety of the furniture. Dining chairs at the table's ends should pop out with patterns and complementary colors, but still be of the same style. Wood and precious upholstery give the coziness of the place, while you bring the hospitality.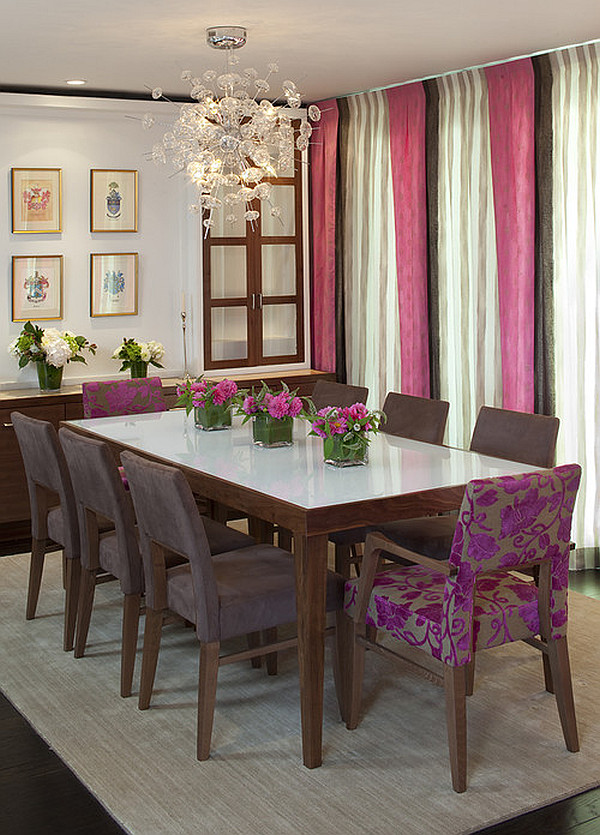 Silver details
Finally, the most spectacular thing you can do with your modest dining room is to give it its historic charm back – elegant chairs in silver. Rich textures around the room mirroring in silver accessories will melt your heart every time you dine here, while the neutral colors will add to the idea of luxury.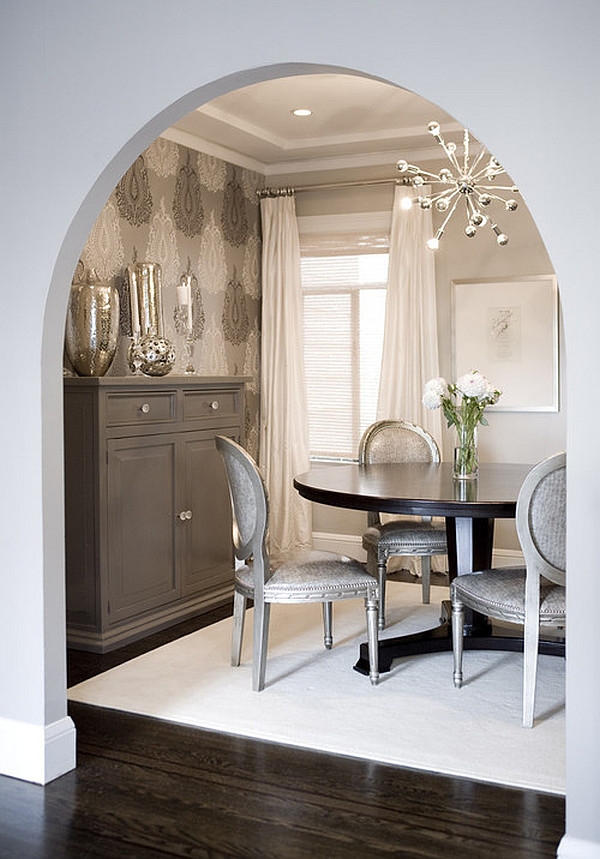 Where would you like to dine?