Are you planning a trip to a beautiful European destination? You put so much care into choosing the perfect vacation spot. Why not find lodging every bit as unique as your location of choice? What if you could sleep in a cave, stay in an underwater hotel room, or experience the wonder of living in a crane for a night?
Thanks to an increasing number of unusual hotels and overnight stay spots, these seemingly unbelievable scenarios are a reality! Today we showcase some amazing European lodging options. From recycled pipes to a hotel that simulates a hamster's cage, you'll be wowed by these sleeping places. Whether you're in the mood for something quirky and simple or you're looking for premium comfort and style, check out the accommodations below. Who says you can't spend the night in a rescue pod?!
Sleep in a Cinema
When it comes to interesting lodging, Wimdu connects you with dwellings all over the world. Through this travel and lodging site, you can rent spaces from their owners (like urban apartments), or you can opt for a B&B at the destination of your dreams. Of course, there's always the non-traditional route, and Wimdu knows how to put you in touch with incredible accommodations! Like this cinema in Paris, France!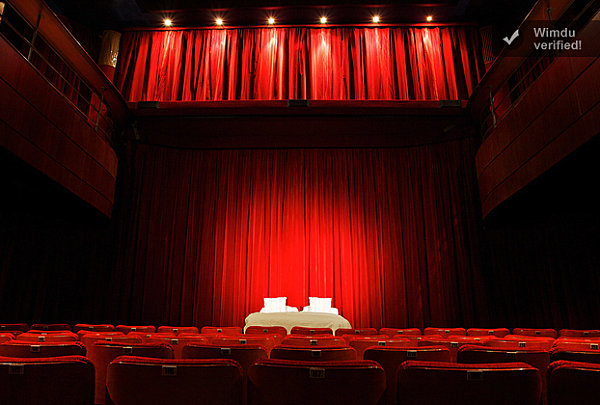 Ideally located near the Champs-Elysées, you'll be close to a wide range of tourist attractions. When you're done for the night, enjoy a movie of your choice from the best seat in the house. This cinematic sleepaway opportunity is perfect for those who like to be at the center of it all!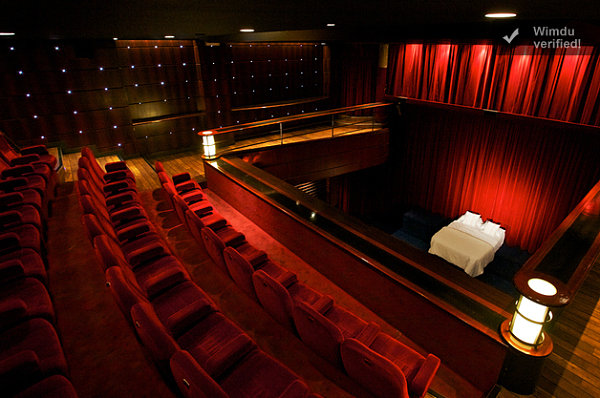 Residential Church in Utrecht, The Netherlands
After the movie, it's time for church! Except this is a residential church in Utrecht! Refurbished with the intent of honoring the original architecture, a modern touch was added by designer Thomas Haukes. The space takes "light and airy" to a whole new level, while incorporating weighty elements like the candelabra shown below. And in case you miraculously forget you're in a church, the beautiful stained glass windows will remind you of the heavenly setting.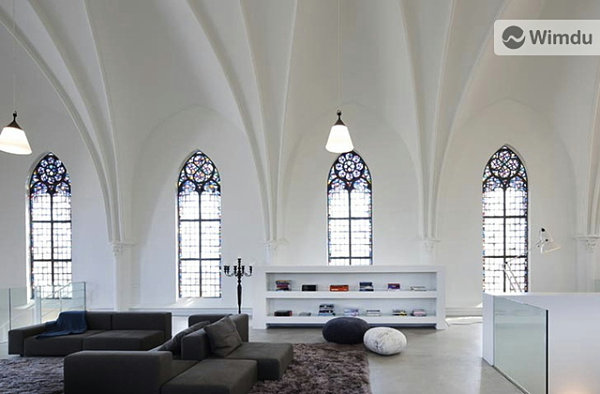 Modern and traditional elements combine in the residence's contemporary bathroom: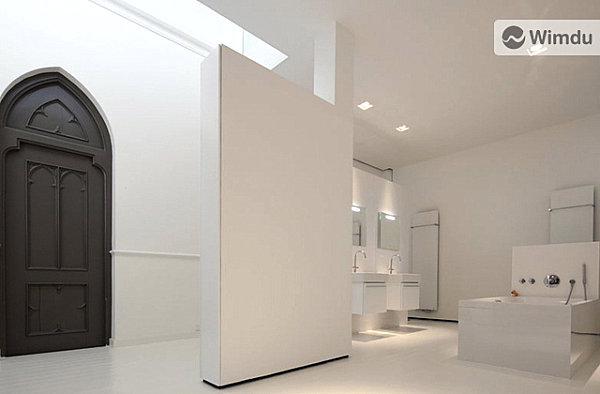 Sometimes simple is best! With the walls, windows, ceiling and doors speaking volumes, bedroom decor is comfy yet minimal. We think it would be pretty easy to feel at home here…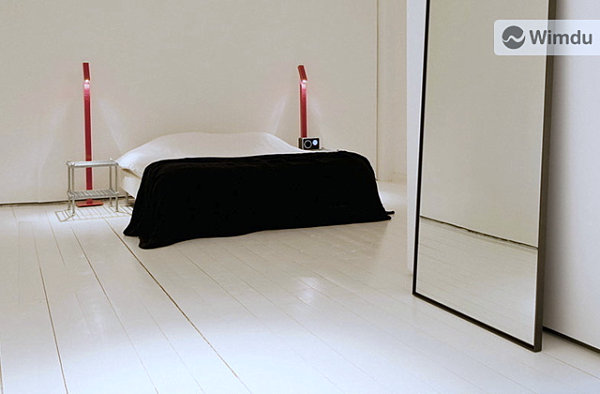 A Harlingen Crane Hotel
Did you see this one coming?! We didn't, either! But we're very intrigued… Yes, you can really sleep in a crane. The Harlingen Harbour Crane! This Netherlands destination is industrial yet somehow glamorous at the same time. Maybe it's the shiny metal, the abundance of lighting and the exquisite view!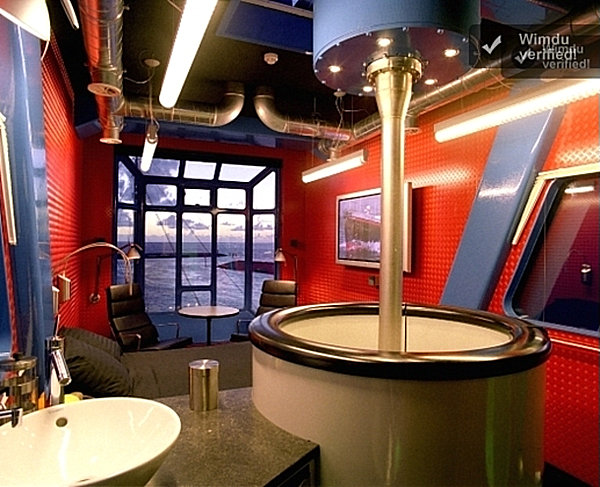 Fully restored and renovated, the crane was once used to unload timber freight from Russia and Scandinavia. There's something a bit Deco about the interior's curves and angles. Not to mention, the primary color scheme is both elegant and nautical. This sleeping space couldn't be more unique, both inside and out. A bonus: the crane can swing into action!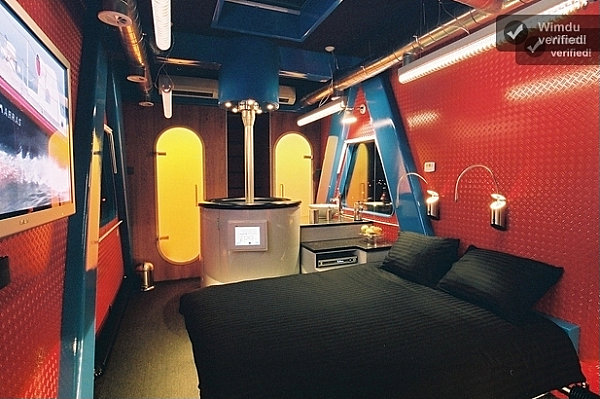 Sleep in a French Treehouse
Let your childhood daydreams of living in a treehouse come true. But this isn't an ordinary treehouse…it's two stories tall! Located in France (Saint-Paul-de-Vence), this enchanting treehouse space has two queen-sized beds, as well as a bed for one. And of course, there's the incredible view!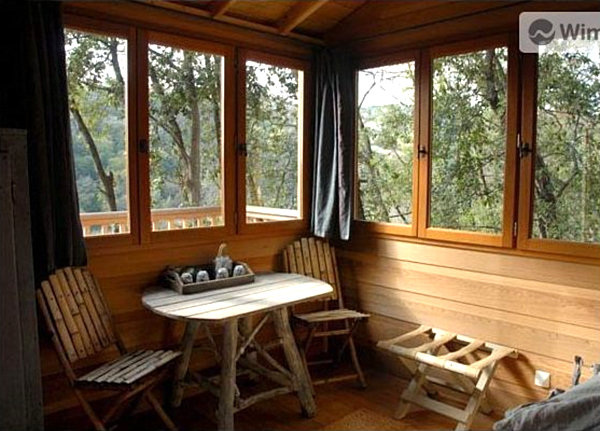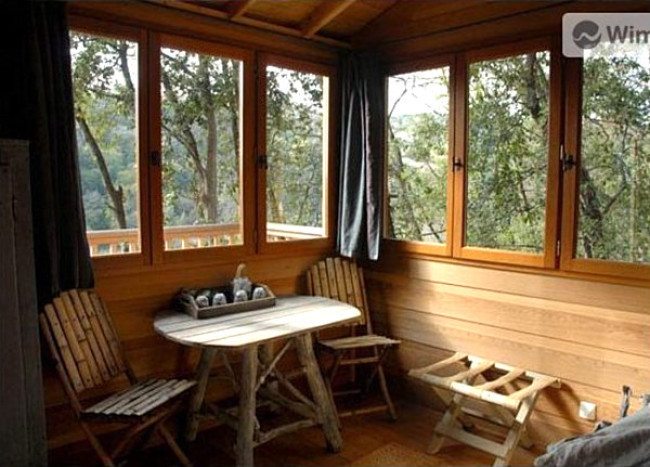 The interior is woodsy yet modern–no comfort has been spared. There's a shower room, refrigerator, heated towel rail and more. At the same time, there's a sense of adventure in this elevated dwelling!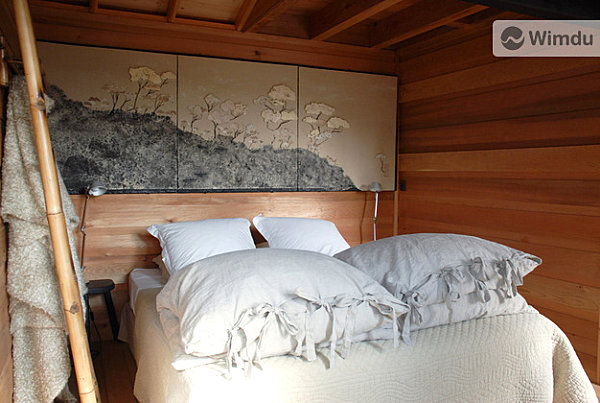 If you're searching for a forest retreat with contemporary conveniences, book a night (or more) in this one-of-a-kind lodging space.
Hotel Everland
What do you get when you mix a prefab space with the destination of your choice? Hotel Everland! With areas for sleeping, showering and lounging, this dwelling designed by Swiss duo L/B (Sabina Lang and Daniel Baumann) is cozy without being confining.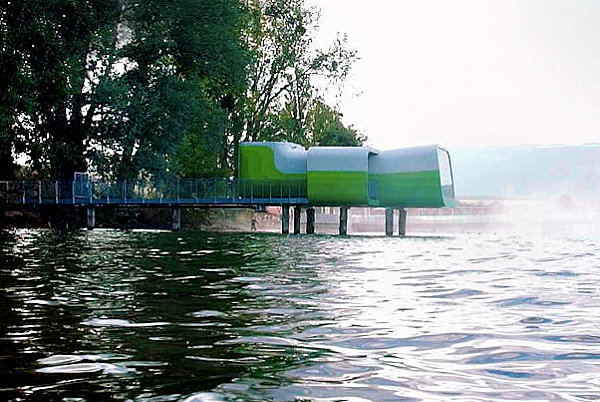 A blue and green color scheme is both soothing and invigorating: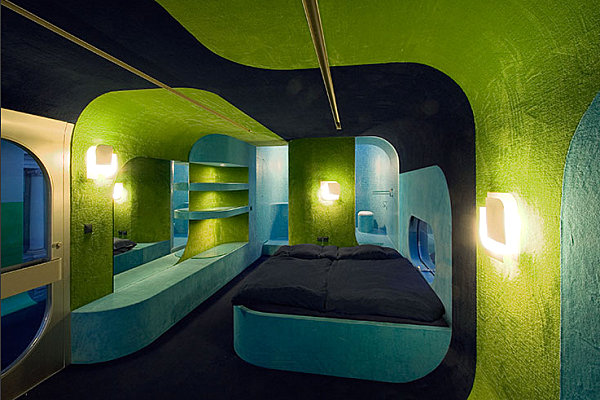 Because this prefab creation can be transported anywhere for lodging purposes, imagine the possibilities… Or better yet, see below! It's hard to top this stunning view of the Eiffel Tower. Hotel Everland has traveled to destinations like Germany and Japan. While no additional destinations are planned, it's fun to imagine another voyage for this once-active hotel.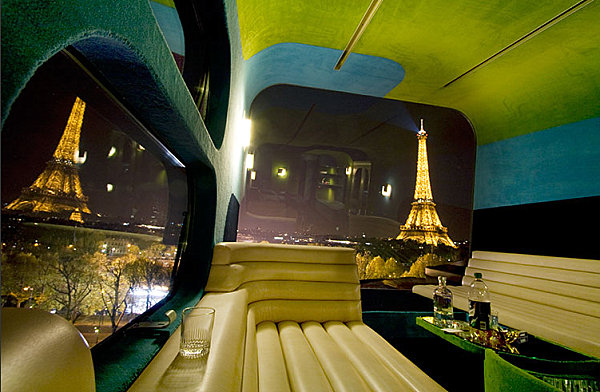 France's Les Hautes Roches
If you've ever wanted to sleep in a cave, look no further. France's Les Hautes Roches (The High Rocks) combines the mystique of cliff dwelling with the elegance of modern-day hotel lodging. Face the Loire River as you enjoy the benefits of an earthy yet glamorous stay.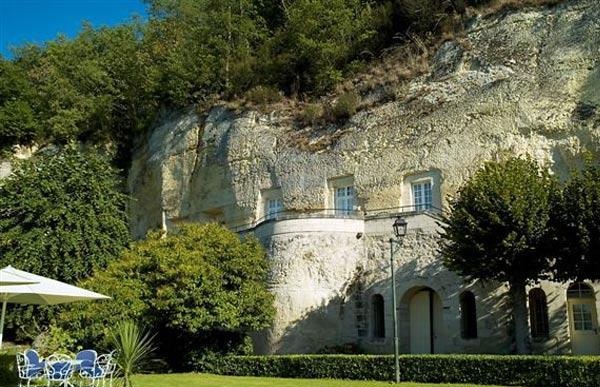 Evidence of the cliffs can be seen in the majority of the rooms at this fine hotel. The rocky setting is tastefully incorporated into the design of the space.
The bathroom below has a cave-like feel. An upscale cave with every amenity, of course!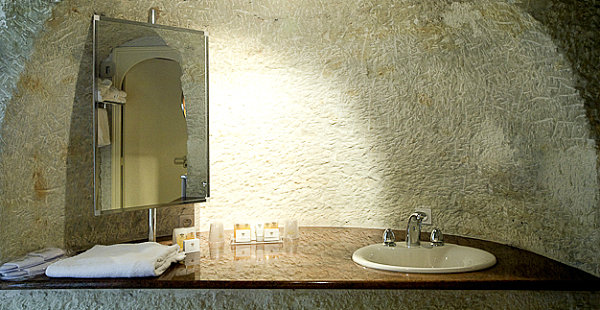 France's La Villa Hamster
What a wacky life a hamster must lead! From spending time guzzling water to exercising on the running wheel… Now you too can live the life of a hamster! Located in Nantes, France, La Villa Hamster lets you experience the daily trials of being a caged pet.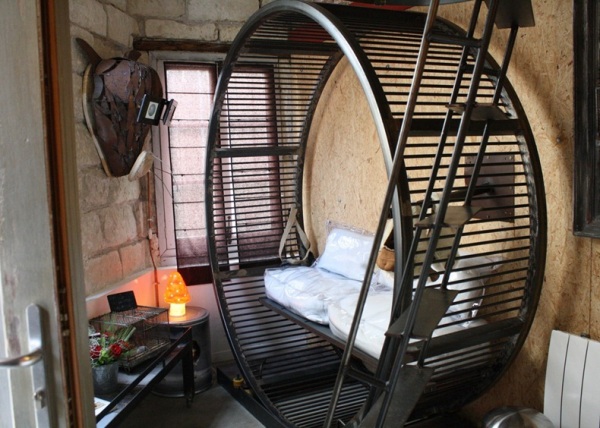 Enjoy a dinner of organic grains, which can be eaten from a plastic container. Have a drink with the help of a foot-activated water spout. Or better yet, take a run on the wheel while donning a hamster mask! Interior designer Frédéric Tabary and scenographer Yann Falquerho have struck gold with their quirky hotel!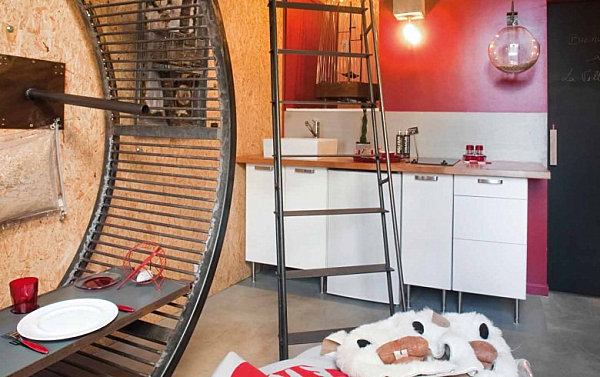 Austria's Daspark Hotel
Perhaps you've never dreamed of sleeping in a repurposed pipe. But now that you know it's possible, aren't you curious?! Austria's DasParkHotel (The Park Hotel) offers pipe lodging complete with lighting and a comfy double bed, all in Ottensheim near the Danube River. [from Inhabitat]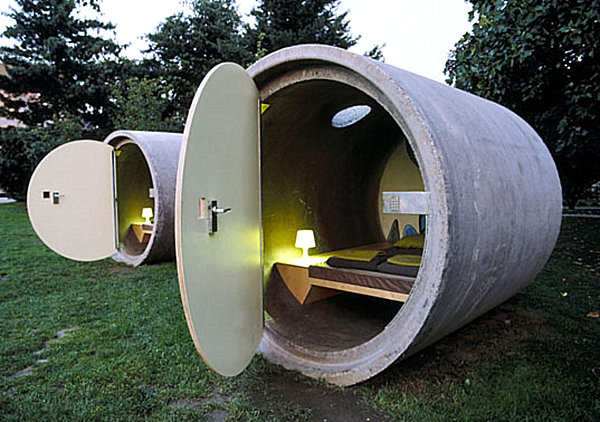 Existing public use facilities meet all running water needs, including showering. Also nearby: a mini bar and coffee shop! Plus, there's enough power in each suite for the recharging of electronic devices. Simple yet intriguing, DasParkHotel operates on a "pay as you wish" system. Guests pay what they can afford!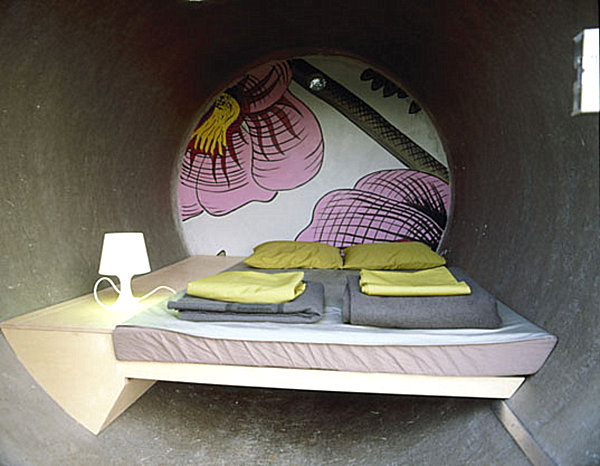 Sweden's Utter Inn
Do you want to sleep somewhere utterly unforgettable? How about Sweden's Utter Inn? It looks like a tiny cottage on a floating dock, but there's more to this dwelling than meets the eye! [from Unusual & Unique Hotels of the World]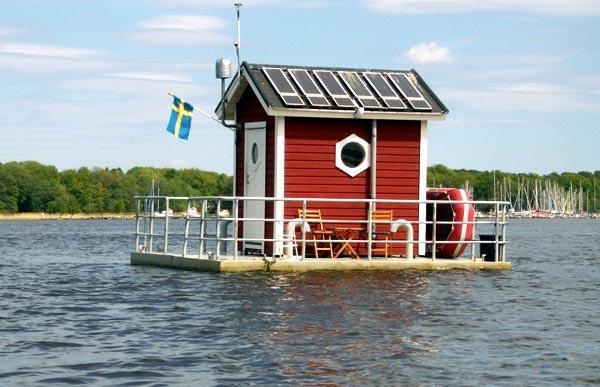 Once inside, travel down the hatch to reach sleeping quarters fit for two. Who would have thought that a lake near Stockholm would be the setting of this secret dwelling?! Panoramic windows ensure that the view is not lost. Feeling isolated? No worries! An inflatable canoe will ensure that you have transportation should you want to leave the inn.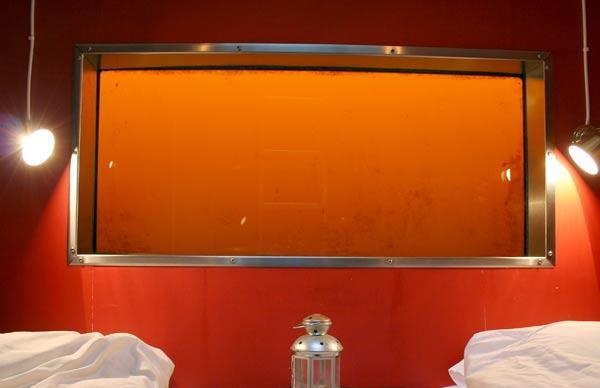 The Capsule Hotel
We end with The Capsule Hotel, a collection of oil rig survival pods near The Hague, Netherlands. In fact, these pods are actually TEMPS capsules, TEMPS standing for "totally enclosed motor propelled survival craft." [from Lay Your Head Here]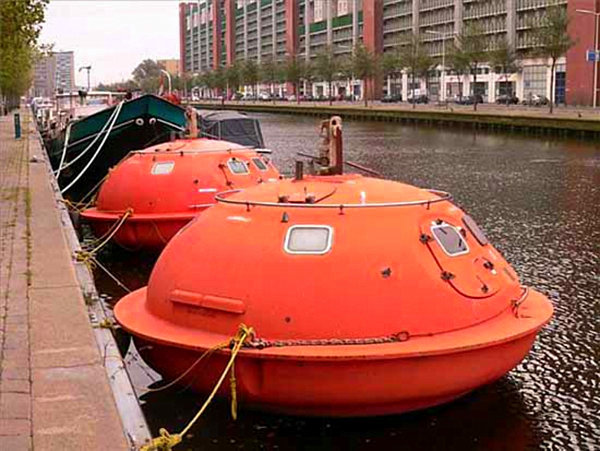 Each capsule is small, but it's the novelty of the situation that is appealing! You can always pay extra for features like a DVD player or a disco ball… [from Homedit]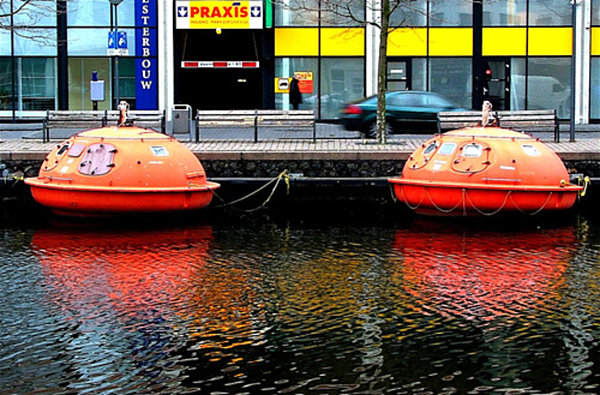 Believe it or not, each pod can sleep up to three occupants.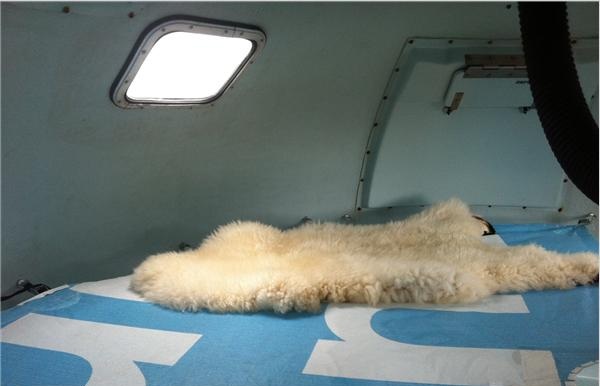 Has your interest been piqued? It's fun to imagine what they'll think of next! While many envision decadent hotel accommodations for a vacation stay, some are looking for a one-of-a-kind experience. Challenging yourself with minimal surroundings can be liberating, serving as a reminder that sometimes it takes very little to achieve happiness. At the same time, a sense of childlike whimsy can be recaptured by sleeping in a treehouse, theater or other unforgettable setting! These unusual lodging options prompt us to think outside of the box. Or sleep inside of a pipe!