Fold-down desks are perfect for compact spaces. Not only do they maximize square footage by neatly folding away when the room is needed for other tasks, they allow even a cozy corner to be turned into an effective home office. Today we feature 20 workspaces where fold-down desks take center stage. From custom-built wonders to DIY solutions you can try at home, keep reading for a collection of eye-catching, practical and interesting fold-down desks!
Fold-Down Style
Let's begin by exploring some popular fold-down desk options. One beloved model is the is the secretary desk. Classic and convenient, this desk has evolved over time to include clean-lined, contemporary forms and practical storage. Below we see the Intimo Birch Secretary Desk from CB2: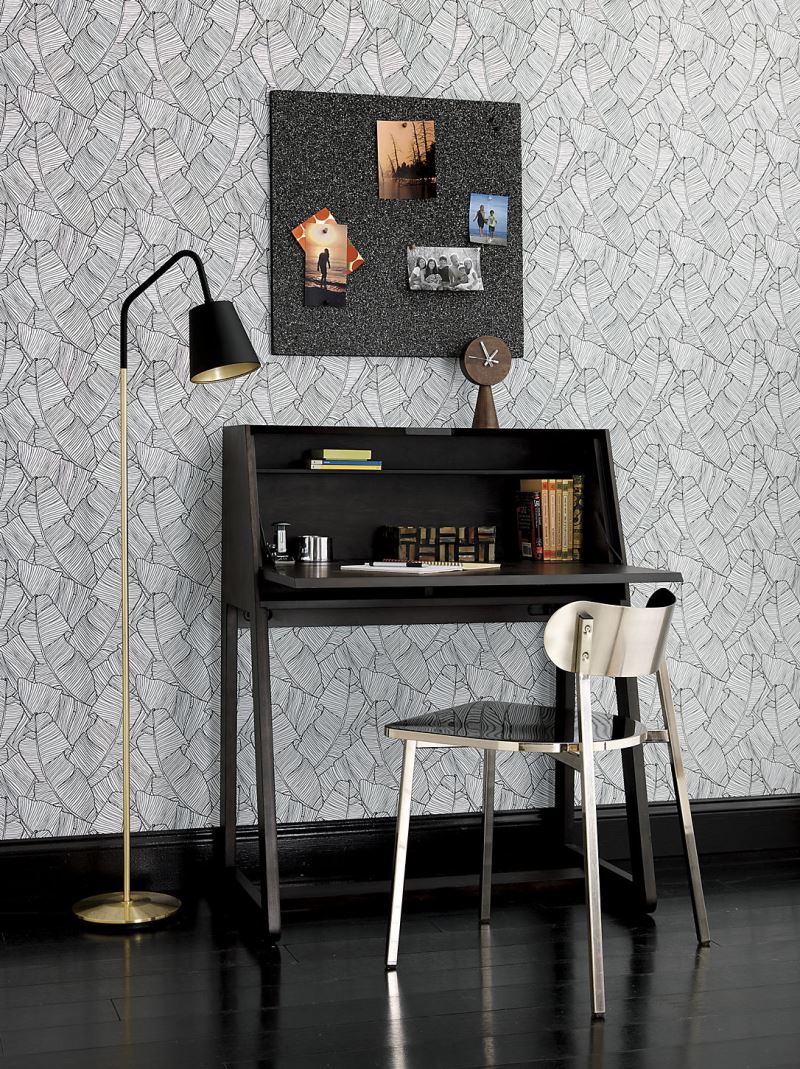 This Fold-Down Desk from West Elm is part of the brand's Mid-Century Office Shelving. Once again, a fold-out desk saves space while providing a handy area for storing items such as office supplies: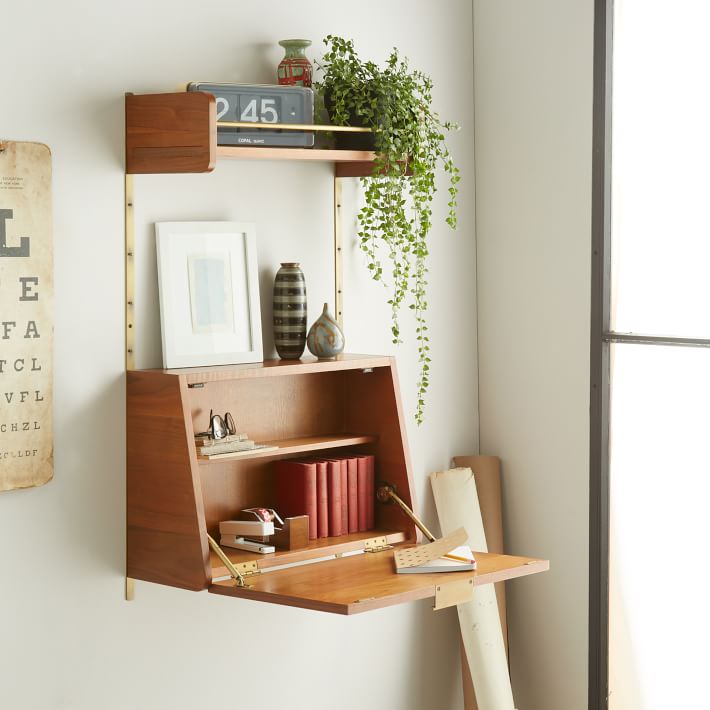 Some people have their fold-out desks custom-built, as shown in the modern bedroom below. [photo from Churreria Photographers]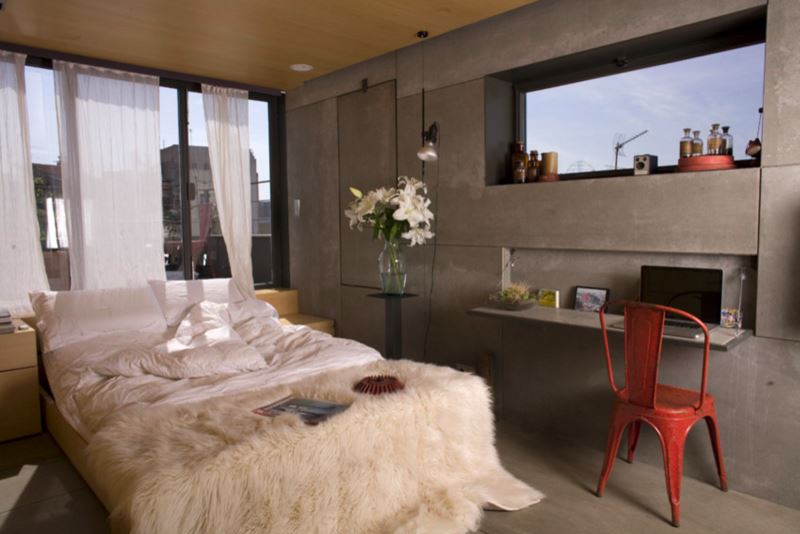 And others purchase fold-down desks with a custom feel, like this handy Southern Enterprises Fold-Out Convertible Desk available via Amazon: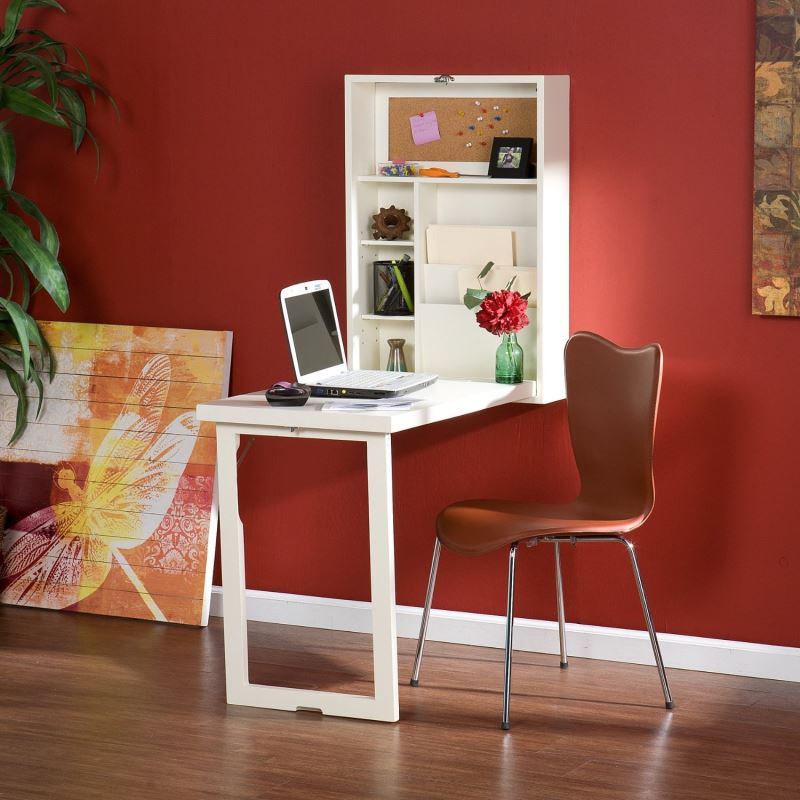 This wall-mounted desk from Etsy shop Good Mood Wood is made to order and crafted from solid oak. Plus, the image below shows how easy it is to turn any wall into a home office with the help of a fold-down desk. Why not go for a wall with a view?!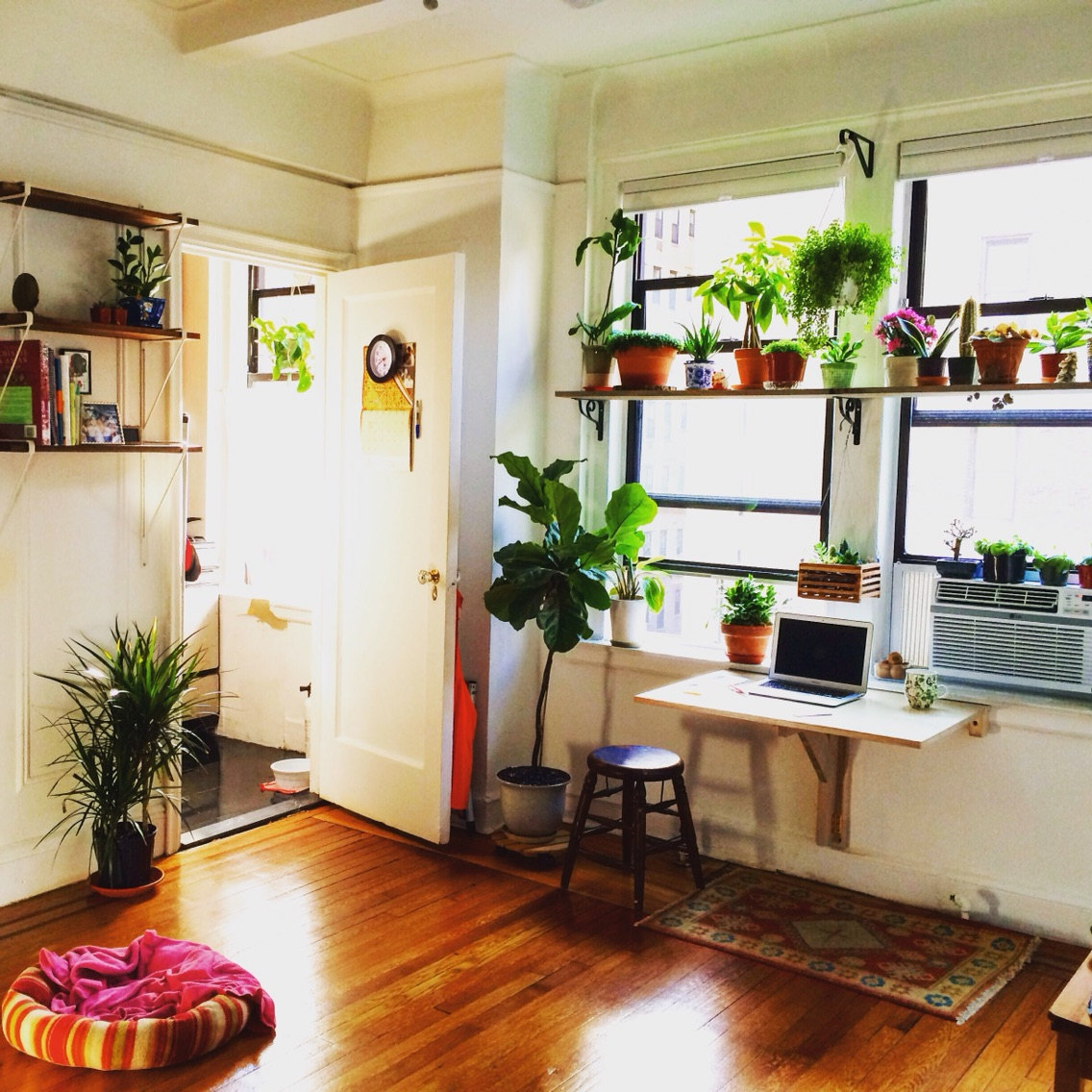 There are also many DIY versions of the fold-down desk at the ready, like this desk from Bubble Wrapp'd. Would you build your own fold-out desk? Not only can these desks be used for office tasks, they're perfect for craft centers, as shown below. [via Pinterest]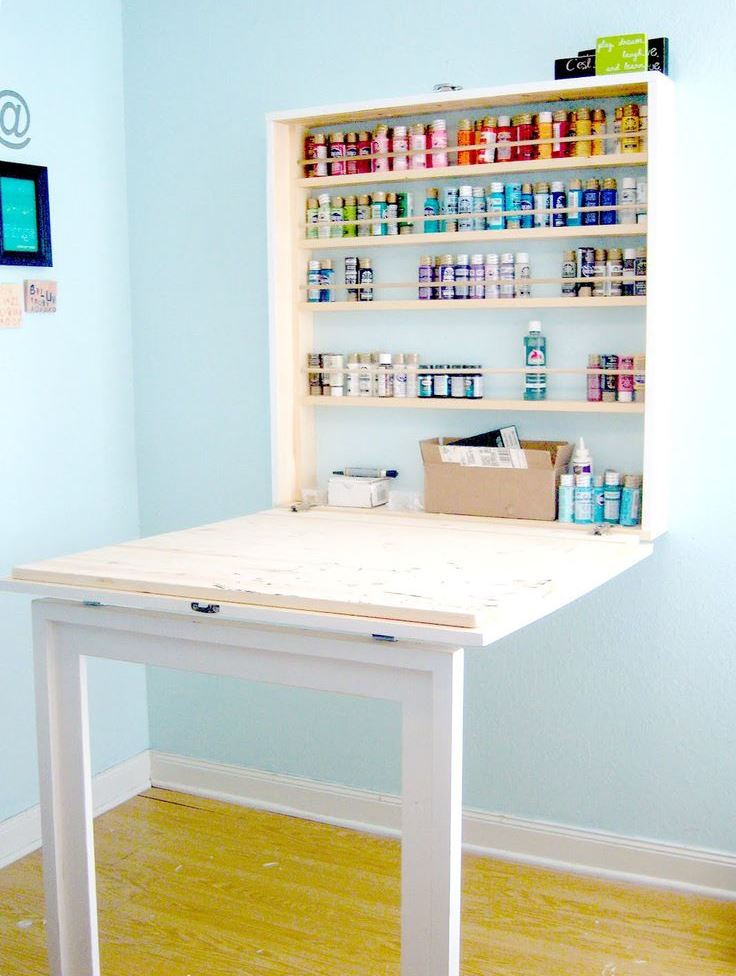 Let's not forget about creative space-saving solutions that combine the fold-down desk with other features, such as a bed. In the next image, we see the Poppiboard Ponte Wall Bed Desk. Learn more at Lawrance Contemporary Furniture: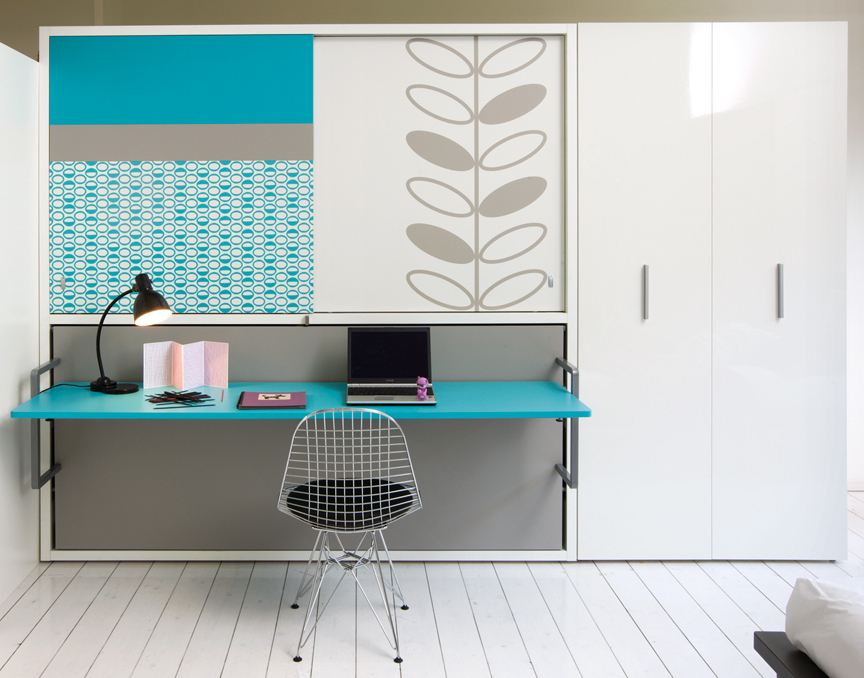 Bookshelf/Desk Combos
Many fold-down desks are part of larger shelving systems that maximize wall space in the office. The small home office below makes the most of its space by incorporating a fold-down desk into a built-in bookshelf. [from ZMK Group, Inc.]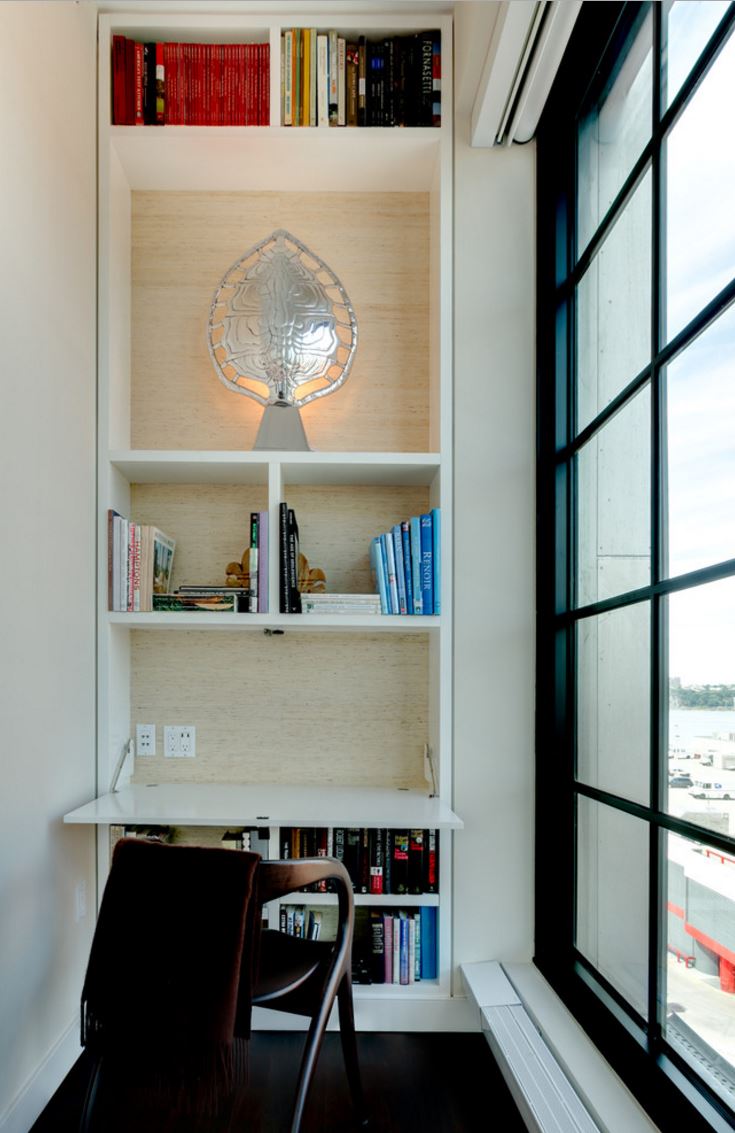 Here's another home office area that maximizes space by utilizing a built-in desk. And once again, the desk is part of the larger bookshelf. [from Kirkwood McLean Architects]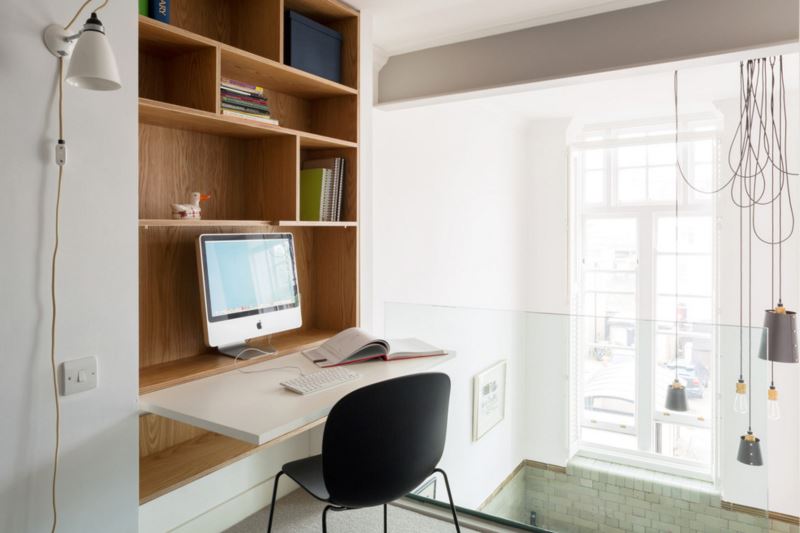 Anyone else noticing how white is a popular color for fold-down desks? Perhaps it creates a light and airy feel, especially when a large bookshelf is involved! [photo from Rosangela Photography]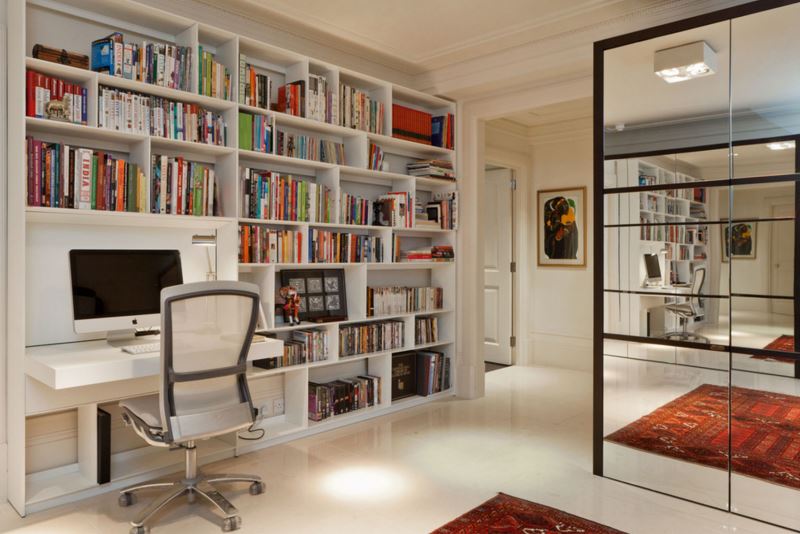 Would you include a fold-down desk as part of a living room or family room? This next example makes a compelling argument for working a desk into a living area. [photo from Jeff King & Company]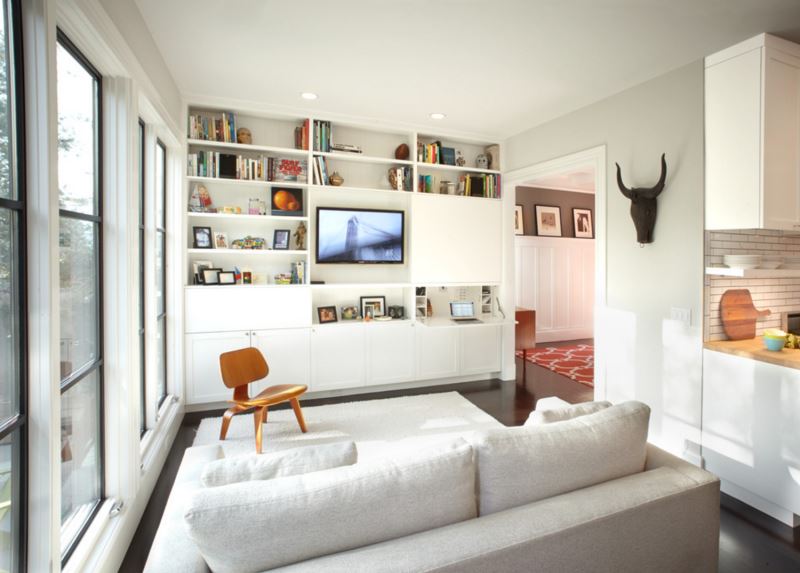 For the Kids!
Next up: fold-down desks for kids! Sometimes all it takes is a simple work surface. This custom-built fold-down desk is the perfect size for a child, and it serves as an art station. Thanks to its convenient location, the parents can keep an eye on their daughter while they cook! [from BKBS via Houzz]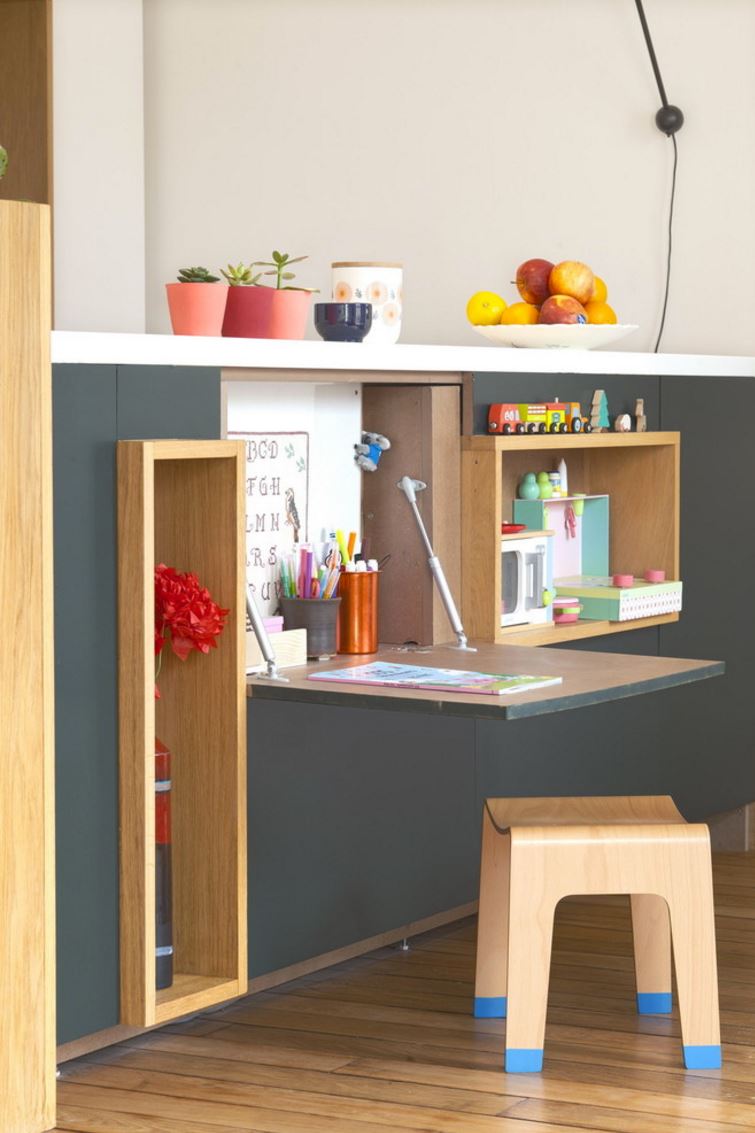 Got two kids? Try two desks! When they're the fold-down variety, you don't have to sacrifice space. Especially when they're part of a large bookshelf that provides handy storage. Bonus points if the bookshelf is a vivid color! [photo by Andy Stagg for Paul Archer Design]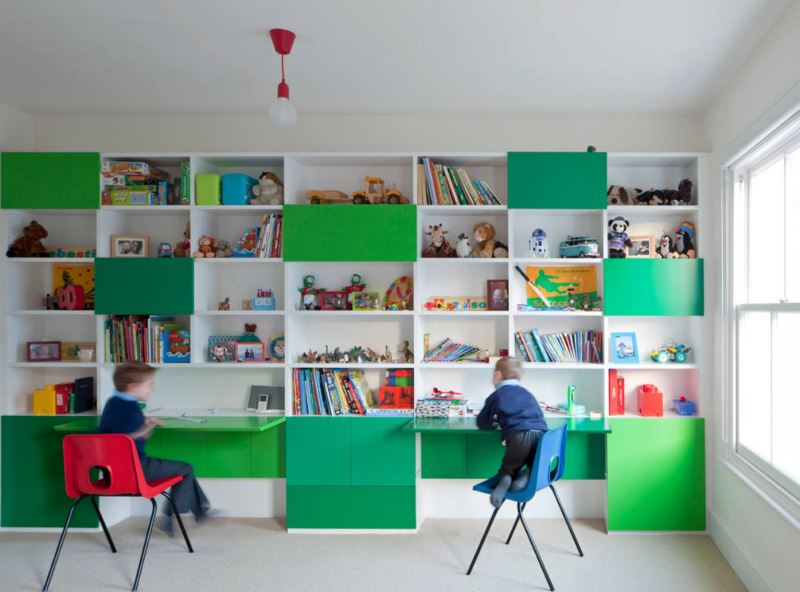 This Kids' Fold-Down Desk built from reclaimed wood can be purchased at Etsy shop Kentucky Kentucky Reclaimed. Plus, it comes with a bench, making it the perfect compact work station: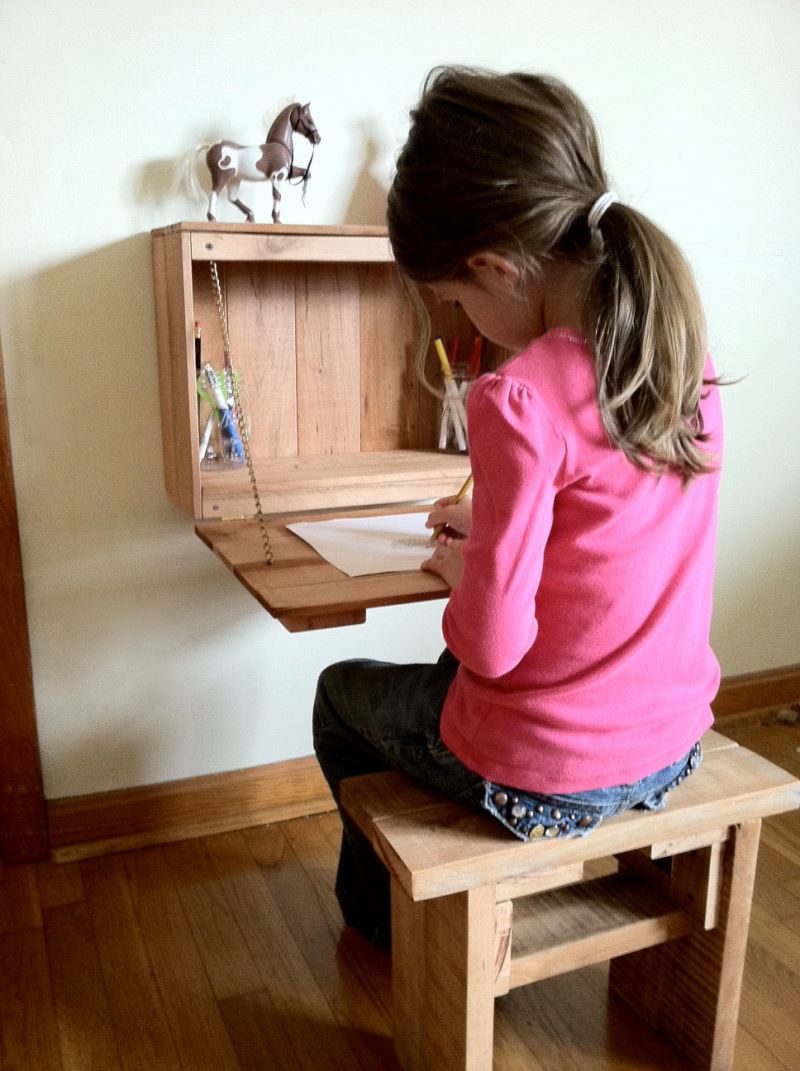 The Land of Nod offers a Three Tiers Wall Desk that mounts right to the wall. It doesn't appear to actually fold up, but it still serves as a compact desk option with the look of a fold-down desk. A perfect choice for a child's room: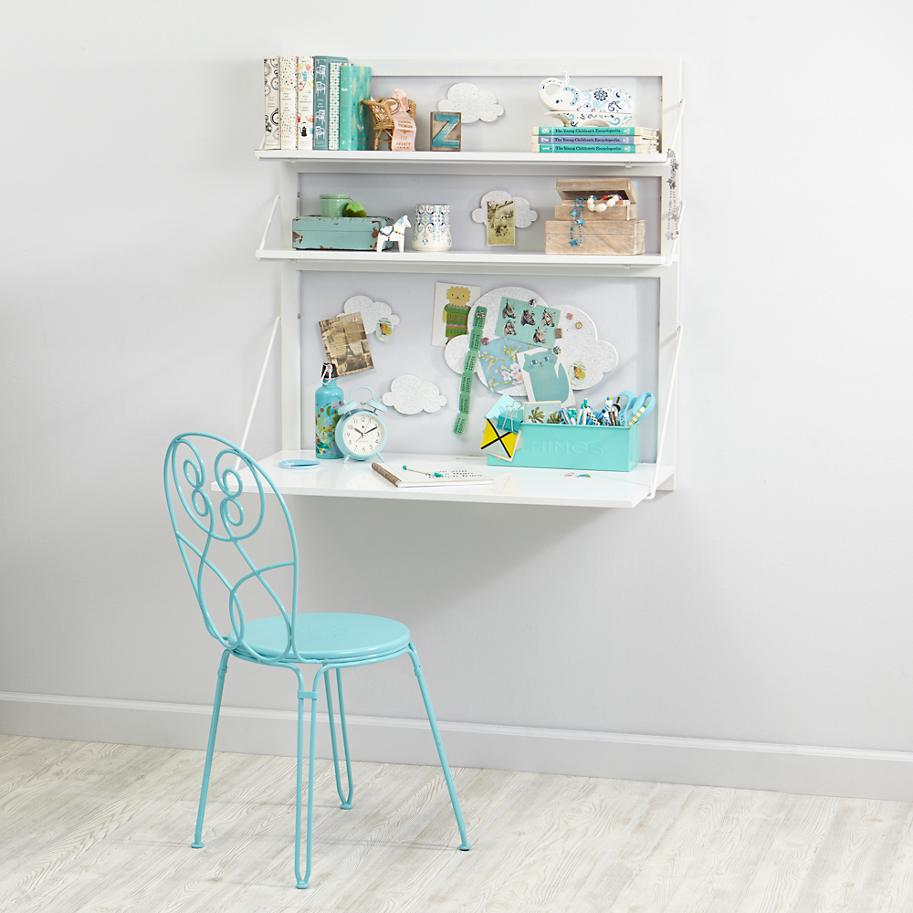 Clever Configurations
Let's end with some fold-down desk options that are as practical as they are amazingly clever! How handy is this fold-down desk solution for a tiny house?! When not in use, the desk becomes part of the wall. When in use, it resides over the couch, transforming into an instant work station with the help of a chain. Learn more at The Tiny Project: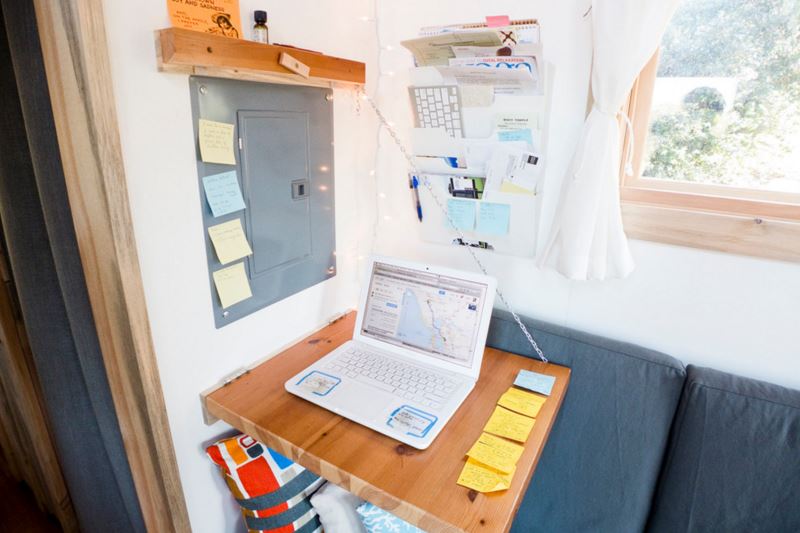 Fold-down desks are perfect for any small-space situation, whether your house is tiny or the home office itself is lacking adequate room. Here's another model that relies on a chain for added stability. [photo by Stéphane Déroussent for Geraldine Laferte]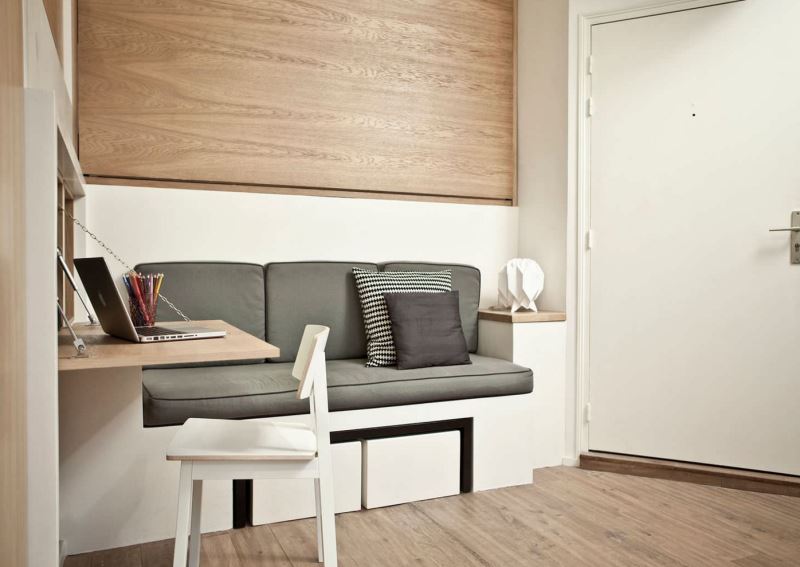 This wall-mounted desk resides in a contemporary office where clean-lined style is a priority. Plus, it neatly folds into its indented wall spot when not in use. [photo from Paul Clemence Photography for General Assembly]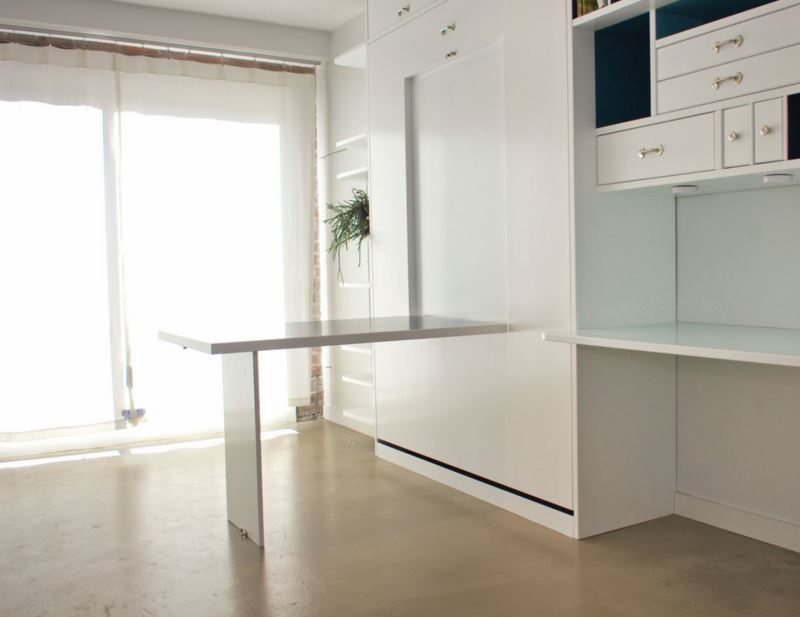 This fold-down desk is part of an unfolding apartment by Michael K. Chen Architecture that includes many built-in features. Check out the details at Houzz: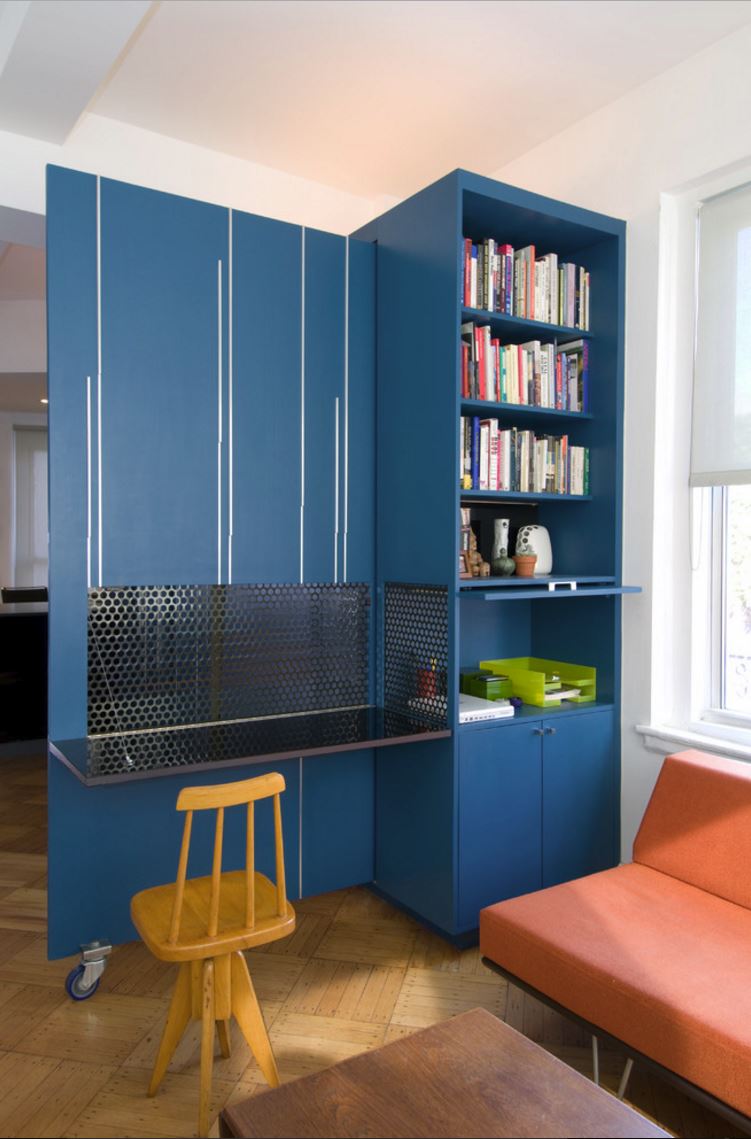 We'll leave you with a DIY option: this Fold-Up Wall Desk from Crafted Fairly! Check out the details in the tutorial post: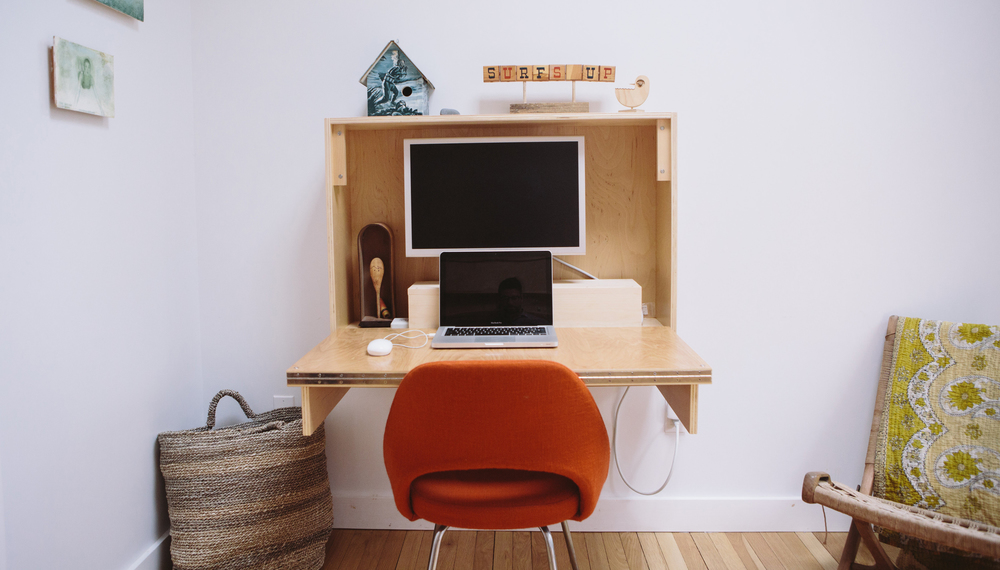 Will you be adding a fold-down desk to your interior? Tell us about your favorites by leaving a comment below…