Cooler weather means you'll spend lots of cozy nights indoors. Forgo the harshness of overhead lighting for the soft flickering of a candle. While the warm glow of the flame is gorgeous enough on its own, a stylish candle holder will bring your decor from basic to beautiful in no time. Here are some candle holder DIYs for inspiration.
Are you a fan of rustic decor? Then this DIY by Jillian of Young Bird will be right up your alley. A cross section spotted at a craft store became an outdoorsy coffee table accent with the help of a drill bit and some tea light candles.  Set this on a bare coffee table and you'll have a unique conversation starter for every get-together.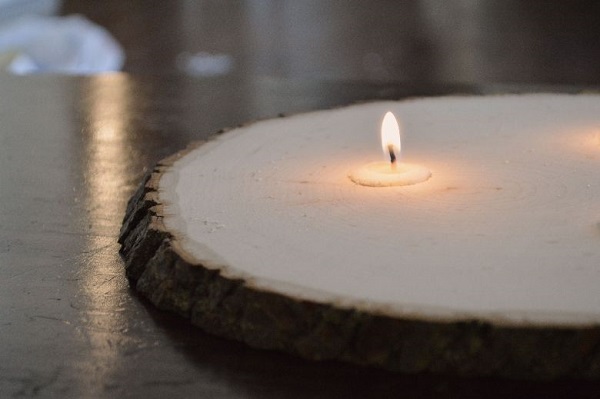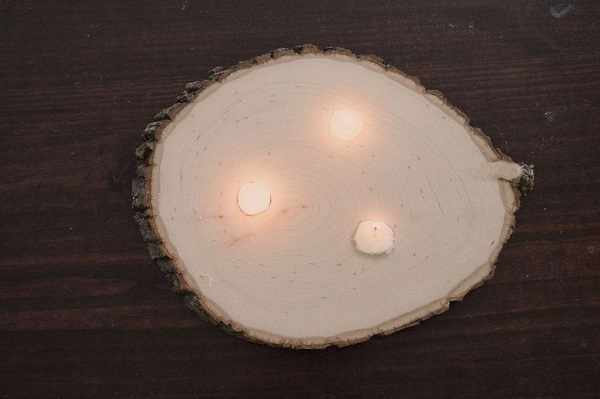 Paper cutouts get a chic makeover with this candle holder DIY by Jessica of How About Orange. This is a simple technique that can update a worn or plain glass, so jazz up some existing aromatic favorites or purchase some basic versions from the grocery store.
Kathleen of Twig and Thistle gave a classic autumn icon a glamorous transformation with a healthy dose of gold glitter. A Styrofoam version gives you the option to reuse year after year, and eliminates the mess of carving a real pumpkin. Metallic hues, particularly gold and copper, are the perfect compliment to the natural fall color scheme.