Natural surroundings are not only healthy for the body, but also challenging for the mind and soothing for the soul. We all strive to make time for a prolonged outing with friends or a necessary walk along a riverbank, but then there are solutions for bringing pieces of nature inside. Interior gardens help extend the beneficial influence of nature inside, natural materials help create a soothing atmosphere or you can use small stones and pebbles to fabricate the desired natural feeling.
Pebbles in the bathroom
The bathroom is one of the best spaces to display stones and a contemporary bathroom design can include pebbles and stones in many variations. Take as example these stone pebbles showcased behind a glass top under the bathroom sink – they add a deep, natural dimension to the bathroom and the fact that they are bathed in a blue glow constructs a glamorous effect.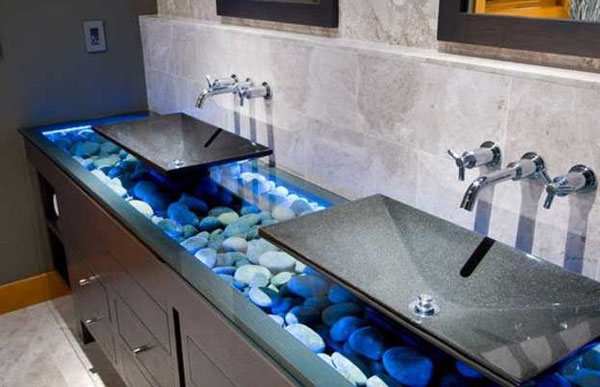 Speaking of interior gardens, this next example from Buenos Aires-based Vanguarda Architects proves that simplicity is key when creating one – all the peace and quiet of the outdoors, alongside customized soothing scapes, create a calm environment in the middle of your home. Natural colors displayed by stones, each with their unique texture and perfection, compose a water-inspired space separated by glass walls from the minimalist swimming pool.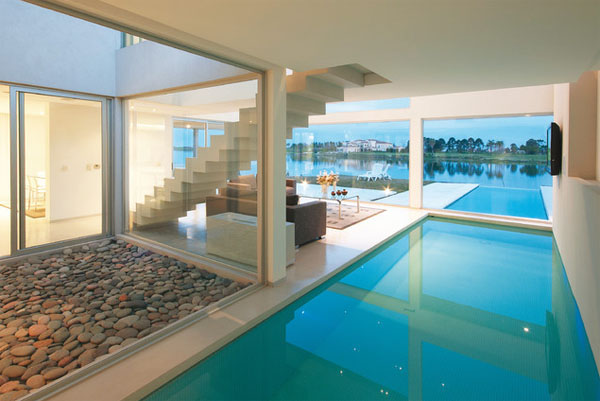 Placing your bathtub on a stone rug and carefully delineating the bathing space from the rest of the bathroom seems like a refreshing solutions to boring tiles. In the Yorba Linda Residence by California-based International Custom Designs, the bathroom space is inspired by the Japanese "roten-buro" (outdoor bath). Colors, textures and materials were used to create the feeling of an outdoor bathroom with all the comfort brought by modern design and technologies.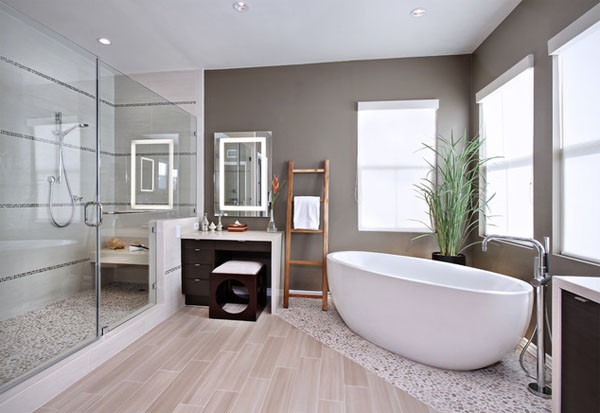 Stunning bathtubs are meant to become part of a larger picture – the surrounding details must create a world of comfort, calmness and beauty. A stone bathtub like the one pictured below will definitely convey all the relaxed feelings into a general sense of well-being. Apparently, a large granite stone from Bali was transformed into this spectacular stone bathtub, having water pipes and fixtures hidden in the wooden chest right next to it. Cleverly hidden in the chandelier above, a shower head rains down water over your tired body while a few scattered pebbles complete the natural look.