DIY weddings are one of today's craftiest phenomenons! Many DIY project options await the resourceful bride and groom, from DIY wedding centerpieces to DIY wedding favors. Today we feature a range of spring DIY decorations for every aspect of your wedding day festivities. Tabletop treasures, hanging decorations and food embellishments are a few of the projects in store…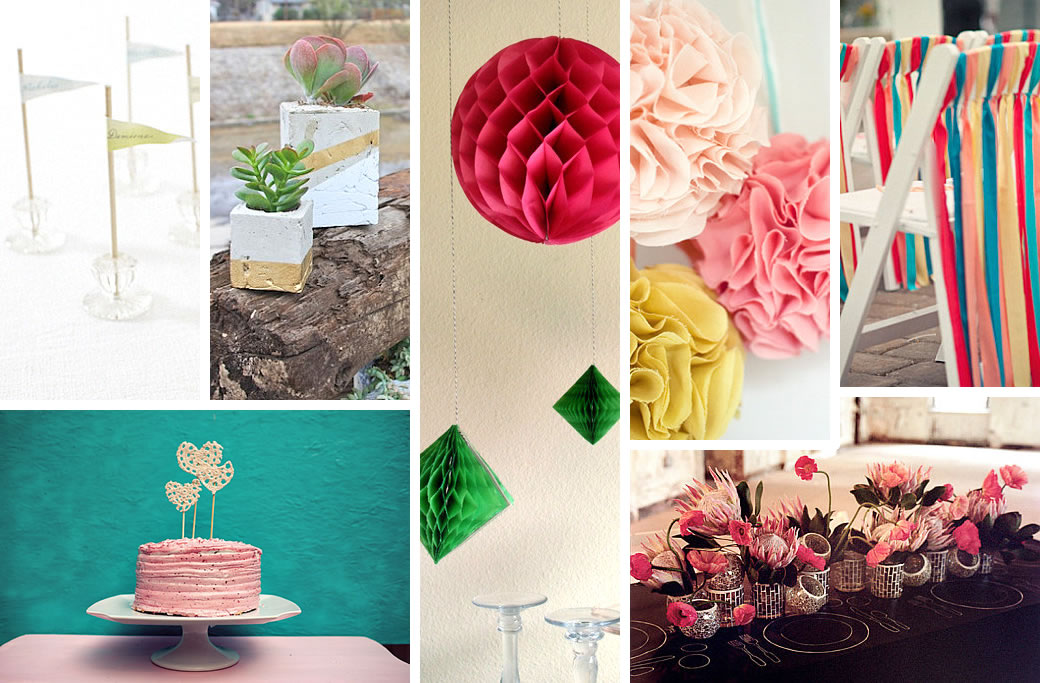 When it comes to DIY wedding planning, it often helps to craft a few items while purchasing others. Constructing the whole event from scratch can be exhausting. Some brides opt to make a small number of decorations they can complete before the big event rather than trying to assemble decor on site on the big day. Remember, you want to enjoy the moment as well! Check out the DIY projects below and see what inspires you:
DIY Wedding Tabletop Decorations
We begin with a gorgeous wedding featuring Pantone's Color of the Year for 2013: emerald. Well, the dress was emerald! But the centerpieces feature blooms in rosy shades to offset the vibrant green of the bridal gown. The image below inspires a DIY idea that involves stacking votive candleholders and adding flowers to the mix. Elegant, don't you think?! [from Ruffled]
For flowers you can keep forever, check out this DIY pom pom bouquet from Camille Styles. A step-by-step tutorial with beautiful images will guide you through the process. Plus, you'll then know how to make pom poms for a variety of other DIY possibilities…
Next we have two lovely pics from Society Bride, which remind us of the value of guest participation when it comes to centerpiece decor. That's right–set out some lovely branches in a vase, and pre-string suggestion cards for guests. They can write their advice for the bride and groom, hang each tidbit on the tree and watch as their feedback becomes part of the wedding decor!