Exposed beams offer a unique sense of belonging to the untamed nature surrounding us all. By displaying wooden details, our homes have embraced a transformation that guides the design lines towards new peaks. Reclaimed rustic charm, classy beam design or futuristic expressiveness are just a few roads that architects choose to reinterpret in modern homes with exposed beams.
Our first example is that of a large, open social space on a Parisian building's top floor, re-imagined by French designer Frédéric Flanquart after having been heavily damaged by a fire. The owner wanted to see the home reborn, after 10 years of living in the loft. The challenge was to "design and achieve a shell-free space with – as reference marks- only half-burned out staircases -leading to the lower level-, a huge scaffolding structure used as a roof, and a 360° view over Paris."
This was done by creating highlighting details and filtering, aiming and taming the light to create a "quiet and relaxing place during the day switching to a genuine place of mystery and pleasure at night." The playful geometry of the exposed beams turned the partly charred home into its better version rising from the ashes named Loft des Innocent.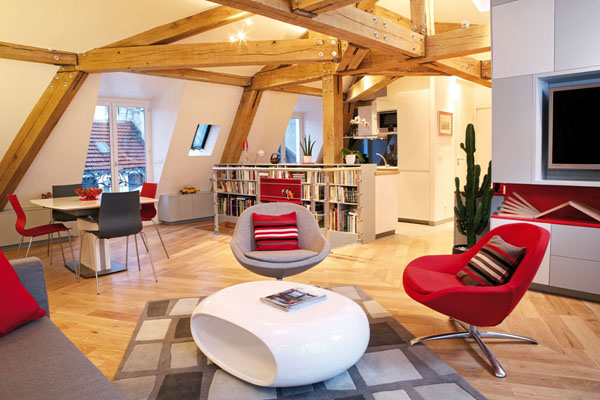 An example of reused building material is the fascinating set of interiors proudly displayed by architect Gervais Fortin's Ecologia Montréal. Hand-chosen from Quebec's most eco-responsible suppliers, materials used throughout this house have turned it into a candidate for a Platinum LEED certification. The contemporary Canadian dream home showcases exposed beams running across the kitchen's ceiling. Flanked by dark framed windows, these wooden beams were lit to create a fabulous atmosphere proving ecological homes don't sacrifice aesthetics for function.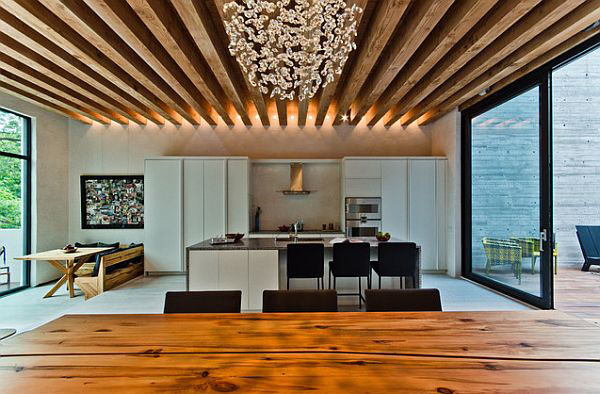 Another way of displaying vintage-looking beams is to accommodate their imperfect shape in a stunningly clean environment. Cornerstone Architects imagined a living room flooded with natural light accentuated by framed extensive glazing. Clean, contemporary elements were combined with charming reclaimed architectural wood details into an exemplary space composition.