There are many amazing ways in which one can craft their interior spaces. With the advent of the internet and the wide and varied amount of material on offer, there are endless possibilities that await a creative mind. If you are ingenious enough to work with various materials and have the ability to conjure up great designs, then any and every material can be used to transform your home into a vibrant and vivacious hub that is filled with class and color.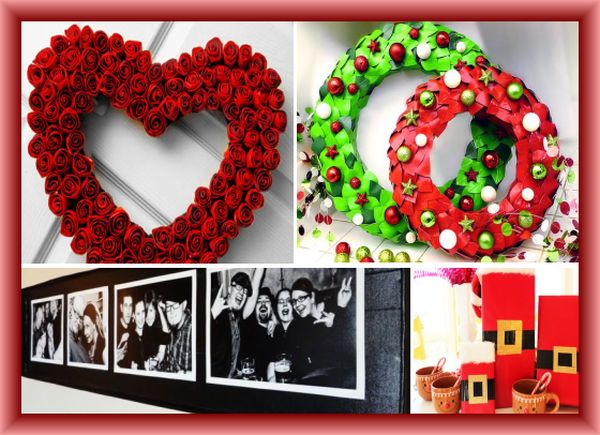 Duct tape may not be a material that comes to mind when you are trying to create your own additions to the existing décor. But there is a lot more that can be done when using duct tape than just quick fixes and this beautiful and amazing collection of duct tape crafts will show you that pretty much anything is possible. The bright and bubbly patterns that are now available allow you to create ornaments, enhance décor and add your own individual trademark to otherwise bland and generic interiors. Delve in to find out-
Duct Tape Crafts for an Exquisite Home
We start off with these beautiful and simply outstanding wreaths that have been crafted using duct tape. Simple to create and stunning in their appeal, the wreaths are perfect for this holiday season as they seem to even employ the ideal Christmas colors! You can obviously choose a color of your choice, but it cannot really get more 'Christmassy' than red and green, can it? [from: The Pixel Mom]
Duct tape crafts are not just about decorations though, as you can use them to spice up your existing décor as well. This cool blue side table is a wonderful example of that as it has been turned from a mundane looking furnishing into a cheerful addition to the interiors. Depending on the theme of your home and the color template used, you can improvise and improve on the idea.