I gather my week's worth of laundry and try futilely to catch the stray pieces. It's something I've been doing since I was three and my mom and I would sit with our legs crossed on the carpeted floor folding my baby brothers little onesies and my elder brothers' ripped jeans.
I look back on that time with fondness for the joy of familial chores and bit of sadness, for I was not prepared. My mom never warned me of the twisted, serial killing instincts of the dryer. How it would rip away your loved ones with no trace left behind. How one minute there is a couple, and the next you are the quizzically haunted owner of not two but one lone sock. A mystery that continues to break homes apart in wave after wave of criminal intent against our foot gloves.
But if instead of crammed in some vacant kitchen closet we created a warm friendly and fun environment for our washer and dryer the need to act out and eat our socks wouldn't be so devastating.
Things are happening in these new laundry rooms. Suddenly it's not a chore it's a great escape when the setting is just so. Hours every week are spent here so why not furnish this room with possibilities the whole family will benefit from.
1. Front loading washer and dryer. You can stack them to conserve floor space, or install a counter overtop.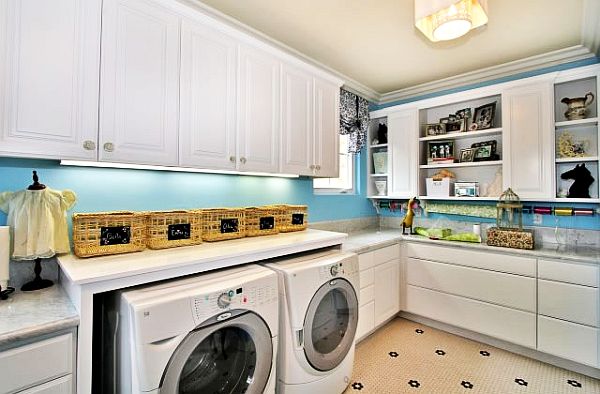 2. Laundry folding table. When planning or remodeling a home don't underestimate how much space should be set aside for the laundry room,. It requires enough room to host a center square island. Fold your sweaters Old Navy style, pull up a stool to chop some material for your next DIY project, or gather the kids around for some crafts or homework study sessions.