Capri Tiberio Palace: Enjoy the Mediterranean with Some Old World Charm
If you are planning on visiting Capri anytime soon, then the new and revamped Capri Tiberio Palace could very well be the place that could add further charm to your stay on this beautiful Mediterranean island. Redone by designer Giampiero Panepinto, the entire place reminds you of the 50's and the 60's with its retro styling, black and white pictures of its glorious past and interiors that are clad in shades of blue, green, yellow and red.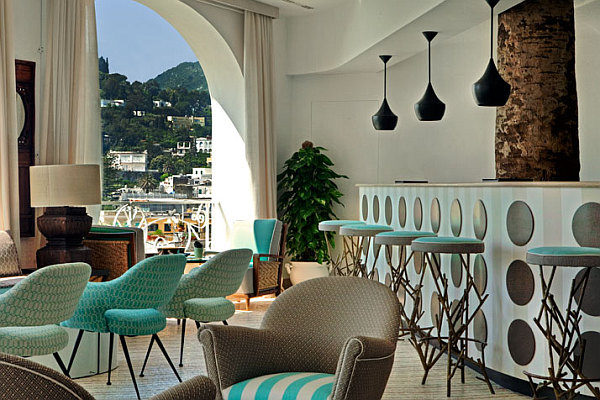 Adding to its unique appeal is an open air Jacuzzi and a bar that is designed around a palm tree which is more than a century old. The Capri Tiberio sports around sixty private quarters and each one of these rooms is clad in luxurious interiors and the impeccable service of the place adds to the joy of staying here. The turquoise blues and the gentle greens are reminiscent of a time when the good times never stopped on this beautiful island.
The idea here is to try and transport you back into time and probably even play on the 'nostalgia' factor', as the new Capri Tiberio revamps without losing out on all those glorious memories of the past. Spend some time here and you will rediscover your zest for life in an inimitable fashion. (via Yatzer)