The Mason jar is an integral part of our history. Our mothers, their mothers and their mothers exerting over the hot stove after long hours of peeling and chopping to preserve their raw organic garden veggies for a long cold winter. The water temperature rises and the boiling water seals the lids on the Mason jars ensuring that the food will stay preserved for months if not years. I myself have participated in this autumn ritual and while the natural unadulterated taste of canned produce can never be beaten by store bought kidney beans, it didn't take long for me to realize this backbreaking endeavor of canning was just not for me. Bring on the SpagettiOs, my mind and stomach unanimously chorused!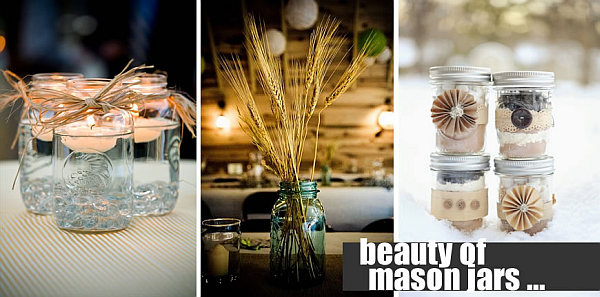 So I took the stockpile of canning jars and gave them a fun 21st century spin to preserving other articles found around our homes.
Silver Where: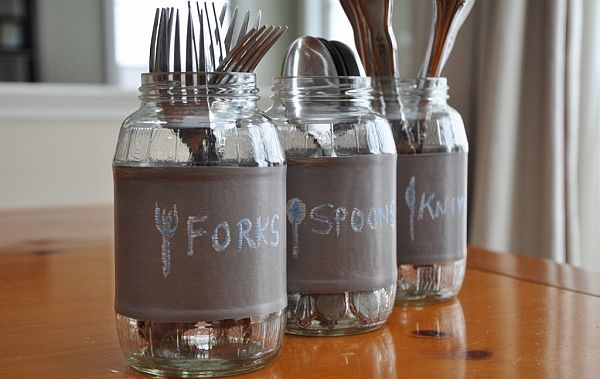 I remember one kitchen of mine there were only four drawers. Four measly drawers that with just one piece at a wrong angle would jam everything and make it nearly impossible to disentangle. Taking an old vintage stand alone wine rack fill the slots with empty lidless jars. Fill with the essentials. Knifes in one, spoons in one, forks in another. From serving spoons, to spatulas you will soon find this visibly clear and space efficient method to capitalize on objects that mesh surprisingly well together. Come spring-cleaning next year you can even pull an entire jar out full of dusty never been used cooking utensils and fit on the bottom rack of your dishwater. Brilliant! (this image and image below, courtesy of happyclippings)
Romantic Gestures Encapsulated: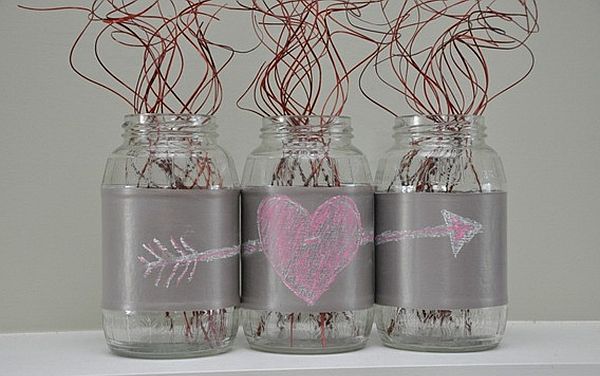 Your husband surprised you with a beautiful fresh handpicked bouquet of wildflowers? Make a proud entrance spectacle in your foyer with a uniquely painted Mason jar vase. Wrap several rubber bands of different widths around the circumference of your jar. You can overlap them and even slant them at an angle. Spray paint the entire outside of the jar and let sit for the duration of time the can recommends until it is entirely dry and can be handled. (Mostly two hours.) Carefully remove the rubber bands and enjoy a hand made modern edged decorative vase that can be employed for various purposes.
Beauty and the Brains: