When it comes to office furniture, nothing clarifies your space like acrylic! In fact, clear acrylic desks for the home office are in high demand, in part because of the luxurious quality they add to a room with their icy shine, and in part because of the tidy appearance they offer. After all, the transparency of acrylic furniture gives it the illusion of taking up little to no space, which makes the room seem bigger. Not to mention, the see-through aspect of acrylic desks motivates their owners to keep them neat, especially when see-through drawers are involved!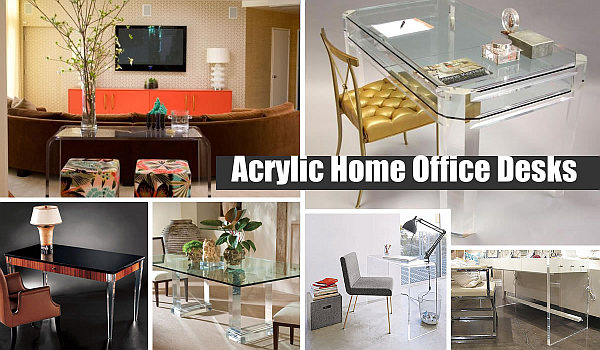 We've curated a collection of clear acrylic desks for your browsing pleasure. From pieces that are entirely transparent to lacquer desktops with acrylic legs, a variety of options awaits you. Whether you're looking for a hefty desk that can hold a large stash or a petite table that can double as a work space, you're sure to find inspiration in the selections below.
Acrylic Desks
We begin with a simple yet chic desk made of four separate pieces that slide together. This acrylic office furnishing can be customized to best suit the dimensions of your space. [from Penny Farthing Design House]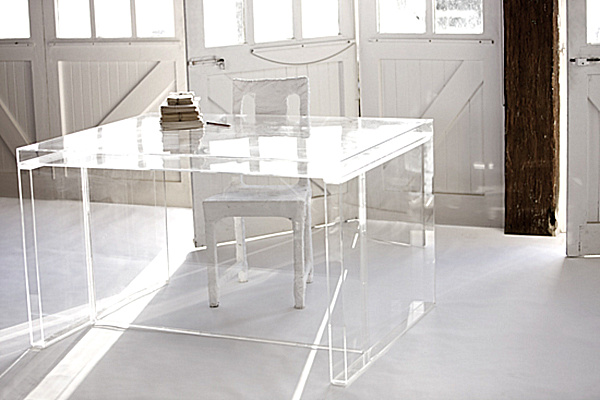 For a sleek, compact office statement, try using an acrylic console table as a desk. The Peekaboo Clear Console has a simple bent form that provides a surface big enough for a laptop and a lamp. [from CB2]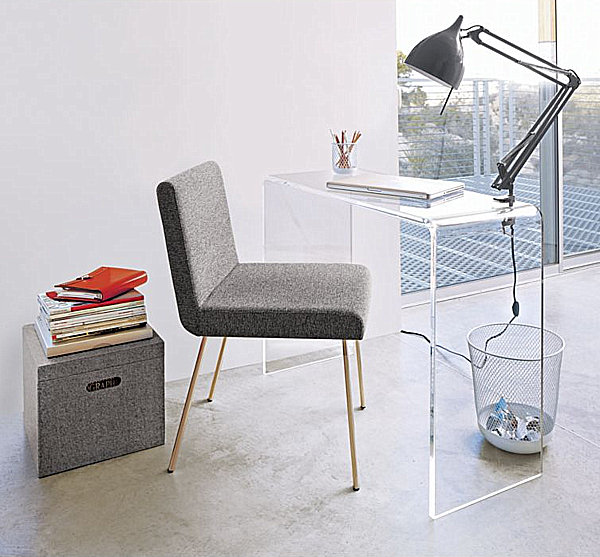 In another shot of the Peekaboo Clear Console, we see the benefit of combing wall storage with desktop space for an office vignette.