Fun name, curvy shape, stylish design – are the three main elements composing the Hug Chair. Designed by Budapest-born international designer Gabriella Asztalos, the Hug Chair expresses the need for an intimate relationship between the furniture item and the person who interacts with it and between two persons using the cleverly designed item. It's unique shape gives you the feeling of being captured in a soft and elegant hug, where you want to stay for a long time.
The unique shape also has some great acoustic qualities that allow you and another person to maintain an intimate conversation. With the talk being enhanced, outside interference is diminished. Visually, the shape also makes it easier to focus on the other person and not be distracted by your surroundings.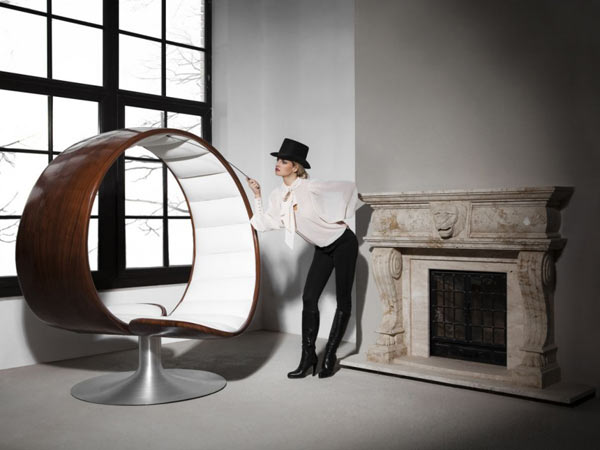 The spiraling design welcomes two persons to enjoy a face-to-face interaction while being comfortably supported by the soft cushion. Intending to create a special connection between the two users of the Hug Chair, designer Gabriella Asztalos composed a seating item that shuns the users from the outside world and focuses their attention on each other.
Her choice of wood gives this piece of furniture a visually appealing addition to just about any room. Its imposing shape ensures the chair also becomes the focal point of the room. (Found on Design42day)